Hide Bonus Offers
| | | | | |
| --- | --- | --- | --- | --- |
| #1 | BetOnline Sports | 60% Up To $1,000 | Visit Site | BetOnline Sports |
| #2 | Bovada Sports | 50% Up To $250 | Visit Site | Bovada Sports |
| #3 | BetUS | 125% Up To $2,500 | Visit Site | BetUS |
| #4 | Everygame | 100% Up To $500 | Visit Site | Everygame |
| #5 | MyBookie | 100% Up To $1,000 | Visit Site | MyBookie |
Tips for Betting and Winning in MMA DFS

Few sports are as volatile to bet on as MMA. Massive favorites can be taken out in one punch. Routine title defenses can result in trips to the hospital. Rising fighters can take out living legends.
Heck, fighters may not make weight, resulting in a bout being canceled or thrown on its side with a last-second fill-in fighter added to a card.
Now try to dodge all of those bullets and win big by playing daily fantasy MMA.
It's not easy, but in a very real way, the path to winning big in MMA DFS is actually laid out for us, plain as day. The avenues to success are more finite due to a significantly smaller player pool as opposed to baseball, basketball, and football.
And the actual ways to accrue points and compile a winning MMA DFS lineup are fairly obvious, too. You may not be aware of them, of course. That, or you're missing out on one or two key pieces of information.
Here are some key daily fantasy MMA tips to follow.
Understand Scoring and Rules
It probably sounds obvious, but a lot of people will test the waters in a new daily fantasy sports genre, hoping luck is on their side.
Doing that without checking the rules and understanding how players accrue fantasy points is ill-advised.
For MMA DFS in particular, you probably want to know how fighters get their points, and what types of fighters are the best to target.
At DraftKings, scoring very much favors fighters who can end fights quickly, as you score 90 points for a first-round win, and your win bonus only shrinks as the match advances (30 points for a Decision win).
The impact of a first-round win can be different at other DFS sites, too (100 at FanDuel).
Fighters who land a lot of their punches (and like to throw punches to begin with) hold value, but the real upside is with fighters who can execute takedowns, or finish fights quickly via knockout or submission.
You can still rack up points with a Decision win, as lasting 3-5 rounds can allow for a litany of significant strike, advance, takedown, reversal, and knockdown opportunities.
That said, the goal for a good chunk of your fighters should be to chase KO upside and bouts that could end in a hurry.
Just as important as understanding the rules is prioritizing and utilizing them. This means putting a greater emphasis on the fighters who can get you these points, and steering clear of fighters unlikely to get fast wins or even win at all.
Get All of the Wins
Speaking of which, you want a lineup full of winners.
It is possible to stack a fight or have a fighter from the losing side and still cash or even finish relatively high, but taking down a GPP with a loser on your roster is unlikely.
If that's going to come close to happening, the fighter will need to have accrued a ton of points through as many rounds as possible.
That win bonus and/or the knockdown is just so valuable, and the odds are very good that other DFS competitors will simply have a more complete lineup.
For the most part, you want to avoid those horrific holes that can be created by a fighter getting knocked out or submitted early. This can result in scores of 20 or far worse, and even one of those in your MMA DFS lineups can prove catastrophic.
You want early wins, but more than anything, you just want perfection in general.
The upside is always to be considered when aiming high in GPPs, but whether you want first or are just looking to cash, one of the first goals is to get six wins.
Research Each MMA Matchup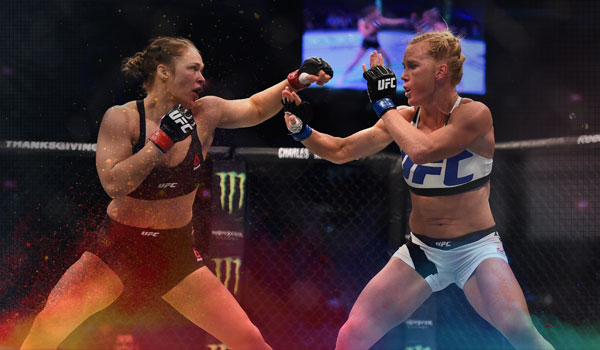 Once you understand scoring and get the idea of having as perfect of a lineup as possible, you better buckle up for some lengthy research.
Some people are die-hard MMA fans, watch the sport religiously, write about it, and even train themselves. The more you know about MMA and the nuances of the sport, the smarter you'll be when trying to win in daily fantasy MMA.
Even for beginners, though, you can really improve your chances of winning in MMA DFS by researching every single fight on any respective card.
Extra research is necessary for a few reasons:
A lot of people gravitate to the headlining matches
The less glamorous fights are overlooked or ignored
The actual matchups themselves can be misread
If you're looking at the big names, these matchups often can be spelled out for you. The very best fighters win consistently for a reason, and it'd take a fairly extreme mismatch, or at least a truly formidable opponent, to be against them.
Looking back at a matchup like Holly Holm vs. Ronda Rousey, we probably should have seen that one coming.
Holm was an elite kickboxer, a great counter fighter, and an amazing striker. Rousey almost always sought the floor game or a quick submission, and that just wasn't something Holm was ever going to allow.
I don't know if anyone necessarily predicted Rousey getting knocked out, but the mismatch was there to see. That's one example of how a headlining act can go sideways, but it won't exactly be the norm.
There are overlooked fights that can offer easy wins or tantalizing upside. Picking the right side of the fight is a bit more difficult because they're fighters that aren't as well-scouted by MMA touts, while a lot of them are inconsistent in general.
It can be difficult to assess matchup in some spots, too. If fighters are the exact same breed (striker vs. striker, for example), it can feel like a toss-up.
In this specific situation, you'll want to factor in various criteria such as these:
Height
Reach
Weight
Career KOs made
Career KOs received
Age
Recent form
Striking accuracy
Defense stats
And this is just for one match between two fighters who like to stand up and exchange blows. For that type of fight, one that seems like a toss-up, there is still so much to consider.
Fighters who have a little more size and reach could have a huge edge right there, while you can separate fighters based on how dominant they are in their striking, how well they defend themselves, and how efficient they've been in recent bouts.
Things only get crazier as you start switching things up with submission artists, ground and pound fighters, and all kinds of other fighting styles.
The point is to know both fighters, understand why they get wins, and acknowledge their flaws. MMA is not always so cut and dry as aligning those strengths and weaknesses, but it sure is a great place to start.
Watch Fighter Highlights or Full Matches
I can speak from experience that actually watching fighters is a lot different than just researching them. There is a lot of great information, statistics, and expert opinion to rely on out there, but it's something else entirely to see things for yourself.
When I first started playing MMA DFS, I didn't really know what I was getting into. I saw big cash prize pools and some big names, and I jumped in.
It's easy to assess fights that feature massive names like Conor McGregor or Amanda Nunes. Everyone knows how dominant they are, how they fight, and what they're capable of.
It gets a bit trickier when they face people you haven't personally seen. It's even tougher to project fights when you haven't even heard of either fighter.
Some UFC fighters grind their way to profitable but ugly careers. Others are undefeated in other leagues or the amateur circuit, and you really don't know what to expect when they make their debuts.
The only way around all of this is to watch the UFC fighters for every card. Time is an issue for most, so at a bare minimum, I'd suggest watching their highlights, and then one of their toughest victories, and one of their losses, if possible.
Records and fight data only tell you so much. When projecting matchups and potential outcomes, context can be everything.
Digesting all of the information you gather there could be difficult, but the beauty is you can always take what you learned into future MMA events.
Use MMA DFS Lineup Tools
Everything said above is important to help you win in MMA DFS, but something often overlooked is the ability to access amazing fantasy tools online.
It's easy to just want the answers or go searching for MMA DFS sleepers and MMA DFS picks. If it were that easy to just nail every pick correctly and hand them out for free, however, it wouldn't be a free service, and everyone would be doing it.
MMA DFS is already a volatile daily fantasy sport that has a lot of ties due to similar lineups. That's bound to happen when you only roster six fighters over the course of an event that often had 10 or fewer bouts.
To give yourself an added edge, it pays to purchase elite MMA DFS tools, which are often systems that rate fighters based on value, safety, and upside. These tools also include features like MMA DFS lineup generators, ownership projections, and so much more.
Being successful in MMA DFS hinges on a lot of different factors, but not using MMA DFS tools in some capacity allows the field to maintain an edge over you.
Investing some extra time (and perhaps a little money) in lineup tools to access additional data (and also help you create more unique lineups more quickly) can be very beneficial.
Pay Attention to MMA Betting Lines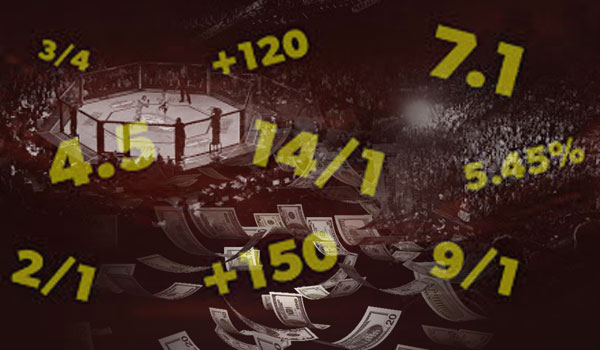 One other huge thing to consider with MMA daily fantasy contests is how MMA betting can tie into it. Every fight is just as appealing to bet on at the best sports betting websites, and you can use the pricing to gauge how to select specific fighters.
It's not going to be as simple as just trusting whatever MMA odds you stumble across, of course. There are always going to be huge names that enter events as big favorites, yet they still struggle and don't produce great scores, or they flat-out lose.
There will surely be other fights that feature heavy favorites that are even tougher to gauge and don't go the way bettors anticipated, either.
That said, looking at the favorites and the betting lines (or more importantly, how they move throughout the week) can help you in your decision-making process.
How Do You Win Big in MMA DFS?
With these MMA DFS tips and a little luck, that's how. MMA DFS contests are not easy to win if you don't understand the scoring, know something about each matchup, and get a roster full of winners.
The first objective when putting together any MMA DFS lineup is assessing how you think things will map out. Each fighter scoring a win should be step one in that process, and then from there, you can start projecting the fashion in which they may win, how quickly, and what their score may be.
Using MMA DFS lineup tools will make this a quicker and easier practice, while you can edit computer-generated lineups (or hand-craft your own) based on your extensive knowledge and research.
One last thing to remember, however, is that each MMA event is extremely unique. For the most part, any fighter can win or lose, and the research only gets you one step closer to correctly predicting those outcomes.
The more outcomes you correctly predict and the more unique lineups you create, the better your chances are of winning big in daily fantasy MMA.
If you're looking for more fantasy content, check out our fantasy sports blog, where we cover multiple sports.