Hide Bonus Offers
| | | | | |
| --- | --- | --- | --- | --- |
| #1 | BetOnline Sports | 60% Up To $1,000 | Visit Site | BetOnline Sports |
| #2 | Bovada Sports | 50% Up To $250 | Visit Site | Bovada Sports |
| #3 | BetUS | 125% Up To $2,500 | Visit Site | BetUS |
| #4 | Everygame | 100% Up To $500 | Visit Site | Everygame |
| #5 | MyBookie | 100% Up To $1,000 | Visit Site | MyBookie |
Tips for Betting on Pac-12 Win Totals in 2021

The Pac-12 has not won a national title in forever (USC, 2004). They desperately need to win as many non-conference games as possible to pass the eye test and silence the naysayers.
There should be a solid top-four (or so) teams in this conference, and the hope is the basement of the North will not be nearly as bad as it looks on paper.
The positive side is both divisions should be loaded near the top, and that could mean multiple teams finish the season in the AP Top 25. A few years have passed, and it has not gotten any better from the national perspective.
The struggle is real, and the non-conference matchups need to start having different results.
Let's take a look at the latest win totals for the Pac-12. I'll then reveal my picks to click for the upcoming season.
Pac-12 Win Totals in 2021
Not all of the best betting sites have unleashed their college football win totals just yet. The good news is the oddsmakers over at SportsBetting.ag wasted no time getting their act together.
Below you'll find the projected win totals for every team in the Pac-12.
2021 Pac-12 Football Win Totals
School
2021 Win Total
Oregon
9
Washington
9
Arizona State
9
USC
8.5
Utah
8.5
UCLA
7
California
6
Washington State
6
Colorado
4.5
Oregon State
4.5
Stanford
4
Arizona
2.5
The Trojans are the real favorite in my books, despite USC only having the third-best odds. Washington and Oregon are the co-favorites (to win the Pac-12) thanks to loaded defenses that could slow down most respectable offenses.
Tommy Trojan and his counterpart Traveler will be roaming the sidelines a ton after all the points SC will accumulate. I have firm belief in Kedon Slovis being able to find better protection to dissect all opposing secondary's in the Pac-12.
Todd Orlando should make up the difference they've missed for a few seasons on defense. He showed glimpses with Houston and Texas, and the opposition isn't tough early on, which will be huge for the confidence and psyche of Helton.
I feel no team is perfect in this conference and that the overall talent of USC will lead them to a trip to Vegas for the conference crown, which they will then capture. I do believe Arizona State, Washington, and Oregon will be right there to battle USC, but the Trojans have the best star signal-caller with the pieces to dazzle the west coast.
Highest Win Totals in the Pac-12 South
Arizona State: 9
USC: 8.5
These two should be the best offenses in the conference if Jaydon Daniels and Kedon Slovis can stay upright.
Slovis was under so much duress a season ago. USC went from potentially playing in the New Year's Six to opting out completely after a tough loss. All the Covid issues alone were tough to deal with for USC.
Clay Helton now enters the season on the hot seat due to the lofty expectations that come with coaching a historically top 10 program. It's "win-now" mode for a USC program that has had a few tough seasons by their standards.
The offensive weapons are still more than capable of taking over games, and they get a boost in the form of K.D. Nixon. The Colorado transfer will give them even more speed on the perimeter.
The offense will do its part, but can the defense can shore up some of their weaknesses? Will Helton get a monster season from Drake Jackson?
Jackson looks like a future first-rounder due to his quick first step and ability to burst past or through defenders. We've seen a bevy of star Trojan defenders – Jackson seems to be the next one in line.
USC's schedule is so favorable that they may only compete against two ranked teams for the entire regular season. Notre Dame is a non-conference matchup, of course, but a date in Tempe with the aforementioned Sun Devils will be the pivotal one.
The winner of the November 6th meeting in La La Land could very well decide the South. We should also see both squads favored in 10 games, so the odds of winning this division at plus money are also a bonus. The over seems like both winnable wagers, too.
You could hedge your wager and make an additional one once USC matches up with Arizona State. I like USC's chances to win this division and feel they could do even more damage along the way. The win total is not a major uphill climb in a division that has plenty of weak teams.
Highest North Win Total
The Pac-12 North favorite should be a fun race all season due to these two top dogs (or is it Ducks?). Washington and Oregon should bring the pain on the defensive side of the ball. I'm looking for both programs to get back to where they are accustomed to being.
While the Ducks did reach the Fiesta Bowl after winning the Pac-12 title, they backed into that opportunity due to all the Covid issues with teams not competing.
The Ducks have star talent thanks to pass-rushing star Kayvon Thibodeaux – the current favorite to be plucked as the first pick in the 2022 NFL Draft. Unfortunately, the quarterback position will be one that could hold the Ducks back.
Anthony Brown had a nose for the end zone in the Fiesta Bowl, but Oregon couldn't complete a pass to save its lives. That must change with all the speed and ability the Ducks possess.
Washington will need their young wideouts and quarterback to shine as well. A big season from tight end Cade Otton would go a long way.
Defensively, these two programs should be ahead of the rest and reap the benefits against the other four teams that could very well miss the postseason. Stanford (how far have they fallen) has a win total of 4, and Oregon State is at 4.5. Then there is Cal and Washington State, both of which are just at 6 wins.
Somebody likely will get to six or seven, but nowhere close to the nine-plus that it will take to claim the North division.
Value Pick – Washington Over 9
The Huskies bring back nearly their entire offense, which was not too shabby last season (No. 49 averaged 30.2 PPG). Jimmy Lake has a lot of talent on this roster to go along with a favorable schedule.
Looking ahead, UDub should be locked in for nine wins, with the games against Michigan, Oregon, and Arizona State being the most difficult. The good news is they get to host those conference matchups versus the Ducks and Sun Devils.
Going to Ann Arbor early in the season should be a fun challenge in what I suspect will be a defensive slugfest. Safety Asa Turner and corner Trent McDuffie are star defensive backs that can limit big plays from a Michigan passing offense looking to find its way.
Linebackers Ryan Bowman and Edefuan Ulofoshio provide a much-needed ability to limit an opposing run game. I could see them walking into the Big House and finding a way to squeak out a victory. However…
A loss at Michigan wouldn't be overly devastating as the conference schedule provides much-needed ease going into the middle of October.
Dylan Morris (likely starter at QB) is listed as a six-footer, one of the smallest statured quarterbacks in a long time for Washington. The final seven games will be more challenging, but the Huskies may need to go 5-2 over that stretch for the over to cash in.
Be sure to check your book on the win total listed for Washington. Some may have it at 8.5 wins which would entice the over. Some may have it at 9 (+110), which I still would take. There should not be too much juice involved, but the plus money is always a bonus. I think the Huskies have an outside shot of becoming a dark horse top-10 squad.
At the very least, Washington will certainly hover inside the Top 25 for the majority of the season.
Team to Feast – USC Over 8.5
The win total for the talented Trojans is only set at 8.5 due to non-conference games against BYU and Notre Dame. The Cougars are the least experienced team in the nation and no longer have an elite passer like Zach Wilson.
Notre Dame just lost their star signal-caller in Ian Book. Replacing the winningest Irish QB is never easy – USC will have a legitimate shot to beat Brian Kelly and company.
One thing the fan base can be optimistic about is the Trojans conference schedule is as favorable as it gets. Hence, I won't be shocked if USC gets to double-digit victories and ends up in the AP Top 10 this season.
You have to go back to the 2017 campaign to find the Trojans' last time either won ten-plus games or finished in the Top 10. Both are realistic possibilities this season if they can shore up the offensive line.
Kedon Slovis could be one of the best in the nation this season, but he was flustered with endless pressure from the opposition in some critical games. Like when Oregon went on the road to USC in the Pac-12 title game and harassed Slovis to no end.
While some options have moved, USC is still loaded at wideout. Bru McCoy and Drake London will move the chains, and the offense should be a very good aerial attack.
The first six games are likely to feature double-digit spreads, except for a home date with Utah. A 6-0 start is likely, and then they would need to split the final six to get to nine wins. That should be rather easy.
Arizona and BYU should be very favorable matchups at home where we see USC favored by two or three touchdowns. Hosting UCLA could be similar to last season, where it turns into a shootout, and a road game against Cal is far from overwhelming. In fact, the Bears are projected to barely reach a bowl game.
Even if Southern Cal were to lose to Notre Dame and Arizona State, (both should be great games), they're looking at around 10 wins. Feast on the Trojans in 2021 (consider the Pac-12 title, South crown, win total) as Clay Helton leans on his bounty of weapons to ensure he doesn't get axed.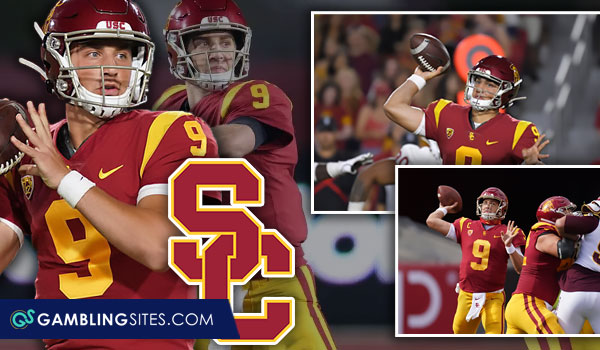 Team to Fade – Colorado Under 4.5
Ralphie and the Buffs have their win total set at 4.5, which seems a bit too much for my liking. The only good news for Colorado is they bring back a ton of production from a season ago.
They looked like a decent squad last season that squeaked a few victories over UCLA, Stanford, San Diego State, and Arizona.
On the flip side, perhaps we will see more outcomes like the one they had in their Alamo Bowl loss against Texas. The Colorado defense was searching for answers all night and simply couldn't keep up with a bunch of backups for the Longhorns.
Not boding well for Colorado is that their schedule is among the toughest in the Pac-12 and beyond. We are looking at five locked losses against the Top 25 competition: Texas A&M, USC, Arizona State (road), Oregon (road), and Utah (road).
UCLA (road) will be improved, and the non-conference slate is tough. Minnesota could hand Ralphie another loss as well. If this were at 2.5, I would perhaps take a flier on the over, but it's not.
4.5 is just too steep.
I see at least eight losses with an outside shot of double-digit losses. Northern Colorado, Arizona, and Oregon State are the only manageable games. Other than those three, the rest are looking like tough pills to swallow on the slate. I foresee a long season ahead in Boulder.
Checkout our Pac-12 conference preview for a full breakdown of every team.