Thursday Night Football Betting: 8 Player Prop Bets to Target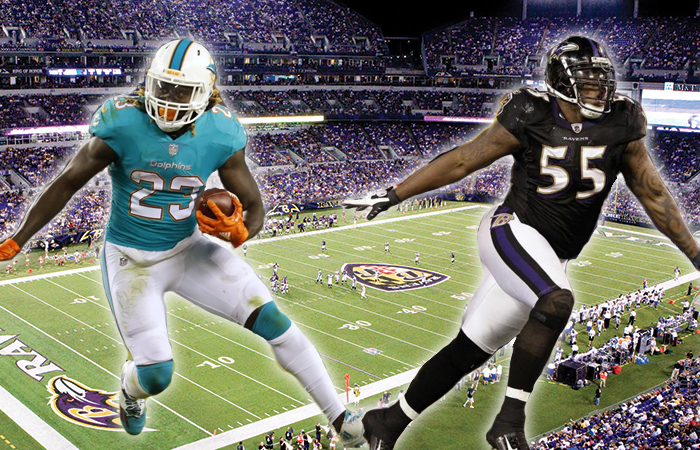 The NFL is back in action on Thursday night, as the Miami Dolphins and Baltimore Ravens turn around to face each other on a short week. Baltimore enters as the mild home favorite (-160 at Bovada) in what could ultimately be a defensive snoozer.
Thursday Night Football has been surprisingly fun in 2017, as most of the games have been rather explosive or at least fairly competitive. It's unlikely we get that out of the Ravens and Dolphins, however, as both defenses can be stingy and neither offense has been consistently explosive.
Joe Flacco seemingly can't get out of his own way in Baltimore, while Matt Moore will be taking over in Miami for an injured Jay Cutler:
Cutler is on the shelf for at least this game due to broken ribs and it will be interesting to see if Moore can continue injecting new life into the Fins' offense. Moore tossed two touchdowns and played well in a ferocious comeback win over the rival New York Jets last week.
Vegas doesn't like his chances to do something similar this week, but bettors may want to consider bypassing traditional NFL betting for wagers on the "game within the game". Those come in the form of a variety of Thursday Night Football prop bets, which can be found at Bovada, BetOnline, Topbet.eu and other sites.
We've scoured the best football betting sites to pinpoint our favorite props for Thursday's AFC battle. If you're looking for a way to make money on this game beyond simply betting on the winner, consider these Dolphins vs. Ravens prop bets:
Matt Moore Interception Total
It all starts with Matt Moore, who takes over under center for the injured Jay Cutler. Moore was solid for the Dolphins last week, but he did toss an interception.
With more work ahead of him against a talented Ravens defense, will Moore toss a pick again in week 8?
Over 0.5 INT -200
Under 0.5 INT +150
Bovada hands us this prop bet and it's not one that carries a ton of value if we attack the Over. That's the only real angle here, though. Baltimore's defense has been quite active in 2017 and is actually tied for the lead league (10).
Moore is fairly accurate and does a solid job of taking care of the football, but he's in a tough spot. He can be forgiven for one pick and if he does that, we can make some money off of the -200 odds.
Matt Moore Passing Yardage Total
We can also wager on Moore's success through the air against a stout Ravens defense. Moore put up nearly 200 passing yards in under a half last week, while Baltimore, but he'll be battling the NFL's 7th best unit against the pass:
Over 220.5 -120
Under 220.5 -120
Honestly, I'm not anticipating much offensive success in this game. This is setup to be a low-scoring affair with little explosiveness.
Moore has never been a huge yardage guy to begin with so add the tough matchup and the short week together, and I think the Under makes the most sense.
Matt Moore Touchdown Pass Total
One last Matt Moore prop bet comes our way thanks to Bovada, as we get to bet whether or not he'll fire in two touchdown passes. Again, he's facing a talented Ravens defense – one that has allowed just 9 passing scores on the season:
Over 1.5 +120
Under 1.5 -160
It's possible Moore gets a touchdown this week, but banking on two feels a reach. Miami's recipe for success consists of pounding the rock with Jay Ajayi and playing sound defense. The more they throw it, the more bad things are bound to happen.
Logic leans toward the Under here, but fortunately, we still don't get terrible value at -160.
Will Jarvis Landry Catch 7+ Passes?
The Dolphins vs. Ravens prop bets are a little more interesting over at Topbet.eu, starting with this reception wager involving Dolphins star wide receiver, Jarvis Landry:
Landry has been a huge part of Miami's passing game and while he's not the most explosive threat, he knows how to get open and rack up catches. Even again a stout Baltimore defense, he feels like a solid threat to hit 7 on the head this week.
Baltimore has allowed the 6th fewest receptions to wide receivers in 2017, but Landry is a special case. He's peppered with targets every week and has caught fewer than this week's milestone just three times in six games. He's had six catches in two of those games and five in the other.
We might be sweating this one out, but I love the value and logic associated with Landry winning us some cash.
Will Jay Ajayi Score a Rushing Touchdown?
As we touched on, Miami's best bet in staying in the game on Thursday night is running the football and that's going to start and end with Ajayi.
Miami's bruising tailback has carried the ball at least 20 times in three straight games and if the Dolphins get near the goal-line, he's a fine bet to land his first score of the season:
It is truly shocking that a guy that gets fed the rock this much hasn't scored yet (Ajayi had 8 touchdowns last year), but he is overdue. The Ravens tend to be stingy against the run, but believe it or not have coughed up the most rushing yardage in the league.
The Ravens have not been elite at stuffing running backs at the goal-line, either, as they've allowed five scores on the ground. I Ajayi can get within striking distance, we love the upside of this bet.
Will Joe Flacco Throw an Interception?
Over to Baltimore's side, we go, as bettors can project Joe Flacco's interception count and make some coin in the process. Flacco has tossed at least one pick in 5 of 7 games this year, but he'll be at home against a defense that has just two interceptions in 2017:
Miami's lack of interceptions create doubt here, but Flacco has not looked good this season. His interception trend doesn't do him any favors, while Miami's passing defense as a whole (17th in yardage allowed per game) is about league average.
You could go either way here, but Flacco has 8 picks against just 5 touchdowns this year. Logic suggests he's in danger of adding a 9th, if not more.
Will Javorius Allen Have 60+ Total Yards?
Buck Allen is far from a household name, but he's been a big part of Baltimore's offense. Allen is part of a committee backfield, but his ability to run and catch the ball has seen him total at least 10 touches in 6 of Baltimore's 7 contests this year.
That big workload has helped Allen crush this specific prop four different times and Topbet.eu wonders if he'll do it again on Thursday:
The line is pretty close here, so we really just need to consider Allen's role and Miami's defense. The Dolphins have actually been a very tough unit to run on (5th against the run), while they've been a middle of the pack unit at stopping running backs out of the backfield as receivers.
Miami is going to be tough to move the ball against, but the role is the key for us here. Allen should touch the ball a good amount in this game and 60 is a fairly low yardage Total, especially since we get to combine both his rushing and receiving yardage.
Will Terrell Suggs Get a Sack?
The last big prop to consider is this Terrell Suggs sack wager, which asks if he'll notch one sack or more against the Dolphins.
Baltimore as a unit has been slightly better than average at rushing the passer (13th in sacks), but the 35-year old Suggs has been pretty active with 4.5 sacks through his first seven contests.
Suggs refuses to age like a normal person, and he'll be going up against a Miami offensive line that has let Cutler and Moore get hit a ton. Cutler was sacked 12 times before going down last week, while Matt Moore's lack of preparation in the face of a strong defense on the road could open the door to easier sack opportunities.
A hungry Suggs isn't one to bet against, either. After not getting a full sack since week five, look for Suggs to feast in this matchup.
That does it for our look at our favorite NFL player prop bets for TNF. Remember, there are more NFL betting sites to check for prop bets and more wagers tend to come out as the game draws closer.
These are some of the best out there right now, however, and our picks could help you win some serious cash. Regardless of which way you bet heading into Thursday Night Football, we wish you luck!