Third Baseman Rankings for Fantasy Baseball in 2021

The 2021 fantasy baseball season is upon us, with the MLB regular season just over a month away. That means the time to prepare for your fantasy draft is understandably running out.
We've got you covered, as Michael Wynn and I are pushing out fantasy baseball player rankings for every major position.
Ideally, these 2021 fantasy baseball rankings show you the top options to target early in drafts, as well as some solid fantasy sleepers that can be had in the middle rounds.
With that, let's keep things rolling with my fantasy baseball 3B rankings for 2021.
The 10 Best Fantasy Third Basemen in 2021
A deeper position in the past, 3B looks like a fairly top-heavy spot going into 2021 fantasy baseball drafts.
If you feel the need to spend an early pick on a Third Baseman this year, start with the top-10 fantasy baseball Third Baseman below.
1. Jose Ramirez – Indians
Ramirez is without a doubt the top 3B option to snag early in fantasy drafts in 2021. He's presently the 10th player off the board, largely because he offers a power+stolen base upside few players can approach.
He flashed his raw power in 2018 (39 homers), and had a torrid pace again in 2020. It's his base running that sets him apart, though. Just see where his steals rank among 3B over the last five years.
| | | |
| --- | --- | --- |
| Year | Stolen Bases | Rank |
| 2020 | 10 | 1st |
| 2019 | 24 | 1st |
| 2018 | 34 | 1st |
| 2017 | 17 | 2nd |
| 2016 | 22 | 1st |
His ability to launch balls into the stands and swipe bags saw him finish as the third best fantasy player in 2020, and by far the top Third Basemen.
On pace for 47 dingers and 27 steals last year, Ramirez should once again profile as the best 3B option in drafts.
2. Anthony Rendon – Angels
Third Basemen are known for their power, and Rendon offers some of the best hitting upside in the majors. After signing a massive contract with the Halos, he responded with nine home runs in 52 games.
That was a tad underwhelming after he clocked 34 homers the year prior, but he's still a fantastic hitter who can rack up stats for you. Rendon's upside may be mildly curbed due to the park he calls home, but the 30-year-old offers insane upside at the plate.
If you think he can return to where he was in 2019 (when he had the second most fantasy points of any 3B), then you'll agree he's the second guy to go off the board this year.
3. Nolan Arenado – Cardinals
In any other year, Arenado would be in contention to be my first 3B off the board. Unfortunately, he will no longer spend half of his time at the hitter-friendly Coors Field.
On top of that, he's going to the not-so-hitter-friendly Busch Stadium. He also had a middling 2019, so expectations may need to be tempered a bit.
He also is no longer dealing with any shoulder issues.
Nolan Arenado: Free of 2020 left shoulder issueFebruary 22, 2021
Luckily, it's suppressed his value in 2021 fantasy baseball drafts. Despite having the upside to be the #1 Third Baseman, he's the 4th guy in drafts at his position, and 28th overall on average.
4. Alex Bregman – Astros
Houston hitters all hit a way last year, and it's likely their cheating scandal had something to do with it. That, or opposing pitchers weren't as afraid of them anymore, and/or just worked extra hard to get them out.
All of that, probably.
Bregman didn't escape that fate, as he launched just six home runs and hit .242 at the plate in 42 appearances. I'm not drafting him for a down year in a truncated season, of course.
Bregman is an elite hitting talent that was the #1 3B just one year prior. Back to a normal routine with the weight of the cheating scandal a year removed, I love Bregman's upside in 2021.
5. Manny Machado – Padres
There isn't anything to dislike about Machado. He's on a surging, powerful Padres team, he's coming off a fantastic 2020 campaign, and he's consistently been one of the best fantasy assets in baseball.
I'm just preparing for a little progression, as he was on pace to set
career-highs in a shortened season.
The reality is nobody really knows what to make of what we saw last year, and I'm expecting some of the top performers to regress to the mean.
Machado may be part of that, which could cause him to go slightly overdrafted. It won't be much of a reach, of course, as he still feels like a good bet to crack the top-5, as well as a top-10 lock.
6. Rafael Devers – Red Sox
In terms of consistency and upside, things start to drop off after the top-5 3B in 2021. You can still get elite power or a high floor depending on where you look, though.
Devers is a masher that is going to get you home runs, and that alone keeps him in the top-10 conversation for me.
The Boston slugger is the 42nd player (7th 3B) off the board in 2021 fantasy baseball drafts right now, which feels a little low for a guy that cranked out 32 home runs, 115 RBI and a cool .311 BA two years ago.
The Red Sox hit a wall last year, but they'll need Devers at his best more than ever in 2021. It's not like he was some useless sad sack last year, either, as he comfortably slid in as the #4 3B on the year.
7. Eugenio Suarez – Reds
Suarez regressed horribly at the plate last year, but thanks to his insane power and nice hitting conditions at Great American Ballpark, he still managed to crack the top-6.
It seems the shortened season rubbed a lot of players the wrong way in terms of routine and getting into a rhythm, and Suarez fits the profile there.
Despite that, he still slugged 15 home runs and drew the 5th most walks among Third Basemen. Let's not forget that this kid hit 49 home runs just one year prior, rounding out as the 5th best 3B.
I think another top-5 finish is certainly plausible, but you're probably getting him at a discount in 2021 fantasy drafts.
8. D.J. LeMahieu – Yankees
LeMahieu is just rock solid. His power gets an uptick thanks to improved launching angles and operating out of Yankee Stadium half the year, but I do think he'll see those raw power numbers decline further in 2021.
That's really the only knock for perhaps the best pure hitter in MLB. If you think his power numbers can stick (or even improve), then nudge him up a few spots.
9. Yoan Moncada – White Sox
This is where I'd start thinking more about upside, and eyeing talented hitters who have a chance to make a big leap. Moncada is still being drafted like a guy who can barely sneak into the top-10, but the upside is massive in a lethal White Sox lineup.
Moncada flashed his potential with 25 homers and an insane .315 batting average in 2019, but took a major step back last year. He finished as the 12th best 3B despite an ugly .225 BA and just six home runs.
The Power has a chance to pick back up, and I don't see any way that the consistency at the plate doesn't even out, either.
With his numbers improving in each of his previous three seasons, fantasy baseball managers need to consider ignoring his interrupted 2019 and swinging for the fences on a top-10 campaign.
10. Vladimir Guerrero Jr. – Blue Jays
I'm also pretty high on Vlad, who is too talented to be stunted like he has been. The guy hits the ball incredibly hard, and should be vying for the league lead in home runs with this kind of talent.
Instead, that hard hitting translates into an awful lot of balls into the dirt, which has understandably limited his upside. Even so, you're looking at fantasy's 7th best 1B/3B from 2020.
If Vlad can be a bit more consistent at the plate and get the ball in the air more, he is going to be a flat out steal at his current 54th overall ADP.
3B Fantasy Rankings Continued (11-30)
11. Max Muncy – Dodgers
12. Matt Chapman – Athletics
13. Cavan Biggio – Blue Jays
14. Kris Bryant – Cubs
15. Mike Moustakas – Reds
16. Miguel Sano – Twins
17. Alec Bohm – Phillies
18. Ke'Bryan Hayes – Pirates
19. Josh Donaldson – Twins
20. Tommy Edman – Cardinals
21. Austin Riley – Braves
22. Justin Turner – Dodgers
23. Gio Urshela – Yankees
24. Jeff McNeil – Mets
25. Eduardo Escobar – Diamondbacks
26. Hunter Dozier – Royals
27. Kyle Seager – Mariners
28. Brian Anderson – Marlins
29. Dylan Moore – Mariners
30. Ryan McMahon – Rockies
If you want to have a good season at 3B, you should probably invest an early pick in getting one of the best options. If you can't, I still think there is elite value in the middle rounds.
Matt Chapman and Kris Bryant both stand out as elite bounce-back candidates. They are both immensely talented and offer insane power, yet everyone will be down on them after finishing 40th and 26th at their position in 2020.
I'd throw that out of the window and pay more attention to their 2019 numbers, where they both cranked out 31+ homers and were top-10 commodities at 3B.
While those guys look like solid values, one name to monitor and potentially hop on is Ke'Bryan Hayes.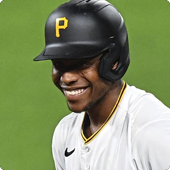 Hayes was a monster for the Pirates in 2020, but many will be skeptical due to the small sample size. In the end, he played in just 24 games for Pittsburgh, but churned out an insane .376 batting average, along with five home runs.
Can we really bank on the home run pace (33)? I'm not sure, but Hayes was a first round pick back in 2015, and he profiles as an elite defender with nice hitting upside.
With his improved power and focus, it's fair to wonder if he morphs into a key cog for the rebuilding Pirates. The efficiency from last year isn't realistic to demand, but Hayes still looks like a terrific sleeper when you stretch him out over a full season.
The Best Fantasy 3Bs in 2021
If you're looking at the 2021 Third Baseman rankings, you'll realize it's a pretty top-heavy position. That's largely due to some down years in 2020, which can be attributed to injury, as well as a shortened season.
It was just a weird year in baseball, overall. Routines were thrown to the side, scheduling was different, and nobody felt safe.
Things will be somewhat back to normal in 2021, which should mean some guys with eye-popping numbers see things even out over a full season, and others could see a spike with more normalcy added to their lives.
Hopefully these fantasy baseball 3B rankings point you to the top studs worth drafting early, while also hit on a few value picks for later in your draft.
For more help via 2021 fantasy baseball player rankings, check out our other posts below.