Hide Bonus Offers
| | | | | |
| --- | --- | --- | --- | --- |
| #1 | BetOnline Sports | 60% Up To $1,000 | Visit Site | BetOnline Sports |
| #2 | Bovada Sports | 50% Up To $250 | Visit Site | Bovada Sports |
| #3 | BetUS | 125% Up To $2,500 | Visit Site | BetUS |
| #4 | Everygame | 100% Up To $500 | Visit Site | Everygame |
| #5 | MyBookie | 100% Up To $1,000 | Visit Site | MyBookie |
The Ultimate Guide to Casino Jobs – 19 Casino Careers Explained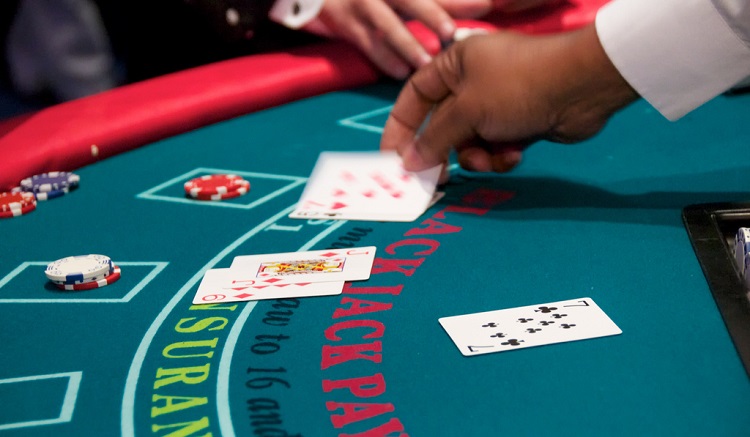 Casino gambling is big business in America. Only five US states offer no form of casino gambling, and many of those states are currently considering legislation that would pave the way for live gambling. Americans wager $100 billion at casinos each year, spending an additional $60 billion on room stays, amenities, and other casino perks. By the way, that $160 billion is almost double what Americans spend on beer in a year. We love gambling more than we love beer? Say it ain't so.
An industry that size needs a massive pool of labor to support it, to say nothing of talented management and designers to build the casinos and keep them afloat. Casinos give good jobs to millions of people from coast to coast, some 200,000 in the state of Nevada alone. These aren't fly-by-night jobs, either – the average annual salary for all casino employees is a cozy $46,000, tacking the national average almost exactly.
Below you'll find all-encompassing guides to nineteen casino careers. We've included average salary information and details on the job's overall outlook. Please note that all of the average pay and job outlook information below is drawn from information on the website of the US Bureau of Labor Statistics, and is accurate as of the most recent page update. We've listed the range of low-end salaries, usually entry-level jobs if such a pay rate was available. But we also use this space to share details about what a day in the life of a casino job looks like, as well as notes on things like uniforms and perks, and some inside info when we could find it.
Casino Floor Employees
Among the most visible of employees in the casino are the workers on the casino floor. Though casino dealers are probably the most recognizable casino employees, we've given them their own section at the bottom of the page. Let's start with the casino's hardest workers, the people earning low wages to make your time spent gambling more entertaining.
1. Casino Cashier
Avg. Pay: $10 – $12/hr.
What they do: Casino cashiers conduct different transactions with casino customers, dole out paperwork, and (if they're working in a "cage"), exchange tokens or chips for cash. You'll also find casino cashiers working in booths to cash checks, handle credit card advances, deal with wire transfers, and generally handle financial transactions for guests. As you can imagine, this makes them a vital cog in the wheel of the casino. Cashiers help casino customers lose, so it should be no surprise that this job has a strong outlook for the future.
Working conditions: Working as a cage or booth cashier is not the most glamorous job in the casino, by any means. You'll work long hours doing the same few things over and over, and often have to deal with disgruntled customers. The pay is above minimum wage in most markets, but since few if any opportunities to earn tips exist, it's not the most financially-rewarding casino job, either. This is a great entry-level position for someone looking to break into casino management. It's also ideal for a college student looking for summer or part-time employment. Casino cashiers usually wear a uniform as provided by or required by the casino. You'll find them all over the venue, from the front door to the back corner, in cages, booths, and kiosks, doling out crisp dollar bills and a rainbow of casino chips.
Outlook: Strong, with job growth tied directly to the expanding US live gaming market.
2. Floor Staff
Avg. Pay: $10 – $12/hr.
What they do: This is a generic job title given to people who work in a number of different roles on the casino floor. The phrase "floor staff" can be used to describe custodians, cashiers, wait-staff, go-fers, and just about any other position that involves mainly menial labor. A member of a casino's floor staff may not perform the same role two nights in a row, and may be used in a "filler" or "floater" role to pick up the slack when other employees call in sick. Floor staff are the ones you see in constant motion, ready to help with any questions, point you in the direction of a game, and then quickly clean up after you before they move on to help tidy up the restrooms. They're the workhorses of the casino.
Working conditions: Some people are built for jobs like this. Working in the trenches of the casino requires self-discipline, a strong work ethic, stamina, and (maybe above all else) the ability to pick up any menial task and complete it. Employers are looking for smiling faces that can pass a drug test and employment screening. Uniforms are usually required. In some casinos, floor staff occasionally earn tips, but don't count on it as any sort of steady income.
Outlook: Strong, thanks to a growing live gaming market and a move toward cheaper labor.
3. Security Guard
Avg. Pay: $15/hr.
What they do: Security is a big deal at live gaming venues, for all the obvious reasons. With all the billions of dollars blowing through casino machines and gaming tables, it's no wonder that casinos spend a lot of money on security services. We'll talk about surveillance jobs a bit later – they're a different animal altogether. Security guards at casinos may patrol the casino floor, they may work with casino surveillance in an adjunct position, they might guard one specific area such as a booth, cage, or vault, and they may wear plainclothes and patrol the floor for cheaters, thieves, drunks, and all the other colorful characters in a typical US casino.
Working conditions: This varies depending on the venue. A security guard working at a casino on the Vegas Strip will have totally different conditions than one minding a single bank of slot machine games at a racetrack in Ohio. Security guards will spend a lot of time on their fight, moving around, and dealing with customers. In some circumstances you may be called on quite often to deal with rowdy intoxicated people. Other jobs may require very little besides just your intimidating presence. All of these jobs will require a security guard uniform.
Outlook: Average, compared to job growth in other security careers. That's because casino security is changing, moving more towards surveillance and technology or in some cases hiring rental security agents to save money.
4. Slot Attendant
Avg. Pay: $13 – $20/hr.
What they do: Slot attendants are a sort of go-between, working with casino guests and casino management. Each slot attendant has a specific number or set of slot and video poker machines they work with, maintaining the proper functioning of the machines, looking out for guest safety and comfort, and making hand-pays to slow players who win large payouts. Slot attendants work for slot hosts, helping to promote loyalty clubs and other programs offered by the casino, and sometimes handing out small-scale comps to loyal players.
Working conditions: Working as a slot attendant is a great way to find work as a host. You get exposure to the casino's favorite guests, an opportunity to show off your customer service skills, and a chance to prove to the higher-ups that you deserve a shot at bigger pay and more responsibilities. In other words, this isn't a terminal position for most slot attendants. The pay is closely tied to experience and profits – make a lot of money for the house and they'll reward you in kind.
Outlook: Average, closely tied to the overall casino industry and your skill set.
5. Slot Host
Avg. Pay: $42,000 – $85,000/yr.
What they do: Not every casino has a slot host. You'll mainly find these in the larger US casinos, think Atlantic City, Las Vegas, and maybe some of the ritzier Gulf Coast locations. The slot host is to slot players what the casino host is to casino gambling VIPs. The slot host works the slow playing crowd, setting up visits from players who spend (read: lose) a lot on slot and video poker games, arranging special comps and deals, acting as concierge, and basically doing all the things a traditional casino host would do … but for a population that's often overlooked at other casinos.
Working conditions: The slot host has one of the nicer jobs on the casino floor, similar to a casino host. The slot host gets to hand out rewards and comps, glad-hand regulars and newcomers alike, congratulate big winners, encourage people to play with loyalty points, and have a good time on the casino floor. The pay is tied closely to experience and skill, though most slot hosts are looking for a job in management or somewhere higher up the food chain, and aren't content with raises. You'll want to dress for success every day, and expect seven-day weeks with long hours, especially as you learn the trade.
Outlook: Not great; as casinos move away from traditional comp systems, slot host jobs are the first go.
6. Surveillance Agent
Avg. Pay: $15 – $20/hr.
What they do: Surveillance agents work for the casino's security department in a specialized role. While surveillance agents may occasionally do traditional gumshoe detective work, their main role is monitoring the casino floor for cheating and other illegal activity, usually through the use of "eye in the sky" cameras or other sophisticated technology.
Working conditions: This job is a step up from traditional security work, but it's not a terminal position by any means. You won't earn much money, but you can make a decent living, especially in a smaller market such as the casinos of Oklahoma or New England. Surveillance agents may wear a uniform, may be asked to wear a suit to work each day, or may be disguised in plainclothes. The work can be demanding, especially in a busy casino with heavy traffic. Surveillance agents often graduate to management-level jobs in casino security.
Outlook: Strong, as new casino markets and technology require new kinds of surveillance.
Back of House & Management
Some of the most sought-after and best-paying jobs belong to people in the casino who you will rarely see. These people keep the machine running, from making schedules and organizing payroll to working behind the scenes to provide comps and other rewards to gamblers.
7. Casino Host
Avg. Pay: $35,000 – $90,000/yr.
What they do: The job of a casino host is to create, develop, and maintain relationships with high-value players. The casino host hands out comps and sets up visits for VIP gamblers, acting as a concierge, answering their every question and catering to their every whim. But before we paint hosts as snobs, only dealing with the highest-level players on the floor, know that the best casino hosts know how to treat everyone, from newcomers playing nickel slots on up to the biggest-spending VIPs. Casinos know how far a comp'd meal will get them with their customers, and casino hosts are the big players on the casino floor who can hand that sort of thing out without approval.
Working conditions: If you're willing to work long hours (sixty hour weeks are reportedly common) in exchange for relatively low pay, a job as a casino host can pay the bills and get you on the career ladder toward casino management. This is an "always-on" job, meaning you have to put your best face forward at all times to all guests. A good casino host is a people-person first, and a detail-obsessed hospitality expert second. Hosts are usually required to dress quite formally, as in "dress to impress."
Outlook: Not great, since casinos are looking to spend less on labor during times of expansion.
8. Casino Manager
Avg. Pay: $50,000 – $100,000/yr.
What they do: Casino management is all about oversight. Your job is to manage a group of people, each of which performs a specific task. Casino managers are in charge of things like scheduling and payroll, and they provide consistent leadership. Casino managers have to be concerned with both sides of the coin – ensuring casino profits AND customer happiness. Most casino managers are at least amateur accountants, have studied some form of human resource or marketing, and are familiar with every job in the casino, from the custodian to the chef to the owner.
Working conditions: Management is always a stressful position. Casino managers have to answer to disgruntled guests and unhappy investors. They have to hire and fire, maintain peace among hundreds or even thousands of workers, and keep the building running in working condition. Their hours are totally unpredictable, and the pay couldn't possibly equal the work. Still, it's one of the few six-figure jobs in the casino, and those who climb their way up to this position are willing to do anything to get here.
Outlook: Average, compared to other management positions.
9. Casino Owner
Avg. Pay: $100,000+
What they do: Not much. Gone are the days when most US casinos were owned by a single individual. We live in the days of the corporate casino, when few casino owner icons exist that fit the mold of the greats of old Vegas. Having said that, there's not much stopping a person from becoming a casino owner in a US state that allows commercial casinos. If you had the money, you could open your very own casino. Once you've made the initial investment and broken ground with a ceremonial shovel and then cut the ribbon at the grand opening, you don't have much to do but sit back and cash checks.
Working conditions: You own a casino – your life is probably pretty sweet, and your job consists mainly of attending a meeting every few months and drinking champagne at lunch.
Outlook: Not good. It's good to be the king, but not too many of us will ever get to wear the crown.
10. Pit Boss
Avg. Pay: $50,000 – $71,000/yr.
What they do: Once upon a time, the pit boss was the name given to the casino manager, who sat on the casino floor to do his job. These days, a casino may have multiple pit bosses, managers responsible for watching a few table games, supervising their dealers, and managing floor supervisors. It's a highly-sought after casino job, not just because it's one of the better-paying ones, but because it comes with a lot of authority. The basic mechanics of the job are that you know how to watch dealers for errors, watch customers for cheating, ensure proper game procedures are followed, handle payouts at as many as a dozen tables at once, and (at the end of the day) help make sure the customers are having fun and losing money.
Working conditions: The biggest drawback to holding the pit boss position is stress. If you've ever gambled in a busy casino, you can imagine the stress that comes with handling payouts, paperwork, and security for a dozen different table games, while managing a dozen more staff members and creating an overall atmosphere of fun. In some casinos, the pit boss earns a small share of dealer tips called the pit boss envelope. It's a nice bonus, but usually no more than a hundred bucks or so.
Outlook: Strong, thanks to the vitality of the role the pit boss plays.
11. Pit Clerk
Avg. Pay: $38,000 – $65,000/yr.
What they do: The pit clerk is the assistant to the pit boss, even if casinos don't say that in so many words. The pit clerk is to the pit boss what the slot attendant is to the slot host. Pit clerks act as go-fers, they may occasionally fill in for pit bosses, but what they always do is provide adjunct services to keep the casino floor running smoothly. The pit clerk job is yet another in-road to higher-level management, a sort of top-tier floor staff job that's nearly as highly-sought after as the pit boss position itself.
Working conditions: Decent, compared to other jobs in the casino. The pit clerk makes a bit more money than the floor staff they often work closely with. Pit clerks also gain early management experience, and often supervise a number of floor staff members, custodians, security guards, and other employees. Pit clerks often earn benefits packages, making it a logical step-up for security guard or surveillance agents who want a bigger challenge or greater income.
Outlook: Strong, thanks to the job's artificially-low salaries and the large need for support.
12. Slot Supervisor
Avg. Pay: $30,000 – $43,000/yr.
What they do: Think of the slot supervisor as the manager of all employees who work with slot machines. The slot supervisor answers to the slot host, but often supervises their own team of employees, mechanics, custodians, and the like. Slot supervisors also perform all the duties of slot attendants and their other understaff members, and are sometimes called upon to perform some of the duties of casino management.
Working conditions: Slot supervisors have a number of bosses and managers to answer to. They earn little pay, compared to their long hours and many responsibilities. Most people in this job are working their way up into another position, so interviews and application processes can be difficult.
Outlook: Strong, thanks to the consistent taste Americans have for slot gaming.
Casino Game Dealers
A note on the working conditions for casino game dealers – it's fairly similar for all the jobs listed below, so let's just discuss it here.
First, understand that dealers usually make minimum wage, or close to it. They're expected to live off their tips. Most people don't understand this basic fact about their blackjack dealer – he can't survive on the $7.50 an hour he makes for a salary. The $5 you tip him on every blackjack is his bread and butter, much like a waiter.
How much do waiters make in tips?
That depends on the casino, the game, and the luck of the players. Let's say you're dealing blackjack to four players at $20 per hand. Each of them is liable to get about five blackjacks per hour. Since about half of people stiff their dealers entirely, that's two players tipping $5 per blackjack, or a total of $20 in tips for that hour. Combined with the $7.50 you're earning on an hourly basis, you've just earned $27.50 an hour as a blackjack dealer. That's decent, but not "write home to mama" good. Dealers are gamblers, in a lot of ways, hoping that they'll be assigned to a decent table and draw players with lots of luck and a tendency to tip. It's just as likely that they make nothing at all, or just a couple of bucks, in the next hour.
Dealer schedules tend to be really flexible
This is one of the only major perks of this tougher-than-it-seems job. Since casinos are open long hours, or even 24 hours a day, it's easy to build a schedule just how you like it. But, of course, most dealer shifts are just six hours, or even less, so that casinos can ensure they're not making mistakes based on boredom or too much repetition.
Let's add it all up. How much could a blackjack dealer really make? Let's say you're working six six-hour shifts per week. If you could average the $27.50 per hour we talked about earlier, you'd be pulling in just under $1,000 a week. That's not bad, considering the security guard protecting you while you deal would have to work a 67-hour week to earn the same amount.
A dealer's working conditions are as closely tied to where they work as any other job in the business. If you're planning to work as a casino dealer, be sure to talk to dealers who currently work at the casino you're interested in, and try to get an idea of their actual tip income.
Below is the rest of our ultimate guide to seven of the most popular dealer jobs in US casinos.
13. Baccarat Dealer
Avg. Pay: min. wage plus tips
What they do: Each game of traditional baccarat is staffed by three dealers – a croupier, the head dealer who actually directs the play of the game, and two associate dealers who calculate payouts and actually pay winnings. In modern or mini- versions of the game, only the croupier is necessary. If you're dealing at a fancy casino where high-stakes baccarat available (in the US, this is pretty much limited to Vegas and Atlantic City), you stand to make a pretty penny in tips. Unfortunately, though baccarat is offered at plenty of casinos in America, it's not a popular game outside the country's gaming hotspots, so tips are inhibited by low traffic.
Outlook: Not good, thanks to a steady decline in baccarat's popularity.
14. Bingo Caller
Avg. Pay: min. wage plus tips
What they do: The basic job of the bingo caller is to announce the winning numbers as they're drawn. To that end, they need to have a clear and strong voice and the ability to alter their tone so as to maintain interest. Usually, bingo callers are radio DJs, announcers, musicians, singers, actors, or others with some kind of experience in the entertainment industry. In many casinos, callers are required to check for a win after bingo is called, and perform other duties necessary to the operation of the game.
Outlook: Strong, thanks to the ever-expanding popularity of casino bingo and bingo in general.
15. Blackjack Dealer
Avg. Pay: min. wage plus tips
What they do: Blackjack tables require just one dealer who participates in a showdown with between one and seven gamblers each round of play. Blackjack dealers are charged with changing money for customers, which means rapidly making accurate change, checking for counterfeits on the fly, and exchanging chips for cash. The dealer also runs the game, which means accepting wagers, dealing cards according to the game's rules, ensuring that everyone is wagering and playing by the rules, following a prescribed set of actions based on game play, and then paying out winnings and collecting losses. By the way, the whole time, he has to be watching for cheating and maintaining a friendly atmosphere for the customers. After all, without tips, he'll earn nothing minimum wage, starvation wages in a place like Las Vegas.
Outlook: Strong in some markets, weak in others, depending on the popularity of the game.
16. Craps Dealer
Avg. Pay: min. wage plus tips
What they do: Craps requires the most dealers of any casino game. You'll find four employees working every traditional game of craps. The boxman oversees the game, sitting at the center of the table behind the chips. This is the guy who counts money, settles any disputes, and maintains order. Think of him as the craps manager. Two dealers stand next to the boxman, one on each side. In casino slang, they're "on base," meaning they're keeping track of player bets, paying out winnings, and accepting losses. These are also the two dealers who will make certain bets for you – Place bets and Come or Don't Come bets are usually placed by a dealer. The final craps dealer is called the stickman. He uses a special stick to move the dice around, so he's said to be "on the stick." The stickman doesn't interact much with the guests in terms of the game, but he is usually charged with creating patter, encouraging larger bets and crowd participation.
Outlook: Not good, thanks in part to the need for so many dealers at one table, and in part to the game's declining popularity in most markets.
17. Keno Dealer
Avg. Pay: min. wage plus tips
What they do: The phrase "keno dealer" can refer to two different jobs, known in the casino as "writer" and "runner." A keno writer supervises the keno game overall, staying in one place, accepting bets from players in the minutes leading up to the draw. A keno runner is sort of like a keno writer's assistant, roaming the keno area trying to drum up bets and gather wagers from players who don't want to walk all the way to the writer's desk. Keno runners also serve as mini-bankers at many casinos, accepting and paying out some small amounts on their own. Keno winners are generally expected to tip both the writer and the runner, which makes keno a surprisingly-lucrative game to deal, if you don't mind running all over the casino floor for $1 tips all night.
Outlook: Strong, thanks to keno's increasing popularity and presence at US casinos.
18. Poker Dealer
Avg. Pay: min. wage plus tips
What they do: Two kinds of poker dealers exist in American casinos – dealers at casino-style poker table games and dealers at head to head poker games in casino poker rooms. The jobs are different in terms of conditions and clientele. Some dealers that work these card rooms are paid more than the minimum wage earned by other casino dealers. And for good reason. Head to head poker games at casinos are raked, and players at these games are not known to be great tippers. Table game versions of poker, found on the casino floor, are often a different story. Patronized by older, slower players, the games aren't nearly as hectic to deal as classics like blackjack and craps, and tips are a bit more likely.
Outlook: Strong, thanks to the poker boom and renewed interest in casino-style poker games.
19. Roulette Croupier
Avg. Pay: min. wage plus tips
What they do: The croupier is responsible for announcing "Ladies and gentlemen, place your bets" at the beginning of each round. He also checks to ensure all bets are legal and clearly-marked. Often, your croupier will place a bet for you at a crowded game, when it's tough to elbow in and wager. The croupier picks up the ball, launching it into the spinning wheel, announcing "No more bets" once the ball has fallen below the lip of the wheel. The croupier then announces the winning number and color, marks it on the board, pays all winnings and accepts all losses, and starts the process over again.
Outlook: Average compared to other casino dealer jobs.