Hide Bonus Offers
| | | | | |
| --- | --- | --- | --- | --- |
| #1 | Bovada Sports | 50% Up To $250 | Visit Site | Bovada Sports |
| #2 | BetUS | 125% Up To $2,500 | Visit Site | BetUS |
| #3 | MyBookie | 100% Up To $1,000 | Visit Site | MyBookie |
| #4 | Everygame | 100% Up To $500 | Visit Site | Everygame |
| #5 | BetOnline Sports | 60% Up To $1,000 | Visit Site | BetOnline Sports |
The Only Players You Should Bet on to Win the 2018-19 NFL MVP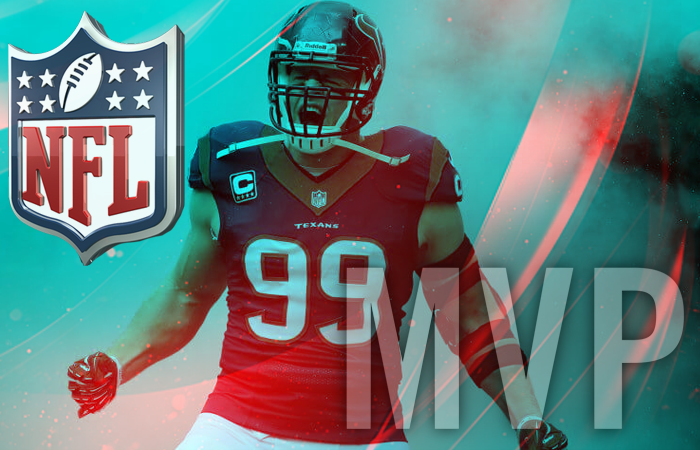 With the 2018 NFL season finally here, sports bettors are scrambling to finalize a slew of preseason NFL wagers.
Time is certainly running out to do so, as most football betting sites will either close a variety of wagers for good or at least take them down to adjust odds following the first couple of weeks.
In an effort to maximize betting value, taking advantage of absurd odds now is pretty key.
One wager where that might not be the case, however, is NFL MVP.
That isn't to say that it's easy to predict who will win the award in 2018, but history suggests the candidate list is a lot shorter than some football betting sites would have you believe.

Bet on a Quarterback
If you're planning to bet on who wins the 2018 NFL MVP award, start with the quarterback position, and don't steer too far away.
A quarterback typically wins the award and has done so in each of the last five seasons, as well as 10 of the last 11.
It's easy to see why.
The NFL has turned into a pass-driven league, and quarterbacks have long been the face of their franchises. If a team succeeds or fails, it's often the man under center who draws the most praise or criticism.
That, and they put up the most eye-popping stats.
There just aren't that many feature running backs that get ground into mush anymore. That's why crazy 2,000+ yard rushing seasons or 20+ rushing touchdown years have died out.
Wide receivers and tight ends can go nuts, too, but guess who is throwing them the ball and racking up just as many stats – if not more so? Yeah, the quarterback.
Running backs at least have a mild claim to the throne. They're the only non-quarterback position to win the award since Lawrence Taylor back in 1986.
In history, the league has voted one kicker MVP and gave two defensive players the nod, but never a wide receiver. Jerry Rice took the honors if you count the Pro Football Writers Association or start dabbling in Sporting News awards and others.
Based off of the official Associated Press NFL MVP award, though, your main focus should be on quarterbacks with a glance toward running backs capable of insane production.
The Only Real MVP Candidates
I won't actually tell you not to bet on a kicker, defensive player (although you probably shouldn't), or a wide receiver. In fact, there may exist a scenario where a handful of wide receivers could argue their case.
It's just not logical based on how the voting has gone for, oh, I don't know, forever.
You also can only really work with the NFL MVP odds the top sports betting sites hand you. Even if you do love a defensive player or wide receiver, it's possible they're not even an option.
It's all for the best, I'm sure.
It would take a truly historical season to get a wide receiver the nod. Antonio Brown or someone else would have to break some NFL records or put up insane numbers with a musical chairs situation at quarterback.
Unfortunately, it's just not realistic, and I think your main focus needs to be on viable quarterback options and the very best running backs at your disposal.
Here are my favorite 2018 NFL MVP betting options, along with their odds over at SportsBetting.ag.
Aaron Rodgers – QB, Green Bay Packers
+600
Tom Brady – QB, New England Patriots
+800
Carson Wentz – QB, Philadelphia Eagles
+1000
Russell Wilson – QB, Seattle Seahawks
+1200
Drew Brees – QB, New Orleans Saints
+1600
Jared Goff – QB, Los Angeles Rams
+1600
Kirk Cousins – QB, Minnesota Vikings
+1800
Matt Ryan – QB, Atlanta Falcons
+1800
Ben Roethlisberger – QB, Pittsburgh Steelers
+2000
Cam Newton – QB, Carolina Panthers
+2000
Dak Prescott – QB, Dallas Cowboys
+2000
Derek Carr – QB, Oakland Raiders
+2000
Deshaun Watson – QB, Houston Texans
+2000
Jimmy Garoppolo – QB, San Francisco 49ers
+2000
Andrew Luck – QB, Indianapolis Colts
+2500
Matthew Stafford – QB, Detroit Lions
+2500
Philip Rivers – QB, Los Angeles Chargers
+2500
Todd Gurley – RB, Los Angeles Rams
+3300
David Johnson – RB, Arizona Cardinals
+4000
Le'Veon Bell – RB, Pittsburgh Steelers
+4000
Ezekiel Elliott – RB, Dallas Cowboys
+5000
This list as it stands is even running longer than I really like. Yes, if you really want to throw caution to the wind, feel free to toss some light cash on a stud wide receiver or two.
There are a handful of truly elite wide receivers in the league that seriously could threaten for the single-season reception, yards, and touchdown records. But they'd probably need to break them to actually get the nod over the quarterback helping them get there.
I don't really see that happening, while I'm not listing every single possible running back or quarterback that could win the 2018 NFL MVP.
Somebody I don't have my eye on could win, but I doubt it.
I'd stick to this list and start cutting it down using as much logic as possible.
What Makes an NFL MVP?
Looking at NFL MVP betting from a positional perspective is very important because it shows how the MVP voting panel looks at the league.
Quarterbacks are favored, a magical running season is respected, and it'd take something out of this world for anyone else to win.
You really can go based off the data that's out there, and aside from a random flier, a very long line of MVP winners tells us two positions dominate this thing.
Three other things are huge when it comes to voting.
Gaudy Stats
Team Success
Iconic Status
Each of the last three MVP winners got their teams to the Super Bowl and were also near the top of the league in statistics.
In 2014, Aaron Rodgers didn't get his team to the league's title game, but the Green Bay Packers did go 12-4 and got to the NFC title game. Rodgers also put up elite numbers across the board.
Looking back over the past decade, there's something about being an icon that gives you a solid chance of winning this award, too.
Names like Aaron Rodgers, Tom Brady, Peyton Manning, and Adrian Peterson stand out. In fact, in the last 11 years, only Cam Newton and Matt Ryan won the award and weren't among that aforementioned list.
This criteria isn't necessarily insurmountable, but to win league MVP, you absolutely have to have an amazing year.
It can potentially lean heavily on stats, team success, or a storied career, but history suggests some type of combination is necessary for a win.
The Final Cut
I showed you my list of NFL MVP candidates, but that was a rough draft cut from a much bigger list of NFL MVP odds over at SportsBetting.ag.
I'm not here to tell you who not to pick. I'm just breaking NFL MVP betting down from a logical perspective and handing you my very favorite picks that have the best chance of winning.
Here they are.
Aaron Rodgers – QB, Green Bay Packers
+600
Tom Brady – QB, New England Patriots
+800
Ben Roethlisberger – QB, Pittsburgh Steelers
+2000
Andrew Luck – QB, Indianapolis Colts
+2500
Philip Rivers – QB, Los Angeles Chargers
+2500
Todd Gurley – RB, Los Angeles Rams
+3300
David Johnson – RB, Arizona Cardinals
+4000
Le'Veon Bell – RB, Pittsburgh Steelers
+4000
Ezekiel Elliott – RB, Dallas Cowboys
+5000
There are still a lot of options here, but I've narrowed it down to my five favorite quarterbacks and four running backs that could potentially get their names in the conversation with huge seasons.
Of the running back group, David Johnson is my favorite. You really could have argued Todd Gurley could have been the MVP last year, but if that crazy season (2,000 total yards and 19 total touchdowns) can't get him the win, I doubt he's being handed anything in 2018.
That's probably true for Zeke, Bell, and even DJ.
However, Johnson is arguably the most explosive rusher of this four-pack, and after sitting out 15 games due to a wrist injury last year, I think he's going to play with some extra energy.
That, and he's put up big numbers before and has his sights set on achieving 1,000+ yards, both as a runner and a receiver.
That is not an easy accomplishment, and if Johnson does that while racking up a slew of touchdowns and receptions while also lifting Arizona to the playoffs, he absolutely is in the mix.
He's still near the bottom of likely NFL MVP winners, but at +4000, I'll roll the dice.
Realistically, this race will ultimately be won by one of a handful of quarterbacks.
I'm not saying guys like Derek Carr, Dak Prescott, Deshaun Watson, and so many others have zero chances of winning. I just think a number of quarterbacks have a few things working against them.
Philip Rivers has a mild case. He's never won before, but he routinely puts up monster numbers.
With Vegas liking his Chargers to win the AFC West and possibly do even more damage in 2018, another elite statistical season accompanied by a legit playoff run could get him in the running.
The story could be similar with Luck, who was a beast when healthy in the past. He's probably more likely to win Comeback Player of the Year award, but it's possible he just tears up the league and carries the Colts back to postseason play.
Big Ben is certainly up there, but his numbers aren't usually in the top five, and he's got a lot of noise in Pittsburgh.
Not only is there the Le'Veon Bell contract situation, but offensive coordinator Todd Haley left town, and the Steelers traded away deep threat Martavis Bryant.
Who Will Win the 2018 NFL MVP?
It might sound weak, but this is probably a two-man race.
Either Tom Brady is going to light the NFL afire again at the age of 41, or Aaron Rodgers is going to enjoy a triumphant return as the Packers go from 7-9 to Super Bowl 53 contenders.
Ultimately, it really should be between Brady and Rodgers, assuming both are healthy and put up good numbers in 2018.
I don't see much reason why that won't happen. Father Time is undefeated and will come calling for Brady eventually, but he hasn't really shown any steep signs of regression yet.
New England continues to roll out a marvelous system, and after week four, Brady will have Rob Gronkowski and Julian Edelman to work with.
Brady deserves a long, hard look here. He's probably pretty determined to slice up the league after losing last year's Super Bowl, and he seems to perform his best when people doubt him.
I'd say the same tends to be true for A-Rod, though.
After sitting out the majority of last year and watching his team miss the playoffs, Rodgers figures to be a man on a mission. He loses trusted receiver Jordy Nelson, but he inherits a red-zone fiend in tight end Jimmy Graham and still has reliable targets like Davante Adams and Randall Cobb at his disposal.
These two guys are where I'd invest most of my NFL MVP betting cash, while I don't mind stretching it out to the nine guys I profiled above.
That being said, I am with conventional thinking and agree Rodgers is the top pick this year. Considering his +600 price, you're even getting elite value along the way.