Hide Bonus Offers
| | | | | |
| --- | --- | --- | --- | --- |
| #1 | Bovada Sports | 50% Up To $250 | Visit Site | Bovada Sports |
| #2 | BetUS | 125% Up To $2,500 | Visit Site | BetUS |
| #3 | MyBookie | 100% Up To $1,000 | Visit Site | MyBookie |
| #4 | Everygame | 100% Up To $500 | Visit Site | Everygame |
| #5 | BetOnline Sports | 60% Up To $1,000 | Visit Site | BetOnline Sports |
The LA Lakers over Denver Nuggets and Other Upset Bets to Target This Week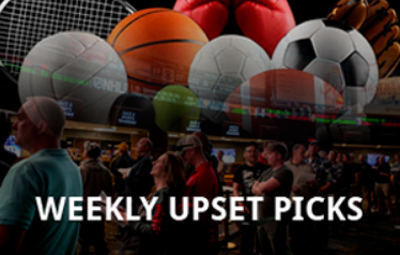 I handed out another batch of upset picks last week, and for the second consecutive week, they did not go as planned.
It wasn't for a lack of trying or due to bad logic, though. The data all supported some really great value, and I was actually painfully close to landing some sweet upsets.
The problem wasn't that I missed a bunch of underdog picks. It's that there weren't many to find.
There were just three straight-up wins from underdogs in the NFL this past week, while I'm not so sure anyone was racing to back the Buffalo Bills or even the Denver Broncos. Of the three NFL upsets in week 12, the only game I felt remotely compelled to look at was Seattle over Carolina.
That's dealing with the final lines, of course. I'm always a big believer in taking a look at the early NFL betting lines to get a good feel, and doing so actually helped me land my one underdog play of the week.
It wasn't a good week when you look at the final result, but I did score the Browns (+149) in what ultimately was an easy road win over the sinking Bengals.
Here's a quick recap of all last week's picks, along with some with new upset picks to target over the next few days.
Week in Review
I only went 1-4 on the week and dropped to 49-78-2 on the year, but the logic was still there for a lot of these bets. Here's how it all shook out.
San Francisco 49ers over Tampa Bay Buccaneers

+160

New York Giants over Philadelphia Eagles

+215

Cleveland Browns over Cincinnati Bengals

+149

Green Bay Packers over Minnesota Vikings

+150

Los Angeles Clippers over Washington Wizards

-103
Ugh. Oh, what could have been.
The Clippers weren't giving back staggering value, but they were flat-out destroying the Wizards in the first quarter last Tuesday. That looked like an easy win, yet they choked a loss away in DC when it was all said and done.
Green Bay was up 14-7 in Minnesota on Sunday night but only mustered a single field goal in the second half of a 24-17 loss. I felt the Packers would come out with some urgency and get a game they absolutely needed to have. They didn't.
Cleveland actually made me look smart and scored bettors a fine +149 price tag if they hopped on them early in the week. Eventually, the lines tightened, though, so if you waited, you may have missed the upside.
New York choking away a 19-3 lead to the Eagles is probably what frustrates me the most out of last week's upset picks. I loved their +215 price, and their recent form suggested an upset was on the table. It was, but they couldn't close the deal.
San Francisco was my lone true gaffe on the week. These other picks all could have easily converted, and the logic behind them was sound. The Niners had a great matchup, but Nick Mullens was ghastly, and that game was never particularly close.
It was a bad week when you just look at the record, but those were solid calls, and it was pretty close to being an amazing week. Regardless, let's start all over with a new week of upset picks for sports bettors to consider.
Los Angeles Lakers (+155) over Denver Nuggets (-175)
Most of my upset picks this week hail from SportsBetting.ag, and that's probably my preferred site to check out lines for, but this one comes from Bovada's online sportsbook.
The Lakers are just 5-4 on the road this year, but they're in a good spot (7-3 over their last 10 games) and are quite familiar with the Nuggets. They got to face off with them a bit in the preseason, and LA stole a 121-114 win when they met earlier this year.
Denver holds the mild edge here, as they have some really nice defensive ability and are a strong 8-3 on their home floor. They're currently holding onto first place in the Northwest Division, too, and come in with three straight wins.
The Nuggets usually aren't an easy out at home, and they can defend well, but this is a battle of wills. Los Angeles can really push the pace, and Denver doesn't have anyone that can check LeBron James.
Denver might have more talent across their roster, but they lost the first game in this series, and King James gets a +155 price tag. I can't pass that up.
PICK
Los Angeles Lakers
+155
Chicago Blackhawks (+106) over Vegas Golden Knights (-117)
I nailed my only NHL underdog pick of the year a few weeks back, and I'll be the first to admit it's not a sports betting genre I often dabble in. However, when you see value, you know it, and getting the Blackhawks at home as +106 underdogs feels like a steal.
Vegas looks like the better team these days and is riding a nice three-game winning streak into town, but they're also just 5-9 on the road in 2018.
Chicago, meanwhile, is looking to start a new winning streak and has done their best work (5-3-3) at the United Center.
The Blackhawks are obviously off to a slow start in 2018, but Vegas isn't ahead of them by that much, and they should benefit from getting this one in front of their home crowd. They're one of just two home underdogs on Tuesday's NHL betting slate and look like one of the better value plays.
PICK
Chicago Blackhawks
+106
Buffalo Bills (+200) over Miami Dolphins (-240)
It's not easy to back the Bills, but they do seem rather inspired with Josh Allen back under center. He is still raw and inaccurate, but he gives them the deep ball, and he can also carry the offense on his legs.
Buffalo also still has LeSean McCoy to use out of the backfield, and this has proven to be a pretty nasty defensive team at times, too.
The Bills have nothing to lose at this point and shockingly enough actually aren't completely out of the AFC wild card playoff picture. I don't think they're really making a push, but upending a rival and playing spoiler while keeping their own slim chances alive sure does qualify as incentive.
As for Miami, this team is nearing a full implosion. Miami started off at a promising 3-0 but has spiraled out of control, going 2-6 over their last eight games.
The Dolphins did finally get star quarterback Ryan Tannehill back last week, but a choke job in Indianapolis may have been the last straw for Adam Gase and company.
Los Angeles Chargers (+160) over Pittsburgh Steelers (-180)
This is a huge game for all parties involved. I'm sure most bettors will run away from the Bolts on account of Melvin Gordon being hurt, but LA is deep enough to overcome that and keep battling.
The good news is that the Chargers have a savvy veteran in Philip Rivers leading their offense, and they also have some capable bodies to plug into Gordon's role. They're also facing a beatable Steelers defense that made Blake Bortles and Case Keenum look good at times over the past two weeks.
LA is in a tight race for the AFC West and is still very much in play for one of the top two seeds in the AFC. Losing this game just because it's on the road and their top rusher is out isn't something they'll be too keen on.
Pittsburgh has the edge at home in theory, but they're surprisingly just 3-2 at Heinz Field this season, and the Bolts are actually terrific (4-1) on the road. The Chargers are improving on defense with Joey Bosa back in the fold, too, while the Steelers have not been quite in sync over the last two games.
If the Steelers again come out sluggish, the Bolts could pounce and score a huge win to keep them in the running for a lot of good things. At their scorching +160 price, I'm game to see if they're up for the challenge.
PICK
Los Angeles Chargers
+160
Summary
I'm stopping my upset picks short at four for this week. That comes after two straight weeks of five-pick posts. That isn't due to a fear of trying to pick another upset; it's due to a lack of appealing options.
The goal is always going to be to point out elite betting value and spots where underdogs can potentially pull out wins. But no matter which underdogs you like or end up backing, you always want there to be sound logic behind it, and you should also feel pretty good about it.
Taking Dallas at +300 to beat the Saints on Thursday night is a pretty good example of chasing a price tag and not thinking about the likely outcome. The price is obscene, and the Cowboys could defend their home turf, but I personally don't want to bet against the Saints (10 straight wins) right now.
For this week, I'm digging the Blackhawks, Chargers, Bills, and Lakers. I think they all offer strong value but also have an argument to pull off the win.
Whether you agree or not, I hope you find a path to winning this week. Good luck, and happy betting!