Hide Bonus Offers
| | | | | |
| --- | --- | --- | --- | --- |
| #1 | Bovada Sports | 50% Up To $250 | Visit Site | Bovada Sports |
| #2 | BetUS | 125% Up To $2,500 | Visit Site | BetUS |
| #3 | MyBookie | 100% Up To $1,000 | Visit Site | MyBookie |
| #4 | Everygame | 100% Up To $500 | Visit Site | Everygame |
| #5 | BetOnline Sports | 60% Up To $1,000 | Visit Site | BetOnline Sports |
The Greatest Quarterbacks Who Have Never Won a Super Bowl – Dan Marino, Fran Tarkenton, and Others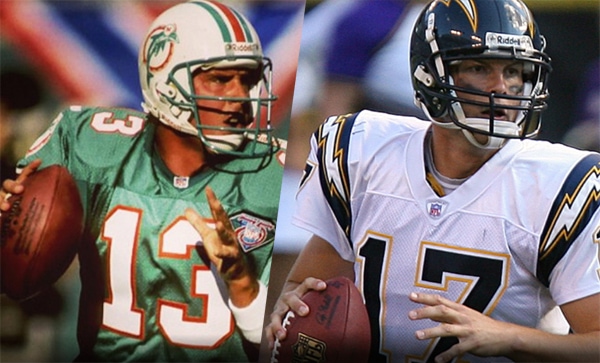 Tony Romo is a trending name after wowing viewers during the AFC Championship game.
But the former Dallas Cowboys signal caller just missed out on earning a spot on this page.
I even thought about inserting Donovan McNabb in here as well, but I felt like he was barely on the outside looking in.
I'm talking about the seven greatest NFL quarterbacks who never won a Super Bowl – the guys who put up big-time numbers but never got it done in the biggest game of them all.
The legacy of an NFL quarterback is largely dependent on how successful he was during playoff and Super Bowl games – regardless of whether or not you agree with that theory.
Whether you deem that statement as fortunate or unfortunate, it's just the way it goes.
By glancing over the next seven names, you'll quickly gain an understanding of how difficult it is to win a Super Bowl title, let alone rack up multiple championship rings.
That's why when we have a mythological creature they call Tom Brady who is going to his 9th Super Bowl with a chance to capture his sixth title, all we can do is be overwhelmed by his superiority.
Just ask any of the men below what they'd give to have just one of Tom's rings, and you'll never again question who the greatest quarterback of all time is.
But since we know that Brady is the G.O.A.T., let's start looking at who the best QBs who never won the Vince Lombardi Trophy are.
We'll start with the undeniable choice for the top dog, Dan Marino.
Dan Marino
It's almost an anomaly that a player could play so well for so long yet only reach the Super Bowl once. In the case of Dan Marino, his appearance in Super Bowl XIX against the 49ers in 1985 is the only time Dan played for all the marbles.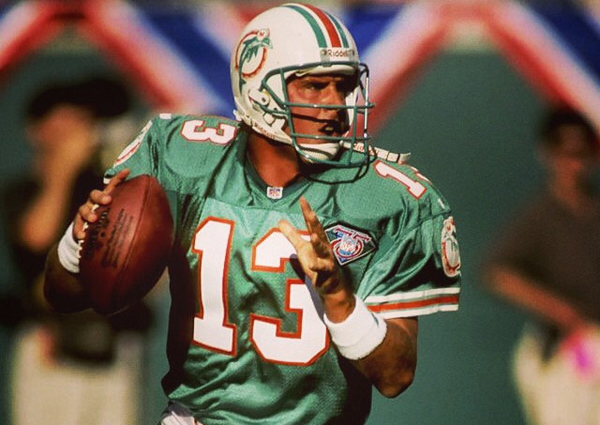 But that didn't stop Marino from becoming one of the most prolific passers the game of football has ever seen. He put up gaudy statistics from under center before they amended the rules to allow chumps like Ryan Fitzpatrick to throw for over 400 yards in a game.
During his second year in the NFL, Marino was just a brash 22-year-old who knew how to hurl the football. But what he accomplished in 1984 launched him into the record books and placed him in a category we had yet to know existed.
Dan became the first quarterback in league history to amass 5,000 passing yards in a season, but there's more. The 48 touchdown passes he threw that year didn't just break the NFL record – they absolutely obliterated it. George Blanda's mark of 36 TD passes in 1961 became a distant memory.
Marino continued throwing touchdown passes and started accruing milestone after milestone. When he finally decided to call it quits in 1999, his resume included 4,967 completions, 420 touchdown passes, and 61,361 passing yards.
All were NFL records at the time.
Fran Tarkenton
I told you about Dan Marino being a record-breaking machine at the quarterback position in the NFL, but there was a guy who came before him who had his name imprinted all over that stat sheet.
His name was Fran Tarkenton. Thirteen of his 18 seasons in the NFL were spent in Minnesota where he became known as "Scramblin' Fran," but he also had five good years with the New York Giants. Take a peek at just how illustrious his career was, and you won't have to wonder if he belongs on this page.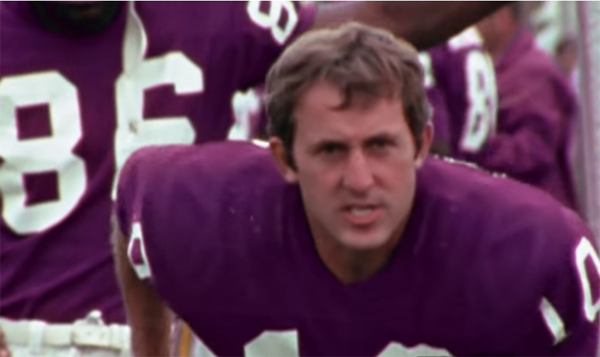 At the time of Fran's retirement, he held the following records.
Completions
Attempts
Passing Touchdowns
Passing Yards
Rushing Yards (by a QB)
Wins by QB
Tarkenton did play in three Super Bowls (1974, 1975, 1977). However, he was unable to capture a ring in any of those opportunities. The nine-time Pro Bowl selection and 1975 NFL MVP award winner had his #10 jersey retired in 1979 and may go down as the greatest Viking of all time.
He'd get my vote, that's for sure.
Jim Kelly
Jim Kelly never won the big game, but it sure wasn't due to lack of effort. Jim led the Buffalo Bills to not one, not two, not three, but four consecutive Super Bowls from 1991-1994. What's even more astonishing is the fact that he came up empty each and every time.
Talk about a tough-nosed athlete – Kelly was actually recruited by Joe Paterno at Penn State to play linebacker, and JoePa even offered Jim a scholarship. He instead opted to play QB at "The U" and was a four-year starter for the Hurricanes.
But when the Bills drafted Jim with the 14th pick in the 1983 NFL Draft, Kelly refused to play in the cold climate and instead signed on with the Houston Gamblers of the United States Football League (USFL).
After two years of crushing the competition (USFL MVP in 1984), Jim had no choice but to come to Buffalo because the USFL had gone defunct.
While in Buffalo, Jim didn't put up the video-game-like numbers that some other quarterbacks on this page accumulated, but it was his leadership and ability to run the no-huddle offense that made him such a productive player.
The 5x Pro Bowler led the league in passer rating in 1990 and passing touchdowns in 1991, and his #12 uniform hangs in the rafters at New Era Field.
Philip Rivers
Still going strong for the Chargers, Philip Rivers will be on his way to Canton, Ohio, one day; there are no doubts about that. But at age 37 and perhaps coming off the most efficient year of his career, I see no real signs of #17 slowing down.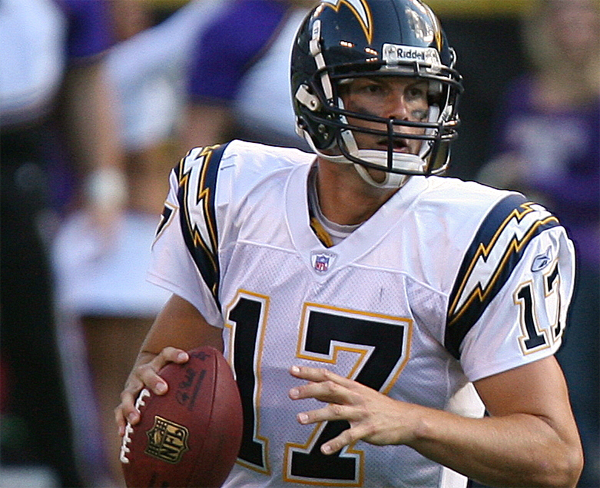 Rivers already has eight Pro Bowl selections under his belt and has led the Chargers to five AFC West crowns. The biggest reason he's never competed in a Super Bowl game is the simple fact that some guy named Tom Brady is always standing in his way.
But the faithful fans in San Diego (and now Los Angeles) can tell you how much Rivers has meant to their franchise and how trustworthy of a player he has been.
Since he became the full-time starter in 2006, Rivers has yet to experience a season in which he threw fewer than 21 touchdowns. And since 2008, Philip has tossed 26 or more TDs every year.
He's still got time to win a ring for the Bolts, in which case he would happily remove his name from this list.
But for the time being, there are only a few non-Super Bowl-winning quarterbacks that I'd rank ahead of Philip Rivers.
Warren Moon
Warren Moon did most of his damage from 1984-1993 with the Houston Oilers, but stints with Minnesota, Seattle, and Kansas City rounded out his renowned 17-year career in the National Football League.
Born in Los Angeles, Moon went undrafted out of the University of Washington in 1978 and began his professional career in the Canadian Football League (CFL) with the Edmonton Eskimos.
His 5,000 passing yards in 1982 was the first time a pro quarterback had ever reached 5,000 passing yards in a single season, and it thrust him into a bigger spotlight.
During his time in the NFL, Moon accounted for 291 TD passes and over 49,000 yards passing. He was also a threat with his feet, rushing for 1,736 yards.
The nine-time Pro Bowl selection was a first-team All-Pro in 1990, and if you're looking for another player to rock the "#1 jersey" in the Houston Oiler (now Tennessee Titans) franchise, don't hold your breath.
Warren had his number retired in 2006.
Dan Fouts
Before the Chargers fans cheered for Philip Rivers in San Diego, they were cheering for a guy named Dan Fouts. Drafted in the third round of the 1973 NFL Draft, Fouts played his entire 15 years of professional football for the same organization.
Dan led the league in passing yardage for four straight seasons (1979-1982) and can stake claim to being one of the few men to throw for over 400 yards in back-to-back games.
The Offensive Player of the Year award winner in 1982 led the Chargers to three straight AFC West titles from 1979-1981 but was never able to advance all the way to the final game.
But if you ask anyone who followed the NFL back then, they'll unequivocally tell you that Dan did everything he could for his team. He just never had a good enough supporting cast around him.
Randall Cunningham
Back before "running quarterbacks" were a thing in the NFL, there was a dude named Randall Cunningham who ignored the rules that said a QB was supposed to remain in the pocket.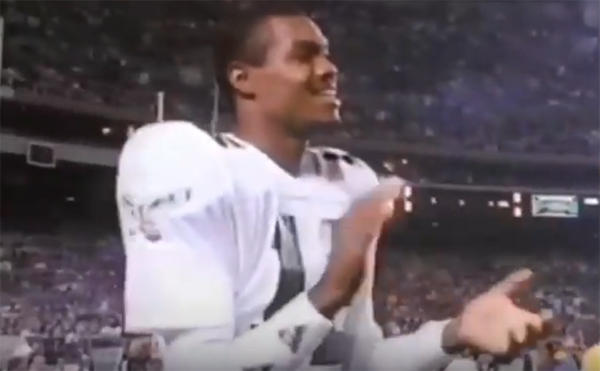 Randall got his start in the City of Brotherly Love in 1985 but didn't become the Eagles' permanent signal caller until late in the 1986 season. From then until 1995, fans in Philly fell in love with Cunningham and his unique style of play.
Not only did Randall have a powerful arm, but he had running back skills that were good enough to compile 4,928 yards on the ground during his tenure in the league. To help put that stat in perspective, Michael Vick is the only quarterback in NFL history who has rushed for more yards during his career.
But Cunningham wasn't just a running quarterback; he was that "and then some." He was chosen for four Pro Bowls and was the 1992 NFL Comeback Player of the Year award winner.
After playing parts of three seasons in Minnesota, Randall appeared in games for Dallas and Baltimore before hanging his cleats up for good in 2001.
We've seen some quarterbacks come along who remind us of Randall Cunningham, but there was really nobody like him when he played in the league (or before him).
Perhaps that's why he squeaked his way onto my list!
Recap
I'm sure you have some disagreements with my list, and that's okay. There is supposed to be a debate on a topic such as this one.
If you think Boomer Esiason or Ken Anderson belong on this page, believe me, I was close to giving them a spot.
But when ranking the seven greatest quarterbacks who have never won a Super Bowl game, the line has to be drawn somewhere.
Who would make your list? Let me know in the comments below!