Hide Bonus Offers
| | | | | |
| --- | --- | --- | --- | --- |
| #1 | Bovada Sports | 50% Up To $250 | Visit Site | Bovada Sports |
| #2 | BetUS | 125% Up To $2,500 | Visit Site | BetUS |
| #3 | MyBookie | 100% Up To $1,000 | Visit Site | MyBookie |
| #4 | Everygame | 100% Up To $500 | Visit Site | Everygame |
| #5 | BetOnline Sports | 60% Up To $1,000 | Visit Site | BetOnline Sports |
The Casino Bonus and Why Comparing the Online and Land-Based Offers Is Unfair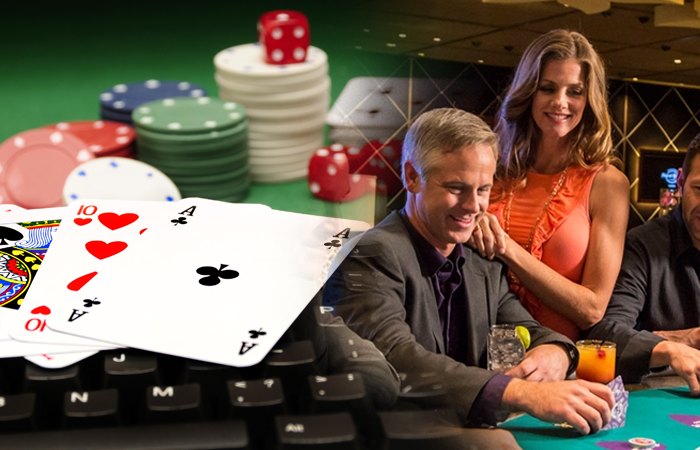 Bonus, reward, award, perk, freebie, free play cash, gift, prize.
What kind of feelings do these words evoke?
If you're like most, you get excited about special offers, especially if they're going to boost your chances in the casino. After all, you want every advantage you can get when you're doing a little betting. Your endgame is to walk out with more money than with which you came.
That same philosophy applies to online betting as well. You're still staking real money even though it's been transferred electronically. Your goal is to make a profit and move a more significant sum back into your bank account.
So, when you hear the word "bonus," it sounds like a good deal already, doesn't it?
I've been very familiar with Las Vegas casino bonus programs for many years now. But over the past few years, I've come to know more about online casino offers.
The differences weren't immediately apparent. But now I see that they're night and day. So, I am going to share my findings with you, so you can decide when to scoop up these rewards or move right on past them.
Comps
Back in the earlier days of Las Vegas casinos, any kind of perk revolved around a comp. Betting wasn't tracked electronically, so pit bosses knew everything that was happening with most of the players at a glance.
Red Carpet Treatment
Free rooms, free meals, transportation, entertainment, and more were all given to the players with the big money who could afford to pay for it anyway. But big players want the red-carpet treatment, and they received it.
That's not to say that comps aren't still a part of the casino world. Today's operations know in advance when a big-money guest is on the way. Comps are issued before some players even buy in for the first time.
Computers Expand the Comp Reach
Now that everything is monitored electronically, other players who may have slipped through the cracks are receiving their share of complimentary perks. That's the beauty of the player's card.
Every time the card is inserted or handed to the dealer, everything is being recorded, from cash in and out to the stakes and duration.
While it's still the job of the pit boss to monitor changes in player habits and manually update the system, slot and video poker players are providing the casino with accurate information, right down to the penny.
Once a certain level is achieved, the freebies are unveiled.
Expanded Issuance
In today's world of gambling, a player may still be approached by a casino host or other staff member and offered a free room, dinner, or show tickets on the spot.
But more often, players will need to make a trip to the player rewards center or wait for a special invitation to come in the mail. Sometimes they can even take advantage of a perk like free play cash right at their electronic gambling station if they play slots, video poker, or computerized keno.
Online Challenges
Online casino operators, though, have a much more challenging time coming up with a comp system for their players.
After all, no one is in a building speaking person to person. There are no hotel rooms to issue, no restaurants providing free meals, and unless you pull up YouTube on another browser tab, your entertainment offerings are also non-existent.
Virtual VIPs
I have come across a few, and I do mean very few, websites that have posted VIP programs that do include some real perks like merchandise or experiences. Now, these are exclusive to the highest of rollers, probably just the top one or two percent.
I've even seen one or two online casinos list motorcycles and cars in their impressive list of gifts for loyal (and wealthy) players.
Other gift items may include jewelry, electronics, and vacation packages. But these are rewards that the average player will probably never see.
While pretty much anyone can rack up enough points to earn some freebies in a Las Vegas casino, that's not necessarily going to happen online.
If you're not betting tens of thousands at a time, by the time you accumulate enough to try to redeem, some of your earlier points may have already expired.
The Online Welcome
Now that you know what's not possible with online casinos, such as the physical comps, I wanted to fill you in on what is offered. That way, you'll be able to see why the comparison is not really fair. These programs are apples and oranges, so to label them all as a casino bonus isn't entirely accurate.
New Player Incentives
When I first started reviewing casino websites a few years ago, I immediately noticed that online operations prominently promoted terrific new player offers.
I have a few player's cards at casinos in Las Vegas, as well as a few others in the US and one in the UK. I know that sometimes a casino will give its new players a free dinner or a small logoed gift, maybe even $20 or so in free play cash. But these online perks that I was reading about were huge.
Deposit $100 and get $100
Deposit a minimum of $20, and you'll receive a 300% bonus
100% match plus 20 free spins
The list goes on.
Wow! That's pretty darn impressive, as I've never been offered that much in any land-based casino before.
Fine Print, Fine Print, Fine Print…
As I had to research these bonuses so that I could write about them, I was prompted to delve deeply into the terms and conditions. Lo and behold, these offers were not as they seemed.
How many times have you visited a website, any site will do, and had to accept terms and conditions that went on for about ten pages in tiny print? If you're like most, you may scan a few sentences, scroll down to the bottom, and then blindly agree to everything.
Well, if you're used to land-based casinos that provide bonuses without strings attached, you could very well do the same with your first casino site.
That'll probably be the LAST time you blindly accept an offer, though.
Once you find out about all of the fun little stipulations that accompany these bonus rewards, then you may think twice in the future.
There Are Exceptions
Before I continue, I do need to preface this critical information with two things.
First of all, I know there is a big market for online players who appreciate these new player bonuses. They provide extended playing time, and sometimes, people just want to play their favorite game for as long as possible.
Secondly, although it's rare, there are a few websites out there that really do provide precisely what they state bonus-wise, and that's free play cash. Their terms and conditions are unlike what I'm about to discuss, so it's only fair to say that bonus offers aren't all entirely alike with the conditions they impose.
Deposit Matches
Now that my disclaimer is out of the way, let me get into the specifics of the online bonus offer. Indeed, you will see promotions like 100% or 200% matching offers. But you have to read all of the details that accompany them.
It's not a situation where you can deposit the $100 you had planned initially anyway and then get another $100 on top of it so that you can then increase your winnings and request a payout.
The matching funds that you're given aren't just free money. Instead, you have to play them through for a specified number of times, usually 20 to 40. That means that if you get $100 in bonus money, and the casino mandates a 30x playthrough on that bonus, you're wagering $3,000 before you're allowed to cash anything out of your account.
Conditions on Your Own Money
In some cases, though, it's not just the bonus that needs to be rolled over. Believe it or not, some sites include your own deposited funds into the equation.
So, with a 30x requirement, you're betting $6,000 instead of $3,000 before you're eligible for a withdrawal. That is if you're fortunate enough to end up ahead after you play everything through 30 times.
Game Restrictions
I'm still not finished, as the terms and conditions also include specific game eligibility.
For example, if you play slots, you'll probably benefit from the 100% wagering contribution. So, your $3,000 or $6,000 in betting is fully accounted for toward your rollover obligation. If you play video poker or blackjack, you may only be given a 10% contribution rate. That means that your $3,000 becomes $30,000, or your $6,000 is bumped up to a whopping $60,000!
Some casinos will only let you play slot games to work off that wagering requirement, and you also have to be careful to play the right slot title, as some specific games could be excluded altogether.
Rrrrrrollover!
You can see how the online bonus could help you to extend your time in the casino, but it could negatively affect your bottom line.
If you're halfway through your rollover and have accumulated a relatively high credit balance, you can't just stop there and cash it out. By the time all is said and done, that balance could be depleted.
Free Spins
It sounds a bit discouraging so far. But what about free spins? Surely they're actual bonus rewards, right?
In some cases, they may be, but you can't avoid the dreaded eight-letter word "rollover." Even free spins come with a rollover.
Let's say that you receive 20 free spins as part of your new player bonus or even through a loyal player perk. You play your 20 free games, and you're up $30.
Okay, it's not the most significant win you've ever received. But hey, it's free money, right?
Wrong.
You now have to take that $30 and then play it through according to the casino's free spins wagering requirement. Free spins rollovers are typically the same as for the welcome bonus. So, you may have to take your $30 and then play it through 30 times for a total of $900 in wagers.
Betting Limits
You're also limited in the amount you can bet while you're working off a wagering obligation. So, you can't just bet $30 or $100 at a time on red or black in roulette to see how you fare.
Instead, you usually can't stake more than $5 at a time, and red/black bets are typically out of the question.
The Land of Bonus Confusion
After you fully comprehend everything that's required, the welcome bonus isn't quite as welcoming.
I would say that, of all of the issues discussed in online player forums, the bonus is number one. Many of the complaints about casino sites revolve around the bonus and how it has affected the payout amount or how players have even had to forfeit winnings because of bonus misuse.
You'd Better Shop Around
That paints a pretty bleak picture. But some savvy players know the ins and outs of these types of online rewards. They shop around from site to site and review all of the various terms and conditions, comparing them to the bonus value.
There are plenty of online bettors who have financially benefitted from online casino bonuses. They just know how to approach things in the right way.
It's like looking for the best price for WiFi service. You can shop around and look for all kinds of great welcome offers. Some will require that you stay with them for two years.
Others will raise your price after three months of free service. Most will have some stipulation, so the provider recoups any money lost from freebies or discounts.
But if you do your homework and take the time to review all of your options, you may end up with internet service that's $10 less than what competitors are charging, and you may only have to commit to one year instead of two.
Online bonuses are a different type of incentive, but when you find the right casino and the best possible offer, you can swing the odds more in your favor.
Welcome to Las Vegas
I'm going to touch upon non-Vegas bonuses as well. But for now, I want to talk about what I know the best, and that's the Las Vegas casino bonuses. These are the perks that you'll receive as a new player or a loyal returning player in an actual brick-and-mortar casino.
I just went into the typical new player offer that you'll receive if you play online. So, to show you that they're genuinely two entirely different things, I want to fill you in on the land-based reward programs.
New Versus Return
Whereas the online casinos put the most emphasis on getting new players to register an account with them, land-based casinos tout the benefits of being loyal players and racking up points.
For example, a new player incentive in person may be something simple like a free dinner or a two-for-one buffet. Some casinos will automatically add 100 points to your new player's card, so you're that much closer to redeeming them for something substantial. Other new player incentives may include free play cash, but it'll be something like $10 or $20, and you don't need to match those funds.
There are numerous bonus programs, including free offers and other customized perks. But as I'm discussing the difference between online and land-based awards, I'm going to stick to the basics here with free play offers.
Online casinos may be promoting free play offers, but as you may have already known or now know, the free play doesn't come without a list of conditions.
One-Time and a Flat Amount
When you receive bonus cash in an actual casino, at least in Las Vegas, anyway, you do get the more substantial benefit. In many places, bonus play money may not be entirely free, but you only have to play it through once. Your own money won't factor in, either.
Another difference is that you'll typically receive a flat amount for a bonus. You'll receive something like $30, $50, or $100 in free play, period. It has nothing to do with how much you're buying in for at the time.
You could put in $5.00 and claim your $30 in bonus play funds. You'd then need to accumulate $30 in wagering before you cash out, but nothing like having to roll it over 30 or 40 times. It is really more of an actual reward rather than a gift with hundreds of strings attached.
Non-Vegas Offers
I've been in a few other casinos across the country and have compared programs with those in Las Vegas. While there are a few distinct differences, they're closer in structure to Las Vegas offers and are still a far cry from the online casino bonuses.
A Lukewarm Welcome
The welcome offer remains relatively small – that is, if anything is available at all. Sometimes, you're enticed to sign up for a player's card so that you can use it to accumulate points that are redeemable later. The casino wants you to sign up so that it can track everything, but the point system and frequent announcements about the program seem to be enough.
Value Distinctions
As far as bonuses go, I've found that casinos outside of Nevada tend to be more stingy with their offers. Whereas you can do very little betting in Vegas and still receive some attractive offers for free buffets and hotel rooms via email or mail, that's not the case in other locations.
You'll still be in on some perks, but they're typically not as generous. $50 in free play is more like $10 in other locations.
Similar Land-Based Structures
Although the value of the offers may differ, they're structured similarly. If you receive free play cash in a casino like the WinStar, which happens to be the largest in the country, your bonus is handled as it would be in Vegas. You don't have a required investment to claim the bonus cash, and you only have to play it through once.
That means that you can't just claim the $50 freebie and cash it out without clicking "spin" or "deal." But once you accomplish at least $50 in betting, your credit balance is yours to do as you please. You can keep playing or cash it out; there are no restrictions.
Compare that $50 to an online offer, where you're looking at $1,500 in required betting on average.
Loyalty Points
When it comes to loyalty points, once again, it's like night and day between an online casino and a brick-and-mortar.
Points for Betting
If you're not familiar with loyalty point programs, they're based on a player's betting activity. You earn points for playing any of the games in the casino. Some games, like slots, offer a higher contribution rate, so you can accumulate them faster. Slots have a lower RTP, or return to player percentage, so the games already give the casino a more significant edge.
When you play video poker or many of the table games, you're at a greater advantage than slot players, so you earn points at a slightly lower rate.
Redemption
Once you have points in place, though, the differences become apparent once again.
In person, you may have redemption options like free or two-for-one dinner or show tickets. You may also be able to claim a free hotel room if the casino has its own accommodations.
Most casinos will also allow you to exchange your points for free play cash. Las Vegas and many other casinos across the US have that option built into most of their gaming machines. So, if you're playing, and you run short on funds, you can click a few buttons and redeem your points for free play cash right on the spot.
Again, though, it's more like real money in that you only have to play it through once. So, you could turn your luck around and then cash out your winnings.
Virtual Points
When it comes to loyalty clubs through online operations, for the most part, it's an entirely different structure. You don't have the perks like freebies available. You're left primarily with a program where your cash turns to points, and then your points turn to cash. Or do they?
Once again, your free play cash isn't always quite as it sounds.
Yes, some sites do allow you to cash in those points for real money. But some of them are structured to convert your points to play cash that, once again, comes with rollover requirements.
Rollover, Once Again
So, you'll be accumulating your points, but then you also have to jump through the playthrough hoops. Your wagering obligation may not be as high as 30x, but you'll probably be rolling that bonus money over a few times before you can reap the benefit of your efforts.
Believe it or not, some online casinos even convert those points into a match play bonus. So, not only does your $20 reward require a rollover, but you may also have to deposit $20 of additional money to start the process.
High-Rolling Rewards
High rollers are treated differently online, though, just as they are in person. Some VIP programs will convert points to cash or gift that big-money action with real gifts like trips and merchandise.
And to be fair, a lot of online casinos do now offer similar benefits to all their players (on a smaller scale) and not just the high rollers.
Specific Requests
While both online and land-based casinos spell out the rewards programs that are available across the board, they both also review special requests.
Don't Just Leave
If you're in a casino, and you've done a significant amount of betting, you don't necessarily need to wait to receive the benefits of your efforts. While most people will just leave and wait for an offer to come in the mail in a month or so, players can go to the player rewards club desk and have their account reviewed.
In some cases, you can be given those comps that you may think are just for high rollers. It's not uncommon to have played enough to get a free dinner or a free or upgraded hotel room. After all, it never hurts to ask, right?
Ask Online
If you're playing online, it may not seem like a viable option, though.
But some players do reach out to member services and are often given a no-deposit bonus. That means that they can try out the casino or play for a bit longer without needing to transfer in any, or any more, funds.
No Deposit Required
After all that I've been saying about the online casino stipulations, you're probably wondering how that could work. But a no-deposit bonus comes with a brand-new set of rules.
Yes, you can really play for free. But not only is there a much higher rollover to contend with, but if you do win after all is said and done, you will need to make some deposit anyway. It may not be a significant amount, but casinos aren't in the business of giving away free money.
If you're a brand-new player and you've been given a special no-deposit bonus to try things out, the casino still wants to capture your payment information. That way, there's a better chance of you continuing to use the service, as you're already set up for a fast and easy transfer process.
Once again, though, the opportunities are so different between online and in person that it's not a fair comparison.
The Side-By-Side Contrast
I thought it might be handy to put together an at-a-glance look at online and land-based casino bonus programs. If you're new to one or both, it can help you to decide if you want to participate or not.
Brick-and-Mortar Benefits
For the most part, you really can't go wrong getting a player's club card in person and claiming a few of the perks that go along with it. I know that some people wish to remain private, though, and these programs do track all of your activity.
On the other hand, though, you can quickly pull off a list of your transactions at tax time if you need to offset some recorded wins with overall losses throughout the year.
When you're considering potential online bonuses, though, once again it's a different story.
Registration Isn't Optional
You have to register a player's account regardless of whether you're interested in taking advantage of the loyalty club program or not. You can't slip by anonymously when you bet with a casino website. Everyone is registered, and everyone is tracked.
But it's still up to you to decide if you want to commit your money and your time to an online reward that requires a rollover and limited game availability.
| Brick-and-Mortar Casinos (Such as Las Vegas) | Online Betting Sites |
| --- | --- |
| Welcome bonus is just a small incentive like $20 in free play, a two-for-one offer, or a logoed gift like a cap or a mug | Welcome bonus "appears" to be substantial in value, such as a 200% deposit match |
| Welcome bonus doesn't come with stipulations aside from possibly a one-time rollover | Welcome bonus use is limited to certain games and requires a substantial rollover that sometimes includes your own deposited funds |
| Free play offers don't depend on how many chips you buy or how much cash you insert into a machine | Free play offers tend to be a percentage of your deposited funds |
| The most you need to deposit to claim free play money is the amount of your individual bet (i.e., if you're betting $1.25, you need at least $1.25 in the machine) | To claim a free play offer, you typically need to deposit at a certain level (i.e., minimum $20 deposit required) |
| Merchandise, free rooms, and free meals are commonly gifted to players | Actual merchandise is uncommon, and when offered, it is for very high rollers only |
| Slot or video poker offers are good for any machine in the casino | Slot or video poker offers may be limited to certain games only |
| Loyalty points can be converted to free meals, show tickets, accommodations, or free play cash | Loyalty points are typically converted to bonus funds that are then subject to a rollover |
| VIP players do receive much better perks, but any level of player participation may be rewarded with free or discounted offers and bonus play cash | VIP players are the only ones that can receive actual merchandise and "no strings attached" offers, as the majority of online players are subject to rollovers and other conditions and are limited to bonus play or free spins |
Conclusion
I've hopefully provided enough information for you to make some educated decisions on gambling bonus programs.
While online bonuses can be very tricky to navigate, they can be valuable if you're someone who is just looking to spend as much time as possible playing your favorite game or games. They can extend your resources and accomplish what you need.
If you're looking for real cash value online, though, it's going to be difficult to achieve. The rollovers are significant and can hamper your ability to cash out when you should, as you have to keep going until you've reached your targeted level of wagering.
Brick and mortars, especially in Las Vegas, have many more resources than online operators, and they want you to stay as long as possible and keep returning. So, while you appreciate free dining, you'll probably stick around and do a bit more betting as well. Win-win!
Regardless of how you feel about these bonuses, I think you'll agree that they're much too different to be labeled as the same.
A final point I have to make is that I've done a lot of generalizing in this post. My points are all valid, but they apply to online casinos collectively.
It's important to note that many of the leading casino sites are far more generous and fair than the industry "norm." If you stick to those sites, there's definitely plenty of added value to be had when gambling online.