The Biggest Reaches and Steals from Round One of the 2018 NFL Draft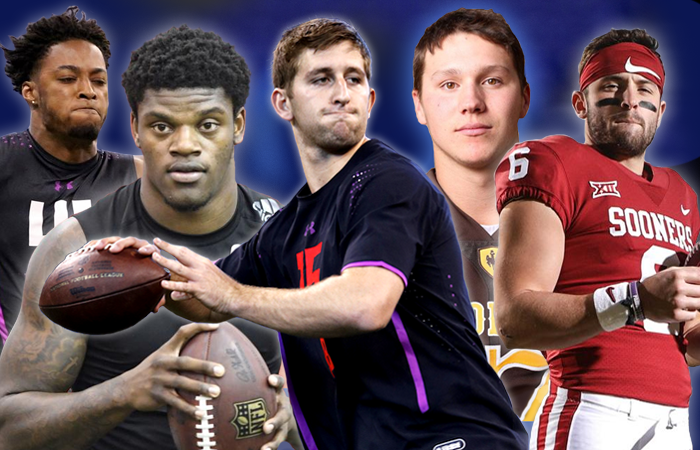 Day one of the 2018 NFL Draft is officially in the books, meaning all 32 NFL teams probably feel like they got the elite talent they fell in love with.
Some of those teams nailed their picks, and in some spots, they got value so good that they actually exceeded expectations. If things work out as that value might suggest, said teams may end up looking quite smart down the road.
There's also the other side of the first round of the draft. That's the losing side.
As bold as some moves can appear, going beyond your draft board can produce reaches or flat-out bad fits.
A few teams went outside the lines in round one, and if things don't unfold the right way, everyone will eventually look back at these as either being reaches or simply terrible picks.
Which teams hit these extremes the best and worst in round one? Let's look over how the first round of the 2018 NFL Draft unfolded to find out.
5 Biggest Reaches
Cleveland Browns (1st Overall) – Baker Mayfield, QB, Oklahoma
I'm not saying Mayfield isn't a tantalizing talent, because he absolutely is. He's got a compact build, a strong arm, nice mobility, and he plays with a fire.
Unfortunately, even with new shot callers in the front office, this is such a classic Browns move.
Mayfield is a gamer in every sense of the word, but he also has a lot of red flags.
The two big ones are his small stature and some genuine character concerns. After getting comparisons to former Browns draft bust Johnny Manziel, it's a little shocking that Cleveland still threw caution to the wind and made this pick.
Another thing aligning Mayfield with Manziel is that both of these quarterbacks were former Heisman Trophy winners. While not always a death sentence, Heisman winners historically do not go on to have successful pro careers.
None of this means Mayfield will be a failure, but Sam Darnold was arguably safer, and Josh Allen had more upside. Mayfield's stock had heated up, but this still felt like a reach.
While that's possible, the good news is that Mayfield was projected for a high Over/Under, and he did end up getting picked early in the draft. If you went with the Under at any NFL Draft betting sites, you certainly came out in the green.
Cleveland Browns (4th Overall) – Denzel Ward, CB, Ohio State
Again, Ward is another guy who is a stud talent and very well could end up being a fantastic pro football player.
However, he was the first defensive back taken in this draft, and the consensus did not have him pegged as the best available.
At corner alone, Alabama's Minkah Fitzpatrick was regarded as the top cover man, while safety Derwin James was arguably a better overall secondary pick.
That doesn't mean the Browns didn't make a great pick, but there's an argument here that they could have traded down and still landed Ward.
That, or they could have grabbed a better prospect in this spot like Fitzpatrick, the best pass rusher in Bradley Chubb, or the best offensive lineman in Quenton Nelson.
Cleveland obviously loved Ward enough to make this splash, but the value just wasn't there.
San Francisco 49ers (9th Overall) – Mike McGlinchey, OT, Notre Dame
McGlinchey is another guy that was a fantastic prospect, but maybe not one that necessarily felt like a top-10 lock.
I was looking at either a go-to number-one wide receiver like Calvin Ridley here or a big impact defender, yet the Niners went a completely different route.
Rebuilding the trenches is never sexy, yet often pretty smart, so it's hard to come down on John Lynch and company too hard here.
That being said, not everyone would agree McGlinchey was even the best offensive tackle available at this point, while the Niners passed up on some truly elite talent.
Jimmy Garoppolo really doesn't have a reliable wide receiver to throw to. Considering no receivers had been selected at this point, San Francisco had their pick and opted to go tackle instead.
The same goes on the defensive side of the ball, where studs like Derwin James, Tremaine Edmunds, and others were still waiting to hear their name called.
McGlinchey is probably going to go down as a solid pick for the 49ers, but it still felt like a reach.
Oakland Raiders (15th Overall) – Kolton Miller, OT, UCLA
The Raiders committed a similar gaffe just six picks later. They actually traded down from the 10th spot, and with this draft pick, they took a raw offensive tackle that wasn't even consistently projected to be taken in the first round.
That isn't to suggest Miller is a trash tackle!
Miller absolutely has the talent and upside to project well down the road, but experience, consistency, and durability raise some red flags. Offensive linemen often look like locks, and then they're simply not, so taking a guy with some technical and consistency issues right off the bat at 15 feels like a bold call.
Depending on who you ask, Miller was a second-round pick at best in this draft, while the Raiders really had the opportunity to snag some high-level talent at 15th overall.
It doesn't feel like they maximized their pick value, while trading down could have netted Jon Gruden and co. more picks, and they probably could have still had Miller fall into their lap.
Seattle Seahawks (27th Overall) – Rashaad Penny, RB, San Diego State
There were a few more reaches throughout round one of the 2018 NFL Draft, but the last big one is Penny, who wasn't even the third-best running back on most draftnik's boards.
Seattle had the need for a running back, which understandably triggered this reach.
The running game hasn't been good for the Seahawks ever since Marshawn Lynch left town, and they probably felt like they had to get that situation right again.
Of course, Penny might not be the answer, and he arguably was far from the best rusher available when they picked. Sony Michel, Derrius Guice, and even Nick Chubb were all graded better than Penny by most draft gurus.
Maybe Seattle knows something everyone else doesn't, but it still feels like they could have snagged a better value here and went after Penny in round two.
On the betting side of things, Penny did contribute to three running backs being drafted in round one. Depending on where you bet on the NFL Draft, the Over could have won you some money.
5 Biggest Steals
Arizona Cardinals (10th Overall) – Josh Rosen, QB, UCLA
There are cases to be made for the top offensive guard (Quenton Nelson) going 6th overall and Josh Allen (7th) also sliding, but Josh Rosen falling to the 10th spot makes for a bigger steal.
Rosen has talked a loud game all offseason, and he didn't win at UCLA, but he was a smooth operator, put up solid numbers, and brings pro-level talent to the table immediately.
The beauty here is that Rosen had the talent to be argued for the #1 pick in this year's draft and Arizona badly needed a franchise passer.
All the Cardinals have right now is an often-injured Sam Bradford and the pedestrian Mike Glennon. For a team that was competing for a shot at the Super Bowl just a few years ago, that simply will not do.
The Cardinals aimed high here and got a guy who can win from within the pocket and has the demeanor of a champion.
Only time will tell if he actually pans out as their long-term starter, but he was graded extremely high and slid further than expected. By definition, AZ got themselves a steal.
Miami Dolphins (11th Overall) – Minkah Fitzpatrick, CB, Alabama
Just as big of a steal landed one pick later when arguably the top cover man in the 2018 NFL Draft was yanked off the board by Miami.
The Dolphins had been said to be interested in grabbing a new franchise quarterback, but Rosen was plucked off the board ahead of them, and then they were staring at the best defensive back in this draft class.
Fitzpatrick was not the first corner selected in this draft, but he probably should have been. This was the most complete secondary talent available and was regarded by most as a lock for the top five for much of the draft season.
It didn't shake out that way, but that allowed for Miami to beef up their secondary with a flat-out stud.
Yeah, I'd call that a steal!
Buffalo Bills (16th Overall) – Tremaine Edmunds, LB, Virginia Tech
An even bigger steal came at the 16th pick when the Bills landed stud Virginia Tech linebacker Tremaine Edmunds after some trades.
Buffalo landed their second big selection of round one, but Edmunds in a lot of ways is a way bigger steal than getting Josh Allen at 7th overall.
Allen will likely be more important for Buffalo's long-term success, but Edmunds is a freak athlete that was projected well inside the top 10.
A number of teams could have and probably should have pounced on him before he got to the 16th spot, as this kid is just insanely athletic and versatile.
He's a pure defender that can be used all over the place and could be a real problem for opposing offenses, both as a stopper in the open field and as a pass rusher.
Edmunds felt like a lock for the top 10, so for the Bills to get him here is frankly amazing.
Los Angeles Chargers (17th Overall) – Derwin James, S, Florida State
There was another huge steal just one pick later as stud safety Derwin James finally saw his own free fall come to an end.
Much like Edmunds, James looked like a lock to be taken inside the top 10 throughout the draft process, but somehow, he slipped through the cracks.
It was shocking to see, considering James is the total package.
James offers the ideal size, physicality, speed, fluidity, and instincts for the safety position. Perhaps inconsistency in general pushed him down some teams' boards, but this is a freak game-changer in the making.
Already blessed with a sound defense across the board, the Bolts just got a heck of a lot better on that side of the ball.
Atlanta Falcons (26th Overall) – Calvin Ridley, WR, Alabama
Ridley couldn't help but tear up when he found out he was selected by the Falcons at pick 26, both because his dream was finally realized, and his epic slide was over.
Perhaps part of his joy came from teaming up with former Crimson Tide stud Julio Jones, as well as former league MVP passer Matt Ryan.
Regarded by many as the most complete wide receiver in the 2018 NFL Draft, Ridley inexplicably plummeted down draft boards despite having the speed and playmaking ability to be a true difference-maker at the next level.
Size questions may have dropped his stock slightly, but that didn't really explain D.J. Moore being taken ahead of him.
With Jones showing him the way, something tells me Ridley's plight to prove how wrong the rest of the league was will be a story to follow.
From a sports betting perspective, Ridley's free fall was quite disappointing, as it impacted the number of wide receivers taken in round one.
He and Moore gave bettors two to work with, and depending on the Over/Under wagers out there, it could have been problematic.
Baltimore Ravens (32nd Overall) – Lamar Jackson, QB, Louisville
I had to include one more steal for the first round because the Ravens swooped in and grabbed Louisville dual-threat passer Lamar Jackson at the last second.
It really looked like Jackson was about to slide into the second round, with the Philadelphia Eagles ready to make the round's final pick, but Baltimore made a trade to get Joe Flacco's eventual successor under center.
Only time will tell when Jackson will supplant Flacco and if he'll pan out, but considering he was being talked up as a top-15 pick, this certainly qualifies as a steal.
Jackson is an elite talent in general, both as a runner and a deep ball maestro.
It was odd throughout the draft season to see so-called draft experts knock his ability as a passer, but it was great to see someone go out of their way to express their confidence in him.
Needless to say, if you placed any bets that Jackson would be taken in round one, you converted them – just barely.
Summary
Overall, this was one heck of a first round. Baker Mayfield and Lamar Jackson are probably the headlining acts, both because they started and ended this thing and because they're without a doubt two of the most polarizing figures in the 2018 NFL Draft.
There were several big reaches and impressive steals, and to be honest, there were too many to cover in depth.
These were the ones that likely left a lasting impact, however, and are probably the players that fans will look back on the most.
The best part is that the draft continues on through the weekend, so fans can embrace more of this excitement and even place wagers on NFL Draft prop bets as they follow along.