The Best, Worst, and Most Underrated Super Bowls of All Time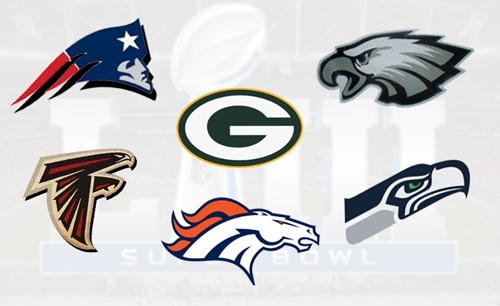 Super Bowl 53 is so close I can taste it.
The long, grueling media week has bogged everyone down, and half the nation is literally an icicle as I write this.
At the end of the week, though, we'll still be greeted with an amazing football game that decides the NFL title.
That might make it all worth it, but when the dust settles, we're getting a finished product, for better or for worse.
Even though we don't want to admit it, there can be downsides to the Super Bowl. It can be overrated going into the big game, it can develop into a timeless classic, or it can severely disappoint.
Whether that's from a betting perspective or not remains to be seen, but it's always worthwhile to look back on past Super Bowls and see how things played out.
Here's my personal take on the best, worst, and some that go overlooked. But, first, a quick look at the betting for Super Bowl 53.
Betting on Super Bowl 53
By all accounts, Super Bowl 53 looks like a good one.
The Patriots are mild -2.5 favorites at SportsBetting.ag and just about everywhere else you look. Bettors can find respectable value no matter which side of the moneyline they plan on attacking, too.
If you don't want to bet on the spread or pick an outright winner, you can always go after the 56.5 total. That suggests this will be an explosive Super Bowl, and considering both of these offenses ranked inside the top four for points per game during the regular season, the odds are decent we're going to get the over.
There is a lot to consider if you're betting on Super Bowl 53, though. There's a litany of Super Bowl prop bets, as well as various angles to note for both Los Angeles and New England.
While you're going to want to do your research before finalizing those big game bets, part of the fun is reflecting on the games that already happened.
Best Super Bowls Ever
There are 52 Super Bowls to choose from. There were a lot of clunkers (more on that a bit), some that were arguably overrated, and a handful that were truly exceptional.
It's tough to come to an agreement on every single game, especially when you take fan bias and Super Bowl betting bad beats into play. However, I've ranked my five favorite Super Bowls here and will break down the one I think stands in as the greatest ever.
Super Bowl LI: Patriots 34, Falcons 28 (OT)
Super Bowl LII: Eagles 41, Patriots 33
Super Bowl XLIX: Patriots 28, Seahawks 24
Super Bowl XXXII: Broncos 31, Packers 24
Super Bowl XLIII: Steelers 27, Cardinals 23
I know, non-Patriots fans are probably disgusted to see me placing New England inside the top five Super Bowls of all time three different times.
I'm not forgetting that crazy 35-31 Super Bowl between the Steelers/Cowboys, Buffalo's one-point disaster against New York, or your team's best performance in the big game, either.
It's just that the options are just seemingly endless.
There are honestly even more big games featuring the Pats, and that goes with the territory with an insanely successful franchise that has reached the league's title game ten different times.
Let that sink in for a second.
There are admittedly a few other games that barely got edged out, and believe me, I could swap a few. I'm stopping with these five, though, and I think Super Bowl LI probably takes the cake. Here's a quick refresher.
That game truly had it all. Atlanta's high-powered offense couldn't be stopped, and the great Tom Brady threw a crushing pick-six en route to an insurmountable 28-3 hole.
Except it wasn't an impossible hole at all. Brady and company stuck in it, the Falcons caved under the pressure with one of the worst halves of play-calling I have ever seen, and a little bit of magic sprinkled over the Pats as they rattled off 25 consecutive points to force overtime.
The dominance by the Falcons, the crazy comeback by the Pats, and then the execution in the first overtime thriller in Super Bowl history all combines to give us the greatest Super Bowl of all time.
I'm sure Falcons fans don't agree, but it's tough to top all of that.
Worst Super Bowls in History
As fun as it is to look back on some of the more intense and explosive Super Bowls in NFL history, it's painful to remember the ones that got way out of control.
It's the Super Bowl, so there were still eye-popping numbers, brilliant performances, and sheer dominance. But those incredibly one-sided affairs exposed one team and made for borderline unwatchable games.
And the money you spent on that spread, bruh.
It's deflating, to be sure, but just imagine (or remember) if you were a fan on the losing end of any of these games. Needless to say, they're some of the worst Super Bowls I've ever seen, and I doubt you'll disagree.
Super Bowl XLVIII: Seahawks 43, Broncos 8
Super Bowl XXIV: 49ers 55, Broncos 10
Super Bowl XXXV: Ravens 34, Giants 7
Super Bowl XXXIII: Broncos 34, Falcons 19
Super Bowl XL: Steelers 21, Seahawks 10
Much like the best Super Bowls side, there are a handful of contenders that you could argue into the top five here. However, even some of the worst Super Bowl blowouts still started pretty close and/or had a lot of iconic moments.
For example, that crazy Buccaneers vs. Raiders game involved two defensive touchdowns and a whopping 69 total points. It was still pretty ugly with the Bucs taking a ridiculous 34-3 lead late, but a top-five can't fit them all.
Of this group of worst Super Bowls ever, the one that takes the cake is Denver vs. Seattle in Super Bowl XLVIII. I can't remember a more anticipated title game that fell with such a crushing thud.
This game opened with Peyton Manning getting sacked for a safety, putting the Seahawks up 2-0, and they really never looked back from there. The best offense in NFL history mustered just eight points against the Seahawks, who dominated in every way possible and left zero doubt in this one pretty early on.
I remember watching and assuming Denver's explosive offense would show up and make things interesting eventually. It never happened, firmly entrenching Denver among the best NFL offenses to never win a Super Bowl.
Most Underrated Super Bowls
You can go on and on as to which Super Bowls were the greatest ever and which were a waste of time. But somewhere in that discussion is a slew of games that weren't properly rated.
It's just my opinion, but I feel there are several games that could easily be slid into the "best ever" conversation and at worst have been underrated as a whole. Here are five that stand out as some of the more underrated Super Bowls in NFL history.
Super Bowl XXX: Cowboys 27, Steelers 17
Super Bowl XLIV: Saints 31, Colts 17
Super Bowl XLVII: Ravens 34, 49ers 31
Super Bowl XXXI: Packers 35, Patriots 21
Super Bowl XXVII: Cowboys 30, Bills 13
The last one sneaks in because it was probably Buffalo's second-best chance at getting a world title. They actually led by a touchdown at the break and crumbled following a Thurman Thomas fumble in the second half.
From there, we get some pretty great Super Bowls that simply don't make the final cut for best ever. Of the lot, though, that 1996 battle between the Steelers and Cowboys probably takes the cake for me.
This game had a little bit of everything, as the Cowboys were the aggressor early and jumped out to a 13-0 lead and at one point were up 20-7. The Steelers wouldn't go quietly into the night, however, as quarterback Neil O'Donnell led a ferocious comeback that cut the Dallas lead to three (20-17) with just over six minutes to go.
Pittsburgh had a shot at glory late in this one, too. Not only did they storm back to make it a game, but they had the ball with just a handful of minutes to go.
Unfortunately, O'Donnell tossed a costly pick, and the Cowboys turned that into an Emmitt Smith touchdown to push the lead back to 10 points.
I'll hear arguments for the other games on this list, but I don't know if they need the backing Super Bowl XXX does. For whatever reason, this game seems to go more overlooked than all the other tight Super Bowls in league history. If only for today, let's remember how good of a contest it actually was.
Summary
Overall, this look back at Super Bowl history might not necessarily help you pin down a winning bet this weekend. Then again, you might not have any plans to bet on the big game anyways.
If you do, however, keep in mind that teams aren't always dead when they fall behind early (this encourages Super Bowl live betting) and that some pretty special games can come to fruition.
Super Bowl 53 has the opportunity to give fans the latter, and in time, I wouldn't be shocked if it ends up being among the greatest championship games we've ever seen.
Both the Rams and Pats survived insane overtime thrillers just to get to Atlanta, so it'd be relatively shocking if one side just failed to show up.
I still like the Patriots to nab their sixth Lombardi Trophy, but that doesn't mean it won't be close. Bet on the game as you see fit, but most of all, try to relax a little and enjoy the last NFL game of the season!