A First Eleven of Top Players Who Are Missing the 2018 World Cup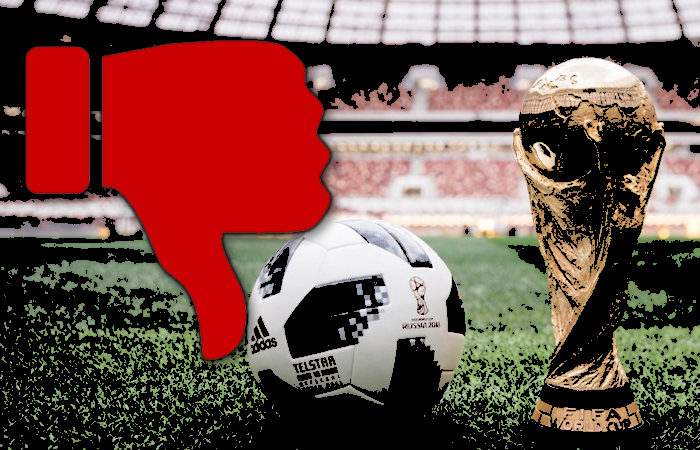 The World Cup is by far the biggest soccer tournament, and all fans are eager to see the best players in action.
Unfortunately, every time the finals of the competition come, certain stars don't make it. Some of them are injured, others don't manage to qualify, and there are even cases when a stubborn coach simply doesn't select them.
The 2018 World Cup in Russia is not an exception. There will be many players who won't be part of the tournament, some of whom have every right to be there.
I decided to put together my best starting eleven of players that won't play in this edition of the World Cup. Here it is!
Goalkeeper: Jan Oblak, Slovakia
Diego Simeone's Atletico Madrid side has managed to challenge giants like Real Madrid and Barcelona with its fierce discipline and one of the best defenses in the modern era.
Goalkeeper Jan Oblak had been an integral part of this team and is certainly one of the best in the world in this position. He is an astonishing shot-stopper and a true leader who's more than capable of commanding the players in front of him.
Unfortunately, his country, Slovakia, fell just short after finishing as the 9th best among the teams who finished 2nd in their qualifying group. This wasn't enough to go to Russia, and Oblak will have to watch the games at home.
Honorable Mention: Gianluigi Buffon, Italy
Right Back: Antonio Valencia, Ecuador
Antonio Valencia was originally a winger, but at some point, he was required to play as a right back for Manchester United. His speed, strength, and relentless engine helped him to make the position his own.
As soon as Jose Mourinho arrived, he continued using Valencia as a right back. Valencia got even better in the position, and that is the reason I picked him for this particular spot in my starting eleven.
Unfortunately for Valencia, Ecuador didn't manage to qualify for the World Cup because of the strong competition in South America.
Honorable Mention: Daniel Alves, Brazil
Center Back: Leonardo Bonucci, Italy
Leonardo Bonucci is a brilliant example of the ability of Italy to produce some of the best central defenders in the world.
He was a rock for Juventus for years, before moving to AC Milan, where he's been trying to rejuvenate another of the greatest Italian clubs.
A testimony to Bonucci's character is the fact that he played with a broken nose in the World Cup playoff against Sweden.
Unfortunately for Bonucci, the Azzurri lost in the playoff, and the world-class center back won't play in Russia this summer.
Honorable Mention: Virgil van Dijk, The Netherlands
Center Back: Laurent Koscielny, France
Some probably won't agree with this selection, as Laurent Koscielny has been a part of a shaky Arsenal defense for years. However, he was the most consistent player for the Gunners, and the French coach Didier Deschamps was expected to rely on him in Russia.
Koscielny is quick, brave, and reads the game well. Unfortunately, he ruptured his Achilles in the Europa League semifinal against Atletico Madrid.
The defender was heartbroken, but he vowed to return stronger than ever. He won't be fit to play in the World Cup, though, and France will have to use other players.
Honorable Mention: David Luiz, Brazil
Left Back: David Alaba, Austria
David Alaba has been outstanding for Bayern Munich for years and is arguably the best player in the Austrian squad. He's a truly accomplished defender who is strong in the year, doesn't fear a challenge, and can lead the rest of the back line.
On top of that, David Alaba is unusually good with the ball at his feet.
Alaba is often the player to start the attacks for his team, and he's more than capable of scoring a goal every now and then.
Unfortunately for him, the current Austrian squad doesn't have much more talent in its ranks. As a result, the country finished fourth in its qualifying group and will miss the 2018 World Cup.
Honorable Mention: Marcos Alonso, Spain
Central Midfielder: Aaron Ramsey, Wales
Arsenal had a pretty bleak season this year, and the fans weren't happy. One of the silver linings was the performance of Aaron Ramsey, who was voted player of the season by the supporters.
The Welshman has an exceptional engine and is capable of making some lethal runs from the midfield. He's also not afraid to fight hard in the more physical matchups and is prepared to do some dirty work for his team.
It's no surprise that the new Arsenal manager Unai Emery sees Aaron Ramsey as one of the vital members of his team in the future and wants to persuade him to sign a new contract.
The midfielder was also among the leaders of the Welsh squad that reached the semifinals in Euro 2016. There will be no repeat of their heroics in Russia, though, as the country didn't manage to book a place in this summer's World Cup.
Honorable Mention: Marek Hamsik, Slovakia
Central Midfielder: Radja Nainggolan, Belgium
Radja Nainggolan is one of the few players in this team who are fit and eligible for a country that has actually qualified for the World Cup in Russia. The problem is, he was not selected by the Belgian coach, Roberto Martinez.
No one seems to know the exact reason why.
Nainggolan has been a fan favorite and one of the most consistent players of the country. He's also been impressive for his club, AS Roma, and everyone expected the brave midfielder to play in Russia.
Unfortunately, this wasn't the case. As a result, the disappointed Nainggolan announced his retirement from international football.
Honorable Mention: Arturo Vidal, Chile
Left Winger: Gareth Bale, Wales
Was there really any doubt who's going to be my pick for the left wing? Despite suffering multiple injuries in the past couple of years, Gareth Bale is still a world-class player who can score from pretty much any situation.
If you don't believe me, just ask the Liverpool fans who witnessed one of the greatest-ever goals in this year's Champions League final. Bale went on to add a second later on and decide the game in favor of Real Madrid.
Interestingly, his future is uncertain. Bale is looking for a regular starting place, and he doesn't seem able to get that at Real Madrid. He's sure to have plenty of suitors if he does decide to move, as a player of his caliber would be welcomed by most top European clubs.
Like Aaron Ramsey, though, Bale was unable to help Wales qualify for the World Cup finals in 2018. He will be watching the competition in front of the TV like the rest of us.
Honorable Mention: Leroy Sane, Germany
Right Winger: Arjen Robben, the Netherlands
Picking the best right wing was a bit of a challenge, but I simply can't leave Arjen Robben out. The Dutch winger is getting old, but his lightning pace and stunning left foot are still more than capable of tormenting any defense out there.
Robben was instrumental in his country's run to the semifinal in the 2014 World Cup, but the winger won't be around this time. The Netherlands are having all sorts of problems and are in a transitional period which prevented them from qualifying for the World Cup finals.
This was almost certainly Robben's last opportunity to appear in the tournament, and his absence is a disappointment for many. He's not popular in just his country; his abilities and style of play are appreciated the world over.
Honorable Mention: Riyad Mahrez, Algeria
Forward: Alexis Sanchez, Chile
Chile won back-to-back Copa America titles, and Alexis Sanchez was vital for the country's success. The forward was also the best Arsenal players for a couple of years, before moving to Manchester United this winter.
He hasn't been at his usual level since, but Alexis remains one of the best forwards in the world.
This is a player who can create and score sublime goals that simply can't be defended. When he's at the top of his game, he's an incredibly effective player on the field.
His efforts didn't help Chile qualify for the World Cup, though. They missed out after a dramatic final round, and Alexis Sanchez will be one of the stars that won't shine in Russia.
Honorable Mention: Anthony Martial, France
Forward: Pierre-Emerick Aubameyang, Gabon
For years, Pierre-Emerick Aubameyang has been scoring tons of goals for Borussia Dortmund. The Germans then sold him to Arsenal this winter, and he quickly proved his value in England as well. He scored 10 goals in just 13 appearances in the English Premier League.
He is considered to be one of the most clinical finishers in the world, but Gabon hardly can provide any support for the striker. They never really looked like qualifying to the tournament, and this is the reason Aubameyang won't be playing in the World Cup.
At least the Arsenal supporters will be happy, because the forward will have the opportunity to properly prepare for the forthcoming season. The rest of the world will certainly miss Aubameyang and his electric pace.
Honorable Mention: Mauro Icardi, Argentina
Final Words
This is my best starting eleven who won't play in Russia, and I'm confident it could match pretty much any other team in the World Cup.
Of course, there are plenty of other players who probably deserve a place and won't participate in the World Cup. So, I'm sure many of you will with disagree with at least some of my selections.
That's why we have a comments section! Please feel free to share your opinions and let me know YOUR best starting lineup below.