Hide Bonus Offers
| | | | | |
| --- | --- | --- | --- | --- |
| #1 | Bovada Sports | 50% Up To $250 | Visit Site | Bovada Sports |
| #2 | BetUS | 125% Up To $2,500 | Visit Site | BetUS |
| #3 | MyBookie | 100% Up To $1,000 | Visit Site | MyBookie |
| #4 | Everygame | 100% Up To $500 | Visit Site | Everygame |
| #5 | BetOnline Sports | 60% Up To $1,000 | Visit Site | BetOnline Sports |
2018 Fantasy Football – Who to Draft and Who Not To
When are you drafting your team?
The 2018 fantasy football season is right around the corner, and surely your draft is fast approaching. The time to get your final prep work in is now.
The good news for you is that I am joined by one of our top NFL experts to discuss our favorite and least favorite plays at each position. Noah Davis and I are going to unveil the players who we think you need to be aggressively trying to draft.
On the flip side, we'll each point out a player at each position who you should stay away from come draft night. If you can steer clear of the busts and end up landing the breakout stars, you'll be on your way to a fantasy football championship!
Of course, that's a lot easier said than done, but it's still very attainable.
Follow along below as Noah and I call it like we see it and give you the tips and advice that we hope can get your closer to a 2018 fantasy football league title!
The Quarterbacks
Everybody knows that in real-life football, the starting quarterback is the leader of the team. They receive the praise when things go well, yet they carry the burden of a loss heavily on their shoulders.
MW – Derek Carr (Oakland Raiders), Jimmy Garoppolo (San Francisco 49ers)
When it comes to drafting your starting quarterback, chances are you can wait a few rounds and see how things develop. I like Carson Wentz and Tom Brady in that upper echelon of signal-callers, but the QB I like to break out fantasy-wise in 2018 is Derek Carr.
I was shocked to see that Carr has never eclipsed 4,000 yards through the air, but I think that changes in 2018. Head coach Jon Gruden has been gushing about Carr's development and ability to soak in a playbook, and that should mean a big workload is in store for the former Fresno State quarterback.
You can draft Derek much, much later than the guys in tier 1. However, something tells me that by season's end, Carr finds his name amongst that group.
As far as the quarterback I feel is being a bit overvalued in most fantasy drafts, that would be Jimmy Garoppolo. Don't get me wrong; I absolutely love "Jimmy GQ" and think he has a bright future ahead of him.
But the surrounding offensive weapons in San Fran are scarce, and I don't envision this offense putting up oodles of points. Looking at ADPs across the industry, I'm a bit perplexed to see his name above proven fantasy studs like Matthew Stafford and Ben Roethlisberger.
I'm not against rostering Jimmy, but I think you could do a lot better and find a more consistent and productive starter.
ND – Andrew Luck (Indianapolis Colts), Deshaun Watson (Houston Texans)
I certainly don't hate Derek Carr, but the top quarterback I'm eyeing in 2018 is none other than Andrew Luck. A shoulder issue kept the Colts star passer out of the entire 2017 season, but he has immense upside and current ADP (round 7).
There are two issues with Luck: you have to roll the dice on him actually staying healthy, and since all signs so far are fantastic, his ADP is only climbing.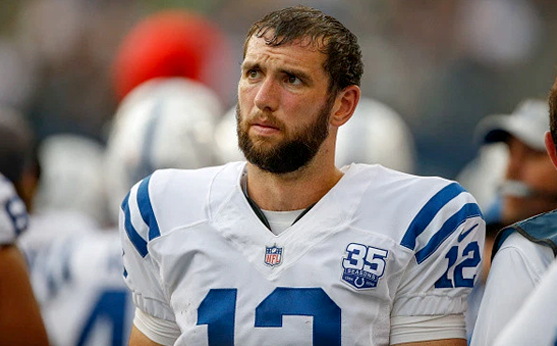 I don't want to take such a big chance on him too early, but if I can get him in round 7 or later, the value is too good to pass up. This is a guy who was QB4 in 2016 and QB2 in 2014, after all.
On the other hand, there are guys that are being graded out way too high.
You need to spend a 4th-round pick and often even higher to nab Deshaun Watson. The Texans star is coming off of a torn ACL and flashed brilliance in all of five games in 2017, yet league owners continue to look past more proven commodities to take a chance on him.
Watson could still be a beast, but if you're trying to sell that extrapolating last year's production over 16 games is what he's going to get you, that's a significant reach.
Give me Luck in round 7 or later, and there's just no way I'm reaching for Watson in round three or four. The only guy worth that price tag is Aaron Rodgers.
Running Backs
While the QB might be the most glamorous position in the league, we all know that you need a pair of stud RBs if you want any chance of prospering in your FF league. In terms of a PPR-league, there are a couple of running backs that Michael and I are excited about.
On the other hand, there are a couple that we recommend you stay away from.
ND – Christian McCaffrey (Carolina Panthers), Kenyan Drake (Miami Dolphins)
I'll start this off with Christian McCaffrey, who looks poised for a huge sophomore campaign after impressing as a rookie in 2017.
McCaffrey was admittedly not elite as a rusher last year, but he dazzled in PPR formats. After adding bulk to his frame, McCaffrey seems ready to take on a bigger workload, with his coaching staff gushing about 25-30 touches per game.
That sounds crazy, but McCaffrey was able to finish as RB15 despite having his rushes restricted as a rookie. With more overall touches and a more equipped body, he should bust out and make a case for the top 10.
Currently being drafted as RB14 (late in round two), McCaffrey sets up as a solid value pick.
Another guy I initially loved but have soured on is Drake. Physically speaking, the guy has the ability to be an absolute beast.
Drake flashed his star potential in a nasty three-week stretch last year, where he piled on 386 yards and three scores. The rest of the year, however, he was erratic as his runs tend to be.
This is a guy that can dazzle and bust any run into a touchdown, but he also can struggle with consistency. Add veteran back Frank Gore and rookie rusher Kalen Ballage to the mix, and an argument can be made that Drake is tempting but ultimately a big tease.
MW – Rashaad Penny (Seattle Seahawks), Saquon Barkley (New York Giants)
Noah hit the nail on the head with Christian McCaffrey. Like my counterpart, I'll be doing whatever I can to get my hands on the electrifying playmaker in Carolina.
If I miss on McCaffrey, another dual-threat RB I'll be targeting is Rashaad Penny. The Seahawks rookie running back is no stranger to big-time production, as the former Aztec led the nation in rushing yards in 2017.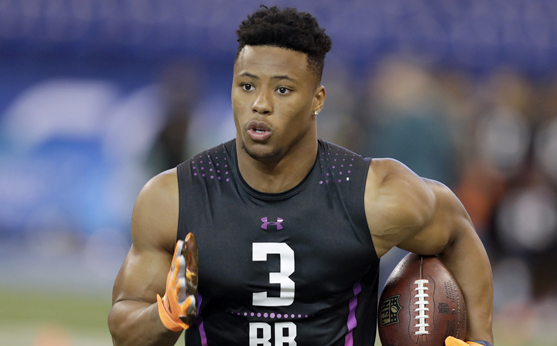 If he gets the chance to be featured as a three-down back like some say, then Rashaad could end up being a huge steal in your draft. I understand Chris Carson is also there and may pry touches away from Penny.
But I see Rashaad playing well enough to stay on the field and receive 15+ carries per game. Throw in 5+ targets in the passing game, and Penny could be in for a really solid rookie campaign.
Speaking of rookie campaigns, New York Giants RB Saquon Barkley is no doubt in line for plenty of work. But people are drafting him ahead of Alvin Kamara! He's going multiple picks ahead of Melvin Gordon!
There is no doubting Saquon's talent, and I expect the Giants to utilize him often. But I am in no way, shape, or form ready to draft him ahead of a guy like Kamara who not only has the upside, but he has also already proven it.
I'll ease up on the hype and let somebody else reach for Barkley.
Wide Receivers
Now let's talk about the wide receiver position. Most leagues require that you start at least three WRs, so knowing who will exceed value and who might not pan out could be a really big boost.
MW – Amari Cooper (Oakland Raiders), Odell Beckham Jr. (New York Giants)
I am fairly adamant that having Jon Gruden calling the shots is going to have a positive impact for Derek Carr and his fantasy output. The biggest beneficiary of Carr's improvement will no doubt be Amari Cooper.
After hauling in 83 balls for 1,153 yards in 2016, the former Crimson Tide wideout saw his numbers take a big hit in 2017. I think the added leadership of a veteran like Jordy Nelson will only help Cooper develop into a mature professional.
His skill set has never been in question, and I envision Gruden and Carr doing everything they can to try and force-feed him the ball. I think 85+ catches with 1,200+ yards and 8-10 scores is a seriously fair projection for Amari this year.
I'd lean towards Cooper and his upside over guys like Larry Fitzgerald and Doug Baldwin, both of whom are currently being drafted ahead of him.
In terms of the guy I won't be touching with a 10-foot pole during my draft – that's Odell Beckham Jr. It's not so much that I am worried about his gruesome ankle injury that forced him to miss the final 11 games of the 2017 season.
I expect that he'll get back to being the same explosive WR he was before, but his on-the-field antics and behavior off it have me nervous about spending a first- or second-round pick on him.
In order to draft Beckham, I'd have to pass on every single receiver other than Antonio Brown and DeAndre Hopkins. I see too many scenarios where ODB doesn't play a full season in 2018, and that has me wary.
I'd feel much better about drafting Julio Jones and Michael Thomas, not to mention a handful of others as well.
ND – Josh Gordon (Cleveland Browns), Jordy Nelson (Oakland Raiders)
Cooper makes a lot of sense. He has the talent to be a top-10 fantasy wide receiver, yet with an ADP of round four right now, he's not being drafted like it.
I'd say the same about Josh Gordon. I know he's a Browns skill player, and this dude never seems to have his mind right, but if he's ever going to click again, I think we see it happen in 2018.
By all accounts, Cleveland has made all of the right moves. Bringing in Tyrod Taylor and drafting Baker Mayfield stabilizes the quarterback room, while the team also brought in wide receiver Jarvis Landry and running back Carlos Hyde.
This offense as a whole is going to shock some people this year, and Gordon's big-play ability absolutely promises to be a huge part of that.
Can I say for sure you're getting the same Josh Gordon who finished as WR2 in 2013? No, but he's being drafted in round four or later, which profiles him more as a second option in your starting lineup.
You're looking at elite value here, as Gordon could completely change the makeup of your team, and depending on how you draft, he could ensure you have two stud #1 receivers in 2018.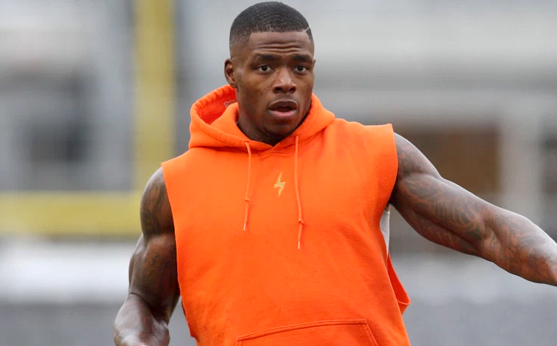 One guy I'm not sold on is Jordy Nelson, who I loved in Green Bay but watched as he eroded into a slow possession receiver over the past year.
Aaron Rodgers extended this guy's career, as Nelson was truly showing signs of decline even the year before when he finished as WR2 in fantasy football.
That seems like a stretch at first glance, but a lot of Nelson's value stemmed from A-Rod forcing 14 touchdowns his way, as well as 97 receptions. Nelson, however, churned out his worst yards per catch average as a full-time starter (13) in that same year.
Take away some of those scores, and Nelson suddenly is exposed as a possession-type on his way down.
That was made even more evident last year when Nelson's yards per catch plummeted to 9.1 with Rodgers no longer there to help him.
Playing with Carr could help keep Nelson afloat, but as Michael pointed out, this is Amari Cooper's passing game.
Mix in burner Martavis Bryant and slot demon Ryan Switzer, and I don't know if there's enough action for Nelson to thrive even if I'm wrong about his steep decline.
Tight Ends
The tight end position is interesting in 2018. You've got guys like Gronk and Kelce who absolutely dominate. Then there are some exciting new faces who will be vying to emerge as breakout stars.
ND – Jordan Reed (Washington Redskins), Greg Olsen (Carolina Panthers)
Tight end is very tricky this year. Usually, it's Rob Gronkowski or bust up top, but he's always an injury risk, and now we have to be concerned with retirement and trade talk.
Gronk is always worth a roll of the dice, but if ever there was a time to punt at tight end, I think this is it.
That is leading me to seek out value at the position this year, and I don't think it pops up off draft boards any cleaner than with Redskins tight end Jordan Reed.
There are few players that come with greater injury risk, but Reed is a fluid, athletic target who can make impressive plays all over the field and also make his presence felt in the red zone.
More specifically, the guy has been dominant when healthy, as he was able to finish as TE9 even during a down 2016 season, while few will forget his epic 2015 showing (TE3).
Reed can still be that guy in 2018, especially with veteran passer Alex Smith coming over in a trade from Kansas City. Smith has a history of maximizing elite tight end talent, as he's helped turn Travis Kelce and Vernon Davis into absolute studs.
I know Reed is an injury away from being a total bust, but considering you're drafting him in round 8 or later, I'm not sure you're assuming much risk.
Greg Olsen, on the other hand, is starting to feel like a pretty big reach in round five of most drafts. Depending on the league size and type, I've seen him go in round four as well.
That feels a bit rich for a guy not named Zach Ertz or Travis Kelce, especially when you consider this is a 33-year-old pass-catcher coming off of an injury-riddled campaign (missed 9 games in 2017).
Olsen could easily bounce back this year, but it's quite possible his body is just starting to break down.
Even if it isn't, you need to convince yourself of one of two things: he can score touchdowns to compensate for a potentially regressing role in Carolina's passing game, or that role isn't diminishing at all.
I'm not so sure it isn't, though.
Not only should Christian McCaffrey continue to demand looks out of the backfield, but Carolina brought in deep threat Torrey Smith and spent a first-round pick on the talented D.J. Moore.
Add in a developing Devin Funchess, and it's quite possible Olsen's elite role could experience a hefty drop-off this year.
The main point is that there is an alarming amount of risk with taking any of the top tight ends this year – more so than has existed in the past. If you're going to gamble this year, why not do so in the later rounds?
MW – Trey Burton (Chicago Bears), Tyler Eifert (Cincinnati Bengals)
Well, I certainly won't argue with Noah's point about Jordan Reed. The dude is an athletic specimen who has all the tools to be a top-end tight end in this league. I love what the addition of Alex Smith should do to his fantasy stock, but as ND alluded to, it's his past injuries that have me concerned.
A tight end who is going right around that same range as Reed is the guy in Chicago, Trey Burton. After coming over from Philadelphia, the 26-year-old is in a prime position to be a fantasy asset in 2018.
Bears HC Matt Nagy gets his first shot at a head coaching gig after heading the Chiefs offense for two years. If you saw how Nagy implemented Travis Kelce in Kansas City, then surely you expect Burton to get his fair share of looks.
Trey possesses great athleticism and displayed his effectiveness when given the chance in Philly. With an opportunity to shine in Chicago, I like Burton to end the year as a top-8 tight end.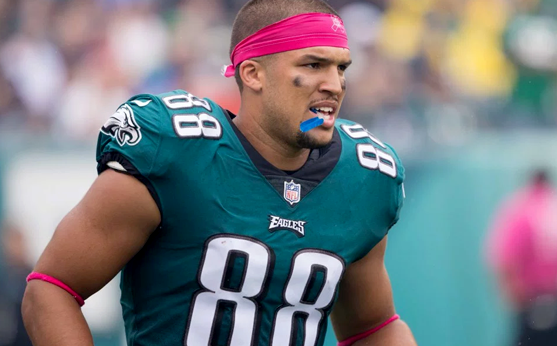 I'm saying to draft him accordingly.
The tight end I'll be going nowhere near in drafts is Tyler Eifert. If you take away his 13 touchdowns in 2015, this guy has very little to show for his five years in the NFL. His career averages of 3.3 catches and 39.4 receiving yards per game are much more telling statistics for the type of player he has been.
To make matters worse, he has played a total of just 10 games over the past two seasons combined, and we saw Tyler Kroft elevate himself into a viable backup option last season.
Eifert is being drafted around the tight-end #13, and I'll say he ends the year well outside the top 20.
Defenses
You don't have to reach for a defense super early, but don't get it twisted. There are some defenses that are much more reliable than others.
MW – Jacksonville Jaguars, Baltimore Ravens
It's easy to say that the Jacksonville Jaguars are my favorite pick to be my fantasy defense in 2018. After all, they are the undisputed number-one-ranked defense across all rankings I've seen.
What I am saying is that you shouldn't be afraid to spend a much earlier pick on a defense than you have in the past. This year, be the first one in your league to step up and select a D. When you do, make sure it's the Jags.
To help put things in perspective, the top-scoring fantasy defense in 2017 wasn't just better than the field.
Jacksonville's defense scored a remarkable 208 points in ESPN standard leagues, a whopping 36 more points than the next-best team. They were second in sacks (55) and second in interceptions (21) and led the league with 8 defensive/special teams TDs.
There are ball hawkers everywhere you look, with hardly anywhere to run or throw the football. Calais Campbell and Yannick Ngakoue form a fearsome duo of pass rushers, while linebacker Myles Jack is an emerging star.
With Jalen Ramsey and A.J. Bouye controlling the back end, I seriously think you should consider drafting this defense as early as round 7 or 8. If you wait until round 9, chances are they'll be gone.
Meanwhile, the Ravens seem to be consistently getting drafted as one of the first 6 defenses off the board in most mocks I have seen. It's not that I think they're a bad unit, but there's no way I'd take the Ravens over the Chargers or the Texans.
Teams around the league were making strides and getting better over the summer. While the Ravens spent loads of time, energy, and money revamping their offense, they paid little to no attention to the defensive side of the ball.
Terrell Suggs and C.J. Mosley are another year older, and their top corner, Jimmy Smith, is still recovering from a ruptured Achilles.
I see this defense taking a step back in 2018, while defenses like Chicago and New England are on the rise.
ND – New England Patriots, Pittsburgh Steelers
I'm with Michael on targeting the Jags if they somehow plummet past their current ADP.
Perhaps it's that ingrained old-fashioned draft strategy in me, but taking a team defense at their 8th-round ADP just feels like a wasted pick.
Wasted isn't the right word, but I don't like the value. It's pretty accurate to say that not every defense found later in the draft is quite as nasty as Jacksonville's, but let's consider the fact that defenses change so much from year to year.
Need a visual? Just look at how this year's #1 defense (Jags) was taken in round 15 of most fantasy drafts a year ago.
Yeah, it can change that quickly.
I'm bypassing the Jaguars because I'd rather spend a pick in round 8/9 on a skill position player or my QB1. I also like the value I'm seeing for defenses, especially when a would-be trash defense like the Patriots can be had in round 15 in most leagues.
Why? Because they were a joke in 2017.
That's undeniable, but New England made moves to improve up front and actually look way better on paper than they did going into last year. This is also a Bill Belichick defense we're talking about. Unless this guy suddenly lost his touch, I'm willing to bet on them at a bargain price.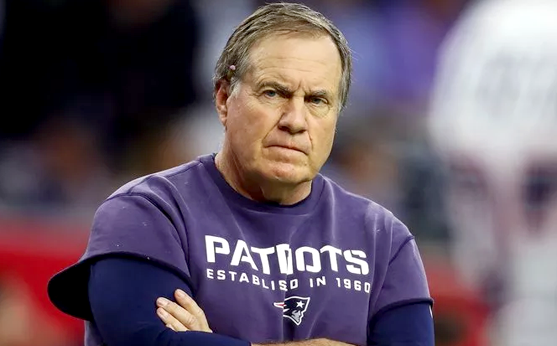 On the other side, I'm fading a big name like the Steelers.
Pittsburgh was trending in the right direction going into 2017. They had struggled ever since stars like Troy Polamalu left town, but they drafted well and had an ace in the hole in inside linebacker Ryan Shazier.
A catastrophic spine injury to Shazier took him off the field, though, and once he left, the Steelers really had issues defensively.
Until Pittsburgh can prove they can survive without their stud inside 'backer, I won't be touching them.
Kickers
Last, and quite frankly least, we have the kickers. Looking for the kickers who are in high-powered offenses will be your best bet. Those who receive the most scoring opportunities are the ones bound to score the most fantasy points.
ND – Jake Elliott (Philadelphia Eagles), Greg Zuerlein (Los Angeles Rams)
I don't really care if Carson Wentz is the same guy or if the Eagles come out and defend their title. I just want their kicker.
The main draw for me with Elliott is that I feel he's a top-5 guy, and I can get him without trying in the final round of most fantasy football drafts.
That's a pretty big deal for a guy who is in a terrific system and produced at a very high level (11th overall) in just 14 games last year.
Elliott would have been well inside the top 10 in 2017 had he played two more games, while he's shown an ability to convert easy kicks and also has the leg (5-6 from 50+) to nail the deep ones.
This pick is a combination of value, talent, and system. Few kickers get me excited (ever), but Elliott is one of them.
Obviously, I seek value when it comes to my fantasy kicker, so I won't be reaching for a kicker – no, not even Elliott.
That takes Legatron off my list, as I won't take a kicker before the final round in any draft, and I also won't be drawn in by a guy just because he put up the most fantasy points at his position the year prior.
To put it bluntly, Zuerlein had an amazing 2017 run, but not one I'd say is actually sustainable. Knocking in kicks of any range at a 95% clip just isn't heard of, and I really struggle to buy that he'll come close to that percentage again.
Zuerlein did top the 90% mark one other time in his career, but he's struggled with accuracy at times as well. Converting that many long kicks (6-7 in 2017 from 50+) is simply a tall order, too, while there is never a guarantee the guy's offense is quite as productive as it was in 2017.
More than anything, Zuerlein is the top-rated kicker, and I won't ever see him when I'm getting ready to select a kicker.
MW – Matt Prater (Detroit Lions), Dan Bailey (Dallas Cowboys)
When it comes to fantasy kickers, I am looking for who will have the most opportunities. Jake Elliott makes for a fine choice for that very reason and is an excellent option to be your starting kicker.
Like Noah said, there is no reason for any of you to spend anything other than your last-round pick on your kicker, as there are many passable options to choose from. If you are picking towards the end of the round and won't have one of the top choices, don't worry.
You can draft Matt Prater after the top six or seven kickers go and be just fine. In fact, you can know that he's knocked in 30 or more field goals in back-to-back seasons in Detroit and was a stud in Denver before that. 14 of his 30 makes last year were from beyond 40 yards, so you don't have to question his leg or accuracy from long range.
I like the fact that Matthew Stafford is great in the two-minute drill, which should provide a few extra chances for Prater at the end of halves and the end of games. You can safely grab hold of Prater at the tail-end of your draft and not feel like you're losing any ground at the position.
Now, if you somehow end up with Dan Bailey as your starting kicker, then I'd quickly scour the waiver wire for a more acceptable option.
Maybe Dan Bailey converted 93.8% of his attempts in 2015, but let's fast-forward to present-day reality.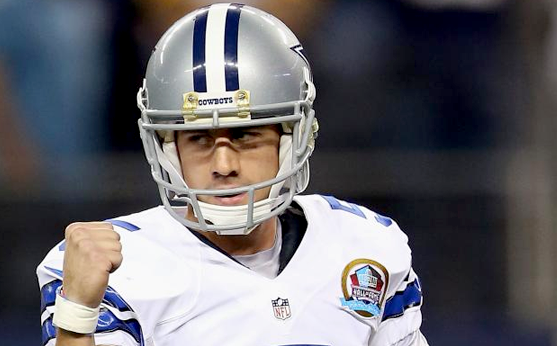 The Cowboys kicker dropped to 84.4% in 2016 before spiraling all the way down to just 75% a season ago.
I'm not sold that Dak Prescott and his "amateurish group" of starting wide receivers are going to be marching down the field and putting the ball in the end zone on a consistent basis. Bailey needs the Dallas offense to be effective in order for him to deliver as a top-12 kicker, and I just don't see it happening.
I much prefer Mason Crosby or Graham Gano, giving you no reason whatsoever to look towards Bailey during your draft.
Conclusion
There you have it.
Noah and I went through each position in fantasy football and expressed our thoughts and concerns. We told you the one player at each position we each are striving to draft, and we also highlighted those individuals we want to avoid selecting.
There are no right or wrong answers before the season starts – just a whole lot of debate and back-and-forth chatter.
If you found this guide informative and it helps you make decisions for your upcoming draft, then we accomplished our goal. It's up to you to make your picks. All we can do is give you our advice and give you some substance to fall back on!