The Age of VAR Is Coming to the Premier League – What Will the Impact Be?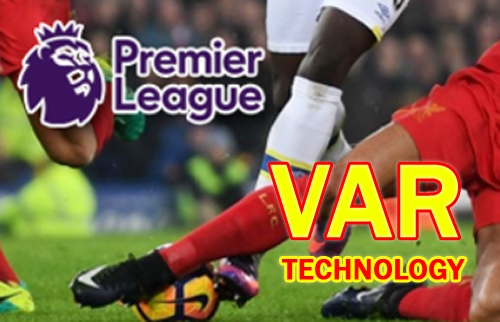 It's funny how things can change so quickly in the soccer world. I was in the process of writing an article about whether the time has come for the Premier League to adopt VAR.
Then, the news broke out that clubs have agreed to use it next season.
It all started back in 2014 when the International Football Association Board allowed the system to be used during extensive trials. Their reasoning was that it was high time referees were protected from mistakes which everyone in the stadium could see.
One of the incidents proponents of VAR cited frequently was Thierry Henry's handball which stopped Ireland from qualifying for the 2010 FIFA World Cup. The fallout from that was huge. Although Henry does not have a reputation for cheating, I doubt he will ever be forgiven by the Irish.
It was one of those moments where the referees were not in a position to have a clear view of the foul. Neither did Henry confess to the infraction at the time.
It left a very bad taste for soccer fans worldwide, and it prompted discussions on how such incidents could be avoided in the future.
Then-FIFA-president Sepp Blatter was strongly against introducing the new technology. However, he was forced out of his position due to a corruption scandal in 2015.
The idea of introducing VAR received a much warmer welcome under his successor, Gianni Infantino.
So, the technology was introduced in top-flight European soccer by the Bundesliga and the Serie A at the beginning of the 2017–18 season.
This year, it was also accommodated in the Spanish La Liga and France's Ligue 1.
Let's look at how the system is faring in those competitions.
Results of VAR Implementation in Italy, Spain, Germany, and France
The first reactions are quite positive. The introduction of VAR in Italy saw a massive fall in the number of refereeing errors. Bookings, red cards, simulations, and wasted time also plummeted.
The full figures were released at the end of last season and make for an interesting reading.
The percentage of errors in the league was 0.89%, compared to 5.78% the year before
The system was used in 397 games between Serie A and the Coppa Italia
2,023 checks were made, and 117 decisions were overturned
There was also a decrease in time needed for reviewing situations as the season went on, which is quite huge, as this is one of the biggest arguments against using the technology.
It was calculated that VAR decisions took an average of 1 minute and 22 seconds during the first three match weeks. Over the course of the season, the figures went down to just 31.5 seconds.
VAR did add 13 seconds on average to the game time, but this was nullified by a gain of 43 seconds of active play.
In addition, there was a massive drop in bookings and simulations. Yellow cards fell by 12.3% compared to the year before, and diving went down by an astounding 35.3%.
Another positive was that there was only one red card for dissent compared to 11 in the 2016-2017 season.
Of course, there are still things that can be improved, but the early results in Italy are looking quite good.
The other pioneer of VAR, the Bundesliga, saw a similar positive effect. Last year, a total of 76 decisions were overturned, and 99.25% of them were correct.
It is maybe a bit early to assess the system's impact in Spain and France, but there are interesting trends emerging from both competitions.
VAR has been used in all league games played in Spain, with an average of 12.55 reviews per game
There have been ten referee decisions overturned, of which seven were goals
The system was called upon for two penalty decisions and one card for mistaken identity
While it's still early in the season, it seems that VAR has also helped pacify the Spanish league. This is the first season since 1991-92 where there have been so few cards shown.
The average booking rate per game has fallen to 4.34 cards. And only one player has been punished for diving.
We still don't have any comprehensive statistics coming from France, but it seems that there has been some controversy there.
The system did get off to a good start in Ligue 1. The opening game of the season saw Marseille take on Toulouse. The hosts were rightly given a penalty after a VAR review, and Dimitri Payet converted from the spot.
He will forever remain in history as the scorer of the first VAR penalty kick in France.
There were times fans and officials weren't so fond of the innovation. Most notably, Guingamp saw a goal that would have put them 2-0 up against Paris Saint-Germain ruled out for a questionable foul.
The referee claimed VAR was clearly showing an infringement by scorer Nicolas Benezet. In fact, even after many TV replays, it is very hard for anyone to confirm this.
Guingamp ended up losing the game 3-1.
But then again, there will be some decisions that are tough to call even with visual aid. It would be unfair to criticize the technology alone and neglect the human element when reviewing the footage.
So, the positive trend looks to be very clear. And it seems to have convinced the FA enough to try it out.
What Will VAR Bring to the EPL?
It is no secret that the English Premier League is one of the most popular and exciting competitions in Europe. It is also the most conservative and tradition-based.
Even in this dynamic modern-day environment, the English Football Association does not take change lightly.
However, given the overall positive signs, they have decided to finally give VAR a go in the league.
Some still say that the game is too emotional, the experience within the stadium is too important, and that it will be suicide for it to be left to a system that does not take all this into account.
The belief that the technology slows down games too much is also a main argument of the naysayers.
For all their disdain, though, they simply cannot neglect the fact that its implementation in other leagues has been quite positive.
There will most definitely be a period of adapting to VAR, but I feel the Premier League would benefit from a major shake-up in refereeing.
Back in 2016, a study was carried out which revealed worrying numbers. Referees had made a total of 84 "fundamental" errors in the 333 matches played up to April 22nd.
Incorrect decisions on goals, penalties, and sendings-off were all included in the report. As we know, all of those can contribute enormously to outcomes of games and whole tournaments.
It is obvious that the standards have dropped. The figure is far too high for referees officiating one of the top leagues in world soccer.
Another problem that plagues the Premier League is diving. Players get away with it far too easily, and this prompts them to try it more and more.
It is obvious that the current situation does not allow referees to tackle the problem more ruthlessly. VAR has been a revelation on that score in other leagues, so I can't imagine that it would be different in England.
Overall, it was very hard for the FA to continue putting up a good case against VAR implementation. The players, referees, and fans have all warmed up to it.
Yes, there will probably be some incidents at the beginning, such as the much-discussed cup game between Liverpool and West Brom in January.
However, the technology shows signs of improving when used regularly, so fears of delaying games and producing ambiguous decisions will continue to die down.
It was an inevitability, and I for one am very glad that the Premier League will offer help to officials starting next season.
The Betting Angle
As you can imagine, VAR has had a big impact on the soccer betting community.
After an initial feeling of skepticism, bookies are now treating it as an opportunity to improve their capabilities.
Its implementation in England will surely give an even greater boost to that.
The top betting sites have always believed that any significant rule change has to be accommodated fast. And this one is no different.
Unless operators fully embrace markets for betting on VAR outcomes, I don't see how a positive change in the popularity of in-play betting will be made.
The system looks on course to become a permanent fixture in soccer. So, bookmakers will have to adapt their offerings and odds of outcomes.
This adaptation will need to be to both penalty markets and other betting options that can be affected by VAR input. It will be a chance for savvy bettors to take full advantage of the new opportunities opening up.
In any case, I believe the implementation of VAR will favor the more educated bettors. Bad refereeing decisions over the years have robbed a lot of people who have put in the effort to analyze possible outcomes.
With the technology doing a good job of clearing up big mistakes on the pitch, it might be time for payback.
As always, make sure you do your research before placing a bet and stay on your toes for new markets and bonuses related to the VAR system. They are bound to show up!
If you want to check out more expert sports analysis and free betting picks, head straight to our gambling blog.