The 11 Best Progressive Jackpots Online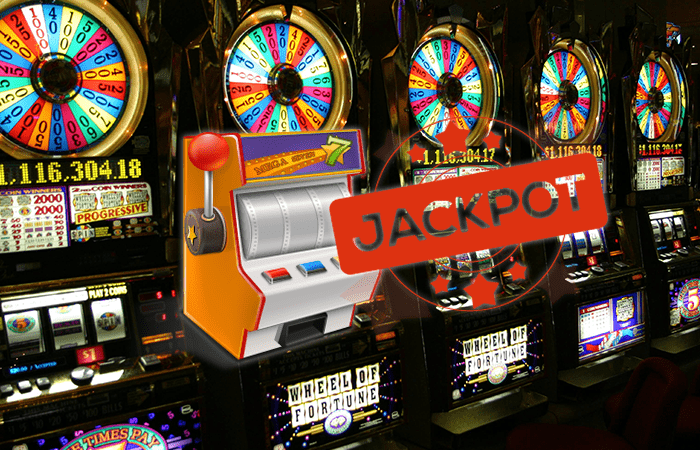 One of the most exciting things in online gambling is progressive jackpots.
These prizes take a small percentage of every bet to increase the jackpot.
And the more popular the game, the bigger the progressive jackpot will grow.
Some players have become multi-millionaires thanks to progressive payouts.
But where do you find these games?
If you're looking for the biggest progressive jackpots online, keep reading as I discuss the 11 best jackpots along with how you can win.
1. Mega Moolah Jackpot
About Mega Moolah Slot
Developed by Microgaming, Mega Moolah is a 5 reel, 25 pay line online slot that revolves around the African Savannah. The symbols reflect this, with cape buffalos, elephants, lions, monkeys, and zebras appearing on the reels.
The lion is wild and doubles your payout whenever it appears in a winning combination.
The headhunter trophy is the scatter symbol and delivers free spins when it appears 3 times anywhere on the reels. All wins during free spins are paid at 3x your winnings.
Overall, this is simple 5 reel slot that anybody can play, and the graphics and theme feel timeless.
How Do You Win the Mega Moolah Jackpot?
You can trigger the jackpot feature randomly, even if you're betting the $0.25 minimum.
This takes you to a Wheel of Fortune style wheel, where prizes include the Mini, Minor, Major, and Mega jackpots. If the wheel lands on the Mega Jackpot, then you win the highest amount available.
Biggest Mega Moolah Winners
Since being launched by Microgaming in 2008, no online slots jackpot has produced as many millionaires as Mega Moolah.
The first winner of the Mega Jackpot was Klaus E. from Finland, who hit a prize worth $5.5 million. Since this time, dozens of players have won the Mega payout.
In 2015, Jonathan Heywood became the biggest online slots winner in history, hitting a payout worth £13,213,838 (€17,879,645). The win came at a good time for the former British soldier because he was able to help pay for his father's medical bills.
Other big winners of the Mega Moolah jackpot include:
Georgios (Greece) won €6.3 million in 2009.
John Orchard (UK) won £5.8 million in 2012 through The Dark Knight slot, formerly connected to Mega Jackpot.
Mark (Canada) won CA$7.5 million in 2015.
KFC worker Rawiri Pou (New Zealand) won NZ$10.1 million in 2016.
D.P. won €7.9 million in 2016 through their iPad.
Marcus Goodwin (Canada) won $11.6 million in 2016.
2. Mega Fortune Jackpot
About Mega Fortune Slot
NetEnt's Mega Fortune perfectly embodies big jackpots because it's about champagne, diamonds, gold, limos, and yachts.
The yacht is the wild symbol, substituting for other symbols to form wins. The wheel is the bonus symbol, triggering the jackpot round when you land 3 wheels anywhere on the reels.
Like Mega Moolah, Mega Fortune was also launched in 2008. And the quality graphics still make this slot playable today.
How Do You Win the Mega Fortune Jackpot?
When you trigger the bonus round, you'll be taken to a concentric wheel. The goal is to advance through the first two layers so that you can spin for the jackpot in the center.
If the center wheel lands on the jackpot symbol, you win the big progressive jackpot.
Biggest Mega Fortune Winners
Mega Fortune has become a serious rival to Mega Moolah in terms of creating millionaires.
At one point, Mega Fortune held the record for the largest ever online win. A 40 year old man from Helsinki, Finland won a €17,861,813 payout in 2013, which has only recently been surpassed by John Heywood's €17.89m win.
Here are a few other big winners in Mega Fortune's history:
A Swedish player won €3.9 million in 2010.
A Norwegian player won €11.7 million in 2012.
Alexander (Sweden) won €8.5 million in 2015.
A 20 year old Swedish player won €4.9 million in 2016.
3. Hall of Gods Slot Jackpot
About Hall of Gods Slot
Another jackpot slot from NetEnt, Hall of Gods deals with Norse mythology and gods like Freya, Idun, Loki, Odin, and Thor.
A sea mo class="reset_top white"nster serves as an expanding wild, filling any reel that it appears in and substituting for regular symbols. Ravens are the scatter symbols, offering 10 or more free spins when they appear at least 3 times on the reels.
Hall of Gods has a serious tone with dramatic music every time that you spin the reels. The graphics will remind you of old time illustrations of gods, and they add to this fun slots experience.
How Do You Win the Hall of Gods Jackpot?
You trigger the bonus round with 3 or more Thor's Hammer symbols. You have to be playing all 20 pay lines to be eligible for any of the three jackpots, which include Mini, Midi, and Mega prizes.
During the bonus, you need to crack mirrors with Thor's Hammer and match 3 prize symbols. The goal is to find all 3 Mega jackpot symbols.
Biggest Hall of Gods Winners
While Hall of Gods hasn't reached the record breaking heights that Mega Fortune and Mega Moolah have, this game has still paid out some huge jackpots.
The biggest winner on Hall of Gods is an anonymous Swedish player who won €7,788,882 in April 2015. Below you can see some more big wins from Hall of Gods:
L.G. (Sweden) won €7.7 million in 2012.
A Scottish man won €6.4 million in 2013.
An anonymous player won £7.3 million in 2015.
Lars (Norway) won £1.3 million in 2016.
4. Arabian Nights Slot Jackpot
About Arabian Nights Slot
Launched in 2005 by NetEnt, Arabian Nights has been around more than most jackpot slots.
This game takes place in an Arabian town at nighttime. The symbols all reflect this, including an Arabian man, camel, Fez hat, genie lamp, pointy shoes, sword, and tent.
The man is the wild symbol, substituting for everything except the genie lamp scatter. The lamp triggers free spins when it appears three or more times anywhere on the screen.
In terms of graphics, this game is on par with the first three slots that we've discussed. But its sound effects and animations aren't on the same level.
How Do You Win the Arabian Nights Jackpot?
You must bet the maximum stake to qualify for the jackpot on Arabian Nights. As long as you're betting the max, you'll win the progressive jackpot if you land 5 Arabian man symbols in a pay line.
If you're not wagering the max, you'll win a fixed jackpot worth 10,000 coins.
Biggest Arabian Nights Winners
While Arabian Nights may not get the same buzz as other top jackpot slots, its payouts are just as impressive.
In 2015, a Finnish player hit a €8,635,872 jackpot, which remains the biggest prize in Arabian Nights' history. Other large wins include:
Peter (Norway) won €4.8 million in 2010.
An anonymous player won €3.29 million in 2014.
An anonymous player won £2.75 million in 2014.
5. Beach Life Slot Jackpot
About Beach Life Slot
Developed by Playtech, Beach Life embodies its name by taking you to the beach on a sunny day. Symbols in this game include: a sandcastle, underwater treasure chest, sun, snorkeler, sunbather, surfer, and several types of ice cream.
The sun is the wild symbol, the treasure chest is the bonus, and the sandcastle is a scatter symbol. You need 3 or more treasure chests to trigger the bonus round, and sandcastles pay between 2x and 500x your triggering bet.
Launched in 2007, Beach Life's graphics still compare well to modern games because they have a fun, cartoonish look.
How Do You Win the Beach Life Jackpot?
With all 20 pay lines activated, players must get 5 sun wild symbols in the 20th pay line. If you get 5 wild symbols in any other line, you win 100,000 coins.
Biggest Beach Life Winners
The biggest winner in Beach Life history is Anon, a British player who earned $8,211,861. Below you can see some of the biggest winners through Beach Life:
Heinrich S. (South Africa) won $4.8 million in 2007.
Sylvia P. (Canada) won $4.19 million in 2008.
Luigi C. won $4.25 million in 2009.
Hilton (UK) won £3.7 million in 2015.
6. Mega Moolah Isis Slot Jackpot
About Mega Moolah Slot
While there are many Egyptian themed slots, none come equipped with the large jackpot that Mega Moolah Isis does.
Another Microgaming slot, Mega Moolah Isis features Cleopatra, the Eye of Horus, a mummy's tomb, eagle, and Egyptian artifacts on the reels.
The eagle is a scatter symbol, delivering between 20 or 3 symbols and 30 for 5 symbols free spins when it appears 3 or more times. Cleopatra is the wild symbol, substituting for all other symbols to form wins.
Mega Moolah Isis isn't an original game because it looks like most other Egyptian themed slots. But if you like these types of slots, then you're going to enjoy Mega Moolah.
How Do You Win the Mega Moolah Isis Jackpot?
Triggered randomly, Mega Moolah Isis' bonus round takes you to a spinning wheel where you can win one of four jackpots: Mini, Minor, Major, and Mega.
The Mega progressive jackpot starts at 1,000,000 coins and increases from here.
Biggest Mega Moolah Isis Winners
Mega Moolah Isis is connected to the Mega Moolah jackpot, meaning they share winners. But note that most winners are playing Mega Moolah when they hit the jackpot.
At the time of this writing, the Mega Moolah Isis/Mega Moolah jackpot is worth over $5.2 million.
7. Melon Madness Slot Jackpot
About Melon Madness Slot
Melon Madness is a 5 reel, 30 pay line slot that features fruit on everything from the reels to the betting buttons.
Symbols include: Melon Madness icon, bell, BAR, 7, watermelon, grapes, pear, banana, apple, orange, lemon, and cherries.
The Melon Madness icon is the wild symbol, substituting for everything except the bell scatter symbol. The bell triggers free spins when it appears 3 or more times anywhere on the reels, while it also offers scatter payouts ranging from 1x for 2 symbols to 50x for 5 symbols your triggering bet.
This isn't your average fruit slot machine because the graphics are fairly detailed. But Melon Madness' theme isn't as in depth as games like Mega Moolah and Hall of Gods.
How Do You Win the Melon Madness Jackpot?
This slot offers 5 progressive jackpots, including the following: Blitz Cash Jackpot, Quick Cash Jackpot, Super Cash Jackpot, Mega Cash Jackpot, and Colossal Cash Jackpot. The Colossal Cash Jackpot is the one that's created several millionaires over the years.
Each jackpot is awarded randomly, and you can win on any spin no matter how much you're betting. But your chances of winning one of the 5 jackpots increases along with your bet size.
Biggest Melon Madness Winners
Melon Madness was the first online progressive slot to heavily target the mobile crowd. That said, it's little surprise that Melon Madness was also the first game to deliver a $1 million jackpot to a smartphone player.
In 2013, a 50 year old iPhone player set the mobile win record after hitting a £1.45 million payout.
The same year, a wannabe poker pro hit the biggest ever payout on Melon Madness, winning $7,525,851. The 46 year old winner said afterward that he'd left his job to play poker full time, and he was playing melon Madness on the side when his win came.
8. Jackpot Giant
About Jackpot Giant Slot
Created by Playtech, Jackpot Giant is just as much about the game as it is playing for a huge progressive jackpot.
This game opens with an introduction video showing the giant tossing a gold coin into a volcano, then rushing towards it as the volcano explodes with gold.
The game carries a stone age feel with its mountainous background, rocky symbols, and ancient village (right hand side).
The giant appears as an expanded symbol, a hand full of gold is the scatter, the volcano is the bonus, and the Wild icon substitutes for all other symbols except the scatter and bonus icons.
The bonus round is triggered by 3 or more bonus icons, and this sees you choose volcanoes to earn cash prizes.
Overall Jackpot Giant offers an interesting theme, good bonuses, great graphics, and entertaining animations.
How Do You Win the Jackpot Giant Jackpot?
The jackpot is triggered randomly, and you need to play all 30 pay lines plus the max bet to qualify for the Giant Jackpot.
Biggest Jackpot Giant Winners
In 2016, a Scottish librarian hit a jackpot worth €5,890,641 on Jackpot Giant.
"I picked up my mobile and started playing while I was watching TV," she said. "Minutes later I saw a huge string of numbers coming up and realized I'd hit the jackpot. I was simply blown away and couldn't believe I'd won."
Jackpot Giant has only been available for a few years, so it doesn't have many big winners yet. But based on the game quality and €5.9 million winner, we expect to see plenty of huge wins from this slot in the future.
9. Aztec's Millions Slot Jackpot
About Aztec's Millions Slot
Developed to Realtime Gaming, Aztec's Millions is a 25 pay line slot that's based on the Aztec civilization. The music and game symbols do a good job of representing the Mexico / Central America area where they lived.
Symbols include: the Aztec king, queen, leopard, headdress, gold necklace, artifact, and idol.
The king is the wild symbol, and he only appears on reels 2, 3, and 4. The idol is the scatter symbol, offering 5 for 3 symbols to 25 for 5 symbols free spins.
The positive aspects of Aztec's Millions include its atmosphere and interesting theme. Drawbacks include the lack of a second screen bonus and outdated symbol graphics.
How Do You Win the Aztec's Millions Jackpot?
Seeded at $1 million, the Aztec's Millions progressive jackpot is won when you get 5 Aztec's Millions symbols in a pay line.
Biggest Aztec's Millions Winners
Aztec's Millions jackpot is worth $1.925 million at the time of this writing. While most would agree that this is a big amount, the only problem is that the jackpot has never been won.
We can chalk this up to Aztec's Millions not being as popular as some of the other games on this list. Whenever somebody does hit the Aztec's Millions jackpot, they'll be in for quite a prize.
10. Marvel Ultimate Power Jackpot
About Marvel Ultimate Power Slots
The Marvel Ultimate Power progressive jackpot is linked to several online slots based on Marvel Comics characters.
These games include: Blade, Captain America, Elektra, Fantastic 4, Ghost Rider, Incredible Hulk, Iron Man 2, Marvel Roulette, Spiderman, The Avengers, and Thor.
The obvious benefit to this jackpot is that it gives you an opportunity to win through a variety of games.
How Do You Win the Marvel Ultimate Power Jackpot?
You trigger the jackpot round randomly on any spin, regardless of your bet. This takes you to a scratch card, where you choose four spaces to reveal your jackpot prize.
You can win one of the following 4 jackpots: Power Jackpot, Extra Power Jackpot, Super Power Jackpot, and the Ultimate Poker Jackpot.
Biggest Marvel Ultimate Power Winners
The biggest Ultimate Power Jackpot winner is a Chilean slots player named Anon, who won $1,378,389 in 2011.
Anonymous players have scooped other huge prizes, including the following: $1,099,030 in 2014, $1,088,473 in 2013, and $1,076,604 in 2015.
11. King Cashalot Slot Jackpot
About King Cashalot Slot
Microgaming's King Cashalot is a 9 pay line slot that's based on a king who's obsessed with gold.
The symbols consist of what you'd expect to see in a medieval kingdom, including King Cashalot, the jester, queen, knight, princess, and several pieces of fine food.
The jester is the scatter symbol, paying between 2x for 2 symbols and 50x for 5 symbols your triggering bet. King Cashalot is the wild symbol, and he doubles all wins that he helps form.
The graphics in this slot aren't great, but they're good enough to support King Cashalot's fun theme.
How Do You Win the King Cashalot Jackpot?
You win the jackpot by getting 5 King Cashalot symbols in the 9th pay line. This means that you must play all 9 pay lines if you want to qualify for the progressive jackpot.
Biggest King Cashalot Winners
King Cashalot's jackpot is seeded at $100,000, and it's reached the $1 million mark once in its existence. This is the point when an anonymous player won $1,527,228 through the King Cashalot jackpot in 2011.
Other big wins in this jackpot's history include: $908,977 in 2016, $$45,100 in 2013, and $399,269 in 2013.
Conclusion
As you can see, there are plenty of chances to win big through online progressive jackpots.
It's hard to look past Mega Moolah since it has created dozens of millionaires over the years, including the record winner in Jon Heywood.
But just beneath this are some other slots that can make you rich beyond your wildest dreams, including Mega Fortune, Hall of Gods, and Arabian Nights.
Other slots that have offered multi-million dollar payouts include Beach Life, Mega Moolah Isis, Melon Madness, and Jackpot Giant.
The main thing to keep in mind, though, is that these jackpots don't hit often. This is why it's important to realize that your chances of winning aren't very high.
Nevertheless, it's still fun to play for the best progressive jackpots and dream of winning one day.