Hide Bonus Offers
| | | | | |
| --- | --- | --- | --- | --- |
| #1 | Bovada Sports | 50% Up To $250 | Visit Site | Bovada Sports |
| #2 | BetUS | 125% Up To $2,500 | Visit Site | BetUS |
| #3 | MyBookie | 100% Up To $1,000 | Visit Site | MyBookie |
| #4 | Everygame | 100% Up To $500 | Visit Site | Everygame |
| #5 | BetOnline Sports | 60% Up To $1,000 | Visit Site | BetOnline Sports |
Who Are the Top 10 Players in the NBA Right Now?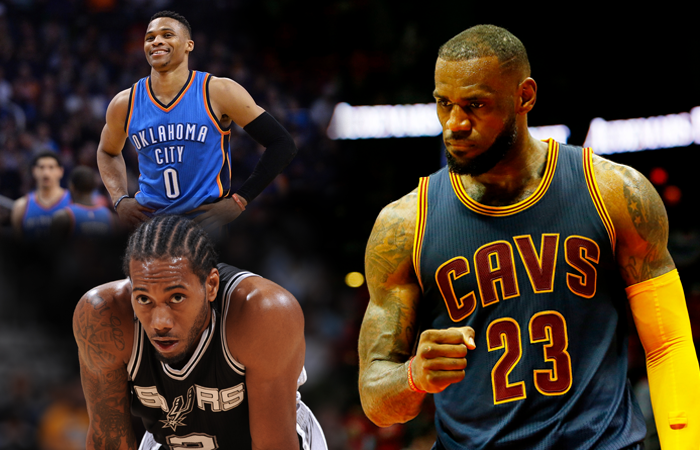 The debate regarding who the best NBA player of all-time is rages on constantly. Michael Jordan is the de-facto answer, but you'll get arguments from fans of Kobe Bryant, LeBron James, etc. While there's certainly no quantifiable way to determine who's really the best, we can do our best to try and list them.
What about today's players?
This will also result in a slew of answers, but there is really just one correct answer, in the opinion of this author.
Who's the best player in the NBA right now?
10. Chris Paul, G, Los Angeles Clippers
Chris Paul just keeps chugging along. People will dog him for his relative lack of playoff team success, but you likely can't name five players in the history of the game that have played point guard better than CP3 has over the course of his career.
He's been hampered a bit by injuries this year, but Paul is still averaging 18 points, 9.3 assists and 5.1 rebounds per game on career-high 42.4 percent shooting from three-point range.
All eyes will be on what CP3 chooses to do this summer. He will almost surely opt-out of his current deal with the Clippers, though LAC is still likely the odds-on favorite to bring him back. Still, if the Clips endure another early exit from the playoffs, don't be surprised if he leaves to seek that elusive ring elsewhere.
9. Giannis Antetokounmpo, G/F, Milwaukee Bucks
The Greek Freak has a legitimate case for the Most Improved Player Award this season, which is insane considering this guy averaged nearly 17 points with 7.7 rebounds and 4.3 assists per game last year.
In his fourth season, Giannis has propelled himself into the superstar stratosphere. Antetokounmpo is going for 23.1 points, 8.6 rebounds, 5.5 assists, 1.9 blocks and 1.8 steals per game. At 6'11", he's spent most of the season playing point guard for the Bucks, which has redefined the position altogether.
His size and athleticism make it easy for him to guard all five positions on the floor, so he is capable of staying on the floor even when opponents go small. Greek Freak still has some work to do with his jumper, but he's still shooting better than 52 percent from the floor thanks in large part to his length and shot selection. He knows his limitations when it comes to the perimeter, so most of his shots tend to come from within the paint.
Still only 22, Antetokounmpo still has plenty of time to continue to improve.
8. John Wall, G, Washington Wizards
Despite being firmly in the midst of the golden era of point guards, Washington's John Wall seems to go overlooked. People will fawn over Isaiah Thomas' stellar offense and Kyle Lowry's rise to stardom, but Wall has been a steadying force for one of the best teams in the Eastern Conference this season.
Wall is enjoying his finest statistical season to date, as he's averaging career-bests in scoring (23.1), assists (10.7) and shooting percentage (44.9%). While his three-point shooting still leaves much to be desired, perhaps only Russell Westbrook is more terrifying with the ball in the open court. Wall can blitz his way to the rim in a millisecond, and his passing creativity has gone to another level this season.
He won't get much MVP consideration thanks to the loaded field this season, but he deserves the lion's share of the credit for the Wizards' rise to the brink of the No. 2 spot in the East.
7. Anthony Davis, F, New Orleans Pelicans
Many seemed to forget about Anthony Davis after his injury-riddled disaster of a 2015-16 campaign, but he's back and better than ever this season. The Brow is putting up monster numbers just about every night, as he's going for 27.9 points, 11.8 rebounds and better than two blocks per game. He was option 1, 2 and 3 for the Pels offensively before they made the midseason blockbuster deal to pair him with DeMarcus Cousins.
Because Davis was a guard before a late growth spurt, he has guard skills in that gangly 6'11" frame. He has beautiful touch and form on his jumper, and has occasionally tinkered with the three-ball. He's an incredible athlete for his size, and that helps make the game look incredibly easy for him.
He's only led the Pels to the playoffs in one of his four full seasons to this point, but you can't really hold that against him. Davis has never played with a great deal of talent around him, and even the roster now outside of Davis, Cousins and Jrue Holiday leaves much to be desired from a talent perspective.
Still, the 24-year-old didn't take long to establish himself as one of the very best players in the game, and there's every reason to believe he will continue to improve.
6. Russell Westbrook, G, Oklahoma City Thunder
While Russell Westbrook certainly has his fair share of faults, there may not be a more thrilling player to watch in the entire league. Russ has always played with a chip on his shoulder, but he has taken that pettiness to a whole new level this season after Kevin Durant spurned him over the summer.
Westbrook is averaging an insane 31.8 points, 10.6 rebounds and 10.3 assists per game this season, and is on the verge of becoming just the second player in league history to average a triple-double over the course of an entire season.
Does Russ sometimes hunt stats? Absolutely. You'll even see teammates getting out of the way so he can come flying in to grab an uncontested defensive rebound. Regardless, averaging a triple-double at the NBA level is still an achievement worth celebrating.
While he can also be wildly inefficient with his scoring, nobody else on the planet plays the game with the tenacity and ruthlessness that Westbrook does.
It's a joy to watch, and let's pray that we somehow get to see a Thunder-Warriors playoff series this year.
5. Steph Curry, G, Golden State Warriors
While Curry's numbers have taken a dip this season with Kevin Durant now in the fold, that doesn't erase the fact that he's still the most feared sharpshooter in the history of the game. Curry is still averaging 25 points along with 6.3 assists and 4.5 assists for Golden State this season.
While the shooting is down a bit (career-worst 39.3% from three-point range), there still isn't another player in the game that can contort an entire defense the way Steph can.
Any time a guy is a legitimate threat to score from 30 feet away from the bucket, you're going to have to alter your scheme to try and cover him.
One aspect of Curry's game that doesn't get enough love is his elite ability to finish at the rim. He's far from the most explosive athlete around, but he's still able to slink his way to the basket and finish with an array of funky shots over eager shot-blockers. Curry and Kyrie Irving may be the best point guards in the league at finishing at the rim.
He won't win his third consecutive MVP award this season, but Steph is still arguably a top-five player in the game.
4. James Harden, G, Houston Rockets
James Harden and Russell Westbrook have been battling it out for league MVP honors just about all season long. While Westbrook has the slight edge in overall stats, Harden's performance this season has been nothing short of spectacular. Since being installed as the Rockets' starting point guard prior to the season, The Beard is averaging 29.1 points, 11.2 assists and 7.9 rebounds per game. He's leading the league in assists despite having never been a point guard at the NBA level in the past.
Harden's MVP case is also enhanced by the fact that the Rockets have quickly become one of the best teams in the league this season. Houston boasts the NBA's third-best record heading into mid-March and has a roster fully capable of keeping up with Golden State's high-flying offense.
Harden is right at the center of it. When he's not relentlessly driving to the rack or drawing fouls, he's finding teammates wide open behind the three-point line. The Beard is also playing better defense this season, which is a pleasant sight after he became the subject of ridicule for his lack of effort on that end last year.
3. Kawhi Leonard, F, San Antonio Spurs
Amazingly, there is a legitimate case to be made that Kawhi Leonard is the very best basketball player in the game today. That says a lot considering he was a fairly unheralded prospect that went in the middle of the first round out of San Diego State back in 2011.
Leonard's constant improvement on a year-by-year basis is a testament to his incredible work ethic. He came into the league with question marks surrounding his jumper. After he failed to even connect on 30 percent of his triples during his time at SDSU, he has worked at it enough to become a legitimate marksman from beyond the arc at the NBA level.
Leonard has upped his scoring average in each of his first six seasons, and is up to a whopping 26.3 points per game so far this year. He's grown into San Antonio's top offensive option, and he also just happens to be the very best perimeter defender in the game. Kawhi is the two-time defending Defensive Player of the Year. While he may not win his third straight this season, he's still a complete menace on that end of the floor.
Leonard is the focal point of one of the league's best offenses at one end and takes responsibility for guarding the opponent's best perimeter player at the other.
There's nobody else in the league quite like him.
2. Kevin Durant, F, Golden State Warriors
The fact that two-time defending league MVP Stephen Curry likely isn't even the best player on his own team anymore is a frightening prospect for the rest of the NBA. Durant's numbers haven't taken much of a hit despite playing alongside three fellow superstars with the Warriors, as the Slim Reaper is going for 25.3 points, 8.2 boards and nearly five assists per game.
The area in which Durant has really excelled has been defensively. The Warriors are naturally fairly small, but Durant has been able to mask that weakness a bit with his excellent rim protection. He's always had the length to masquerade as a center, but he's finally in position to put that to good use this season with Golden State.
The recent injury to Durant coupled with the Warriors' subsequent struggles should illustrate KD's value perfectly. Golden State enjoyed massive success before he got there, of course, but his two-way versatility for them this season has been immensely valuable.
We're starting to see other seven-footers such as Anthony Davis, Karl Towns and Kristaps Porzingis show off their guard-like skills, but Durant was really the original unicorn forward.
1. LeBron James, F, Cleveland Cavaliers
Who else was going to be at the top of this list? LeBron just accomplished the impossible by leading Cleveland to its first title in more than half a century, and just so happened to do so against one of the greatest teams of all-time.
This season, at 32, James looks as hungry as ever to make it two straight titles. He has already set a new personal career-best for triple-doubles in a regular season with 10, and we still have a month to go before the postseason even begins. On the year, Bron is averaging 25.9 points, 8.9 assists and 8.4 rebounds.
James is also enjoying one of his strongest shooting seasons to date, as he's connected on nearly 39 percent of his triple tries. While he certainly has plenty of support with the Cavs' loaded roster, this team still performs at a far worse level whenever LeBron is sitting on the bench.
James' teams have made it to the Finals in six straight seasons, and the Cavs certainly appear primed to make it seven this year.
As long as he's able to keep this level of play going, LeBron will have a viable case to be the best player of all-time by the time he hangs 'em up.
Honorable mention: Karl-Anthony Towns (Wolves), Kyle Lowry (Raptors), Blake Griffin (Clippers), Jimmy Butler (Bulls), DeMarcus Cousins (Pelicans).