Super Bowl Records That Absolutely Will Not Be Broken This Year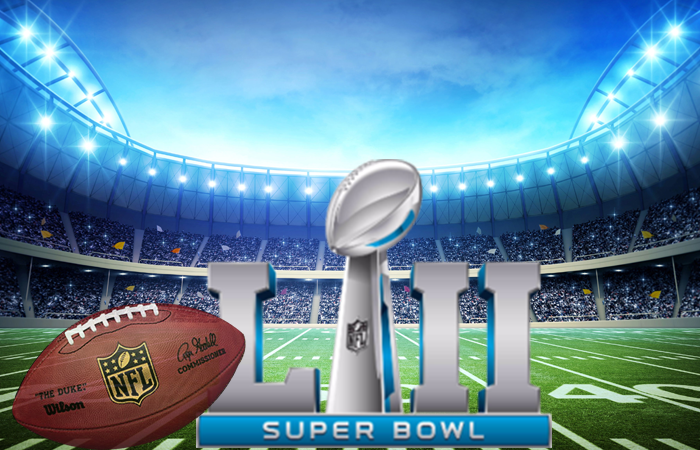 One thing NFL fans can't wait for every single year is whether or not a big NFL record has a chance of being broken.
Whether it's the single-season touchdown record, rushing yardage record or an unobtainable single-game record, these eye-popping numbers are always met with anticipation and – if topped – celebration.
No major NFL records went down during the 2017 NFL regular season, but with the playoffs already started, the countdown has begun to some potentially new Super Bowl records.
Of course, there's always those untouchable records that can't possibly be matched or exceeded. It's those far and away Super Bowl records that garner interest the most, both because they were incredibly difficult to get to in the first place and it'd be all the more impressive if they were topped yet again.
There are a few Super Bowl records that stand out going into Super Bowl 52, and while they are very unlikely to be broken, I kind of hope I'm wrong. See if you agree with this list and feel free to contribute your own unbreakable Super Bowl records in the comments below.
Biggest Super Bowl Comeback
Let's start this year's list of unbreakable Super Bowl records with a big one that literally just went down last year. Prior to Super Bowl 51, the NFL title game typically was either very tight or produced blowouts where the losing team got down early and never recovered.
Very rarely did teams overcome early holes and before last year, the biggest deficit ever overcome was a measly 10 points.
The New England Patriots sure changed that in dramatic fashion, as they were well on their way to an embarrassing defeat before storming back from a 28-3 hole against the Atlanta Falcons.
Everything had to break just right for that to be possible and it's fair to say a similar happening shouldn't be expected this year. For the longest time the record to break for a Super Bowl comeback was just 10 points, but now it's a whopping 25.
There are many Super Bowl records that won't be broken this year, but that one probably takes the cake.
Most Points By a Team
Powered by legendary quarterback Joe Montana, the San Francisco 49ers dropped 55 points on the Denver Broncos back in Super Bowl XXIV. That was back in 1990 and some 27 years later, the record still stands.
That isn't to say it hasn't been threatened, though. The Niners themselves put up 49 points in their most recent title win back in 1995, while four teams have topped at least 40 points since San Francisco set this record.
Just one team has actually come really close, though, with the 1993 Dallas Cowboys hanging 52 points on the Buffalo Bills.
Since then, this record has stayed pretty safe. Whether it's improved defenses, better coaching, more competitive play or something intangible, teams just don't tend to put up insane points in the Super Bowl anymore.
In fact, this record feels as safe as ever, with just two teams topping 35 points scored in a Super Bowl game since 2000.
Yes, it's possible a team finally explodes this year, but 50+ point outings don't come along often. As it were, they come along even less in the biggest game of the year.
Even if someone does drop 50 points, that still might not get them the record. They'd need a full 56 to get past the Niners and considering games like that just don't come along very often, it's quite a reach.
Most Turnovers By a Team
Pondering a team's overall success via points is one thing, but what about such harrowing depths of ineptitude that a team breaks the record for turnovers in the Super Bowl?
That is not a feat you want to stake claim to, while it'd be even worse if someone somehow managed to best Buffalo's disastrous Super Bowl XXVII outing, where they coughed the ball up an absurd nine times.
It's pretty difficult to get through a game with more than 3-4 interceptions, but to tack on a slew of fumbles, as well? That takes an impressive amount of bad luck to pull that off and that performance doesn't feel like one that will be easy to duplicate.
It really does have to be raining an inordinate amount of poop to accomplish that and generally the teams that reach the Super Bowl aren't going to perform that horribly.
Maybe the Super Bowl turnovers record gets broken one day, but I doubt it happens this year.
Rushing Attempts in a Game
This one shifts the focus from the prospective teams competing in Super Bowl 52 to the individual player.
Washington Redskins masher John Riggins toted the rock an insane 38 times back in 1983 – four more times than anyone else has in Super Bowl history. This was during an era where teams fed their running backs the ball like crazy, too, and the league has been in more of a passing era for quite some time now.
The only way this record is within reach is if the Pittsburgh Steelers reach the title game. The Steelers have been known to give Le'Veon Bell the ball at will, while this would actually match his career high for rushing attempts.
That would still take the perfect game setting and Bell would actually need one more attempt to break the record. I doubt he'd make it happen and currently, as I write this, the Steelers aren't even locks yet to appear in Super Bowl 52.
Most Passing Touchdowns
As things stand in the NFL playoffs, there are several quarterbacks who can really light it up through the air.
That could put the single-game passing yardage record (466) at risk eventually, but I highly doubt anyone will match or top Steve Young's ridiculous 6-touchdown effort from Super Bowl XXIX.
Young's scoring barrage was obscene back then and it'd still be outlandish even now in an increasingly pass-happy NFL.
This year's title game could potentially feature the likes of Tom Brady, Ben Roethlisberger, Drew Brees or Matt Ryan, yet it's tough to imagine any of them passing so much and finding such high-level success that they top Young's now 20+-year-old record.
I'd love to see it happen and there is always hope that Super Bowl 52 will be explosive, but it'd be shocking to see someone actually break this record.
Only one other quarterback has even tossed 5 scores in a Super Bowl before, so imagining someone dropping 7 to break this record seems unfathomable.
Most Interceptions
You can go right from passing touchdowns to interceptions, as Rich Gannon really set the mark back in Super Bowl XXXVII when he coughed up a whopping 5 picks through the air.
That was tough to do for a veteran passer who had enjoyed his best season to date, but it came against a pretty special Tampa Bay Buccaneers defense.
Gannon's night got out of control in a hurry and goes down as one of the worst passing performances in Super Bowl history. He stands alone with this sad mark, but quarterbacks don't tend to fold quite this horribly with regularity in the biggest game of their lives.
Gannon heads an exclusive 5-man group to even toss 4 picks in the Super Bowl before, so if someone struggles in Super Bowl 52, I'd be inclined to stop the bleeding at 3 picks, at the most.
That does it for my look at Super Bowl records that almost certainly won't be broken this year. In fact, most of these could take quite some time to even be approached, considering two teams get a crack at these illustrious numbers just once every 365 days.
I'm sure NFL fans are in for another great title game with a lot of big players and perhaps even some new records. I don't think these aforementioned marks will be broken, however.
Agree or disagree? Have some Super Bowl records of your own to share? Tell us in the comments below!