Super Bowl Odds in NFL Week 16 – Latest Betting Update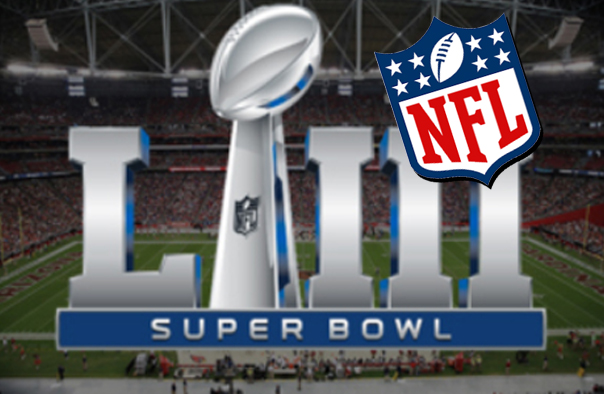 What a week for fans in the Big Easy.
After watching the Rams lose at home to the Eagles on Sunday night, they witnessed their beloved Saints scratch out a road victory at Carolina on MNF, all but locking up the #1 overall seed in the NFC.
All New Orleans has to do is win one of their two remaining games on their schedule, and this thing's a done deal.
Over in the AFC, New England has now suffered back-to-back December losses for the first time since 2002 and is no longer in control of gaining one of the top two seeds.
That honor belongs to Kansas City and Houston as of now, but don't forget that the Chargers are tied with KC for the best record in the conference.
Week 16 marks the second-to-last chance teams have to add a victory to their 2018 resume and potentially punch their ticket to the postseason.
As they have been each and every week, the odds to win Super Bowl LIII are moving by the minute.
We are down to just eight teams with +2500 or better odds to be the last team standing, as the Cowboys and Seahawks have disappeared from this list since losing in Week 15. Other than the Bears staying pat at +1000, every other team has either a worse or better price.
Find out which bets I think are worth it at this point in time.
New Orleans Saints to Win the Super Bowl (+250)
I love the Saints and their chances, but it's getting to the point where it's almost too late to hop on Sean Payton's bandwagon.
If you didn't get them at +350 a few weeks back, you are probably wishing you had. And if you still passed on New Orleans at +325 last week when I alerted you that their price would be shrinking, then shame on you.
Now at +250, that number will only get even lower once they inevitably clinch the #1 seed. Home-field advantage playing in the Superdome is a massive, massive edge for Brees and his squad, and the bookies will undoubtedly understand that.
However, if you are keen on the Saints winning Super Bowl 53, then perhaps there is still the slightest bit of value here. Just don't expect this price to get any better than it is right now.
Los Angeles Rams to Win the Super Bowl (+450)
Now we're talking about some value. Just last week, the Rams were +350 to win the Super Bowl at the majority of sites. Now they are sitting at +450 in most spots, and our friends over at Sportsbook.ag even have the Rams available at +500 for this bet.
After losing consecutive games for the first time since Sean McVay took over this organization, we might not see the Rams at a better number from here on out.
When you take into account that they are a two-touchdown favorite this week in Arizona and have the lowly 49ers looming in Week 17, you have to imagine they'll finish the year with a couple victories and get to 13-3.
That means we'll likely see the Rams somewhere around +300 to win the Super Bowl once the NFC Playoffs roll around. Despite no longer having Cooper Kupp and looking fairly suspect on defense, the Rams at +450 given where everything in the NFC currently stands still represent a decent bit of value.
Kansas City Chiefs to Win the Super Bowl (+600)
The Chiefs lost a heart-breaker to the Chargers on Thursday night during Week 15, but not all is lost. Kansas City still controls their own destiny in terms of being the #1 overall seed, and what a difference it makes.
If KC wins the AFC West, they will have a first-round bye and will be playing at Arrowhead Stadium for the entire AFC Playoffs. If the Chargers grab hold of the top seed, suddenly KC will fall all the way back to the #5 slot and be faced with a first-round road game at Pittsburgh.
This is why you need to monitor the situation closely. For example, should KC lose at Seattle on Sunday evening coupled with a Chargers victory over Baltimore on Saturday, then you could see the Chiefs drop down to +800 or +900 by next week.
At the same time, should the Ravens beat the Chargers and the Chiefs win, Kansas City locks up home field and could be back at +350 by Monday morning. This is why pulling the trigger on Andy Reid's group to win Super Bowl 53 right now is an interesting proposition.
Being that I think they take care of business and remain in first place, this +600 number looks pretty good to me. Nevertheless, make sure to shop your lines properly here because the +650 number at Sportsbook.ag looks even better!
New England Patriots to Win the Super Bowl (+700)
Speaking of shopping your lines, those same folks over at Sportsbook.ag must not have any faith in Tom Brady and the Patriots. The Pats are either +700 or +750 everywhere I look, save for being +800 at Sportsbook.ag.
And boy, do I think that's a handsome-looking price. Losing consecutive games would normally make me panic, but I have matured. Plus, I have the experience of knowing what Bill Belichick and Tom Brady are capable of doing late in a season.
With a couple of AFC East home games remaining (Bills and Jets), one has to think that New England gets back on track and finishes the year 11-5. That means you can kiss a +800 price tag to win the Super Bowl goodbye and expect to see them closer to +500 in about two weeks' time.
If you are in the camp who thinks that Brady is finally over the hill and won't be able to rally his team this time around, then go ahead and fade this wager. But I don't want to get burned by the greatest quarterback who has ever lived, especially when I know that +800 is screaming out for a bet to be placed.
Los Angeles Chargers to Win the Super Bowl (+750)
If you read the blurb above regarding the Chiefs, then you'll know where I stand here. Those of you who think the Chargers at +750 is a bit of a weak price, I can't wait to see your face next week if they win and the Chiefs lose.
LA will be holding down the top seed in the AFC and could jump all the way to +450 or so to win the ship. And despite the Bolts not really having a home-field advantage playing at the StubHub Center per se, here's what home-field advantage for the Chargers would mean.
It would mean not having to travel to Foxborough, Arrowhead, or Space City at all. And it would mean if any of those teams squared off against LA, they would have to be the ones traveling.
If you believe that the Chargers will avoid having to travel, and you think they have a real shot at winning the Super Bowl, then you can't afford to wait any longer. If you think they'll wind up as the #5 seed and have too challenging of a road to overcome, then you'll join me in "Fade-ville" for this one.
Chicago Bears to Win the Super Bowl (+1000)
If you aren't a believer in what Matt Nagy is doing in Chicago, then it's time to wake up and smell the coffee. Those who follow the NFL closely are getting subtle wafts, and fans in the Windy City can trace the aroma all around town.
The Chicago Bears are 10-4 and absolutely are for real. They held the Rams to a season-low six points and made Aaron Rodgers look like a mediocre quarterback last time out.
The problem with this team winning the Super Bowl is that in order to get there, it looks like they'll have to win a game in the Mercedes-Benz Superdome in New Orleans. Not to mention they'd have to then defeat the AFC champs in Atlanta two weeks later.
I'm not saying it can't be done, but I haven't seen enough out of Mitchell Trubisky just yet to make me think he could lead his team to that big of a road victory.
With road games at San Fran and Minnesota to close out the year, I'll hold off on backing the Bears for now.
Pittsburgh Steelers to Win the Super Bowl (+1600)
Maybe you got excited by seeing the Steelers beat the Patriots at Heinz Field in Week 15, but not me. I think Pitt gets blasted back to reality on the road this week and may have to win in Week 17 just to crack the playoffs.
Even in the event that they wrap up the AFC North and host a game the first weekend, I don't think this team could win at Gillette or Arrowhead Stadium when it counts.
The Pittsburgh defense has quietly played some pretty good football this season, and JuJu Smith-Schuster has emerged as a bonafide stud at the wide receiver position.
But when push comes to shove, Mike Tomlin is going to have to beat either Bill Belichick or Andy Reid on the road in January, and I'm not buying into the theory for a split second.
Houston Texans to Win the Super Bowl (+1800)
NFL playoff predictions over at FiveThirtyEight.com say that Houston is going to the playoffs more than 99% of the time given the current standings. Whether or not they stake claim to the #2 seed and receive a first-round bye is still up in the air.
I will say that Bill O'Brien can do himself an enormous favor should he beat Philadelphia and Jacksonville to close out the regular-season campaign. It's difficult to precisely quantify how significant having a week to rest compared to hosting a game during wild card weekend would be, but I can assure you it means a lot.
Credit to the Texans for being where they are after beginning the year 0-3. Houston was left for dead and now looks to not only be revived but to be flourishing. But as nice of a story as it is, I'm a bit wary of them being a serious contender for Super Bowl 53.
I couldn't find them priced any more favorably than +1800, which isn't enough to get me on board. A loss against Philadelphia combined with the Colts and Titans both winning would certainly push the Texans back down to the +2500 range. So even if you do believe in Houston, waiting an additional week might not hurt.
Just Two Weeks Left in the Regular Season!
Things are getting tight, ladies and gentlemen. We'll know a lot more about the playoff picture after NFL Week 16 concludes, both the good and the bad. Certain teams may clinch their position, while others will be able to start planning their offseason vacations.
I explained my takes on if the top eight teams (according to SportsBetting.ag's odds to win Super Bowl 53) currently offer any value at the price they are listed at, and I told you where I think the prices will be going.
With that being said, booking any Super Bowl bets at this point in time still remains up to you. I'm just here to throw in my two cents!