Hide Bonus Offers
| | | | | |
| --- | --- | --- | --- | --- |
| #1 | Bovada Sports | 50% Up To $250 | Visit Site | Bovada Sports |
| #2 | BetUS | 125% Up To $2,500 | Visit Site | BetUS |
| #3 | MyBookie | 100% Up To $1,000 | Visit Site | MyBookie |
| #4 | Everygame | 100% Up To $500 | Visit Site | Everygame |
| #5 | BetOnline Sports | 60% Up To $1,000 | Visit Site | BetOnline Sports |
Super Bowl Betting: Who Will Win Super Bowl MVP?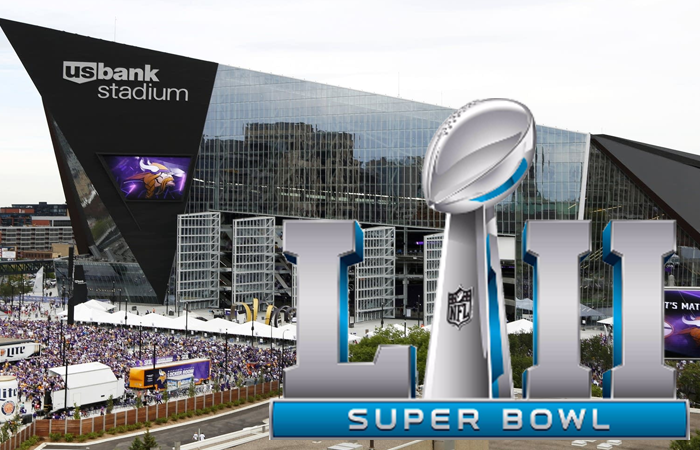 The Super Bowl 52 matchup everyone thought they'd get weeks ago finally came to fruition. The oddsmakers certainly backed off of a Patriots vs. Eagles matchup after Carson Wentz went down, but Philadelphia decided they wanted to compete for the franchise's first-ever title, anyways.
The Eagles waxed the Minnesota Vikings to make sure they'd get that chance, while New England overcame a 10-point hole this past weekend to reach their 8th title game.
Two weeks from now, NFL fans will get to witness potential history. One route to that could be the New England Patriots try to win their 6th Lombardi Trophy.
The other is the possibility that Philadelphia could stage a massive upset while securing the franchise's first-ever Lombardi Trophy.
No matter how you slice it, this year's Super Bowl is slated to be an interesting one and due to the way the Pats and Eagles got here, it's fair to say anything could happen.
New England is still the favorite at top Super Bowl betting sites online and if you plan on placing money down, you should only pick from the best, most reliable options:
Beyond knowing where to bet on Super Bowl 52, you're also going to want to figure out what the best bets are.
There are always going to be a laundry list of Super Bowl prop bets, while you're going to be pulled in every which way in regards to the Point Spread, Total and Moneyline.
One interesting bet resides at BetOnline at the moment and it offers killer value if you can pick the Super Bowl 52 MVP. This wager was even more compelling before the conference title games went down, but it might be best that you refrained from that action.
Now the field is settled with two teams competing for the NFL championship and that narrows your options down to a finite list.
All odds that are referenced in this article were taken from BetOnline at 1:40 pm CT on 1/22/2018. These odds may have changed since the time of this writing.
Super Bowl 52 MVP Odds
Like I said, there are going to be a ton of betting opportunities for the Super Bowl, but one of the best wagers to throw money down on is the Super Bowl MVP.
Tom Brady leads the way, as quarterbacks historically dominate this award and he's already won it four times. He could go for a 5th and make some history in the process.
That aside, this is a fun list with very playable odds. Here are the latest Super Bowl MVP odds at BetOnline:
Tom Brady – New England Patriots (-150)
Nick Foles – Philadelphia Eagles (+600)
Rob Gronkowski – New England Patriots (+1000)
Dion Lewis – New England Patriots (+1200)
Danny Amendola – New England Patriots (+1400)
Jay Ajayi – Philadelphia Eagles (+1600)
Brandin Cooks – New England Patriots (+1600)
Chris Hogan – New England Patriots (+2000)
Zach Ertz – Philadelphia Eagles (+2000)
James White – New England Patriots (+2500)
Rex Burkhead – New England Patriots (+2500)
Alshon Jeffery – Philadelphia Eagles (+2500)
LeGarrette Blount – Philadelphia Eagles (+3300)
Nelson Agholor – Philadelphia Eagles (+3300)
Torrey Smith – Philadelphia Eagles (+3300)
The leading favorite is Tom Brady for two key reasons. For one, the Pats have been favored to win it all since last season ended (-200 now at Bovada).
In addition, the Super Bowl winner usually gets the MVP and it also is often the winning quarterback, provided they have a good game. If their team won, that often is the case.
New England obviously might not win and even if they do win again, Brady isn't necessarily a given to win his 5th Super Bowl MVP. On the flip side, Nick Foles went nuts in the NFC title game and if he puts up numbers like that again and Philly wins this thing, he looks like an awesome pick at +600.
That being said, the oddsmakers still love the Pats, common logic supports them and if they do repeat, it'd be difficult to bet against Brady. Brady offered a little more value (+165) just days ago, but at -150 I'm no longer enamored with this bet.
After all, bettors tend to want a little more upside.
There are other Patriots options and there should be non-Patriots options on your radar, too. Of the New England options, I'd favor Dion Lewis, Danny Amendola and Brandin Cooks.
Rob Gronkowski can be a monster, but a tight end has never won the award and Philly has played well against tight ends defensively.
Simply put, it'd take a truly special performance for The Gronk to win this award and an argument could be made that if he's putting up big numbers, so is Brady.
Lewis, on the other hand, has proven to be a dynamic and dominant option out of the backfield. Running backs also have a strong history of popping off for big games in the Super Bowl and have secured the MVP trophy 7 different times.
Brandin Cooks, Danny Amendola and perhaps even Chris Hogan all deserve a nod (wide receivers rank second behind quarterbacks in Super Bowl MVP probability), but again, if they go nuts, it's likely the voters will favor Brady in the end.
Of that trio, my favorite play is Amendola. He has been a nightmare in the slot and he's been on fire in the playoffs to this point.
Ultimately, the real value lies outside of the Patriots. New England has lost in the Super Bowl twice before and the Eagles have a lot of positive momentum working behind them.
It's often fun to go into the Super Bowl as the clear underdog, while the Eagles may have been the favorite if they had Wentz on hand. Foles is a sharp downgrade, but if he can perform well, Philadelphia absolutely is a threat to win in two weeks.
An Eagles win would put Foles front and center, but I also like Alshon Jeffery (+2500) and Jay Ajayi (+1600). Of the two, I'd roll with Ajayi. New England does not have a great run defense and if the Eagles win, it's likely due to Ajayi exploding.
There is a very good possibility a defender is an option this year, too.
BetOnline presently doesn't offer any defensive player options (nor "any player" alternatives), but the Eagles have several high impact defenders that could dominate the title game.
Think back to the likes of Von Miller and Malcolm Smith over the last few years and you'll get the idea.
Of the steepest bets, Nelson Agholor (+3300) makes the most sense. He has game-breaking ability and has been a key part of Philly's passing attack all season.
Who Wins Super Bowl MVP?
Honestly, it's really tough to bet against New England and Tom Brady. Perhaps the Eagles get the best of them when it's all said and done, but I'm not sure that's overly logical.
This isn't the best Patriots defense in history, but New England did stifle two very good rushing offenses over their last two playoff games. If the Pats can shut Philly's rushing attack down, there will simply be too much pressure on Nick Foles.
Foles offers value and a heck of a story, but I just don't see it.
New England is very likely winning the Super Bowl and when the dust settles, Tom Brady will probably again win that MVP award.
Brady is my pick and he's the safest, most logical pick on the board. Still, this game is too much fun and there is too much value elsewhere to not string together a few flier bets.
I'd go hard on Brady, but then hedge with smaller bets with upside like Lewis, Amendola, Ajayi and Jeffery. I'm not into the tight ends, while the lack of "any other" or defensive players clears things up for me.
I think the Pats win and Brady gets his 5th MVP award, but that doesn't mean you can't have a little fun with the Super Bowl MVP betting this year.