Hide Bonus Offers
| | | | | |
| --- | --- | --- | --- | --- |
| #1 | Bovada Sports | 50% Up To $250 | Visit Site | Bovada Sports |
| #2 | BetUS | 125% Up To $2,500 | Visit Site | BetUS |
| #3 | MyBookie | 100% Up To $1,000 | Visit Site | MyBookie |
| #4 | Everygame | 100% Up To $500 | Visit Site | Everygame |
| #5 | BetOnline Sports | 60% Up To $1,000 | Visit Site | BetOnline Sports |
Super Bowl Betting in NFL Week 15 – Latest Futures Odds Update with Contender Analysis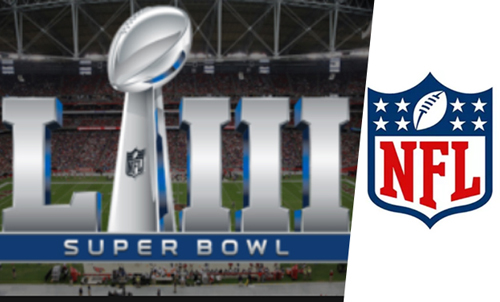 Have you been riding this roller coaster the last few weeks? Ever since I started taking a look at the Super Bowl futures odds on a weekly basis, we've seen the lines move around like a group of children playing musical chairs.
Not long ago, we had the Chargers way off everyone's radar at +2500. And then – bam! They jump to +1200 after beating the Steelers.
After another victory, this time against the hapless Bengals, the Chargers have charged up the board once again and are now sitting at +900 to win the big game.
I love what Philip Rivers and the Bolts are doing, but come on, +900? I just don't see any value there, especially when you consider you could have snagged them at +2500 just two weeks ago!
The good news is that there are a few teams lurking who do represent some value given the number they're currently sitting at.
Let's get into it.
Latest Super Bowl 53 Winner Odds – As of 12/12
I'll start with the current odds to win Super Bowl 53, as we now have ten teams with +2500 or better odds. Perhaps something pops up and grabs your attention.
Not only did the Chargers make a big leap, but the Bears are now available at +1000. That's a lot less appetizing than being at +1400 like they were before their victory against the Rams on Sunday night.
The Cowboys are trending upwards, but teams like Houston and Pittsburgh slipped back after dropping games in Week 14. Given where the odds are sitting as we head into the Week 15 slate, here are the bets I think have a genuine chance at paying off.
New Orleans Saints to Win the Super Bowl (+325)
The combination of the Saints beating the Bucs and the Rams losing to the Bears makes a big difference in the NFC Playoff picture.
The results from Week 14's games mean that the Saints have now leapfrogged the Rams for the top overall seed in the conference. If that holds true, the road to Atlanta would have to go through the Big Easy, which would be a massive advantage for Drew Brees and his squad.
Perhaps the biggest test still remaining on the Saints schedule is their Week 15 Monday night matchup with the Carolina Panthers. Now, I know that Ron Rivera's team has been absolutely dreadful lately, losing five straight games and likely coughing up a chance to go to the playoffs.
But the game will be in Carolina, and the Panthers are in virtually a must-win scenario if they want to keep their postseason hopes alive. Should the Saints get by on Monday Night Football, then in all likelihood, we'll see New Orleans finish the year 14-2.
I don't expect the Steelers to pose much of a serious challenge playing on the road in the Superdome in Week 16, as they appear to have tapered off lately. Then the Saints get another home game in Week 17 against the same Panthers team they face this week, only this time, Carolina could already be mathematically eliminated from playoff contention!
If that's the case, and New Orleans has home-field advantage on the line, I'd fully expect the Saints to win that one going away.
So as we continue inching toward the end of the year and the NFL Playoffs, you have to start adding things up. If you like the Saints' chances of reaching or even winning the Super Bowl, now might be your best time to place the wager. I can assure you that if they beat the Panthers on Monday, this +325 number will drop to at least +300 and quite possibly even lower.
Then again, if you think Cam Newton can rally his troops and beat the Saints at home during primetime, waiting on this bet makes more sense. Personally, I think the Rams can smell the finish line and think they'll end up taking care of business.
This week could be your last chance to book the Saints to win Super Bowl 53 at a reasonable price!
Los Angeles Rams to Win the Super Bowl (+350)
If you read last week's post, then you'll see that despite losing on Sunday evening at Soldier Field, the Rams' odds to win Super Bowl 53 haven't changed.
The question you have to ask yourself is if placing this wager at +350 makes sense and offers enough upside. Of course, we know the Rams are an undeniably terrific group that undoubtedly has what it takes to be the last team standing.
But is +350 enough if they end up having to win at New Orleans – not to mention the Super Bowl against the AFC representative?
I say yes. The Rams play the Eagles at home on Sunday night after looking inept against the Bears in Week 14. All I'll say about that is that it likely won't be pretty for Eagles fans like myself. I expect Sean McVay to treat preparation this week like a lieutenant colonel treats his battalion of men, leaving absolutely no stone unturned.
Should Los Angeles take care of business against Philly in Week 15, they'll get to finish the year with games against the Cardinals and the 49ers. In other words, the Rams can breathe a sigh of relief with a couple of "cupcakes" left on their schedule.
Given that information, I fully anticipate LA ending the year with a 14-2 record. Depending on what happens with the Saints, the Rams could very well end up with the #1 seed in the NFC.
Maybe you don't like the +350 price attached to the Rams now, but you surely won't like seeing that price get any worse.
If you think the Rams can win Super Bowl 53, the time to pounce is right now!
Kansas City Chiefs to Win the Super Bowl (+500)
Kareem Hunt's release was supposed to at least put a dent in the KC offense and the explosive numbers they were putting up. Apparently, somebody forgot to drop that memo off on Patrick Mahomes' doorstep because the Chiefs QB hasn't slowed down one bit.
In the two games since Hunt was dismissed from the team, Mahomes has led Kanas City to a pair of victories. He has thrown six touchdowns compared to one interception and is averaging 336 passing yards per game.
Patrick is sitting on 4,300 passing yards and 43 passing touchdowns, both of which top the National Football League. That's a remarkable season in itself. The scary thing is that Mahomes still has three more games to add to his already gaudy statistics!
Ending up with over 5,000 yards and more than 50 touchdowns is starting to look like it's just a formality. It's not a question of whether or not he'll eclipse 50 TDs. The better question is when he'll eclipse it and how many he'll end up with.
The Chiefs have a tough game at Arrowhead Stadium on Thursday evening before heading west to Seattle to face the red-hot Seahawks in Week 16. It's not a certainty that Andy Reid winds up with home-field advantage throughout the AFC Playoffs, but it's definitely looking that way.
Quite frankly, the New England Patriots are really the only team in the AFC that I believe even remotely has a chance to beat KC in the postseason. Kansas City's defensive stats might seem exaggerated because they have been so far ahead in so many games, but the fact of the matter is that the Chiefs D can get after the opposing quarterback with the best of them.
Their 42 team sacks rank second in the NFL, as do their 19 forced fumbles. If this D can get some timely stops, beating the Chiefs becomes close to impossible. Hopefully, you listened to my advice and jumped on the KC bandwagon last week at +600.
If the Chiefs handle the Chargers in Week 15 and create more separation in the AFC standings, you can kiss this current +500 number goodbye!
New England Patriots to Win the Super Bowl (+650)
Here's my favorite bet on the board this week, folks. I just love it when the general public panics about the New England Patriots and claims that their run is over. If you think I liked the Pats at +500 last week, imagine how I feel now that I get a bargain at +650.
The loss against Miami might be tragic for most teams, as the way they lost on the final play would linger in most locker rooms and have an abiding negative effect. But most locker rooms aren't commanded by Bill Belichick. Most teams don't have a leader like Tom Brady.
Those of you who think it's time to write New England off – shame on you. We've seen this movie before, and we know how it typically ends. When it's all said and done, the Pats are still likely to be a top-two seed and thus have a bye in the first round. Then they'll be hosting a January game at Gillette Stadium, and we know how that usually goes.
I see it coming down to a game between the Chiefs and the Pats for a trip to Atlanta, and barring a chain of unforeseen events, that game will be played at Arrowhead Stadium. As much as I love what the Chiefs are doing, it'd be silly of me to act like the Patriots should be counted out.
I think we'll see Tom Brady and his team travel to Heinz Field on Sunday and let some anger out on the Pittsburgh defense. With two home games to wrap up the year against Buffalo and New York (Jets), it's hard to envision New England not notching at least 11 wins.
Unless the Steelers defeat the Pats in Week 15, this current price will be the best number you can get for the rest of the season.
Dallas Cowboys to Win the Super Bowl (+2000)
I'm not ready to call the Cowboys serious Super Bowl threats just yet. But I also can't ignore the run they have been on or not point out the strides they have made.
At +2000, you can still get a pretty handsome pay-off if the Cowboys indeed win Super Bowl 53. But I just don't believe that when push comes to shove, they could win a road game at New Orleans or Los Angeles. Of course, I could be wrong, which is why placing this wager is ultimately up to you.
Ever since Amari Cooper was traded to the Big D, Dak and the entire Dallas offense has kicked it into gear. Even running back Ezekiel Elliott has been more productive, especially for all of you who play DFS.
Ezekiel Elliott in 7 games without Amari Cooper: 19.4 DK ppg.

Ezekiel Elliot in 6 games with Amari Cooper: 29.8 DK ppg.

— Adam Levitan (@adamlevitan) December 10, 2018
And while the offense has experienced a big boost from the arrival of Amari, it's the Dallas defense that has been the staple in their mid-season run. They're right on the Ravens' heels for allowing the fewest points/game (18.9) as teams have rushed for just 86.8 yards per game against Dallas.
What I'd like Cowboys fans and prospective Super Bowl bettors to do is curb the excitement, even for just a moment. In the event they are able to win at Indy and end up running the table to get to 11-5, they still have to play a road game at the aforementioned Rams or Saints to get to the Super Bowl.
I will say that I have seen weirder things happen, and peculiar outcomes occur in the NFL all the time.
At +2000, perhaps throwing a few bucks down and seeing what happens wouldn't be the worst bet you ever made!
Enjoy Week 15!
You'll see that I passed over teams like the Chargers and the Bears, as well as failed to mention playoff-caliber squads like Seattle or Houston. That's not because I forgot about them or think it's entirely preposterous for them to win it all.
But given the extreme unlikelihood of those teams winning Super Bowl 53, I couldn't bring myself to tell you that placing wagers on them at their current prices made a bunch of sense. The beauty of this league and the ever-changing betting sheets at the online Super Bowl betting sites is that next week, things will be different.
We'll see new prices as teams inevitably win and lose, so new value is bound to arise. Make sure to follow our blog, and you'll stay up to date and won't miss a thing!