Hide Bonus Offers
| | | | | |
| --- | --- | --- | --- | --- |
| #1 | BetOnline Sports | 60% Up To $1,000 | Visit Site | BetOnline Sports |
| #2 | Bovada Sports | 50% Up To $250 | Visit Site | Bovada Sports |
| #3 | BetUS | 125% Up To $2,500 | Visit Site | BetUS |
| #4 | Everygame | 100% Up To $500 | Visit Site | Everygame |
| #5 | MyBookie | 100% Up To $1,000 | Visit Site | MyBookie |
6 Sleeper Picks That Could Win Super Bowl 57
The Los Angeles Rams defeated the Cincinnati Bengals in Super Bowl 56 to win their second Super Bowl in franchise history. Los Angeles entered the season as a top contender, but Cincinnati had (+15000) Super Bowl odds in Week 1.
It's tough to win the Super Bowl as a sleeper, but we've seen plenty of teams make a deep playoff run. Because of that, we'll be looking at the top Super Bowl 57 sleepers.
People might be sleeping on these teams, but they're on my radar. Here are my favorite Super Bowl sleepers for 2023.
Los Angeles Chargers (+1400)
The Los Angeles Chargers nearly made the playoffs after a crazy final game against the Las Vegas Raiders. A last-second field goal gave the Raiders the victory while the Chargers went home. However, they enter this season as a 2023 Super Bowl sleeper.
Los Angeles kept their offense intact, re-signing Mike Williams and signing Gerald Everett. We know Austin Ekeler and Keenen Allen will play an integral role, but the Chargers' Super Bowl hopes are all about Justin Herbert.
Check out his 2021 numbers.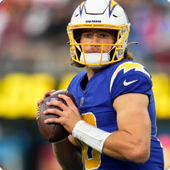 65.9 completion percentage
5,014 passing yards
38 touchdowns
15 interceptions
Herbert impressed everyone with a fantastic rookie season. He backed that up with an MVP-caliber year. He'll need to show he can lead the Chargers on a deep playoff run this season. Most NFL betting apps allow you to wager on the Chargers winning Super Bowl 57.
Herbert will have a pair of 1,100+ yard receivers in Allen and Williams. Those players certainly make life easier on the star quarterback.
Los Angeles' offense will garner much attention, but don't sleep on this defense. They already had Derwin James Jr. and Joey Bosa, but they upgraded that unit significantly.
Khalil Mack + J.C. Jackson 👀

The Chargers are making MOVES ⚡️ pic.twitter.com/geCaFWkw5T

— PFF (@PFF) March 15, 2022
Khalil Mack missed over half the 2021 season, but I wouldn't count on him slowing down. The 2016 Defensive Player of the Year had six sacks in seven games in 2021. He and Bosa will form a mean edge-rushing duo.
J.C. Jackson made the All-Pro second-team last season after recording 23 passes defended and eight interceptions. Jackson has established himself as a ballhawk early in his career.
The defensive upgrades could put the Chargers over the edge. That unit has them as a popular Super Bowl 57 sleeper pick. Feel free to visit Bovada to wager on Super Bowl 57 sleepers.
Baltimore Ravens (+2200)
The Baltimore Ravens dealt with adversity ahead of the 2021 season. JK Dobbins, Marcus Peters, and Gus Edwards suffered season-ending injuries. The injuries piled up, but the Ravens jumped out to an 8-3 start.
Unfortunately, the injuries finally caught up with them, as the Ravens ended the season on a six-game losing streak. Baltimore was in multiple games, but they had numerous close losses.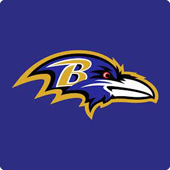 @ Steelers: 20-19
@ Browns: 24-22
Vs. Packers: 31-30
Vs. Rams: 20-19
A failed two-point conversation led to a loss against the Pittsburgh Steelers and Green Bay Packers. Baltimore gave up a late touchdown in their loss to the Los Angeles Rams. I imagine there would be a different opinion of the Ravens had they finished 10-7 and made the playoffs.
Nonetheless, I'm more than happy to consider the Ravens a Super Bowl 57 value bet. The biggest thing for Baltimore is becoming healthier. Lamar Jackson, Ronnie Stanley, Marlon Humphrey, and others will be healthy for the 2022 season.
The Ravens didn't sit back this offseason. They upgraded their team by signing Marcus Williams, Michael Pierce, and Morgan Moses. Baltimore also made their hay in the NFL draft.
The #Ravens defensive overhaul has been impressive. Between FA & draft resources, they've done about as well as possible:

DL/EDGE: Added Jones, Ojabo, Pierce, Urban; retained Campbell, Houston*

LBs: Retained Bynes

Secondary: Added Williams, Hamilton, Fuller#RavensFlock

— Dev Panchwagh (@devpanchwagh) May 26, 2022
Kyle Hamilton fell into Baltimore's lap at No. 14. Many people considered him the best player in the NFL draft, and the Ravens snagged him at that spot. Tyler Linderbaum will give their offensive line a big boost.
They also added a pair of tight ends in Charlie Kolar and Isaiah Likely. Those additions make Lamar Jackson a 2022 NFL MVP sleeper. Rashod Bateman will need to step up after the Ravens dealt Hollywood Brown.
Can the Ravens stay healthy in 2022? If so, they'll easily be one of the best Super Bowl 57 value picks.
Indianapolis Colts (+2400)
The Indianapolis Colts had a brutal end to the 2021 season. They went into Week 18 needing a victory over the 2-14 Jacksonville Jaguars to make the playoffs. It wasn't much of a battle as the Jaguars cruised to a 26-11 victory.
It was a tough end to a great season, but there was a lot to like about the Colts' season. Jonathan Taylor broke out in his second season to lead the NFL with 1,811 yards and 18 touchdowns.
We really haven't spent enough time talking about how good Colts RB Jonathan Taylor was this past season. Youngest player in NFL history w/2k scrimmage yards & 20 TDs in single season. In 2021, he led NFL in rushing yards & 1st downs (by a ton) & in TDs. pic.twitter.com/DVwQcPdHs7

— Russell Brown (@RussNFLDraft) May 25, 2022
Derrick Henry's season-ending injury coincided with Taylor beginning a stretch of 100+ yard games. Is it too early to say he has taken over as the best running back in the NFL? Taylor plays a vital role in the Colts being a 2023 Super Bowl sleeper.
Indianapolis had a sneaky good offseason. They signed former Defensive Player of the Year Stephon Gilmore, Rodney McLeod, and Phillip Lindsey. They also acquired Yannick Ngakoue in a trade.
However, I've yet to talk about the biggest change with the Colts. They gave up on Carson Wentz following one year with the team. The Colts traded him to the Washington Commanders and went on to acquire Matt Ryan.
Let's compare their 2021 numbers.
| | | |
| --- | --- | --- |
| Stats | Matt Ryan | Carson Wentz |
| Completion Percentage | 67.0 | 62.4 |
| Passing Yards | 3,968 | 3,563 |
| Touchdowns | 20 | 27 |
| Interceptions | 12 | 7 |
The biggest difference between Ryan and Wentz is that Ryan is much more careful. Wentz has the talent, but he'll make questionable plays. Indianapolis should benefit from a more established veteran.
The Colts shouldn't have too much trouble making the playoffs in a weak AFC South. It'll be interesting to see how Ryan looks in his first season with the Colts. His upside is enough to consider the Colts a Super Bowl 2023 sleeper pick.
Philadelphia Eagles (+2500)
The Philadelphia Eagles qualified for the playoffs last season, but many people questioned how much they earned that position. Philadelphia didn't defeat a playoff team and only had one victory over a team with a record better than .500.
Philadelphia entered the offseason knowing they would need to give Jalen Hurts another weapon. It looked like they would settle with DeVonta Smith and a possible rookie. However, that all changed on draft night.
The Eagles vaulted into the 2023 Super Bowl sleepers' group with the acquisition of A.J. Brown. Brown dealt with injuries last season, but he looked like a superstar in his first two seasons.
AJ Brown receiving grade since entering the NFL (min 30 targets):

– 2021: 4th
– 2020: 4th
– 2019: 13th

AJ. Smitty. Quez. What a trio!#Eagles pic.twitter.com/WPW7CNPpZn

— Thomas R. Petersen (@thomasrp93) May 26, 2022
Brown, Smith, and Dallas Goedert will give Hurts three quality options.
It certainly didn't hurt that Philadelphia had a successful NFL draft. They snagged a pair of Georgia defenders in Jordan Davis and Nakobe Dean. Philadelphia also added Jason Kelce's future replacement in Cam Jurgens.
Then, you factor in that the 2022 NFL strength of schedule analysis gives the Eagles the easiest schedule. Things are looking up for Philadelphia, but their Super Bowl hopes will come down to Hurts.
Philadelphia did a great job giving him a top-tier receiver, but his numbers suggest he has a ways to go.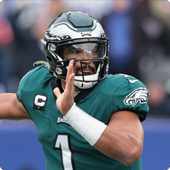 61.3 completion percentage
3,144 passing yards
16 touchdowns
9 interceptions
Hurts' athleticism and rushing ability give him another dimension, but his passing needs work. He'll have to prove he can lead the Eagles to the playoffs, or we could see them move in a different direction.
The easy schedule lines up for the Eagles to make the playoffs. Their status as a Super Bowl 57 sleeper pick will depend on Hurts. If he improves, the Eagles should overcome the Dallas Cowboys in the NFC East.
New Orleans Saints (+3500)
Early in the NFL offseason, I tried to jump the curve and name the New Orleans Saints a Super Bowl 57 sleeper. At the time, they were a top contender for Deshaun Watson, but he ultimately went to the Cleveland Browns.
They'd be in a better position with Watson, but I still have faith in the Saints for the 2022 season.
Last season, the Saints lost Jameis Winston to a torn ACL after seven games. After Winston passed for 14 touchdowns and three interceptions, it was a tough blow. Winston accomplished that with a less than stellar receiving core. Thankfully, he won't have to worry about that this season.
I think the #Saints WR Depth Chart will go as follows:
WR1: Michael Thomas
WR2: Jarvis Landry
WR3: Chris Olave
WR4: TreQuan Smith
WR5: Deonte Harty
WR6: Marquez Callaway

— Michael Balko (@MichaelBalkoJr) May 24, 2022
Michael Thomas should be ready for Week 1 after missing the 2021 season with an ankle injury. New Orleans moved up to select wide receiver Chris Olave. Olave had 936 yards and 13 touchdowns last season with Ohio State.
The Saints made an under-the-radar move by adding Jarvis Landry. Landry dealt with injuries last season, but he had 80+ receptions in the first six seasons of his career. He'll give Winston a solid possession receiver.
And we can't forget about the Saints' best offensive player. Alvin Kamara missed four games last season, but check out his scrimmage yards in each season.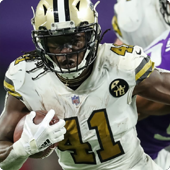 2017: 1,554 yards
2018: 1,592 yards
2019: 1,330 yards
2020: 1,688 yards
2021: 1,337 yards
Kamara didn't look as strong last season, but there's no reason to believe he won't bounce back. He can be the driving force behind a top-tier Saints offense.
New Orleans' defense looks even better after the signing of Tyrann Mathieu. It wouldn't surprise me if that unit led the Saints on a playoff run. Their improvements on both sides of the ball make them a Super Bowl sleeper for 2023.
Carolina Panthers (+10000)
I had to include at least one Super Bowl 57 longshot. It's tough to make a case for a team with (+10000) odds or worse, but the Carolina Panthers have the best chance.
It's easy to forget the Panthers jumped out to a 3-0 start last season, including a victory over the New Orleans Saints. Many people saw them as a playoff contender, but they quickly faded, finishing with a 5-12 record.
Perhaps the most encouraging thing about their 2021 season was their defense.
Yards Per Game: 305.9 (2nd)
Passing Yards Per Game: 192.1 (4th)
Rushing Yards Per Game: 113.8 (18th)
Carolina needs to work on their run defense, but a top-five pass defense should give them much confidence for the 2022 season. Their offensive numbers were among the worst in the league, but they have the pieces to be a Super Bowl 57 value bet.
D.J. Moore had 1,100+ receiving yards for the third straight season. Christian McCaffrey dealt with injuries for the second straight season, but he led the NFL with 2,392 scrimmage yards and 19 touchdowns in 2019.
I need to address the elephant in the room. Can the Panthers make a Super Bowl run with Sam Darnold as the starter? That leads to my next point.
#Panthers are still interested in QB Jimmy Garoppolo#KeepPounding

— NFL Rumors (@nflrums) May 21, 2022
Jimmy Garoppolo would give the Panthers a veteran presence at quarterback. He's not a superstar, but we've seen him lead the San Francisco 49ers on deep playoff runs. Carolina has enough talent to compete with him at quarterback.
Right now, no one is viewing Carolina as a playoff team. That tune could change if they upgrade the quarterback position. The potential upside of Garoppolo makes Carolina an intriguing Super Bowl 57 bet.
Head over to the top US sportsbooks to place your wager.
Will a Sleeper Team Win Super Bowl 57?
Can a sleeper win Super Bowl 57? We need to answer a question before considering betting on someone other than the top contenders. It's not often a sleeper wins the Super Bowl, but it does happen.
The Philadelphia Eagles won Super Bowl 52 after opening with (+4000) odds. They're the only Super Bowl winner in the last nine years to open with (+1300) odds or worse.
Still, the upside is enough to consider wagering on Super Bowl 57 sleepers. All the offseason trades could lead to a surprise contender.
Whether you're interested in betting on any of my favorite 2023 Super Bowl sleepers, make sure you're placing your bets at a reputable site. Check out our guide below to know where to bet on the Super Bowl this year.
Super Bowl Betting Sites