Hide Bonus Offers
| | | | | |
| --- | --- | --- | --- | --- |
| #1 | BetOnline Sports | 60% Up To $1,000 | Visit Site | BetOnline Sports |
| #2 | Bovada Sports | 50% Up To $250 | Visit Site | Bovada Sports |
| #3 | BetUS | 125% Up To $2,500 | Visit Site | BetUS |
| #4 | Everygame | 100% Up To $500 | Visit Site | Everygame |
| #5 | MyBookie | 100% Up To $1,000 | Visit Site | MyBookie |
Super Bowl 55 Betting Guide for Beginners – How and Where to Bet on the Super Bowl in 2021

The Super Bowl is the biggest game in the biggest sport in America. It's no wonder that Super Bowl betting breaks new records every year.
Placing wagers on the big game is easy if you know how, especially when using gambling apps or online sportsbooks. But betting real money on the Super Bowl for the first time can be a little daunting.
With Super Bowl LV fast approaching, I've got all you first-time bettors covered. Everything you need to know about how to bet on the Super Bowl in 2021 is right here.
How to Bet on the Super Bowl – Step by Step Guide
In a clear step by step process, I'm going to walk you through how to bet on Super Bowl 2021 online for real money.
From getting started with Super Bowl betting, all the way to seeing your winnings hit your account, these are the steps you need to follow.
Choose a Super Bowl Betting Site or App
Your first step towards betting on the 2021 Super Bowl is
deciding WHERE to bet
. I dig into this later in this post, or you can head straight to our list of
top Super Bowl betting sites
.
Open an Online Account
Before you can start placing wagers on Super Bowl 55, you'll need an active account. Signing up with online betting sites is easy and takes just a few moments.
Deposit Money
Your new online account will need funding for you to bet real money on the Super Bowl. The leading betting apps and sites offer plenty of ways to do this.
Claim a Bonus
Online sportsbooks typically offer new customers a bonus on their first deposit. Make sure you follow the instructions carefully.
Place Your Super Bowl Wagers
You'll have access to a wide range of Super Bowl betting options. It's down to you to choose the wagers you want to place and the selections you want to make.
Cash Out Your Winnings
Once Super Bowl 55 is over, you'll have hopefully won a few wagers. It's time to make a withdrawal, which is simple enough at all the best Super Bowl betting sites and app.
Where to Bet On Super Bowl 2021 Online
These are our top-rated sites and apps for betting on Super Bowl LV. They have been carefully selected based on a range of qualifying criteria.
They're all safe and legit gambling sites that offer real money Super Bowl betting, but there are certain aspects of each one that make them stand out.
It's a good idea to visit a few of these sites and apps to see which ones fit your needs best. If you are looking to bet on the Super Bowl with Bitcoin, for example, you'll need a site that accepts cryptocurrency.
I recently took a deep dive into comparing my favorite Super Bowl betting apps in 2021, and that's a good starting point to compare your options.
It's worth bearing in mind that you're not limited to using one gambling site or app for placing your Super Bowl wagers online.
There's no reason why you can't sign up with a few and take full advantage of everything each one has to offer.
You'll have access to more bonuses, more Super Bowl promotions, and you can easily compare the odds to get the best value.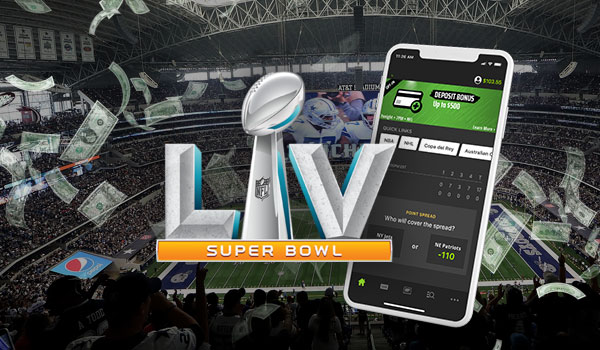 Signing Up With Super Bowl Betting Sites
Whether you're looking to bet money on Super Bowl 55 using your desktop computer or a mobile app (or both), the sign-up process is nice and simple.
Super Bowl betting apps and sites will typically ask for the following information.
Full name
E-mail address
Postal address
Telephone number
Date of birth
Once you've provided all that information, you'll then have to verify your account. Instructions will be sent by email, and you typically just have to click on a link.
You'll also need to create a username and password.
Depositing Money for Super Bowl Betting
Now your account is ready, there's one more step before you can bet on the Super Bowl for money. You need to deposit funds.
As with almost everything involved in betting on the Super Bowl online, this is pretty easy to do.
The following payment methods are available at most gambling sites and apps.
Credit and debit cards
Prepaid cards
E-wallets
Cryptocurrency
Bank wire
Check
Once you've decided which banking option to use, you'll need to enter your payment details (your credit card number for example) and how much you want to deposit.
Deposits tend to be processed instantly, so your cash will be immediately available for any football bets you want to place.

Top Tip
I strongly advise US bettors to use Bitcoin for online gambling. It's the fastest and easiest option by quite a distance.
Online Bonuses and Super Bowl Promos
This is one of the most valuable steps in my guide to how to bet on the Super Bowl for money.
As exciting as it is to create an online account, don't be in such a hurry to place your wagers that you forget to claim your bonuses.
The top Super Bowl betting apps and sites all offer you a bonus for signing up. These can be very generous, especially at US-facing online betting sites.
There are typically a range of other Super Bowl promos and contests available, too. Football squares competitions are especially common, and there are all kinds of other creative promotions.
As a side note, if you're looking to run your own squares contest this year then we can help. We have produced some Super Bowl squares templates that you can download and print.
It perhaps goes without saying, but be sure to check the terms and conditions before entering any promo code. Bettors have been fooled in the past by thinking they're getting one thing when they end up getting something else.

Top Tip
If you're betting on the Super Bowl for the first time, remember that you only get one shot at the initial deposit bonus. Take the extra few moments to do your due diligence.
Don't bother getting caught up in trying to max out the enticing offers. Sure, you want to get a nice chunk of extra money to bet with. But it's not a good idea to deposit more than you feel comfortable with just to get a bigger bonus.
Just because a site may offer a 150% bonus on your first Bitcoin deposit, this doesn't mean you should scrape your Bitcoin wallet to deposit the maximum. Deposit an amount that makes sense to you.
For more information on the bonuses available at some of our top-rated sites for real money online betting, check out the following pages.
Another thing to note is that Super Bowl is perhaps the best time to sign up with an online betting site or join a real money betting app.
The top sites and apps offer juicy offerings all year round, but they often become even more mouth-watering when the Super Bowl is around the corner.
What's the best Super Bowl bonus?
What Super Bowl betting offers should I claim?
Which Super Bowl promotions can I win money from?
The answer to these questions, and others, ultimately come down to your personal preference. To some extent, at least. The key is to be aware of what's out there and how all the offers, promos, and contests work.
Check out the following post for some further information.
Placing Your 2021 Super Bowl Wagers Online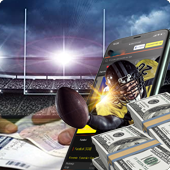 Let's get into the meat and potatoes of Super Bowl betting. After all, you landed on this page wondering how to bet on the 2021 Super Bowl. Knowing where to go, how to sign up, and how to get the most of your deposits is just the beginning.
Actually betting money on the Super Bowl is where it's really at.
Betting on the game itself includes targeting the spread, money line, or total. You can do this for the first quarter or the first half only if you prefer.
These are bets you can place before the kickoff but don't forget about in-game betting on the Super Bowl.
The best advice I can give you about live Super Bowl gambling is to keep your cell phone close by during the game. The best apps for betting on Super Bowl 55 will constantly be updating their in-play betting options.
Odds and lines for those wagers will be far less precise than the ones set before the game, so this is one of the best ways to make money from Super Bowl betting.
Before I dive into some useful stats and trends for betting Super Bowl LV, here's a list of some other resources you might want to refer to.
Betting on the Winner of Super Bowl 2021
Football is an interesting sport because you can have the best quarterback or the more talented team without necessarily having a major advantage over the opposition.
This is especially true in the Super Bowl, where the overall quality of the teams and players is perhaps less important than their mindset for the big game.
It is common to place Super Bowl wagers based on talent level or even player popularity, but this is unlikely to be a profitable betting method.
To put it another way, you're not going to win money just blindly betting the Super Bowl favorite.
How often does the favorite win the Super Bowl? Let's take a look at the last nine years.
| | | |
| --- | --- | --- |
| Super Bowl | Favorite | Favorite Won? |
| 54 | Kansas City Chiefs | Yes |
| 53 | New England Patriots | Yes |
| 52 | New England Patriots | No |
| 51 | New England Patriots | Yes |
| 50 | Carolina Panthers | No |
| 49 | N/A (Pick'Em) | N/A |
| 48 | Denver Broncos | No |
| 47 | San Francisco 49ers | No |
| 46 | New England Patriots | No |
The favorite has won the Super Bowl just three times in the last nine years. There was no favorite in Super Bowl 49, as it was a Pick'em game (no points on either side.)
Now, this doesn't mean you should never bet on the Super Bowl favorite. It does mean that the value is often likely to be with the underdog, though.
In short, it's important not to overvalue the team that looks better on paper when placing your Super Bowl wagers.
Another useful trend to consider is that the team ranked higher in defense has won the last five Super Bowls. "Defense wins championships" might be a cliché, but it's often proved correct.
Betting on Super Bowl 55 Totals
The points total is always a popular angle for Super Bowl bettors. This is wagering on whether the game will go over or under the market number.
One way to determine how many points will be scored in the game is by seeing if one of the teams participating in the Super Bowl has a dominant offense. If a team has the highest-scoring offense in the NFL, then your mind correlates that with a high scoring game.
The problem with that logic is that the oddsmakers, who create the numbers for the bet, know football gamblers are going to race to their sportsbook to bet the over on a game with a high-powered offense.
Therefore, they open the market with the game total set high enough so that you have to think long and hard about whether a game will go over or under that set number.
Are Super Bowl games in particular that high scoring to begin with? Using the last nine Super Bowls, let's see if there are any trends and correlations between the markets' total for the game and the actual game total.
| | | |
| --- | --- | --- |
| Super Bowl | Market Total | Over/Under |
| 54 | 52.5 | Under |
| 53 | 55.5 | Under |
| 52 | 48.5 | Over |
| 51 | 57 | Over |
| 50 | 44 | Under |
| 49 | 47 | Over |
| 48 | 47.5 | Over |
| 47 | 48 | Over |
| 46 | 53.5 | Under |
When the market sets the total at a number over 50, the game goes under the majority of the time.
The one time it went over was the historical comeback win by the New England Patriots over the Atlanta Falcons. The "28-3 game" needed to go into overtime for that Super Bowl to go over the market total.
Since that is unprecedented, and a comeback like that has only happened once in Super Bowl history, we can consider Super Bowl 51 an outlier.
All four Super Bowls the past nine years with a market total of 50 or higher have had a top-three ranked offense participate in the game.
Seventy-five percent of those games did not reach market expectations.
We can conclude that when the market projects a high-scoring game over 50 points, it is because the market is giving credit to a high-powered offense being featured in the game. Statistics show otherwise and that these games are not as high scoring as advertised.
These are just a few stats and trends to consider when deciding how to bet on Super Bowl 2021. As the game gets close, be sure to keep visiting our Super Bowl blog.
We will be offering a lot more content, covering all aspects of the Super Bowl and how to bet on it.
Cashing Out Your Super Bowl LV Winnings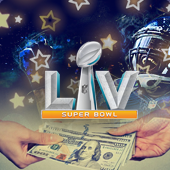 You now know how to bet on Super Bowl 55!
With a combination of my advice, following the other Super Bowl content on our site, and your own insight and analysis, you'll hopefully win some money.
So, how do you cash out your Super Bowl betting profits, and how long will it take?
The all-inclusive answer is to remind you first to check the fine print and not leave any stone unturned. For example, sometimes there are specific requirements that need to be met before your "bonus money" is released.
The actual ins and outs of the cashout process will be different at the top Super Bowl 2021 betting apps and sites, but the good news is that it's a painless process.
Regardless of how you're cashing out, everything is kept secure. Your information and funds are protected, and you can expect to receive your money promptly.
Here's a breakdown of the fast payouts offered by some of our top-ranked Super Bowl betting sites and apps.
Super Bowl 2021 Betting Checklist
That almost wraps up my beginners guide to betting on the Super Bowl.
Hopefully, I've done a good job of covering what you need to know about how to bet on Super Bowl 2021, and you can proceed just as soon as you're ready.
I'll leave you with a handy checklist to refer to as necessary.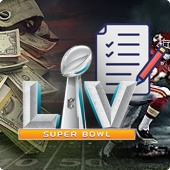 Sign up with the best Super Bowl betting sites/apps
Take advantage of Super Bowl promos after doing your homework
Study all your different betting options and choose your Super Bowl wagers carefully
Check out the full scope of Super Bowl props
Compare the odds before you lock your wagers in
Keep checking out Super Bowl blog for more tips and advice
Pay close attention to the cashout process and requirements you need to meet
Enjoy betting on Super Bowl 55!