Hide Bonus Offers
| | | | | |
| --- | --- | --- | --- | --- |
| #1 | Bovada Sports | 50% Up To $250 | Visit Site | Bovada Sports |
| #2 | BetUS | 125% Up To $2,500 | Visit Site | BetUS |
| #3 | MyBookie | 100% Up To $1,000 | Visit Site | MyBookie |
| #4 | Everygame | 100% Up To $500 | Visit Site | Everygame |
| #5 | BetOnline Sports | 60% Up To $1,000 | Visit Site | BetOnline Sports |
Super Bowl 54 Betting: 5 Elite Values That Could Pay Off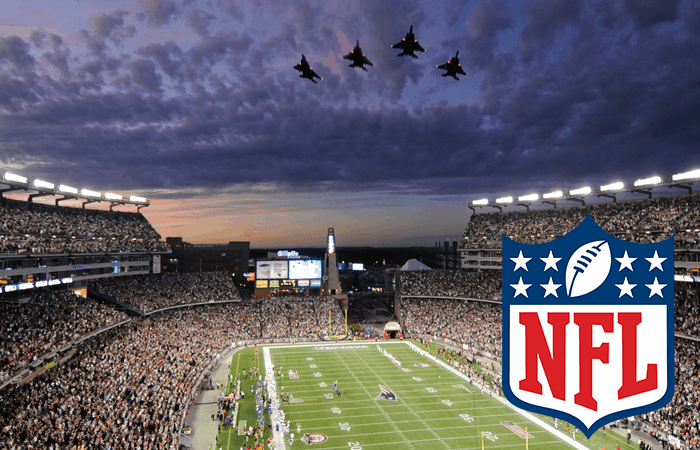 The odds for Super Bowl 53 have long been out for the public to see (and bet on). Even with the New England Patriots losing this year's title game, they're again the favorites to hoist the Lombardi Trophy when all is said and done next season.
But what about two seasons from now?
As crazy as it sounds, BetDSI and other pro football betting sites actually have Super Bowl 54 odds, and bettors can wager who will run the table in 2020.
While that sounds like a silly proposition initially, it might not be. After all, in two years, will some of the top favorites still be as locked in as they are now?
Think about it; Tom Brady will be another year older, and in two years, the Pats might not come off as dominant as you're accustomed to seeing.
On top of that, would-be heavy-hitters like the Eagles, Rams, Packers, and others could regress over the next 1-2 years. If that happens, teams Vegas currently likes to make a run for Super Bowl 54 will end up being terrible bets.
All odds that are referenced in this article were taken from BetDSI at 2:24 pm CT on 3/16/2018. These odds may have changed since the time of this writing.
In turn, that could mean a few other teams on the rise end up offering insane betting value. Here's a look at the Super Bowl 54 odds:
Philadelphia Eagles (+500)
Los Angeles Rams (+700)
New England Patriots (+800)
Green Bay Packers (+900)
Houston Texans (+1000)
San Francisco 49ers (+1200)
New Orleans Saints (+1300)
Minnesota Vikings (+1400)
Pittsburgh Steelers (+1500)
Carolina Panthers (+1700)
Atlanta Falcons (+1800)
Dallas Cowboys (+1900)
Jacksonville Jaguars (+2000)
Kansas City Chiefs (+2100)
Indianapolis Colts (+2200)
Denver Broncos (+2300)
Oakland Raiders (+2400)
Tennessee Titans (+2400)
Seattle Seahawks (+3000)
Los Angeles Chargers (+3200)
Tampa Bay Buccaneers (+3300)
Detroit Lions (+4000)
Washington Redskins (+4200)
Baltimore Ravens (+4500)
Chicago Bears (+5000)
Arizona Cardinals (+6000)
Miami Dolphins (+6300)
Cleveland Browns (+8000)
Cincinnati Bengals (+8500)
New York Jets (+9000)
Buffalo Bills (+9500)
New York Giants (+10000)
Philly stands out as the top favorite, which is interesting because things can change drastically in even one season, let alone two.
I'm not so sure I'd have them as the favorites for 2020. The same goes for a few of these other teams, while it's really interesting to consider the upside of some of these sleepers.
Based on value and where some of these Super Bowl 54 sleepers could be even for the 2018 NFL season, here's a look at five elite value plays that could pay off in a big way in two years.
Pittsburgh Steelers (+1500)
It's possible that Ben Roethlisberger will be done playing football after next season, but if he's not, then you're getting really nice value with a title contender.
The Steelers have some work to do defensively with stud linebacker Ryan Shazier possibly never playing again, but offensively they remain as explosive as anyone.
Big Ben was sharp to close out last season, and his ability combined with Pittsburgh's offensive weapons is a big reason Pittsburgh currently has the third best Super Bowl 53 odds (+900) at BetDSI.
If the Steelers are Super Bowl contenders going into the 2018 season, why would bettors not jump at getting an extra +600 tacked onto that bet two years from now?
Atlanta Falcons (+1800)
The same could be the case for the Falcons, who were a second-half collapse from their first title two seasons ago. They struggled in 2017, but still put up solid numbers and got back to the playoffs.
Now a full year removed from devastation, Matt Ryan and company will slowly rebuild with many of the same pieces that nearly got them a championship.
Atlanta is stacked offensively, and in two years Ryan and Julio Jones will still be a thing. If the passing game can return to its explosive roots and the defense steps up, the Falcons could be elite Super Bowl 54 value bets.
Seattle Seahawks (+3000)
I could make a case here for the Dallas Cowboys and a few others, but I'll blip past some of the other intermediate options to marvel at the value bettors get with Seattle.
There is no denying that the recent turnover in Seattle has the Seahawks toeing the line of steep and rapid regression. However, this team still has Russell Wilson, elite coaching, and plenty of talent on the defensive side of the ball.
It's possible the Seahawks continue their mild step back in 2018, but two years from now, their Super Bowl 54 odds fatten up to +3000 (+600 increase), and this yearly title threat offers insane value to the betting public.
Chicago Bears (+5000)
This is where things could get crazy. I know, the Bears are a bunch of nobodies that don't do much beyond compete and lose games, but the tide could be changing in the near future.
The Eagles proved last year that positive change can come quite swiftly, and it does seem like Chicago has made a lot of strong moves.
Mitch Trubisky's development is going to be the linchpin to this entire thing, but if he's the stud franchise passer Chicago thinks he is, this team could be going places very soon.
With a new coach and system and the front office getting aggressive in free agency and the draft, the Bears could show marked improvement in 2018. In 2019, they just might be title threats that offer ridiculous betting value.
New York Giants (+10000)
Lastly, I can't help but consider the G-Men, who were in the playoffs just two seasons ago and perhaps would have been much better off had Ben McAdoo never gotten ahold of their roster.
Regardless, the Giants flashed upside and then hit a wall with spotty play and a rash of injuries. The 2017 campaign is now a lost cause, but in 2018, Eli Manning and Odell Beckham Jr. will both be back, and New York will have the chance to rebuild a steady incline that turned into a disaster.
I don't think the Giants will be back at a title run next season, but if they keep Beckham under contract and keep adding the right pieces, this team could again enjoy a quick turnaround.
The Giants believe in the Manning to Beckham connection, and they draft #2 overall in the 2018 NFL Draft. If they can add a game-changer like running back Saquon Barkley or an elite defensive difference-maker, they could be well on their way to making a terrible 2017 run a thing of the past.
Overall, there is a lot of interesting value when you look ahead over the next two years. The NFL can change so much in a matter of just 365 days, so to double down on that logic potentially opens the door to some insane value.
Vegas can't help but assume the top contenders for 2018 will again largely be in the mix in 2019. However, the top threats from 2016 were not all in the running for 2016.
If bettors reflect on that and track progress accurately, it's possible they can not just target some value ahead of Super Bowl 54, but perhaps they can nail an early winner and profit in a big way.