Hide Bonus Offers
| | | | | |
| --- | --- | --- | --- | --- |
| #1 | Bovada Sports | 50% Up To $250 | Visit Site | Bovada Sports |
| #2 | BetUS | 125% Up To $2,500 | Visit Site | BetUS |
| #3 | MyBookie | 100% Up To $1,000 | Visit Site | MyBookie |
| #4 | Everygame | 100% Up To $500 | Visit Site | Everygame |
| #5 | BetOnline Sports | 60% Up To $1,000 | Visit Site | BetOnline Sports |
Super Bowl 53 Prop Bets That I'd Like to Wager On – Creating My Own Betting Markets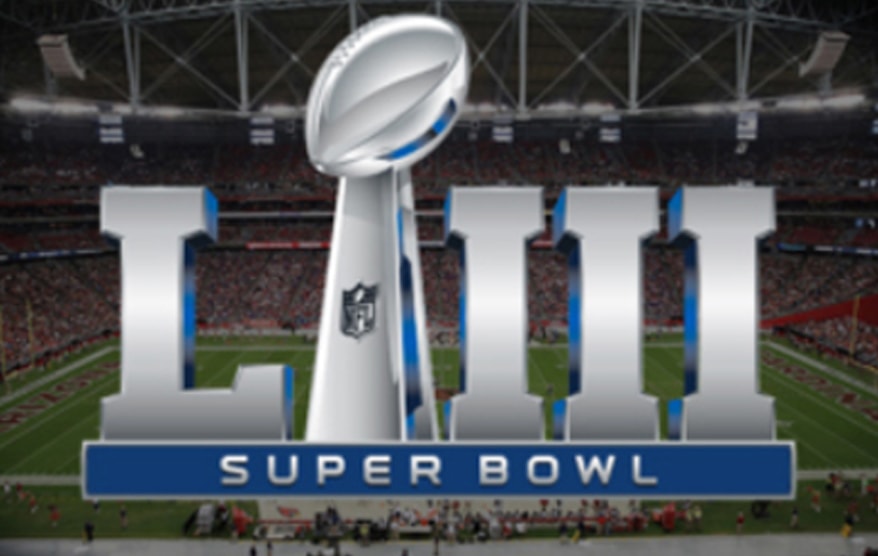 I've never been one to be satisfied with the prop bets the best betting sites push out.
I'll see your latest Game of Thrones prop bets and raise you wagers for The Walking Dead, whether Keanu Reeves is in Matrix 4, or who the next Indiana Jones will be.
Got a slew of killer Super Bowl 53 prop bets that everyone will enjoy? I'm sure you do. But I need more.
I want variety. I crave intrigue. I lust for that one massive splash that can't be ignored.
I'm talking belly flop from the top of the mansion level of not being able to ignore.
It's not easy to dream up – I certainly understand that.
And let's not pretend that the top Super Bowl sportsbooks aren't doing a heck of a job.
I mean, can you even finish scrolling through all of the Super Bowl 53 props Bovada is offering?
It takes a second.
The point I'm trying to make here is that the leading betting websites are doing a fine job offering a litany of engaging Super Bowl wagers.
But there's a few more out there they could be pushing out, and I think they'd drum up extra interest in betting on the big game.
Here are some of my own favorites I'd love to see ahead of Super Bowl 53.
Will Jim Nantz Mention Tony Romo's Inability to Get to a Super Bowl?
The CBS tag-team is back at it for Super Bowl 53, and there's always going to be that awkward bit of conversation dealing with Romo's playing career. Nantz isn't one to go out of his way to burn Romo, but I personally recall him saying a few icy things in the past.
Is Nantz big enough of a jerk to slide in a comment about Romo's postseason failures? I'd love for there to be a wager so I can at least consider which side I'd be on.
Let's start the odds off like this.
While I doubt there will be one, it's an interesting thing to consider, especially since there is a Tony Romo prop bet out there right now debating his future. The odds are still good he remains a TV analyst in 2019 and beyond, but what if the right team calls him? He is just 39 years old, after all.
I'd love to see a slew of Super Bowl props involving the broadcast crew, but I won't saturate this post with detailed breakdowns. Here are a few I wouldn't mind taking a stab at, though.
Will the camera pull back and reveal Romo/Nantz are in khaki shorts?
Will Romo or Nantz stumble over their words to the point of saying "blah"?
Over/under on times Romo or Nantz blatantly interrupt or cut off the other?
Will Nantz say anything about Romo playing for the Patriots if Brady retires?
The first prop is ridiculous, I know, but the rest are absolutely realistic. Even though Tom Brady recently said there is zero chance he retires after a Patriots win, the latter prop is still very interesting to think about.
Will Adam Levine Have a Technical Issue?
There are a ton of Super Bowl halftime show prop bets out there to see, but the majority of them are pretty basic.
You can bet on whether or not a performer falls down, what Adam Levine will wear, who joins him on stage, and whether any of the performers will kneel at any point during the production.
All of that is absolutely fun and worth a look, but I'd love to see the top sportsbooks up the ante with a possible technical mishap. To be more specific, I want a bet that details whether or not Levine messes up his own songs – or worse – he's caught lip syncing.
Here's where I'm starting the odds off at.
The latter is one of my favorites. In the name of Ashlee Simpson, it'd put the whole "bad live singing" on a whole new level. It's not likely to happen, but that's the fun in betting on it.
Here are a few other Super Bowl 53 halftime show wagers I wouldn't mind seeing.
Will Adam Levine show up with a shaved head?
Will Levine enter the halftime show in The Voice seat?
Will anyone moonwalk across the stage?
Will a performer do a backflip?
Will two performers sing into the same mic at the same time?
Will Tony Romo make a comment during the halftime show?
It's always fun to pay tribute to Michael Jackson, while performers these days always look for ways to spice the show up. Adam Levine showing up in one of the chairs from The Voice isn't happening, but it sure would be hilarious.
Will Bill Belichick Be Caught Swearing on TV?
We're graduating from silliness to downright juvenile behavior, I know. But hey, this is Super Bowl Sunday we're talking about. You're throwing a party, enjoying some drinks, and probably won't have a care in the world.
If you're not entitled to yuck it up a bit now, then when?
The Hoodie is notorious for giving menacing growls on the sidelines and curt responses to reporters in the media room, but not too long ago, he was also caught dishing out some not-so-pleasantries to the opposition.
I won't share it with you here, but if you search for Bill Belichick and Adam Thielen, I'm sure you'll stumble across it. Even with Belichick's lack of care for public perception, it was still somewhat shocking to see, especially since his choice of words wasn't directed at a call, referees, or the unforgiving skies.
They were directed at an opposing player.
Because it's happened and because Belichick will be under the microscope on the biggest stage the NFL has to offer, I crave for this wager to exist.
Here are how the odds could look for this bet.
If you want to go the extra mile, hold out hope the best Super Bowl betting sites create a wager asking if Bill Belichick will specifically swear at a Rams player.
That would be pretty funny to see (again), and I vote for a large collection solely made up of Bill Belichick prop bets. I'm sure some websites will offer Bill Belichick retirement props, but here are a few extra wagers to consider adding to the pile.
Will Bill Belichick dodge the Gatorade bucket if the Pats win?
How long will the post-game head coach handshake be?
Will Belichick get into a shouting match with Tom Brady during the game?
Will Belichick laugh or pump his fist in celebration during the game?
Of the lot, I would suggest Belichick pumping his fist or really showing any emotion during the game would be a tough sell. He also probably wouldn't knowingly dodge a bucket of Gatorade, but every one of these Bill Belichick prop bets look like fun.
Will a Star Player Get Hurt During the Game?
If we can bet on whether a performer will wipe out, why can't we bet on whether a big-name player will get hurt? It's essentially the same bet, but what's interesting is that correctly betting on this wager could have a direct impact on how your regular Super Bowl bets play out.
Here are my proposed odds.
Nobody wants anyone to get hurt, but there could be money to be made if you can correctly predict who does. I'd reserve this type of wager for the superstars such as Tom Brady, Todd Gurley, and the like.
This is still a pretty broad Super Bowl player prop bet, so here are a few more to consider with players specifically in mind.
How many players will visit the "blue tent"?
How many illegal hits will be flagged during the game?
The star players are what drive this game for fans and bettors, so it would only make sense to include some special wagers involving their status and in-game production.
You already get plenty of that concerning their stats and whether or not they can win Super Bowl MVP, but a few extra player-specific bets that are slightly outside of the box could be in order.
Will Rob Gronkowski Stiff-Arm Someone into Oblivion?
The Gronk has been the subject of retirement talk since last year's Super Bowl, but there could be more active props concerning him and this game.
After all, he took out some aggression during the AFC title game, and with an eye on giving his all in what could be his final pro football contest, it could be fun to wager on him dropping someone hard with a brutal stiff-arm.
Gronkowski has been known for his strength and physicality in the past, and if guys like Vance McDonald can go viral for doing this, why not The Gronk as well?
Here are my proposed odds for this Rob Gronkowski prop.
What "oblivion" constitutes is open for interpretation, but anyone taking on this bet would have to understand two things: a stiff-arm isn't that unrealistic, but it could still happen and also not see this bet convert.
There's risk involved, so consider a few extra weird player props.
Will Julian Edelman throw a touchdown pass?
Will Gronk go out of his way to try to injure a Rams player?
Will Gronk play defense against a Hail Mary attempt?
Will Rex Burkhead lead all Patriots running backs in touches?
Edelman is a former quarterback and has thrown passes in playoff games before, while Gronk has both deliberately injured an opposing player and played defense against a Hail Mary in the past. Burkhead isn't a lock at all to have a big role – let alone pace New England's loaded backfield in touches – so his prop caps a pretty fun little grouping.
Will the Saints' No-Call Pass Interference Be Mentioned?
There is a slew of Super Bowl prop bets concerning what the analysts will say before, during, and after the game. One that has nothing to do with the game itself actually concerns the Saints, who got bounced from the NFC title game.
New Orleans probably should have won that game, but a terrible no-call late in the game burned them. Here are my personal proposed odds for whether or not anyone brings it up during the Super Bowl 53 broadcast.
While that blown call doesn't directly have anything to do with Super Bowl Sunday, it at the same time totally does. Without it, the Rams probably wouldn't have gotten to this point, and we could very easily be talking about an epic Drew Brees vs. Tom Brady battle.
Here are a few other props I wish Super Bowl betting websites were offering.
Will Mark Wahlberg, Matt Damon, and Ben Affleck all be seen together at the same time?
How many trick plays will Sean McVay dial up?
Will Donald Trump tweet specific support for Tom Brady?
These are just a handful of extra non-game-centric props we'd all love to see. My favorite is the first one, though.
It wouldn't be that crazy to see Patriots fans Damon, Affleck, and Wahlberg separately cheering on their favorite team, but to get a shot of them all together at the same time would be pretty special.
Will We See a Double-Doink Field Goal Miss?
This one is admittedly a bit out there, seeing as it was rare enough to even see this happen in one playoff game – or just any NFL game at all.
Taking you back to the Bears vs. Eagles wild card game, Chicago kicker Cody Parkey blew an amazing game-winner with the "double-doink" gaffe heard around the world. Parkey's miss hit both the left upright and the crossbar and ended Chicago's dream season.
The context is one thing, but this happening in any regard on the game's biggest stage would be something dreams are made of. Here are my proposed odds.
This was such a crazy kick that I doubt we see another one for a while. Still, if the top betting sites issue this wager with a +600 price tag or anything close to it, I'm sure a few bettors will bite.
Will Either Team Do a Fortnite Dance?
Lastly, let's consider what the teams can group together and do as a total unit. For me, that's going to be any pregame celebrations or gestures, and it's also going to include any over-the-top touchdown celebrations.
I'm sure there are some player touchdown celebration props out there, but I'd love to see a few that involve the entire team. They don't have to be restricted just to Fortnite dances, but that's a great place to start.
Here are my proposed odds for this hypothetical Super Bowl 53 wager.
Feel free to tack on any unique player or team touchdown celebrations you can think of. Maybe there should even be a prop involving members of the coaching staff or team owners.
When it comes to Super Bowl prop bets, there's no ceiling. At least there shouldn't be.
Summary
That's the big takeaway here. Not that I'm the most creative person in the world or that I just produced the best Super Bowl props that previously didn't exist (heck, maybe some of them already did).
It's that Vegas probably hasn't turned over every rock in pursuit of the best possible list of wagers, and with a few days to go, they probably should.
I think the main thing is that there are a lot of boring prop bets that either offer no value or simply aren't any fun. A lot of my proposed bets (and maybe even their respective odds) aren't exactly realistic, but there's no denying the intrigue, fun, or upside associated with most of them.
Love or hate my Super Bowl wagers? Tell me about it in the comments below, and even better than that, feel free to add your own unique Super Bowl 53 props.
Maybe, just maybe, your favorite Super Bowl betting sites will catch wind of them and offer them ahead of Super Bowl Sunday.