Hide Bonus Offers
| | | | | |
| --- | --- | --- | --- | --- |
| #1 | Bovada Sports | 50% Up To $250 | Visit Site | Bovada Sports |
| #2 | BetUS | 125% Up To $2,500 | Visit Site | BetUS |
| #3 | MyBookie | 100% Up To $1,000 | Visit Site | MyBookie |
| #4 | Everygame | 100% Up To $500 | Visit Site | Everygame |
| #5 | BetOnline Sports | 60% Up To $1,000 | Visit Site | BetOnline Sports |
Super Bowl 53 Prop Bets – Odds, Predictions, and Picks for Wagers to Target Before the Championship Games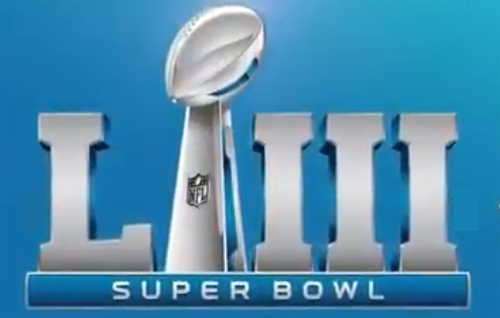 The commercials are great, and the game itself is always fun to watch.
But perhaps the most entertaining thing about the Super Bowl is the countless prop bets that get tied into the betting.
Sifting through all of the prop bets that become available once we know who will be making the trip to Atlanta is a really fun process, and it can even be overwhelming to some.
Between all of the top Super Bowl betting sites out there, it's hard to keep track of how many options you'll actually have.
But if you thought you had to wait until after Sunday's NFC and AFC Championship games ended to start diving into the props, you are sorely mistaken. Most of the sites already have something about betting on who will win the Super Bowl MVP, and that's a fun one to attack.
Noah Davis has already prepared a post that takes a look at the odds to win Super Bowl 53 MVP and tells you where he thinks you should be putting your money, so definitely take a look at that.
But there's a lot more out there – even right now.
MyBookie.ag is ahead of the curve and already has a sheet of prop bets listed for Super Bowl 53. Let's take a look at each one and see if there are any that pique your interest.
What Song Will Maroon 5 Open Halftime With?
Maroon 5 will be headlining Super Bowl 53's halftime show, and lots of folks are excited to see what Adam Levine and his band have in store. The well-known pop-rock group from Los Angeles has had plenty of hits over the years, as they have been active in the music industry dating all the way back to 1994.
The fact that they aren't some one-hit wonder and aren't just known for a single track makes this first prop bet tough to figure out, but it's also what makes it fun and enticing.
Take a peek at the odds.
I mean, let's just be honest. This bet, like many of the others that will follow, isn't exactly one where I can pride myself on "locating value" or "finding an edge." Unless you work for CBS and have an inside angle on the performance, it's basically like taking a shot in the dark.
But for this specific wager, there are a couple Maroon 5 songs that stick out to me as being a good choice to open with.
"One More Night" is certainly as popular of a song as any that Adam Levine has composed, and there's another interesting kicker about the track itself. The song opens with the following words.
"You and I go hard at each other like we're going to war…"
Maybe it's just me, but that sounds like a reasonable thing to say when two teams are clashing with one another for the rights to call themselves Super Bowl champs. Despite +300 being the least favorable price on the board, it seems like the most likely choice for Levine to roll out to.
My sleeper pick is "Maps" at +1200, as its catchy beat would be an easy way for the fans to get involved quickly.
How Many Songs Will Maroon 5 Perform?
Halftime at the Super Bowl is much longer than halftime at a typical NFL game, as they need to drag things out to make time for the performance. Rather than waiting about 15 minutes between action, we'll likely have about a 30-35 minute hiatus from watching football during Super Bowl 53.
Not only does Maroon 5 need to perform, but the stage has to be set up, then it has to be removed, plus there are loads of commercials. Judging by Justin Timberlake's set list at last year's halftime show, this one seems too good to be true.
BleacherReport.com tells me that Timberlake sang bits and pieces from 11 different songs in a routine that lasted nearly 14 minutes at Super Bowl 52.
Being that Maroon 5 has more than a handful of admired songs that are common among the American public, I find it hard to believe the plug gets pulled on Levine before he gets to start a fourth track.
Will Adam Levine Wear a Leather Jacket?
As silly as this prop may sound, this might be an opening to squeeze out some profit.
As much as Adam Levine loves to don a black leather jacket, I'm almost certain that he won't be the one who chooses his outfit on February 3rd. It'll be the wardrobe specialist team over at CBS or whoever is in charge of putting this halftime show together that'll have the final say.
Is there a chance that Adam Levine is draped in a sweet-looking leather coat when he steps foot onto the field at halftime? Of course there is.
But is it worth laying -200 to find out?
Absolutely not.
My guess is they come up with some funky type of getup for Levine that may or may not involve leather. But being that nearly everyone automatically assumes they'll see Maroon 5's lead man rocking a leather jacket, it seems natural for a sophisticated wardrobe team to go in another direction.
Will Mic Jack Be Performed?
Is this a trick question? I am by no means a music buff, but I am intelligent enough to put two and two together. It's already been made official that musicians Travis Scott and Big Boi will Join Maroon 5 for Super Bowl LIII's halftime show, so that much is set in stone.
All you have to do is Google "Maroon 5 Mic Jack," and you'll quickly see that it is a song that features Big Boi heavily. There is no doubt that the 43-year-old rapper who hails from Atlanta will be well received in his hometown, but there is an issue with the lyrics of the song at hand.
Three of the first ten words of "Mic Jack" are extreme expletives that definitely aren't tolerated on live television. So either Antwan "Big Boi" Patton has to come up with an alternative opening line, or this song must be left out.
You can see that MyBookie.ag is a strong believer that the introductory verse will be altered and that the song will be performed, and I must say, I tend to agree. I'm obviously not in love with the price, but wagering "No" doesn't seem like that logical of a move, either.
Will Andre 3000 Join Big Boi on Stage?
The list of artists performing at the halftime show of Super 53 has already been released, but be aware that there is a chance that a cameo performance or two might be part of the plans, as a surprise guest could serve as a way to help liven up the crowd.
Not that those in attendance of Super Bowl 53 need any assistance getting hyped up, but bringing in one of Atlanta's very own isn't a bad move, either.
They already have one half of Outkast with Big Boi slated to take the stage, so why not bring out his partner in crime, Andre 3000?
Andre 3000 and Big Boi formed Outkast when they met in high school back in 1991, so we know the roots run deep. And we also know that for someone in the music business, having the chance to perform at halftime during the Super Bowl is a once-in-a-lifetime opportunity (unless, of course, your name is Justin Timberlake).
Despite the two men branching off and focusing on individual work in recent years, people are always wondering if Outkast will ever collaborate again.
Sunday, February 3rd in Atlanta might just be that time. Not to mention, the handsome price tag of +250 makes betting "yes" more appealing.
Will Big Boi Wear a Falcons Logo on Stage?
If you know anything about Big Boi and what he is all about, then you'll understand why this question is asked. And if you truly know how big of an Atlanta Falcons fan Big Boi is, then you'll be in the loop as to why the odds are so drastic.
My thinking here is this. The Super Bowl is going to want to promote the two teams playing in the game, not a team that finished 7-9 and didn't make the playoffs. Obviously, Mercedes-Benz Stadium will be packed with plenty of Falcons fans, but let's remember this.
Atlanta also has an MLB and NBA franchise, not to mention an NHL and MLS organization. I can certainly picture Big Boi rocking a Braves hat or possibly even an old-school Dominique Wilkins Hawks jersey. But there's a time and a place to rep the Falcons, and the Super Bowl during a year in which Atlanta badly missed postseason play isn't one of those times.
Will Big Boi Be Wearing a Gold Chain?
This one made me chuckle a bit, partly because I can't track down a single photo of Big Boi on the internet in which his neck isn't swathed in a lavish gold chain.
Okay, maybe there was one where Big Boi is wearing a suit and tie and perhaps his gold chain is hidden underneath his shirt, but you get the point.
Let's not get too technical and try to overthink this one. I'm not a fan of laying -700, but I'm not in the camp that thinks Big Boi is suddenly going to abandon the look he feels most comfortable in.
Will Kylie Jenner Appear on Stage?
If this doesn't serve as a prelude to the kind of "off the wall" prop bets that get attached to Super Bowl betting, I'm not sure what will. Kylie Jenner is the girlfriend (some say fiancée) of Travis Scott, the 26-year-old rapper from Houston who will be performing at halftime of the 2019 Super Bowl.
I can't say that I've closely followed the on-again-off-again relationship between the youngest "Kardashian sister" and the dude they call "La Flame," but I can tell you they have a young child together.
Doesn't someone have to stay home and watch over Stormi?
If Travis is slated to perform, and Kylie is alongside him, who takes care of the baby?
In all seriousness, having Jenner on stage might make for a nice publicity stunt, but I don't see it adding any legitimate value to the show or performance itself. Unfortunately, it's too silly of a proposition for me to risk -2500 that she doesn't show up.
Considering I won't be losing an ounce of sleep over whether the 21-year-old girl worth a cool $900 million will be there or not, I'll just go ahead and pass on this one and take my chances with the others.
Will Travis Scott Mention Kaepernick?
Do you keep track of the tabloids or follow the current state of affairs in the hip hop industry? Sources at Variety.com tell us that Travis Scott and Colin Kaepernick had a telephone conversation in advance of Scott agreeing to perform at the Super Bowl and that the two agreed to certain terms.
The former quarterback of the San Francisco 49ers has since denied these claims and even took it a step further when he retweeted the following tweet sent out by his girlfriend, Nessa.
It seems clear to me that despite other reports, the two men are not on the same page, and therefore, nothing was mutually agreed on.
I don't know everything about the drama or beef between the two parties involved, but I know the last thing the NFL wants is the halftime show to turn into a conversation about Colin Kaepernick. Whether that means Scott has been warned to refrain from uttering Kaepernick's name or not, I cannot confirm or deny, but my hunch is that Travis steers clear of this touchy subject.
Will Donald Trump Be Mentioned During Halftime?
Like the Colin Kaepernick name situation, speaking about Donald Trump publicly can be a sensitive subject for many. For that reason, I'm guessing the crew over at CBS is working diligently to make sure nobody involved with the halftime performance makes it a point to talk about President Trump, and that includes viewpoints from both spectrums.
This is Super Bowl 53 we are talking about, the biggest spectacle of the year in terms of sporting events. Between the two teams who will be competing and the various artists involved with the halftime show, there are plenty of talking points to hit on without going down the road of sharing an opinion on Trump.
I don't see any sort of reason why someone would feel the need to use the spotlight of the halftime show to voice their thoughts on the President of the United States, but of course, I can never be sure.
"No" seems like the more likely answer to me, so if I had to choose a side for this wager, that's where I'd be leaning.
Will Any Performer Fall Down?
What even constitutes as falling down? Is MyBookie.ag going to release a waiver sheet that further demonstrates or explains what establishes an actual "fall down"?
What if a performer trips and catches himself, but one knee hits the ground? What about if Adam Levine takes a tumble, and one foot slides off the stage, and the other remains inside the black tape?
Are we playing by college rules (one foot in) or NFL rules (two feet in)?
I have a hard time taking this bet seriously, as it's not exactly a "black or white" bet. I'd hate to bet on "Yes" at +250 and get super excited if I see Big Boi trip over a cord, but what if MyBookie.ag deems that it wasn't a complete fall, and more of a "slip up"?
Too many variables here for me to wager my own money, so like Kylie Jenner's whereabouts on Super Bowl Sunday, I'll stay away from this one.
Some Final Thoughts
See how tempting some of these bets can be? Prop bets are created to add a form of entertainment to the Super Bowl, as they attract a different type of audience than a typical NFL game. People that would have absolutely zero interest in placing a wager on a football game are suddenly glued to their television keeping track of the props they won or lost.
The ones listed on this page are mainly centered around the halftime show, and MyBookie.ag has done that for a reason. Those of you who don't have any sort of background knowledge on the players or teams involved can still take part in betting Super Bowl 53 and be captivated by the potential.
Heck, you don't even have to pay attention to which two squads are even playing – you can still have a blast by firing away on the bets that were unveiled on this page!
I didn't mention the prop about predicting the exact outcome of Super Bowl 53, and that's because Noah Davis has once again done you a big favor. Check out Noah's blog about Super Bowl 53 Exact Outcome Odds and see if anything jumps out at you.
You better start booking some of these props now, because once this weekend is over, you'll have to get prepared for a whole lot more to start appearing. In other words, get ready for the floodgates at the best Super Bowl betting sites to burst wide open!