Hide Bonus Offers
| | | | | |
| --- | --- | --- | --- | --- |
| #1 | Bovada Sports | 50% Up To $250 | Visit Site | Bovada Sports |
| #2 | BetUS | 125% Up To $2,500 | Visit Site | BetUS |
| #3 | MyBookie | 100% Up To $1,000 | Visit Site | MyBookie |
| #4 | Everygame | 100% Up To $500 | Visit Site | Everygame |
| #5 | BetOnline Sports | 60% Up To $1,000 | Visit Site | BetOnline Sports |
Super Bowl 53 Prop Bet Picks – Odds and Predictions for Thirty of the Best Props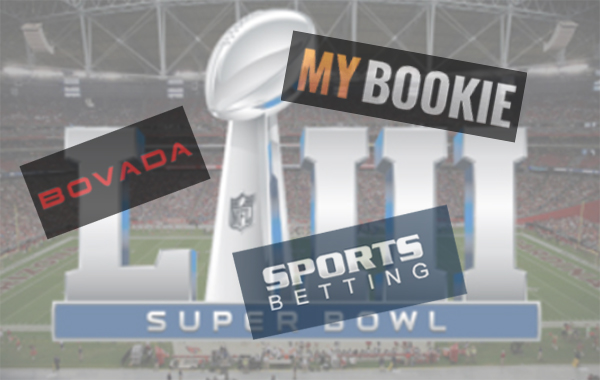 It can be an overwhelming feeling, so I want you to take a deep breath and relax.
Trying to examine all the prop bets for Super Bowl 53 takes a lot of time and no small amount of effort.
The best NFL betting sites typically offer a HUGE range of props for the season ending finale, and that's certainly the case for the 2019 Super Bowl.
If you are up for the challenge of finding the betting value among all your options, then more power to you.
But if you were hoping to find an organized and detailed page that listed all of the most enticing SB 53 props, I've got you covered!
I'll include the existing odds, some insight into the wager, and, of course, a prediction and pick if I think the bet has any upside.
Let's not waste any time and jump right into it. Below is a list of what I believe are 30 of the most attractive Super Bowl 53 props available on the market.
Note that I've taken these prop bets from my three favorite online sportsbooks, which are as follows.
Tom Brady Super Bowl Props – Length of First Completion
Unless you have been sitting in on Bill Belichick and Josh McDaniels' meetings discussing the offensive game plan, there is no way to know for sure what the right choice here is.
But if you want to take data into account, that's something I can help you out with.
Tom averaged 7.64 yards per attempt during the regular season, a number that has remained virtually unchanged (7.68 yards/attempt) during this year's postseason.
It seems like the bookies are getting it right with setting the number at 7.5 yards for Brady's first completion, so why aren't the odds listed at -110 for each side?
Getting +110 on the under seems like obvious value, so it's probably worth some small consideration. It's certainly one of the better Tom Brady bets I've found so far.
This Super Bowl 53 prop is available at SportsBetting.ag.
Will Tony Romo Be Clean Shaven?
First of all, what actually constitutes as clean shaven? I mean, the game doesn't kick off until around 6:35 pm local time, and I'm sure Tony has tons of obligations well in advance of that.
I'll guess he takes his shower and gets "suited up" sometime in the early portion of the afternoon, meaning that even if he "BIC's it clean" in the morning, Tony will be rocking a 5 o'clock shadow by game time.
Here are the odds if you want to bet on this particular Super Bowl prop.
The problem is, as I addressed at the outset, what actually counts as clean shaven? Does it mean there can't be any traces of hair follicles on his face, or does it just mean he can't have any semblance of a beard or goatee?
Too many variables here means I'll live to fight another day. You can find the wager at MyBookie.ag if you like it, though.
How Many Times Will the Broadcast Mention Sean McVay's Age?
I'll preface this by saying that Sean McVay celebrated his birthday last Thursday (January 24th) and is now at the ripe old age of 33.
No, seriously, the youngest head coach in the league by a long shot is set to become the youngest head coach to ever lead a team in the Super Bowl.
One of the big stories so far this offseason is how franchises with head coaching vacancies have been trying to find the next Sean McVay, as fellow organizations have been ultra-impressed at how determined and prepared McVay is.
Let's take a look at the odds for betting on how often his relatively tender age gets mentioned.
I imagine that Tony Romo and Jim Nantz will bring these topics up on more than one occasion, so I like the over here. Just be careful, though, as this prop includes the following waiver.
"Announcers Must Mention that he is 33 to count for 1. must be mentioned in relation to his age to count towards wager."
There's a little bit of room for interpretation here, but I'm confident that there'll be at least two clear mentions of Sean McVay's age.
Take this 2019 Super Bowl prop at Bovada.lv if you like the look of it.
Who Will the 2019 Super Bowl MVP Mention First in His Speech?
Whoever ends up winning the Super Bowl 53 MVP Award is going to be interviewed by Jim Nantz on the podium live for the world to see.
Chances are it'll be either Tom Brady or Jared Goff, as the winning quarterback tends to be the mega favorite to hoist this trophy year in and year out.
Family or Family Member
+400
Does Not Mention Any of the Above
+400
As humble and honest as Tom Brady is, I suspect we hear him pass credit to his teammates as he does time and time again when pestered about his greatness.
At the same time, Jared Goff strikes me as the type of guy who understands how great of a situation he is in, and I've already heard him be thankful for his teammates during post-game interviews.
You can hear him reference "the defense" and kicker "Greg Zuerlein" before anyone else while chatting with Chris Myers after the Rams beat the Saints.
That's why I'll take a bet on "Teammates at +160," please.
Bovada.lv is the betting site with this Super Bowl prop.
Kyle Van Noy – Total Number of Tackles + Assisted Tackles
Patriots linebacker Kyle Van Noy is coming off a brilliant game in the AFC Championship. The 27-year-old product out of BYU recorded eight solo tackles (which included two sacks) and two other tackles that were assisted.
His ten tackles were the second-most he has logged all year, but here was my biggest takeaway when looking at the numbers.
Before the most recent game at Arrowhead Stadium, Kyle had gone four straight contests without exceeding four total tackles. He'll be on the field for the majority of the game, as evidenced by being in on 90.7% of the Pats defensive snaps in 2018.
This one intrigues me, but I don't see enough here on either side to make me feel good about laying juice with this one. There are plenty of other Super Bowl wagers to choose from, so there's no need to bet when I don't feel confident.
Super Bowl 53 Betting on Alternate Lines
The line for Super Bowl 53 has been holding at Patriots -2.5 for some time now, but ready for this? Most betting sites offer that opportunity to bet alternate lines.
For example, say you have an inclination that the Pats are going to win by more than a touchdown, and you want to put some money on it. Well, here's how you can get rewarded for your penchant.
And what if you want some extra insurance with New England and want to flip the spread? Yeah, you can actually wager on the Patriots as an underdog, and you even get to pick the price. Here the odds for various betting options here.
Have fun with this one! These lines are from MyBookie.ag, but you'll find similar at most of the leading sites.
Super Bowl 53 Prop for Margin of Victory
If you like the Super Bowl 53 prop above, you are probably going to like this one even more.
Patriots Win by 1-3 Points
+340
Patriots Win by 4-6 Points
+850
Patriots Win by 7-10 Points
+700
Patriots Win by 11-13 Points
+1500
Patriots Win by 14-17 Points
+1000
Patriots Win by 18-21 Points
+1300
Patriots Win by 22 or More
+550
Rams Win by 1-3 Points
+800
Rams Win by 4-6 Points
+1100
Rams Win by 7-10 Points
+850
Rams Win by 11-13 Points
+2000
Rams Win by 14-17 Points
+1300
Rams Win by 18-21 Points
+1800
Rams Win by 22 or More
+850
Here, you can try and pinpoint how Super Bowl 53 is going to pan out. If you choose an outcome that is bold, you'll be paid out accordingly should you choose correctly!
Although I believe New England will win Super Bowl 53, getting +800 on the Rams to win by 1, 2, or 3 points seems like an awfully tempting price. And if you check back on how the Patriots have fared against the spread (ATS) in Brady's eight previous Super Bowls, you'll see that when the spread is tight, it'll probably be a tight game.
Enjoy this wager, and don't be afraid to bet on multiple potential outcomes. There's nothing wrong with covering more than one base with this particular Super Bowl wager.
Again, these specific odds are taken from MyBookie.ag but similar betting options are available at other online sportsbooks.
Los Angeles Rams Total Turnovers
Available at SportsBetting.ag
The Rams committed just 19 turnovers during 16 regular-season games, but this is the Super Bowl. This is a matchup against Bill Belichick's defense – who has been studying them day and night for the past two weeks.
The +130 price almost seems too good to be true, as if the betting site is trying to lure us into scooping the over. I by no means would feel comfortable laying -150 that LA doesn't commit more than one TO, so if you want action here, I'd definitely lean over.
PICK
Over 1.5 Turnovers
+130
Rob Gronkowski Props – First Half Receiving Yards
Available at SportsBetting.ag
If you read my blog on some of the Super Bowl 53 game-related props I'm targeting, you'll already know I'm a big believer in "the Gronk."
The line that SportsBetting.ag is setting for receiving yards in the first half for big #87 is too low in my estimation, so I'll be latching onto the over here, and I'm pretty happy about doing it.
Think about it. Rob can cover 22.5 yards in one simple seam route, and it could come on the first drive of the game! This is one of my easier Super Bowl 53 prop bet picks to be honest.
Which Team Will Get Called for a Holding Penalty First?
For this bet, I was surprised at the discrepancy.
We have to lay -135 on the Rams but get a gorgeous price of +105 on the Pats? New England was flagged for offensive holding 23 times this year, as opposed to 19 for Los Angeles. I'm not saying LA is the more disciplined bunch, but this bet really seems like a toss-up – almost like a coin toss.
Imagine if they laid +105 on either heads or tails. We'd all be rushing to the Super Bowl sportsbooks for that wager!
Will Gladys Knight Be Wearing a Skirt, Dress, or Gown to Sing the National Anthem?
I am by no means a women's fashion expert, but what else is there? Gladys Knight ain't showing up to Atlanta in jeans and a t-shirt, and every image I see of her on Google involves some sort of dress, or at least what I would consider a decorative blouse.
The only reason I'm not going all-in on "Yes" here is because I'm afraid that she could be decked out in some sort of ensemble that the bookies don't consider a skirt, dress, or gown, and I'm not going to let myself get frustrated on a prop bet this silly. Not with how much else is out there.
A Presidential Super Bowl 53 Prop – Total Donald Trump Tweets
I'm used to seeing some pretty crazy Super Bowl props, but this one really caught my eye.
I can't believe my Super Bowl 53 betting research now includes searching the Twitter handle of the POTUS, but that's the world we live in.
Donald Trump's inauspicious activity on Twitter has enthralled many around the world, and we know he proclaims to have a tidy relationship with Tom Brady. The question on hand is how many tweets the President will send out not just during the game but on the entire day of February 3rd.
We get a 24-hour window to see if Donald can refrain from giving the public a piece of his mind, or in this case, six pieces of his mind.
It looks like the last time we had football on Sunday (January 20th), Trump was in full force when it came to his social media, as he sent out well over ten tweets on a variety of topics.
It looks like every day is more of the same, and the President of the United States simply can't help himself when it comes to expressing his opinions.
Locking in the over on this Super Bowl wager seems like the play.
What Will Happen to the Price of Bitcoin (BTC) During the 2019 Super Bowl?
This is another new one for me when it comes to Super Bowl betting.
I know very little about Bitcoin and would be a horrendous source of information if you were seeking advice in the virtual currency market.
But I know a lot about betting sports online, and I know that laying either -110 or -130 on bets when you have no edge is not a winning proposition.
Bitcoin Price Is More at Game's End
-130
Bitcoin Price Is Less at Game's End
-110
And while this wager has nothing to do with sports per se, it's still a Super Bowl prop bet out there for the taking. I just know that if one side is -130, the other side should generally be +100 (even money).
This seems like a bet that the oddsmakers are trying to sucker us into making. It's an interesting one, but I won't be among the bettors who are putting money on it.
Largest Lead at Any Point in Super Bowl 53
Available at SportsBetting.ag
Are you sensing a blowout on either side? Or do you think it will be a barn burner that will be decided in the final moments? Not every site has this wager available, but SportsBetting.ag has come through with one of their more interesting bets.
If you think that the Rams or the Patriots will build up more than a two-touchdown lead at any point during the game, then here you go.
Likewise, if you think that there is no way that either of these squads will jump out to this large of a lead, SportsBetting.ag is waiting for you to put your money where your mouth is.
First Super Bowl 53 Touchdown Scored Will Be…
During the 2018 NFL regular season, the Rams threw 32 touchdown passes and ran for 23 more. The Patriots tossed 29 TDs through the air while rushing for 18 on the ground.
If you are that sure the first touchdown of the game will come via the arm of Tom Brady or Jared Goff, then go ahead and lay -160. I think that's too steep of a price.
But getting +130 on the first touchdown coming on the ground, or via defense or special teams? That sounds pretty appetizing to me.
Total Number of Successful Field Goals
If only Sean McVay had known that Greg Zuerlein was keeping his foot injury a secret from the Rams. I wonder if he would have even let his kicker trot out in overtime against the Saints to attempt the game-winning 57-yard field goal.
The good news is that Zuerlein is on schedule to be good to go for Super Bowl 53 this Sunday, and something tells me the Rams are really going to need him to come up big.
If you want to wager on the total number of field goals that will be made, have at it.
You should know that Los Angeles led the NFL with 2.3 field goal makes per game, while the Pats clocked in at 11th (1.7 FG per game).
Tom Brady – Total Rushing Yards
Looking for a bet that won't take a whole lot to cash out on the over?
Look no further than this laugher that allows us to reap a profit should Tom Brady finish the game with one rushing yard or more. Seriously, one or more rushing yards, and you can cash in.
I don't want you to think this bet is a lock by any means, and in fact, the value would actually steer us toward the under at +115. See, Tom "gained positive rushing yards" in exactly half (8 of 16) regular-season games but suffered negative yardage in both playoff games this year.
So even though the value tells me to peg the under, I don't want it to be spoiled by one of Brady's famous QB sneaks on 3rd or 4th and 1.
Will the Team That Wins the Coin Toss Win the Game?
Available at SportsBetting.ag
This is another one of those "purely intended for entertainment" types of Super Bowl props. There is no edge to be had, just another way for you to try and make some money while you are watching the big game.
Laying -110 on bets like this isn't going to burn a hole through your pocket. Just don't expect to have any sort of legitimate advantage here.
First Turnover of the Game Will Be… (No Turnover = No Action)
Here's a bet that could pique your interest regardless of which team you are rooting for. Assuming there is a turnover, what do you anticipate the first one being caused by?
Do you think it's more likely that Tom or Jared throw a pick or that one of the many individuals who will be handling the football coughs a ball up?
I can tell you that during the regular season, the Patriots threw 18 interceptions and lost 7 fumbles, while the Rams were nearly identical in their giveaways, totaling 19 interceptions and 7 fumbles.
I'm not going to touch this one, but at least you can see the data in plain sight before you make your pick.
Will the "Greatest Show on Turf" Be Said During the Live Broadcast?
Available at SportsBetting.ag
Jim Nantz and Tony Romo are on the call for CBS during Super Bowl 53. They're two of the absolute best in the business when it comes to calling a football game, as they seem to leave no stone unturned during the telecast.
We've already seen Tony be lauded with praise and support for his exquisite display of understanding the game of football.
His knowledge base and aptitude can't be questioned. And Jim Nantz is anything but a slouch, as he takes the history of the past Super Bowls very seriously when preparing to call a game of this magnitude.
So when I ponder if either man will bring up the "Greatest Show on Turf" in reference to the 2001 Rams squad that Brady and Belichick defeated in Super Bowl 36, I can't think of a scenario in which it doesn't come to fruition.
The fact that Brady is back some 17 years later facing the same team that he got the Patriots dynasty started against is too much of a coincidence for me to think that Romo or Nantz let this tidbit slide by.
How Many Times Will Gisele Bundchen Be Shown During the Live Broadcast?
Available at SportsBetting.ag
I can't say I am 100% positive, but I am pretty sure I recollect Tom Brady's supermodel wife being shown in a private box suite more than a couple times during the past two Super Bowls.
Here's a wager that lets us bet on the outcome.
Tom Brady and Gisele Bundchen are about as mega of a "power couple" as you can find, and the entire world seems interested in whatever new diet they are trying.
As long as Gisele is at the Mercedes-Benz Stadium this Sunday, I have a hard time envisioning that CBS can refrain themselves from showing her at least twice.
I'm a bit flabbergasted as to why the odds are +150 for "Over 1.5," but it's certainly a price I can get on board with.
Will Maroon 5 Sing "Sunday Morning" at Halftime?
Available at SportsBetting.ag
Did you know you can bet on if Maroon 5 will sing "Sunday Morning" during their halftime show? Actually, that's one of the many Super Bowl 53 halftime prop bets you can place if that's something that floats your boat.
If you have a hunch that their 2004 track entitled "Sunday Morning" is going to be played, place a bet on it. I personally think songs like "One More Night," "Maps," and "Makes Me Wonder" will take precedence, but who knows at this point?
Check out those other halftime-related props and see if any others catch your eye.
James White – Total Number of Receiving Yards
Like many of the wagers listed on this Super Bowl 53 props page, this is available at more than one of the top NFL betting sites.
But if you think James White is in line for a big game and want to bet on the over for his receiving yardage, you'll want to make sure you do so over at MyBookie.ag
You can lay -130 on James White surpassing 52.5 receiving yards, which sounds a lot better than laying -130 on White eclipsing 55.5 receiving yards.
I like the over here, and it's a prime example why you must be shopping your Super Bowl betting lines.
Will the Patriots Have a Rushing Touchdown?
If it seems like there is an obvious answer to this question, don't get too excited. There is a hefty price that comes along with betting that New England accumulates at least one touchdown on the ground in Super Bowl 53.
A team that achieved 18 rushing touchdowns during 16 regular-season games has done more than just turn it up a notch in the playoffs.
Josh McDaniels and the Patriots offense rushed for four touchdowns against the Chargers in the divisional round and scored another four TDs on the ground against the Chiefs in the AFC Championship.
Sony Michel has been a touchdown machine, reaching pay dirt five times in two games. Rex Burkhead has the other three.
But if you don't want to lay -300 on this bet, perhaps the wager directly below is more up your alley.
Will the Patriots Have a Rushing Touchdown in the First Half?
If laying -300 that the Patriots score a rushing touchdown is too rich for your blood, try this one out for size.
The books are saying its 50/50 whether or not New England scores a rushing TD in the first half of Super Bowl 53, so take your pick. I'm saying they do.
The Coin Will Land On…
There is no rhyme or reason for betting this Super Bowl prop – except for one glaring piece of information I'd hate to omit.
You have a 50% chance of winning this bet, and you don't have to lay -110 or -115 like many of the other "yes or no" Super Bowl props.
You don't even have to lay -105.
MyBookie.ag posted this bet at the almost "juice-free" price of -102 for each side. This isn't a money-making proposition, but it gives you a chance to be "up" before the game even kicks off!
New England Patriots Third Down Conversion Percentage
Available at SportsBetting.ag
These are the types of bets that I like to focus on during the SB – props where I can actually fall back on some statistical data to help me gain insight.
Here we have a bet that is asking us to determine the percentage of time the Pats will be successful on third down.
I know that the Patriots converted 40.8% of their third downs during the regular season, but I also know that they have been playing at a much higher and more efficient level in January.
During their dismantling of the Chargers, New England survived 7/14 third downs. They were silly good against KC on third down (13/19), giving the Pats a success rate of 60.6% (20/33) on third down in the postseason.
I'll be betting the over.
Who Will Score the Rams' First Touchdown?
Not much description is needed here, as this one is fairly self-explanatory.
Here are the odds for this simple Super Bowl prop.
Rams D or Special Teams
+1400
I'm still unsure how the work between Todd Gurley and C.J. Anderson will be divvied up, as Gurley's knees have been nowhere near 100% over the past few weeks.
You can get an appealing price on the two Rams tight ends (Gerald Everett and Tyler Higbee), and I happen to think that either man is a decent choice here.
We know Bill Belichick will try and take away the Rams' "prioritized players" first, so perhaps that leaves a window open for Everett or Higbee.
Will Super Bowl 53 Be Tied at the End of the First Quarter?
Available at SportsBetting.ag
There are all sorts of props related to how and when scoring will take place in Super Bowl 53, and this is one of my favorites.
Not because I have some crazy suspicion that the game will for sure be tied after one quarter is in the books, but because the price I'm getting if I do is pretty alluring.
Think about all our scenarios. The game could be 0-0 still. 7-7, 3-3, or even 10-10 or 14-14 are in the cards. Betting "no" here at -475 would just be egregious, as it's too hard to make money at a price like that.
But betting at +380 when there are multiple ways of being paid out, now, that's something I could be interested in.
Will a Fan Run onto the Field During Super Bowl 53?
I told you that the Super Bowl props can be mindless, and in some cases, they're purely listed for fans and bettors to be entertained. This is one of those examples.
I have never been to Mercedes-Benz Stadium and haven't been lucky enough to attend a Super Bowl, but I can guarantee this. The security at and around the stadium – especially down at the field level – is going to be absurd.
"Safeguarded" would be an understatement.
You'd probably have an easier time trying to rob Fort Knox in broad daylight than you would attempting to run onto the field during the middle of the Super Bowl. I just can't picture this happening with the amount of armed and forceful bodies that will be lining the bottom of the bleacher area, so I'm going to confidently say that no fan makes it onto the field.
And I might as well try and make a few bucks by betting on it in the process.
Some Final Words on Betting Super Bowl Props
In a nutshell, Super Bowl prop bets are a whole bunch of fun. The top Super Bowl betting sites are going to be introducing more and more props all the way up until Sunday, so be prepared to be active if you want to see everything that's out there.
Some online sportsbooks will even let you create your own Super Bowl 53 prop bets. If they think they are appropriate, they will be approved, and odds will become available.
When it comes to betting the Super Bowl, nothing is off the table, folks. Just let it be known that the 30 props you found on this page are just the tip of the iceberg!