Super Bowl 53 Player Rankings – Which Stars Will Shine Brightest this Year?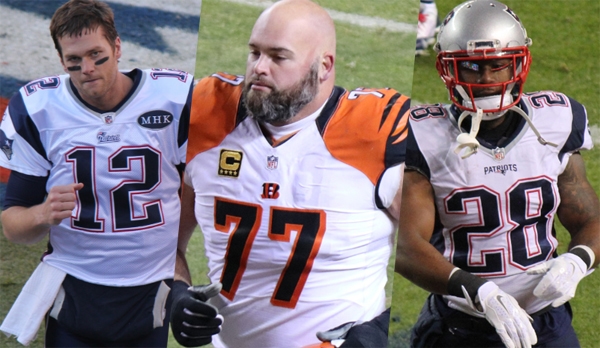 Sunday's Super Bowl game is full of impact players on both sides of the ball.
Not only do we have who I believe are the top two head coaches in football, but we have the G.O.A.T. himself suiting up in the big game for a record ninth time.
Aside from the best quarterback who has ever lived playing in Super Bowl 53, we're going to witness him getting chased down by perhaps the most ferocious defensive lineman to step foot on the gridiron in years.
Without any more small talk, let's jump right into a discussion about the best individual players competing in Super Bowl 53.
I've ranked the top 15 as a countdown, but feel free to disagree and let me know where you think I messed up.
15 – James White
New England's change of pace back is going to have a big role in Sunday's game, especially in passing situations and on third down. Don't be surprised if White is mixed in for a few runs, but his 19 receptions in this year's playoffs lead all pass catchers.
White caught 14 balls in Super Bowl 51 against Atlanta and reeled in 15 of Tom Brady's throws in this season's divisional round versus the Chargers. If Wade Phillips decides to sit back and play zone, look for James White to eat the Rams D alive.
14 – Brandin Cooks
After spending the 2017 season in Foxborough, Sean McVay latched onto Brandin Cooks during the offseason and lured him across the country to Los Angeles.
After catching 80 passes for more than 1,200 yards and five touchdowns, Cooks has provided the Rams with the speed on the outside that they desperately needed.
Look for McVay to script a handful of plays that allow Cooks to try and utilize his quickness and get behind the Patriots secondary. As electric as Cooks is, I'd still call him a "poor man's version" of Tyreek Hill.
13 – Dante Fowler Jr.
Some NFL touts are pegging Dante Fowler Jr. as the X-factor for Super Bowl 53, and that could most definitely turn out to be the case.
The hybrid defensive end/outside linebacker is going to have a tall ask in Sunday's game trying to wreak havoc in the Patriots backfield, but perhaps Dante is cut out to handle the task.
Since being traded from Jacksonville to Los Angeles the day before Halloween, Fowler has been nothing short of sensational for the Rams front seven.
12 – Robert Woods
Robert Woods might not be the most talked about WR in this Super Bowl game, but outside of Julian Edelman, he is undeniably the most reliable. It was actually Robert Woods, not Brandin Cooks, who led the Rams in targets, receptions, and receiving yards during the 2018 regular season.
Robert isn't the flashiest receiver you'll find, but he runs crisp routes and has a great pair of hands. He's exactly the type of player the Rams need in a game of this stature.
11 – Trey Flowers
The Patriots aren't stacked with ultimate pass rushers all over their defense. But defensive end Trey Flowers is the best of the bunch and will be vehemently trying to disrupt Jared Goff and the flow of the Rams offense.
Trey will be a free agent after Sunday's contest concludes, but Flowers promised he's putting the Super Bowl before super payday.
10 – Jared Goff
The Rams signal caller is 24 years old and starting in the playoffs for just the fourth time on Sunday. He made immense strides during his second full season as LA's starting quarterback, and I think he's got plenty of room to continue developing his game.
His arm strength and leadership qualities have never been questioned; it's his ability to move through his progressions that needs to be improved upon.
I think Goff can work his way up into "Tier 1" of NFL QBs in the near future, but his 58.8% completion percentage in this year's postseason doesn't exactly knock my socks off.
9 – Stephon Gilmore
The Patriots' top cornerback will most likely draw the assignment of trying to contain Robert Woods, as we may even see Stephon Gilmore shadow Robert throughout the Super Bowl.
As the only player on the New England roster outside of Tom Brady to be selected to this year's Pro Bowl, he's the most dependable defensive player that Bill Belichick has.
8 – Andrew Whitworth
Andrew Whitworth might be 37 years old, and he might look even older when you see him without his lid on. But the Rams starting left tackle is the heart and soul of the Rams offensive line, and boy, have they been good in the playoffs.
Jared Goff surrendered just one sack during the Rams' first two postseason games against the Cowboys and Saints, and that's a direct reflection of Whitworth holding down the fort.
7 – Shaq Mason
Shaq Mason is the man who has perhaps the toughest job in the Super Bowl. The Patriots right guard will be trying anything and everything possible to try and stop Aaron Donald from getting to Tom Brady, and he's as equipped for the job as any offensive lineman in the league.
Why do I have him rated as the seventh-best player in Super Bowl 53?
Because according to Pro Football Focus in 2018, Mason was the best and most efficient guard in the National Football League.
6 – Julian Edelman
I don't care what anybody says; Julian Edelman is the best receiver playing in Super Bowl 53. Tom Brady and the Patriots locker room can't rave enough about what Jules brings to the table, and I know how excited Edelman is to take the field for Super Bowl 53.
For someone who has averaged eight catches and more than 100 receiving yards per game over his last ten postseason appearances (since 2014), I'd say the dude is as steadfast as they come.
5 – Ndamukong Suh
Ndamukong Suh was acquired by the Rams to help alleviate the pressure on Aaron Donald. If Donald is getting double-teamed like I presume he will, the door should swing wide open for the former Nebraska Cornhusker to be a nuisance in Tom Brady's peripheral vision.
His size and strength are obvious; it's just a matter of attitude and preparation. Considering this is the biggest game of them all, count on Suh being ready to contribute in a big way.
4 – Rob Gronkowski
Perhaps Rob Gronkowski hasn't had the year that fans in New England have grown accustomed to seeing, but he's still "the Gronk."
#87 is still the most premier tight end the game of football has ever seen, and he can single-handedly take over this game if the right situation and coverages present themselves.
For a guy who caught nine passes for 116 yards in Super Bowl 52, I'm going to guess that Wade Phillips has a plan in place to try and slow Gronk down. Will it work?
Now, that's an entirely different question.
3 – Todd Gurley
I'm sure that Sean McVay will make sure that Todd Gurley receives more than the four carries he was given during their win over the Saints in the NFC Championship.
Gurley has been widely considered as the game's most complete running back over the past two seasons, as he can hurt you both on the ground and through the air. His dominant skill set on the football field is indisputable, and I can assure you that Bill Belichick is concerned about how to stop him.
Perhaps Gurley's knees, which figure to be at less than 100%, will be the major thing that holds him back from having a huge Super Bowl game.
2 – Aaron Donald
What do you want to know about Aaron Donald? I can tell you he is the first interior lineman to eclipse 20 sacks in a season, and I can tell you he is the best defender in all of football.
He's a leader, he's relentless, and he's the main reason that Josh McDaniels has been losing sleep all week long. If the Pats aren't serious about employing double-teams every chance they get, Tom Brady's jersey is going to be a lot dirtier than he would like.
1 – Tom Brady
Last, but certainly not least, Tom Brady.
The best player in Super Bowl 53 in my estimation is the single greatest football player to ever walk the face of this Earth. And it's not just because of all his records and improbable statistics.
The reason I look at Tom Brady as the G.O.A.T. is because of his unparalleled work ethic and the way his teammates look up to and respect him.
That's what cements his legacy in the game of football. And if you don't think he's been studying the Rams and will know exactly where he's going to go with the football at the line of scrimmage, all I can say is this.
Tune into Super Bowl 53 and watch how it all pans out.
Enjoy Super Bowl 53
If you are still scrambling to get your bets in for the big game, check out our last-minute Super Bowl 53 betting guide.
If you were just interested in which players from the Rams and Patriots are poised to have the biggest impacts in this game, hopefully this article helped sort that out.
All that's left is to get comfortable, lock your wagers in, and enjoy Super Bowl 53!