Hide Bonus Offers
| | | | | |
| --- | --- | --- | --- | --- |
| #1 | Bovada Sports | 50% Up To $250 | Visit Site | Bovada Sports |
| #2 | BetUS | 125% Up To $2,500 | Visit Site | BetUS |
| #3 | MyBookie | 100% Up To $1,000 | Visit Site | MyBookie |
| #4 | Everygame | 100% Up To $500 | Visit Site | Everygame |
| #5 | BetOnline Sports | 60% Up To $1,000 | Visit Site | BetOnline Sports |
Super Bowl 53 MVP Predictions – Latest Odds, Favorites, and Sleepers to Consider, and My Pick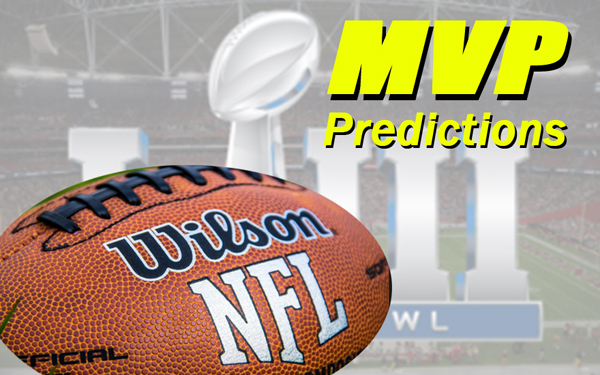 Drew Brees will not be the MVP of Super Bowl 53.
I literally broke down the latest Super Bowl MVP odds just days ago, and everything led me to Brees.
History suggested the winning quarterback was the most logical choice, and based on the year he's had and how he fared in his only other title game, Brees (and his +200 Super Bowl MVP odds at the time) felt like a good play.
To be fair, the Saints got hosed this past weekend.
I don't care if you're a Rams fan, hate the Saints, or don't even watch football. New Orleans was in position to push their way to the Super Bowl, and one of the worst no-calls in NFL history (I don't think I'm exaggerating) derailed them.
That doesn't mean Brees was going to win the MVP even if he got there, though. It also doesn't matter, since he 100% won't be doing so now (I think?) that the Los Angeles Rams are the NFC's representative.
Latest Odds for Super Bowl 53 MVP
The good news is you can sidestep that Drew Brees bet because it's old news. Most of the top Super Bowl betting websites took down their MVP prop bet to adjust it.
Brees and the losers (looking at you, Saints and Chiefs) had to be taken out, and the odds had to be adjusted to reflect the players that will actually be, you know, playing in the league's title game.
Now that we know this year's NFL championship will go down between the Rams and Patriots, we can focus on the players at hand. Here are the latest Super Bowl MVP odds, per Bovada.
Tom Brady – QB, New England Patriots
+110
Jared Goff – QB, Los Angeles Rams
+225
Todd Gurley – RB, Los Angeles Rams
+1200
Sony Michel – RB, New England Patriots
+1600
C.J. Anderson – RB, Los Angeles Rams
+2000
Aaron Donald – DL, Los Angeles Rams
+2000
James White – RB, New England Patriots
+2000
Julian Edelman – WR, New England Patriots
+2500
Rob Gronkowski – TE, New England Patriots
+3500
Brandin Cooks – WR, Los Angeles Rams
+4000
This is just a selection of the most likely winners. The full list is mighty big and greatly surpasses any of the previous Super Bowl MVP lists. This is largely due to a set field with the matchup being final, but it sure means bettors have a lot to think about over the next week or so.
If you want to see the full list, just visit Bovada and navigate to their Super Bowl betting specials.
Best Bets for 2019 Super Bowl MVP
I don't want to repeat myself too much, but as I said just days ago, my main criteria for naming a Super Bowl MVP is picking the winning team and then seriously considering their quarterback.
Whether you're down for Tom Brady or Jared Goff, they are both very strong bets. I also want to keep some other top stars in play, even though running backs rarely win the award, and tight ends never do.
There is a LOT of solid talent to work with here.
Tom Brady (+110) is your best bet with the Pats coming in as the favorites, but Goff (+225) isn't a bad pivot.
You should also be considering Todd Gurley at an insane +1200 price, while Sony Michel (+1600), James White (+2000), Brandin Cooks (+4000), and Julian Edelman (+2500) also stand out.
Those are my personal favorites in terms of value and reliability, but bettors will want to take multiple stabs at this and other Super Bowl 53 prop bets.
Sneaky Sleepers
That brings you to some sneaky sleepers.
I'm not here to completely get you off of Aaron Donald (+2000), Rob Gronkowski (+3500), or anyone else you love, but I do want to look at the guys that are very likely to win and the ones who can also potentially return insane profit.
Based on the odds and the variety of ways Super Bowl 53 could play out, I like the following options as interesting Super Bowl MVP sleepers.
Cordarrelle Patterson
+12500
I'm not crazy confident in anyone here, and of the lot, Burkhead easily leads the way. He scored two times last week and brings a versatile skill-set to the table that could get him involved and allow him to churn out MVP-type numbers.
Nobody here is a lock by any means, but Hogan is the second guy that pops off the board the most. He's enjoyed big games in the past, and Tom Brady said after the AFC title game that the media calls Hogan "slow."
Would I put it past Brady and the Pats to further prove everyone wrong by cooking the Rams via their "worst" offensive weapon?
No, no I would not.
Reynolds is in play in Cooper Kupp's old role, too, while Rams pass rushers Fowler and Suh are very interesting. I also don't hate C-Patt, who can be used on special teams, as a runner, and of course as a receiver.
There are other Super Bowl MVP sleepers to take a look at, while fullback James Develin (+40000) offers more upside than anyone. He is not that involved in the offense, though, so the only way he'd win is if he scored twice and this game was really uneventful.
Burkhead is my favorite play of the sleeper group, but I understandably would not focus much of my Super Bowl MVP betting beyond the top picks.
Who Will Win MVP at Super Bowl 53?
I'm still a bit bummed Brees didn't have a chance to prove me right, but it just wasn't the right pick in the end. That's the good thing about sports betting, however, as we can go right back to the drawing board and start anew.
This is definitely a game you can argue either way, but I tend to lean in favor of the Patriots. They have a ridiculous amount of experience and will surely want to erase the ugly memory of last year's Super Bowl loss.
LA is an easy team to pull for, so if you're betting on them, you should look at Goff or Gurley. Due to sheer value and upside, though, Gurley is my favorite play on the Rams.
That being said, I can't quit the Pats at this point, and if they do in fact finish the job and win another title, it's likely going to be on the heels of Tom Terrific. He's the top favorite and for good reason, as quarterbacks often win these awards, and he's won four of them in the past – good for the most in Super Bowl history.
If you want to aim a bit higher and stick with the Pats, I really like the New England running backs as well as Julian Edelman. Even Sony Michel (five touchdowns and 200+ yards over his last two games) offers elite betting value, while Edelman might be New England's best overall bet at +2500.
But if you want the correct pick and a little value, I think this is Brady's award to lose.