Hide Bonus Offers
| | | | | |
| --- | --- | --- | --- | --- |
| #1 | Bovada Sports | 50% Up To $250 | Visit Site | Bovada Sports |
| #2 | BetUS | 125% Up To $2,500 | Visit Site | BetUS |
| #3 | MyBookie | 100% Up To $1,000 | Visit Site | MyBookie |
| #4 | Everygame | 100% Up To $500 | Visit Site | Everygame |
| #5 | BetOnline Sports | 60% Up To $1,000 | Visit Site | BetOnline Sports |
Super Bowl 52 Betting: Who Will Win It All in 2017?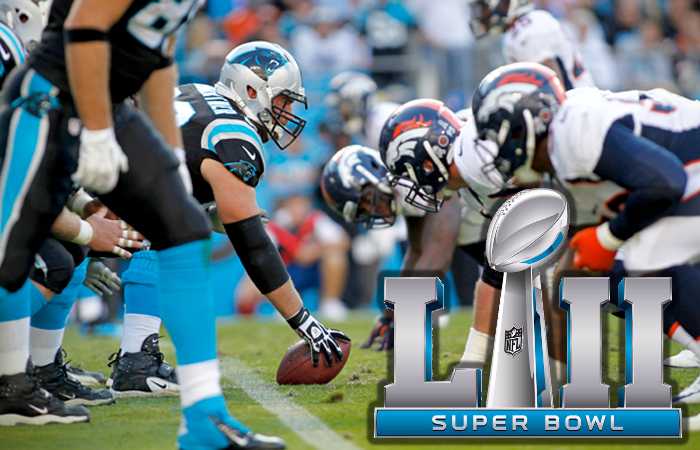 The 2017 NFL preseason is already through its first week. Three weeks from now, final cuts will be submitted and every NFL team will feel like it has a serious shot at the Lombardi Trophy.
Long odds or not, everyone starts out undefeated going into week one. As good as some teams look, everyone has their flaws, too.
The Atlanta Falcons could be in for the dreaded Super Bowl hangover. The New England Patriots will have a target on their back each week as the defending champions.
The Green Bay Packers still have serious questions on defense and within their running game. The Pittsburgh Steelers and Washington Redskins have serious contract situations going on with Le'Veon Bell and Kirk Cousins, respectively. The Dallas Cowboys might be without stud running back Ezekiel Elliott for the first six weeks due to a suspension.
Everyone in the NFL has something that could hold them back, while right now, there is at least a mild case for just about any team to rise from the pack to prove this is their year.
Or maybe that's just hyperbole and this is New England's world and we're just living in it.
2017 Super Bowl Odds
The latter statement could be true. Even if it's not, the top NFL sportsbooks certainly seem to agree with it. The top Super Bowl betting sites continue to love the Pats, and it's hard to blame them.
New England has an elite passer in Tom Brady that refuses to age and they'll be walking into 2017 with a healthy Rob Gronkowski and deep threat Brandin Cooks – two guys they didn't need to secure their fifth title a year ago.
Given the fact that the Patriots only got better, they make sense as the top dog. Let's see where everyone else stacks up in the latest Super Bowl 52 odds at Bovada and gauge who will ultimately win it all again this year:
New England Patriots +325
Green Bay Packers +800
Oakland Raiders +1000
Seattle Seahawks +1200
Pittsburgh Steelers +1200
Atlanta Falcons +1200
Dallas Cowboys +1400
New York Giants +1400
Houston Texans +2500
Carolina Panthers +2500
Denver Broncos +2800
Kansas City Chiefs +2800
Arizona Cardinals +3300
Tampa Bay Buccaneers +3300
Tennessee Titans +3300
Minnesota Vikings +4000
Philadelphia Eagles +4000
Indianapolis Colts +5000
New Orleans Saints +5000
Baltimore Ravens +5000
Los Angeles Chargers +5000
Washington Redskins +5000
Cincinnati Bengals +5000
Detroit Lions +6600
Miami Dolphins +7500
Jacksonville Jaguars +10000
Buffalo Bills +15000
Chicago Bears +15000
Los Angeles Rams +15000
New York Jets +30000
San Francisco 49ers +30000
Cleveland Browns +30000
If you want to just place bets based on the value we see here, you can do that. You can also go odds hunting on other reputable NFL betting sites like BetOnline, Bookmaker.eu, etc but even when you do that, you're going to want to know value when you see it.
To help you gauge the value with all these teams, we've broken them down into some pretty clear sections, which at least for us, helps clear this Super Bowl picture up a bit.
No Chance
This is the spot where a Super Bowl wager feels like a flat out waste of time. We reserve this section for the Browns, 49ers, Jets, Rams, and Bears.
Are there probably others franchises that ultimately will not be worth our consideration? Yes, but these are those long shot teams that really have zero chance.
Chicago, Cleveland, and L.A. might have their franchise quarterbacks in place, but none are ready for a deep playoff run yet.
Of that trio, the Rams are the only one with a proven defense. All three could run the ball and keep their young quarterbacks from ruining everything, but it'd take perfect runs to give them much of a chance.
Then there are the Jets and 49ers, who are currently being led by aging commodities like Josh McCown and Brian Hoyer. Those guys are actually capable of keeping their teams competitive and getting some wins, but they are severely lacking useful weapons around them.
All of these teams are borderline locks to miss the playoffs. Even if they shocked the world and somehow snuck in, winning a title still seems incredibly far out of reach.
Sneaky Sleeper
This is a good spot to put any teams that actually have a little viability to them and also offer really playable odds.
The Dolphins, Bills, Jaguars, Eagles, and Lions can all fit in here comfortably.
A few other teams are bordering between this section and the other, but we'll just keep these four teams here.
Miami has a great offensive mind calling the shots in Adam Gase, has a balanced offense and brought in Jay Cutler to save their season. He probably won't, but they were 11-5 and made the playoffs last year. It wouldn't be that crazy to toss a flier bet their way.
Ditto for the Bills, who are going to suffer the same wild card fate as Miami thanks to not being able to win a division crown (Patriots, and all).
They haven't made the playoffs since 1999 and are admittedly working uphill already after trading away Sammy Watkins, but they still have an elite running back, a solid dual threat passer and a talented defense. Considering how competitive they've remained over the years, a 9-7 finish could sneak them into the playoffs. If they got in, who knows?
The same "what if" logic applies to the Jaguars and Lions. Detroit already has been into the playoff picture with Matthew Stafford leading the way and actually went one and done last year. They have the offense to compete with anyone, but their running game and defense have held them back. If that changes, maybe they're a real threat for the NFC North and can finally make a deep playoff run.
It probably won't, just like Blake Bortles probably won't show enough improvement to help the Jaguars realize their immense potential. Jacksonville still has an easy path to a title run, though. Their defense is absolutely stacked and they just added a nasty rookie running back in Leonard Fournette. If things could finally click for Bortles, they could seriously have something here. That's a doozy of an "if", though.
One other sleeper would be the Eagles, who have a solid offense led by maturing dual threat passer, Carson Wentz. I'm not sold on them in a fairly competitive NFC East, but they have the young talent needed to make some serious noise.
Stuck in Purgatory
This is that collection of teams that seem to always be in the mix, but can't quite get out of their own way. Nobody is more equipped to lead this band of misfits that the Bengals, who are seemingly always solid but have yet to nab a playoff win with Marvin Lewis calling the shots.
I don't think it's that Lewis is a bad coach and can't win in the playoffs. The Bengals have actually just been cursed. They've endured ruined playoff runs thanks to Carson Palmer and Andy Dalton injuries, while a slew of penalties doomed a sure playoff win two years ago.
While the Bengals probably aren't going anywhere in 2017, they remain quite talented on both sides of the ball. If Dalton stays healthy and Cincy stops shooting themselves in the foot, maybe they can rise back up.
Other teams rounding out this list are the Redskins, Ravens, Saints, and Chargers.
None of these teams are bad, but they also haven't necessarily been that good.
Washington lucked into the NFC East title and a playoff spot two years ago, even though they were just 9-7. It was more of the same last year and they narrowly missed out on a return to postseason play. I'm not sure we can bank on some major leap from them.
The Saints are trying to make us believe they can rise back up, but what's really changed here? New Orleans made some moves to improve a ghastly defense, but what does that even mean at this point? Adding a possibly washed up Adrian Peterson to their offense is a head-scratcher, too.
Baltimore is close to being in that "legit contender" group, just because it wasn't too long ago that they won a title. They remain well-coached and have a strong defense, but health has been a massive problem for going on the third straight year now.
There is also the Chargers, who seem to always put up one heck of a fight, but also can't get out of their own way. Severe injuries has hurt them significantly over the years, but in 2017 they boast a ton of talent on both sides of the ball.
Philip Rivers heads a fun team that could be a little bit better than expected, but ultimately they're probably just going to tease us like always.
On the Rise
If you're not getting better, you're getting worse. Teams rarely ever just stay the same or maintain stellar play without making big moves or working hard to improve their weaknesses.
Several NFL teams have visibly gone out of their way to achieve the latter, which puts the likes of the Titans, Buccaneers, and Texans among the top "rise" contenders.
Tampa Bay went out and got Jameis Winston some legit weapons in deep threat DeSean Jackson and rookie tight end O.J. Howard. With Winston taking over as a legit NFL starter, the Bucs are suddenly a team you don't want to trifle with.
The same could be said for the Titans, as Marcus Mariota is maturing into one of the best young passers in the game and DeMarco Murray gives the Titans a strong rushing attack. Some nice changes to Tennessee's defense could make them a tough out on that side of the ball, too.
Houston is our last option here, as J.J. Watt returns to lead a defense that was the top unit last year despite his absence. The Texans can defense at an elite level, they can run the ball with Lamar Miller and rookie passer Deshaun Watson just might be the answer under center.
The one caveat with the Texans? Starting Watson could work against them, as no rookie quarterback has ever won a Super Bowl.
Pretenders
There is a special label for strong playoff teams that probably aren't ever going to make a title run: pretenders.
We see it every year. A team gets off to a hot start, they have one part of their team that stands out or we just hype them into oblivion. For one reason or another, these teams are good but they're never that good.
Kansas City stands out the most here. Andy Reid has done a masterful job of piecing together a yearly playoff threat, but the Chiefs haven't really resembled a title winner. Alex Smith is stable, KC can run the ball and they have loads of talent on defense, but something is missing here.
Other teams that fit this bill are the Vikings and Giants.
Minnesota's elite defense helped them to a 5-0 start last year, but a lack of a reliable running game and regression out of Sam Bradford killed them down the stretch. Perhaps rookie rusher Dalvin Cook ignites new life on the ground and Bradford is reborn, but I still find it tough to believe a Bradford-led team is winning anything big.
The Giants qualify for this list, too. New York returned to the playoffs last year on the heels of a revamped defense and an offense that produced points at just the right time. Eli Manning seems to have regressed over the years, though, and I don't see a title winner here anymore.
New York used to be loaded with veteran man-eaters that could run the table, but they're a different team now. They don't even know what they have at running back in Paul Perkins and they see an aging Brandon Marshall (0 playoff appearances) as a big addition. This smells like a disaster.
Legit Contender
In a league of 32 teams, you obviously have to have a solid amount of legit title threats and in 2017, I think that's true. The Packers, Raiders, Panthers, Broncos, and Cardinals all seem to have one key ingredient that could make them a viable Super Bowl 52 bet – if not several.
They also have some huge question marks. For the Cardinals, Panthers, and Broncos, it's easy. All three were at least in their conference title game just two years ago, boast strong defenses and have a ton of talent. Denver and Carolina played in the Super Bowl two years ago, too, so we know they have the ability to make a run.
Those teams also have flaws. Arizona has lost some offensive talent and is putting all of their eggs in the Carson Palmer basket. If he isn't elite, this team could (and probably will) crumble. Then again, Davis Johnson is a monster and their defense is stacked, so we can't rule them out.
The Panthers crushed the Cards in the NFC title game two years ago. The only reason they dropped off last year was because Cam Newton got banged up and their offense wasn't as good. They also weren't winning the close games they won the year before when they went 15-1.
Carolina still has a strong defense, Newton can still perform at an MVP level and they added some young blood to spark the offense. Carolina isn't a lock to do anything at a high level, but we shouldn't be overlooking their enticing +2500 odds, either.
Denver still has a very talented defense, too. In addition, the Broncos have a solid stable of running backs and a pair of elite wide receivers. Their missing ingredient exists under center, where they've yet to figure out the quarterback position. They should probably do all they can to lure Tony Romo out of retirement.
Arguably higher on the list (at least based on their odds), we have the Raiders and Packers.
Much like the Panthers in 2015, Oakland benefited from some good fortune and a litany of close wins last year. That doesn't mean they're not good, but it's something to think about. Regardless, the Raiders have a stable passer in Derek Carr, Beast Mode behind him and an aggressive defense.
Oakland could very well make a play for the title this year, but so could the Packers.
That being said, Green Bay seems to be leaning very hard on the rocket arm of Aaron Rodgers.
Until further notice, their defense remains hot garbage and they can't run the ball. If that changes, they just might win it all. If it doesn't, we can expect their usual early exit.
Elite Favorite
Your true favorites to make a run for Super Bowl 52 are the favored Pats, as well as the Seahawks, Steelers, Falcons, and Cowboys.
Dallas is the most interesting because they have the longest Super Bowl odds of this group.
They regressed defensively, but the real reason they take an odds hit is the 6-game ban handed to Ezekiel Elliott.
That could hurt them if it sticks, but their early season schedule isn't all that bad (I can see them easily going 3-3 or better) and Dak Prescott and Dez Bryant give them enough ammunition to hang with anyone.
The Pats and Falcons don't need much of a backing here. New England went 14-2, won it all and went out and got better. Atlanta has to be pretty upset after blowing a 28-3 lead in the title game, but they remain virtually the same and have a young defense that is only going to get better.
I wouldn't be shocked at all if we saw a rematch of last year's Super Bowl.
What might be more likely, however, is a rematch of Super Bowl XLIX between the Pats and the Seahawks.
Seattle had a tough time dealing with injuries to Russell Wilson, Marshawn Lynch and the Legion of Boom over the last two years, but they should be a force to be reckoned with again in 2017. Atlanta and Dallas are the sexy picks (and maybe the Packers) out of the NFC, but Seattle might be the best team in that conference.
There is one more team that can throw a wrench in either rematch – the Pittsburgh Steelers. Ben Roethlisberger was pondering retirement after losing in last year's AFC title game and he is ready to give it one more go. That alone doesn't make the Steelers a lock to win Super Bowl 52, but it's an interesting narrative.
What's really interesting about the Steelers is just how loaded they are. Le'Veon Bell heads an elite rushing attack, while Antonio Brown and a hopefully returning Martavis Bryant make this quite arguably the most explosive offense in the NFL.
Pittsburgh has a lot of talent on the defensive side of the football, too. The Steelers aren't without their flaws, but they have a potent offense and a nasty defense. If everything comes together just right, they'd be New England's main threat and a very real threat to win it all in 2017.
Ultimately, we're probably just wasting our breath.
What we saw the Pats do in the Super Bowl last year was truly remarkable and it's very possible they're out to deliver an encore this year. This team lost two games last year despite Tom Brady serving a four-game ban and the roster being without some key pieces.
The offense is loaded, Brady is seemingly always out for blood and a strong defense only got better. The Pats look far and away to be the best team in their conference and there isn't a very strong argument that anyone in the NFC is better.
It sounds boring, predictable or safe, but going against the Pats feels too cute. The best part? We actually still get value with them at +325 at Bovada.
Pick: New England Patriots (+325)