Complete Guide to Betting on the Super Bowl 56 Halftime Show

I've been scouting the top 2022 Super Bowl halftime show bets doing the rounds, and I'm quite impressed by what I'm seeing.
Let's be clear — this is the best Super Bowl halftime line-up of all time. That's not up for debate. Whether you're a Neil Diamond superfan, or goo-goo for Lady Gaga, the Super Bowl 56 halftime show beats everything that has ever come before it.
I'm going to introduce you to the performers as well as provide some top betting picks for the Super Bowl halftime show in 2022. Furthermore, I'll be covering where to bet on the halftime show, and a few hints and tips to get you in the mood for the Big Game.
So, why is this the best halftime line-up ever? If you don't already know, allow me to explain.
Who Is Playing the 2022 Super Bowl Halftime Show?
A more appropriate question would probably be who isn't playing?
We have a former billionaire hip-hop mogul, one of the greatest technicians of all time, as well as a few other very familiar faces that fans cannot wait to see hit the stage at halftime.
You know, the trailer for the Super Bowl 56 halftime show dropped a couple of weeks ago and is racking up tens of millions of views. Before we go deeper into my guide to betting on the 2022 Super Bowl halftime show, check it out!
If that doesn't get you excited for what should be an unforgettable line-up — one that would put almost every single music festival to shame — nothing will.
Let's take a close look at the performers, who have an incredible 43 Grammy Awards between them.
Dr. Dre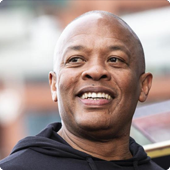 Birth Name: Andre Romelle Young
Genre: Hip-Hop/Gangsta Rap
Defining Album: The Chronic
Age: 56
When it comes to hip-hop, Dre is synonymous with the genre.
One of the pioneers of gangsta rap, the Angeleno is nothing short of a music icon. Having started with the World Class Wreckin' Cru, the producer would go on to be a founding member of the legendary N.W.A before releasing his G-Funk masterpiece, The Chronic, in 1992.
Dre is credited with helping popularize the careers of 2Pac, Snoop Dogg, Warren G, Nate Dogg, Eminem, 50 Cent, Kendrick Lamar, and many more.
Although a co-owner of the label, his acrimonious split with Death Row Records patriarch Suge Knight left him without a single cent in royalties and none of his masters. For many, this would have been enough to duck out and leave it there.
Instead, he went on to sign the Eminem and find hyper success as the CEO of Aftermath Entertainment and Beats Electronics.
Eminem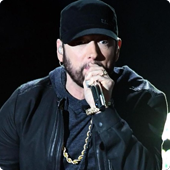 Birth Name: Marshall Bruce Mathews III
Hip-Hop/Shock Rap
Defining Album: The Marshall Mathews LP
Age: 49
Next up in my guide to betting on the halftime show at Super Bowl 56 is one of the highest-selling artists in music history. A name that most of you should be aware of.
Like most kids my age that grew up when he blew up, Eminem was like nothing I had ever heard before. Despite being raised in a house where both my father and older brother listened to hip-hop from the early 90s onwards, Mathers just killed it in his own, unique way.
Hilariously witty, but also capable of some eyebrow-raising rhymes, the controversial native of Detroit will ever be associated with the peak of rap in the 2000s. He's still going, too. And while he has been hit-and-miss for the most part in recent years, when he's on fire, it's incredible.
An icon in the genre, Eminem has sold over 220 million records worldwide.
Snoop Dogg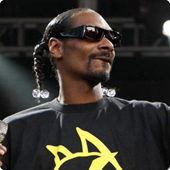 Birth Name: Calvin Cordozar Broadus Jr.
Hip-Hop/Gangsta Rap
Defining Album: Doggystyle
Age: 50
The "Snoop D-O Double-G" was raised in Long Beach, just a half-hour drive from Inglewood's So-Fi Stadium.
Despite that, the 35-million album-selling legend is a fan of the Pittsburgh Steelers. That's right. Despite hooking up with the Rams' cheerleaders back in November, the Dogg doesn't have a dog in this fight. Well, not exactly.
Still, he will be representing Los Angeles which means that he is more than likely going to favor Sean McVay's team this Sunday.
Me explaining the #SBLVI halftime show to my 5 yr old:

"Snoop Dogg and Dr. Dre are performing… but Dr. Dre is not a real doctor" pic.twitter.com/zbnJhXuFvb

— Walter Allen FOX 13 (@WalterAllenTV) February 9, 2022

More importantly for fans, Snoop will be on stage belting out some West Coast classics such as "Nuthin' but a 'G' Thang" or "Still D.R.E." with the Doc.
Other Super Bowl 56 Halftime Show Performers
If Dre, Eminem, and Snoop aren't enough to get you excited, there is more.
Mary J. Blige, the "Queen of Hip-Hop Soul," will be there to sprinkle some sugar on the show. With nine Grammy Awards under her belt, the iconic singer will undoubtedly be another main attraction for those betting on the 2022 Super Bowl halftime show props.
Kendrick Lamar with the LA Rams‼️? pic.twitter.com/SdCVyNbdIC

— RapTV (@raptvcom) January 23, 2022
If you thought I was going to forget all about Kendrick Lamar, you were wrong.
The Compton idol, unlike the others on this page, is a Los Angeles Rams supporter. That adds an extra element of spice for those looking for reasons to bet on the Rams to win Super Bowl LVI.
While I can't be sure if Kendrick will be placing wagers on the Big Game, I'm certain that there are Super Bowl halftime props that are worth looking at involving the "King Kunta" star, as well as those
Let's take a look.
Number of Songs Played at the Super Bowl 56 Halftime Show?
Over 9.5 songs (-115)
Under 9.5 songs (-115)
The top sites for betting on the 2022 Super Bowl online are almost unanimously setting the line for this wager at 9.5 songs.
Now, that does sound like a lot of songs. But what you have to keep in mind is that none of the individual compositions will run from start to finish. This should be a given for anyone betting halftime props for the Super Bowl in 2022, but it doesn't hurt to point it out.
Now, when we consider the fact that there are five main performers at this year's halftime show, 9.5 short songs and medleys doesn't sound as ridiculous. Especially in a timeframe that is likely to last up to 15 minutes.
Halftime in the NFL is usually 15 minutes. But the big break during Big Game is much longer to allow for the performance, which will likely be up there with the longest of all time.
In 2004's show, infamous for Janet Jackson's "wardrobe malfunction," a total of nine songs were played, discounting the Spirit of Houston and Ocean of Soul marching bands' rendition of "I Like the Way You Move."

Of course, Jackson appeared alongside the following artists.
Jessica Simpson
P. Diddy
Nelly
Kid Rock
Justin Timberlake
All in all, that's six artists sharing the stage with nine songs played. That's a good indication of why the bookies are basing the 2022 Super Bowl halftime show props line at 9.5 songs.
But given that Shakira and Jennifer Lopez's performance in 2020 resulted in an astounding 16 songs being played — discounting the orchestral rendition of "Kashmir" — that's a good sign that we could be in for more than 9.5.
If you have no experience of betting on the halftime show or are not one of the bettors likely to gamble on commercials props for Super Bowl 56, you can read up on how proposition bets work to help you get a better feel for things.
Remember, the profile of artists will yield some power here. Additionally, with such a huge aggregate back catalog of tracks to work through, I would be shocked if we don't hit around the 12-song mark. Thus, I'm reluctant to go under in this guide to betting on the Super Bowl halftime show in 2022.
The best betting value for the Super Bowl LVI halftime show props in this market must be with the over 9.5 song pick.
What Will the First Super Bowl 56 Halftime Show Song Be?
Nailing the first song to be played during the Super Bowl LVI halftime show is harder than it looks.
California Love (-110)
Next Episode (+190)
Forgot About Dre (+600)
Humble – Kendrick Lamar (+650)
Nutin' But a G Thang (+700)
Drones (+750)
Godzilla (+800)
Who Am I – What's My Name? (+800)
Family Affair (+850)
Drop it Like it's Hot (+850)
Gin and Juice (+900)
Deep Cover (+950)
Amazing (+1000)
Good Morning Gorgeous (+1100)
The bookies make California Love — which is, admittedly, the most obvious choice on paper — the favorite.
This isn't like other past Super Bowls played in California, where the emphasis is more on the rich hip-hop culture of the state. In particular, Los Angeles. But blending the love of California with the unofficial anthem of "The Golden State" seems a little too predictable for my liking.
If this is the first song to be played, that would infer that Dre would be the first artist to take to the stage. I'm not sure that will be the case.
There is, of course, the possibility that Roger Troutman's famous talk box intro could instead be sung by Mary J Blige. We know Troutman will not appear at the show, as he was, unfortunately, killed in an apparent muders-suicide in 1999. Rest in peace.
I can't see the show opening with this song. Instead, I think a great outside shot is Mary J Blige's Family Affair — produced by Dr. Dre and released in 2001 — open the show. Not only does it start the show with a banging, uplifting tempo, but builds the anticipation for the appearance of one of Dre, Snoop, or Eminem next.
Ladies first?
Pick: Family Affair (+850)
Eminem Super Bowl Props – Will Slim Shady Be Censored?
If you're looking to 2022 Super Bowl halftime show props that focus exclusively on Eminem, you'll be pleased to know there are a few.
Let's take a look at a couple of the best Super Bowl props for Eminem.
Will Any Part of Eminem's Performance Be Censored?
One of the most popular props for the Super Bowl 56 halftime show is whether Em will have part of his performance censored.
I've taken the odds above from the Bovada sportsbook, with price-makers leaning toward "The Real Slim Shady" saying, or presumably doing, something that he shouldn't. Now, if you know Mathers' history, you might be inclined to throw all of your money on "Yes."
With that said, he's kinda toned things down as he approaches a half-century of oxygen reliance on planet earth. He's hardly gonna burst into the last verse of "Criminal," or drop his pants to reveal his exposed behind.
Saying that, you can't exactly rule it out, especially with NBC likely to super-hot on bleeping and obscuring anything that goes against the grain. But I'd lean towards betting "No" here, as there is more value based upon his likely song selection.
Will Eminem Wear a Hoodie or Hat?
If you're betting this Super Bowl LVI prop with Bovada, make sure to read the qualifier.
This bet will only pay out if he does, or doesn't — depending on which way you decide to go — based on his first on-stage appearance.
Sure, Eminem will more than likely wear a hoodie or hat at some point. But something I noticed in the official trailer for the Super Bowl LVI halftime show, which you can watch again further up this page, is that he is not wearing a hoodie or a hat.
More interesting is the emphasis on the Eminem and Slim Shady split character thing, which suggests that he might, at least at some point, play both parts. Now, the logistics of that are ridiculous, of course. He's not going to come on stage with his dark hair only to disappear and re-emerge with a blonde wig.
This suggests that he will rely on actors to support the blonde Slim Shady character, a la the famous video, with him maybe wearing a hood or hat to stop him from standing out from the crowd. That's one logical conclusion, anyway.
Eminem also appears first in that trailer, which could suggest he steps on stage first. More on that later.
Snoop Dogg Props for the Super Bowl
Most of the top prop bets for the Super Bowl 56 halftime show focus on Eminem and Snoop Dogg.
That's not surprising at all, given the pair are the most controversial of the main attractions. Snoop was on trial for murder in 1996, while Mathers was staring down the barrel of a potential five-year sentence for carrying a concealed weapon ten years later.
Both escaped prison time but have had their fair share of controversies ever since.
Anyway. Here are some Super Bowl 56 halftime props for Snoop Dogg.
Will Snoop Dogg Smoke on Stage?
Bovada is offering this market without any clause explicitly stating it must be that "sticky icky icky" that he puffs on. Or marijuana, in general. That means that they will pay out at EVEN for "Yes," or -130 for "No" regardless of what he smokes.
Given that Snoop is one of the first people that springs to mind for most music fans who think of musicians that enjoy "the devil's lettuce," this looks a good bet. There's an even better chance of him blazing one up given that marijuana is legal in California.
I'm not sure the NFL would look too kindly on that, of course. With that said, this is Uncle Snoop we are talking about. While he might have sold out a long time ago, he does love a toke, whether it is a prop or not.
Color of Snoop's Shoes at Halftime
Blue (+220)
Yellow/Gold (+300)
Black (+375)
White (+500)
Grey/Silver (+600)
Orange (+900)
Green (+1000)
Purple (+1000)
Red (+1200)
Pink (+1600)
This is one of the Super Bowl halftime show props for 2022 that is akin to trying to pin a tail on a donkey.
With that said, in keeping with the pro-LA vibe, it's unlikely he will opt for anything resembling Cincinnati's colors. If you're looking for reasons to bet on the Bengals to win Super Bowl LVI, I don't think his support would matter. But there you go.
If you are going to pick this market, I'd recommend avoiding black, orange, and red. He does love the color green, whether it's in plant or paper form, so why not take a shot?
Where Can I Watch the Super Bowl 56 Halftime Show?
Depending on where you are in the world, the broadcaster will differ.
In the United States, you can watch the Super Bowl 56 halftime show on NBC. The Big Game is set to kick off at 6:30 pm (ET) this Sunday, February 13th. Again, that will differ, depending on where you are in the world.
You can find out more details about where to watch Super Bowl LVI in the following piece, courtesy of Anthony Haage.
Ready to Wager on the 2022 Super Bowl Halftime Show?
That brings a close to my guide for betting on the Super Bowl 56 halftime show.
We've covered the artists playing the big show, as well as some of the best props for the Super Bowl halftime extravaganza this Sunday.
Of course, my picks for the halftime show at Super Bowl 56 are just a small number of what are currently out there. Feel free to have a blast looking for some more on our recommended betting apps for Super Bowl 2022, which you can find on our main Super Bowl 56 betting guide.
This guide is also packed with valuable information that will enhance your Super Bowl halftime wagering experience, as well as provide key info in other areas. If you have decided that gambling on the 2022 Super Bowl halftime show is not your bag, why not check out some of the following odds and markets, courtesy of our Super Bowl betting blog.
September
Casino of the Month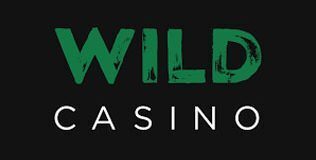 Welcome Bonus
250% up to $5,000