Starting Pitcher Rankings for 2021 Fantasy Baseball

Your 2021 fantasy baseball draft is going to be a tough nut to crack. Either you're putting way too much stock in what a truncated fantasy season said in 2020, or it's not enough.
There were undeniably some outlier performances in a 60-game season where routines were interrupted, and the sample size was merely a third of what fantasy managers are used to.
Obviously, the more games for hitters, the more things even out. If a hitter is awful to start the year, those other 122 games can make all the difference. If they begin on a heater, they're also likely to come back to earth a bit.
In most cases, though, starting pitchers are going to reveal themselves. Getting shellacked early in the year will be harder to overcome when you look at the overall numbers, but for the most part, the arms are who you thought they were.
For the most part, anyways.
Consider both sides as you continue your 2021 fantasy baseball research. Pick it back up with me as I break down my fantasy baseball SP rankings for 2021.
The 10 Best Fantasy Starting Pitchers in 2021
Shane Bieber was the top overall starting pitcher in most fantasy baseball leagues last year, racking up a cool 95 fantasy points across 12 starts.
His rise wasn't that shocking, seeing as the Cleveland ace had flashed his brilliance with a top-10 finish the year prior.
A resurgence from Yu Darvish (2nd) was a total shocker, however.
Fantasy managers need to balance the expected and unexpected of 2020 while also trying to project things for 2021. I've done some of the hard work for you with my top-10 fantasy baseball starting pitchers for the new year.
1. Shane Bieber – Cleveland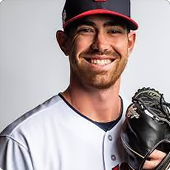 The Biebs was lights out in 2020. Nobody had more strikeouts (122), and he allowed a sparkling .163 ERA, as well as a .167 opposing batting average.
Pitcher wins aren't generally thing, but they certainly matter in the fantasy realm.
Bieber had a blistering 8-1 record, which was good for a tie for the MLB lead with Yu Darvish.
Not much will change going into 2021.
Bieber can expect a little regression in terms of runs allowed, but as long as the whiffs are there, he'll have a terrific shot at being the #1 arm again.
2. Jacob deGrom – Mets
deGrom is the #1 fantasy pitcher at most fantasy baseball advice sites, but I still can't shrug off the lack of run support he gets while he's finished behind Bieber in Ks in each of the last two years.
While I want Bieber first, deGrom is still in the conversation. He offers a scorching a K rate, and his ERA has been obscenely low over the last three years.
| | | | |
| --- | --- | --- | --- |
| Year | ERA | Strikeouts | Record |
| 2020 | 2.38 | 104 | 4-2 |
| 2019 | 2.43 | 255 | 11-8 |
| 2018 | 1.70 | 269 | 10-9 |
This isn't a guy who has major issues with home runs either, so he checks all of the boxes with ease.
If his offense can start giving him a bit more run support, he'll absolutely be in the mix to be fantasy baseball's best pitcher in 2021.
3. Gerrit Cole – Yankees
Cole is all about the strikeouts. His move to Yankee Stadium was always going to hurt him overall, as he's sure to give up a little more contact (and more long balls) than you're accustomed to seeing.
Despite that being true (only two pitchers were taken yard more frequently in 2020), Cole still finished last year as fantasy baseball's 5th best pitcher.
Cole had the sixth most Ks, he got seven wins, and he still had a stellar 2.84 ERA. He was just one point out of third place, too. If he can up the strikeouts slightly, I love him to get there (or maybe higher) this year.
4. Trevor Bauer – Dodgers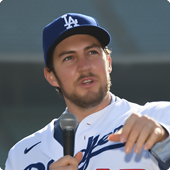 Speaking of missing bats, the man known as Bauer Outage is as good as they come. He's certainly had his ups and downs – and he's not the most likable hurler – but Bauer is still an elite fantasy asset.
Bauer reminded everyone of that with a career revival with the Reds last year, where he finished 4th overall in fantasy points, induced 100 strikeouts, and posted a pristine 1.73 ERA.
This, while pitching half of his games in a hitter's haven like Great American Ballpark.
Bauer is now with the mighty Dodgers, where he won't feel the weight of being the only guy that can elevate a defense. He'll also be backed by an elite offense, so the only real concern is random regression.
Needless to say, Bauer was already as deadly as they come, and now he's in perhaps the most ideal setting in baseball. For those balking at him being 4th, I have half the mind to put him (gulp) even higher.
5. Max Scherzer – Nationals
This is where things could get crazy for some. I'll admit I can't quit Mad Max, who has an obscene home run problem and finished an alarming 31st among starting pitchers in 2020.
Of course, Washington as a whole regressed sharply after winning the World Series the year before. Scherzer went just 5-4 as a starter, had a middling 3.74 ERA, and coughed up 10 homers.
The hard contact isn't going away, Mad Max is now 36, and he's had some mild injury issues. But the guy can still miss bats and is just filthy.
He racked up the 9th most Ks last year (92), and he was 8th in that department the year prior.
If Scherzer can keep the ball in the park a bit better in 2021, he's going to have a shot at getting back inside the top-10, and perhaps as high as I'm ranking him here.
6. Walker Buehler – Dodgers
Most will palace Buehler ahead of an aging Scherzer in their 2021 fantasy baseball starting pitcher rankings. I don't combat that too harshly, as Buehler's upside is through the roof.
I'm not really here to argue myself out of keeping Buehler inside my top-10 starting pitcher rankings, either.
Buehler is bolstered by a loaded rotation behind him, as well as perhaps the most lethal offense in baseball. If his run in the 2020 MLB playoffs is any indicator, he has put his past struggles behind him.
7. Lucas Giolito – White Sox
Another one of the top aces that offer insane strikeout upside is Giolito. The White Sox stud broke out in 2019 with 228 strikeouts and finished as the 16th best fantasy pitcher.
Giolito was pretty much the same guy in the shortened 2020 season, and he's surprisingly kept the hard contact in check. That can still be an issue – especially pitching in a hitter-friendly park – but the supporting numbers still look great.
If Giolito can keep the opposing power contained, he should continue to miss bats and inch toward a top-10 finish.
8. Clayton Kershaw – Dodgers
I can't quit the old guys, it seems. I know, there is the narrative that Clayton Kershaw could be gearing up for retirement, while anyone who watches baseball knows he's not quite as dominant as he once was.
True statements, but it's not like Kershaw was useless the past two years. The legendary Dodgers southpaw was still a top-15 fantasy producer in 2019 and 2020, and he gained some velocity back last season.
He also doesn't sound like a guy that's embracing regression or retirement just yet.
">"I feel like I have a few more years left in the tank." @ClaytonKersh22 discusses his future beyond this season. pic.twitter.com/DCQIvfaOHx

— SportsNet LA (@SportsNetLA) February 23, 2021
Let's consider he's still plenty capable of turning back the clock a bit more at age 33, especially if he can stay healthy. After all, this has never been a guy who gets blown up often, and if his Ks are going to tick up, you could be looking at a mild resurgence and a trip back into the top-10.
But Kershaw admittedly isn't about upside anymore. He's just a sure thing, and there's definitely value in that.
9. Yu Darvish – Padres
Most guys who spin the type of yarn Darvish did last year would get the benefit of the doubt.
Don't get me wrong, he was amazing in 2020, as he churned out a staggering 2.01 ERA, and accrued the second-most fantasy points among starting pitchers.
That isn't stuff you can ignore. However, I also can't fully look past the guy he was just the year before when he was just 6-8 with a 3.98 ERA and 33 home runs.
The slight possibility that the 34-year old could revert to that keeps him out of my top-5, but everything else says he's top-10 gold.
10. Jack Flaherty – Cardinals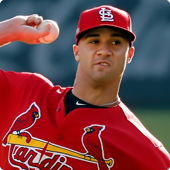 I'll wrap up my top-10 fantasy baseball starting pitchers for 2021 with St. Louis ace Jack Flaherty. I'm picking a funny time to back the kid, who just got lit up in his first spring training game this year.
That said, Flaherty has immense strikeout upside, as evidenced by his stellar 2019 campaign, where he tossed the 13th most Ks and was the 7th best fantasy pitcher.
Flaherty took a huge step back in the shortened 2020 season, but considering the guy he'd been the previous two years, I tend to think better days are ahead of the 25-year old.
When his command is on point, Flaherty is one of the most feared pitchers in the game. Working out of a pitcher-friendly park and backed by a strong offense, Flaherty has appealing upside going into 2021.
SP Fantasy Rankings Continued (11-30)
11. Aaron Nola – Phillies
12. Luis Castillo – Reds
13. Stephen Strasburg – Nationals
14. Zac Gallen – Diamondbacks
15. Blake Snell – Padres
16. Brandon Woodruff – Brewers
17. Dinelson Lamet – Padres
18. Sonny Gray – Reds
19. Tyler Glasnow – Rays
20. Chris Paddack – Padres
21. Patrick Corbin – Nationals
22. Kenta Maeda – Twins
23. Lance Lynn – White Sox
24. Corbin Burnes – Brewers
25. Kyle Hendricks – Cubs
26. Zack Greinke – Astros
27. Jose Berrios – Twins
28. Zack Wheeler – Mets
29. Hyun Jin Ryu – Blue Jays
30. Max Fried – Braves
I will absolutely want to get some of the big names inside my top-10 starting pitcher rankings, but I won't be sad to snag some of this insane value.
Nola is ranked higher if you look elsewhere, and you're not really stealing Castillo from under anyone's nose. The value lies with tired names like Strasburg, Corbin, and Gray, or rising arms that people may not be fully ready to invest in like Woodruff, Paddack, or Glasnow.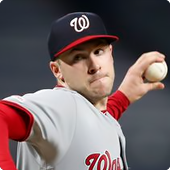 Of the lot, though, the guy that stands out the most to me is Corbin.
I'll admit I have him ranked fairly high for a guy who plummeted to 88th among fantasy pitchers.
Yuck, I know.
A drop in velocity was a huge reason for his steep regression, but this is the exact kind of player I want to target in the wake of the weirdest fantasy baseball season ever.
Just like you still want to draft Christian Yelich, I still want Patrick Corbin shares. The guy is sure to tweak his game and get his velocity ramped up, and if his routine can stabilize things, you have to be drooling over the possibility of landing the same guy who was fantasy baseball's 8th best pitcher just one year prior.
The Best Fantasy SPs in 2021
I think the big thing when going through 2021 fantasy baseball starting pitcher rankings (or any rankings, really), is trying to find the guys that are just way better than their current ranking and/or ADP.
Some veterans deserve a little more respect. I don't know if Mad Max or Kershaw can really churn out top-5 finishes, but they certainly have that ability, and even if they can't, they tend to just be so much more stable than other guys you'd take in the early rounds.
Then you have guys like Patrick Corbin, who fell apart in a wonky 2020 season.
Which guys are going to break out? What pitcher will bounce back? And which sliding stars will make people look silly for passing them up in 2021 fantasy baseball drafts?
My 2021 fantasy baseball SP rankings should highlight this approach, at the very least. And ideally, you end up picking up one of these arms and they help you win this year.
For more advice to help you win this season, check out our other 2021 fantasy baseball player rankings below.