Sports Stars Who's Careers Ended Tragically Early

We have lost some incredibly gifted sports stars over the years.
While the likes of Muhammad Ali, Lionel Messi, Michael Jordan, Tom Brady, and Floyd Mayweather Jr. climbed to the summit of greatness, others were not as lucky. Whether chopped down by the cruel hands of fate or simply being in the wrong place at the wrong time, the following athletes never realized their greatness.
Join me as I look at some of the most heart-wrenching cases of unfulfilled potential, tragedy, and loss in the history of sports with a look at 15 sports stars that had their careers tragically cut short.
Jose Fernandez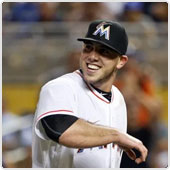 Jose Fernandez's dream was to play baseball in the United States. The only thing stopping him was that he was Cuban.
Fernandez had tried to escape the communist country twice, spending a year in prison for defecting before making a successful run to the US at age 15. But even though he reached the promised land, it wasn't easy, as he was forced to jump into choppy waters to save his drowning mother.
Nevertheless, Fernandez soon showed the world his great potential. He claimed the National League Rookie of the Year while playing for the Miami Marlins in 2013 before bouncing back from an elbow injury to finish the 2016 season and was the outstanding pitcher on account of 12.49 strikeouts per nine innings. He also set a season record for the Marlins with 253 strikeouts in 182 ​1⁄3 innings.
But the same waves that had led him to the promised land would ironically take his life. On September 25, 2016 — just five days after announcing his girlfriend was pregnant with his child — Fernandez was killed in a boating accident. He was just 26 years old.
Johnny Owen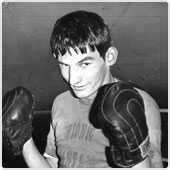 Born in the tough mining town of Merthyr Tydfil in the South Wales Valleys, Johnny Owen learned to stand up for himself. At just eight, he turned to the sport of boxing in an effort to emulate Merthyr-born all-time great Jimmy Wilde.
Following a successful amateur career, Owens turned professional at 20. Having posted an impressive record of 25-1-1, which included a European title win, the Welshman earned a shot at Lupe Pintor's WBC bantamweight title.
Owens, known as the "Merthyr Matchstick" due to his tiny frame, was a 6-1 pre-fight underdog against the tough Mexican. But despite this, he held his own and was still in the fight in the later stages and had opened cuts over Pintor's eyes.
But having been knocked down twice, a third blow was deemed enough for the referee to stop the fight. But Owens' biggest fight came when he slipped into a coma after the fight. Pintor's punch had led to Owens' unnaturally strong jaw breaking off and piercing through his weak skull and into his brain.
Owens passed away in the hospital due to complications with pneumonia five weeks after the fight.
Junior Malanda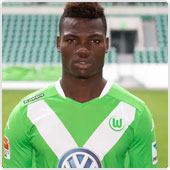 Tragedy struck the world of soccer in 2015 when promising Wolfsburg defensive midfielder Junior Malanda lost his life in a road traffic accident.
Malanda was a Belgian youth international with bags of potential. He captained his country's under 19 team at just 17 years old and was tipped to go right to the top.
Malanda had made ten appearances in the Bundesliga games for Wolfsburg in the 2014/15 season but had stints with Zuite-Waregem and Lille prior to joining the club. There is no doubt that he would have enjoyed a long career in the sport if not for the horrific accident that took his life.
The youngster was in the back of an SUV that was traveling near Porta Westfalica in the north central region of Germany when the vehicle was involved in a high-speed crash. He was on his way to catch a flight to link up with the Wolfsburg squad in South Africa.
Malanda was just 20 years old.
Ernie Davis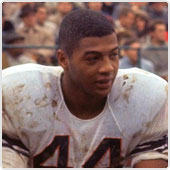 A Syracuse legend, Ernie Davis is still remembered as one of the greatest college running backs in history.
During his sophomore year, Davis played a huge part in helping Syracuse to the national championship. The team was also undefeated through the campaign. Two years later, Davis won the Heisman trophy — he was the first African-American to receive the honor.
So, when the 1962 draft came around, there was no surprise when news broke that he was the number one overall pick by the Washington Redskins. Davis would later be traded to Cleveland, however, to hook up with one of the true NFL greats, Jim Brown.
Unfortunately, the Browns never got to see their man play a game. Davis died at just 23 shortly after receiving a diagnosis of acute monocytic leukemia.
Roberto Clemente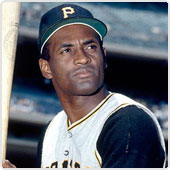 One of the greatest players to grace the MLB, Roberto Clemente was also a shining example of greatness as a human.
At just 20, the legendary right fielder arrived in the United States and carved out a career that still shines brightly to fans of the Pittsburgh Pirates. An All-Star for 12 seasons, he took part in 15 All-Star Games, won the NL MVP award in 1966, was NL batting leader in 1961, 1964, 1965, and 1967, and won the Gold Glove Award winner for 12 straight seasons.
And that is just the tip of the iceberg when it comes to the great man's success.
Clemente's death in a plane crash stunned the world of baseball. But when the circumstances surrounding his sudden passing at the age of just 38 came to the surface, they emphasized just how much of a humanitarian he was — he was en route to Nicaragua to help victims of an earthquake.
A great loss to the world, not just sports.
Reggie Lewis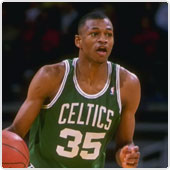 Reggie Lewis was an exceptional player for the Boston Celtics, ending his career with a points average of 20.8% and 48% career FG%.
But the shocking nature of his death is something that NBA fans will never forget. Some believe that Lewis would still be alive today if not for the conflicting diagnoses of medical professionals.
Having collapsed on the court against the Charlotte Hornets, in 1993, Lewis later complained of dizziness and shortness of breath. The next day, he underwent tests at the New England Baptist Hospital. He was overseen by twelve heart specialists and diagnosed with focal cardiomyopathy — a serious problem with the heart muscle that can lead to heart failure.
Lewis' diagnosis all but meant that his career was over. Seeking a second opinion, Dr. Gilbert Mudge of the Brigham and Women's Hospital disputed the original call diagnosing his condition as neurocardiogenic syncope, which was far less serious.
With this new information, Lewis began practicing for the 1993 season but collapsed on July 23, 1997, during an off-season warm-up in Massachusetts. Following unsuccessful attempts to resuscitate the Celtics star, Lewis was pronounced dead at just 27.
Payne Stewart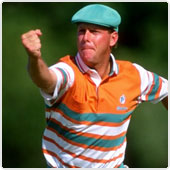 When a Learjet was bursting towards the Great Plains following a departure from Orlando on the morning of October 25, 1999, no one would have suspected one of golf's most popular players to be on board.
The plane was carrying Payne Stewart, a three-time major winner and multiple PGA tour events champion, to the Tour Championship at Champions Golf Club in Houston, Texas.
Stewart was finally beginning to get the credit he deserved around that time, even if he was not regarded as the best player in the world. But he never made it to the final event of the season.
Investigators of the Transportation Safety Board (NTSB) assessed the aircraft once it had crashed and concluded that issues with failed pressure led to the deaths of all on board due to hypoxia. The plane remained airborne on autopilot until it crashed in South Dakota.
Stewart died at just 42 years old.
Edwin Valero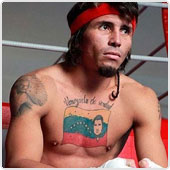 A product of the mean streets of Valencia, Venezuela, Edwin Valero was seemingly born to be a fighter.
Seen as a bully by other kids for his ferocious appetite for scrapping, Valero found an outlet in boxing. He was soon winning consecutive national championships in his homeland and was seen as a massive prospect by those who knew him.
Valero turned pro on July 2002, despite initially being scheduled to make his debut in the paid ranks a year earlier. But a serious head injury suffered while riding his motorcycle without a helmet scuppered that.
Having torn through every single fighter he faced, the Venezuelan was signed to Oscar De La Hoya's Goldenboy Promotions in 2004. Amazingly, he won his first 18 bouts by way of first-round KO, and this was part of the reason why the top brass in the sport tipped him for greatness.
Valero would go on to win world titles at super featherweight and lightweight and was seemingly set to become a pay-per-view star. Compared with the electrifying Manny Pacquiao, fans were keen to see just how far he would go.
But in 2010, the world of boxing was shocked when he was arrested on suspicion of murdering his wife when Jennifer Carolina Viera de Valero was found stabbed to death in a hotel in Valencia on April 18 of that year. Valero had allegedly admitted to her murder. The next day, he was found hanging in his prison cell.
Although his death at just 28 was officially ruled as a suicide, some still suspect foul play.
Kurtis Haiu
Haiu made his pro debut for Auckland against the British and Irish Lions in 2005 and quickly established himself as a solid lock.
Having represented New Zealand at various underage levels, it was no surprise to see him adapt well to Super Rugby standards. He would go on to be a valued member of the squad and looked set to have a long and prosperous career.
However, in 2011, a lesion was located on Haiu's rib following a CT scan in April of that year. Haiu had endured pain in that same area for months but was reluctant to consult medical professionals as he put it down to the wear and tear of rugby.
As time went on, the pain became unbearable. As a result, Haiu was subjected to further tests until he was diagnosed with a rare form of bone cancer known as Ewing's Sarcoma.
Haiu passed away in April 2013 at just 31.
Salvador Sanchez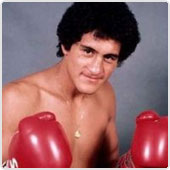 Of all the great "what-ifs" in sport, Salvador Sanchez has to rank at the very top.
The Mexican, known as "The Invincible Eagle," was that good. If not for a tragic end to his life, Sanchez might have gone on to become the greatest featherweight in the history of boxing.
Could he have done more than other featherweight greats like Willie Pep, Henry Armstrong, Abe Attell, Kid Chocolate, and Eusebio Pedroza? Maybe, maybe not. But to be in the same conversation as these all-time greats should give you an idea of just how good he was.
Sanchez reigned at the top of the 126-pound division for just two years but looked unbeatable in that time.
While preparing for a rematch with Juan Laporte in August 1982, Laporte crashed his Porsche and died instantly. His record read 44-1-1 and would have been even more impressive had he not had his career cut tragically short.
Sanchez was just 23 when he died. He was posthumously inducted into the International Boxing Hall of Fame nine years after his death in 1991.
Emiliano Sala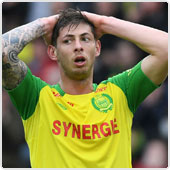 Nantes Argentine striker Emiliano Sala was seen as the man to help Neil Warnock's Cardiff City avoid relegation from the EPL.
So, the club sanctioned a club record transfer fee of £15 million to get their man. Sala signed on January 19, rejecting a last-minute offer from an undisclosed Chinese Super League team, to hook up with The Bluebirds.
Having returned to Nantes to say goodbye to club colleagues, Sala boarded a Piper Malibu aircraft two days later to return to Cardiff. Unfortunately, the plane disappeared off Alderney and crashed into the sea.
Sala's body was later recovered from the wreckage. To this day, the body of pilot David Ibbotson has not been found.
The promising EPL career of the 28-year-old Sala ended before it began, leaving a massive hole in the hearts of fans on both sides of the English Channel.
Ayrton Senna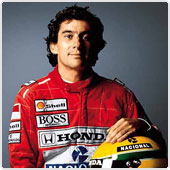 Formula One was never the same when Ayrton Senna's shocking death deprived the sport of one of its greatest sons.
A three-time F1 world champion, Senna was undoubtedly the biggest star of F1 when he died following a collision with a wall in the 1994 San Marino Grand Prix at the Autodromo Enzo e Dino Ferrari.
The Brazilian was known for being a perfectionist on the track. His fiery temperament was not always well received, but as a driver, he was respected for his brilliance.
What makes Senna's death so tragic is that the day before the accident, Austrian rookie Roland Ratzenberger lost his life in practice. Senna attended both the scene of the accident and the medical center, where he was said to be visibly upset.
While at the medical center, FIA Medical Chief Professor Sid Watkins implored Senna to retire from the sport and take up fishing. Senna insisted that he was not ready to quit racing.
On the morning of the crash, Senna spent hours talking with his former rival, Alain Prost, about working toward making F1 safer for drivers.
Senna was just 34 when he passed away.
Duncan Edwards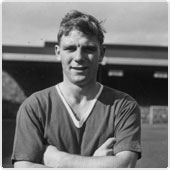 It is not uncommon to still encounter opinion pieces and debates of just how good Duncan Edwards was a player.
The Manchester United and England starlet was one of the best talents in the world during a short career that saw him set the record as the youngest top flight player in English history at just 16 years and 185 days.
Edwards was good. In fact, he was so good that many soccer historians believe he could have gone down as one of the greatest of all time. At just 21 years old, he was the shining star of the "Busby Babes" and one of England's most popular figures.
But the young star's brilliance was never fully realized, as the plane he was traveling on from Belgrade to Manchester stopped for refueling in Munich. Upon taking off, the plane crashed on the runway, killing seven of his teammates as well as 14 other passengers.
Edwards was one of the initial survivors and was rushed to a local hospital for treatment.
Despite all the efforts of medics — and the Man Utd's star's "amazing" fight for his life — Duncan Edwards passed away at the age of 21 on February 21, 1958.
Pat Tillman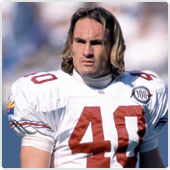 The tragic case of Pat Tillman, Arizona Cardinals' All-Pro defensive back, is one that is also steeped in great honor.
Tillman had the world in the palm of his hand, yet put his country first to enlist in the US Army. Despite being offered a contract worth multiple millions, the youngster went to fight.
Having been deployed to Iraq in 2003, Tillman was then transferred to Afghanistan. But his life, at just 25, was not taken by enemy forces. The former footballer was killed while engaging in a friendly fire drill.
Tillman became the first pro footballer since Bob Kalsu to lose his life fighting in war. His memory is one of great pride for millions across the country and a great example to those who value sacrifice over personal gain.
Billy Collins Jr.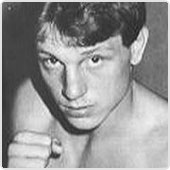 One of the most tragic and infuriating chapters in boxing history went down on June 16, 1983, at Madison Square Garden.
"Irish" Billy Collins Jr., a talented young light middleweight with a record of 14-0, was pitted against Luis Resto on the undercard of the light middleweight title showdown between Roberto Duran and Davey Moore.
Collins was the favorite to win the fight and was expected to make light work of Resto. But no one had expected the brutal beating Resto inflicted on Collins. It was a mark of Collins' toughness that he lasted to the final bell.
When Resto was declared the winner, Billy Collins Sr. — the youngster's father and trainer — felt the Puerto Rican's gloves and noticed that they were suspiciously thin.
The New York State Boxing Commission investigated the complaint. They found that Resto's trainer — the eccentric and shady Panama Lewis — had stripped the gloves of an ounce of padding. To make matters even worse, Resto had worn wraps covered in dried plaster of paris.
Both men were "banned" from boxing for life and served prison sentences of 30 months. But Collins had the worst deal of all. Having suffered horrific injuries, including a torn iris that led to permanently blurred vision, Collins' career was over.
Heartbroken by the ordeal, just nine months after the fight, Collins crashed his car into a Tennessee swamp while under the influence of drugs and alcohol.
Final Words
It's difficult to find the right words to say to end this piece on, so I'll keep it simple.
The sports stars above will always have their place in the annals of history. We lost some incredibly gifted souls over the years, and I guess that should make us more appreciative of the greats that continue to inspire and enthrall us.
The lucky ones, I guess.
If you're interested in finding some positive and uplifting content after all that, check out our sports blog to find out what all we have in store.