Hide Bonus Offers
| | | | | |
| --- | --- | --- | --- | --- |
| #1 | Bovada Sports | 50% Up To $250 | Visit Site | Bovada Sports |
| #2 | BetUS | 125% Up To $2,500 | Visit Site | BetUS |
| #3 | MyBookie | 100% Up To $1,000 | Visit Site | MyBookie |
| #4 | Everygame | 100% Up To $500 | Visit Site | Everygame |
| #5 | BetOnline Sports | 60% Up To $1,000 | Visit Site | BetOnline Sports |
Sonic the Hedgehog Props That Can Win You Money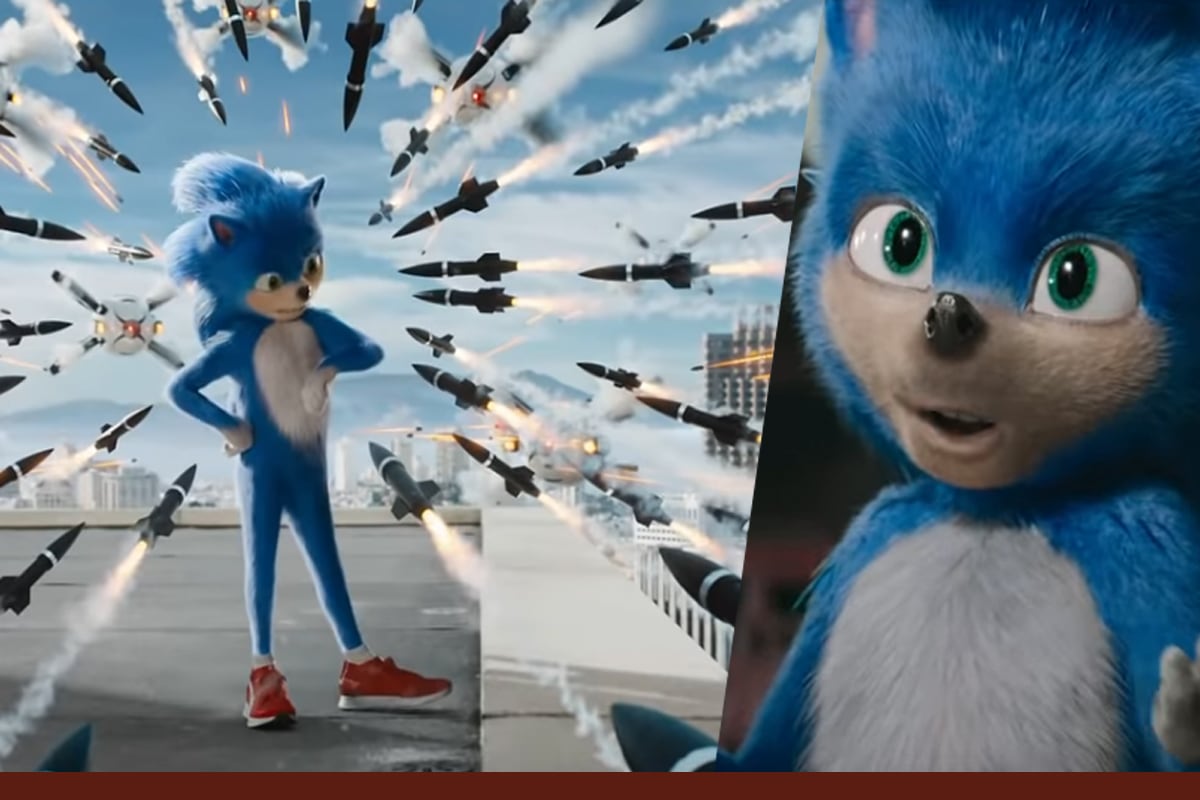 Sonic the Hedgehog is getting his own movie, and you can bet on how terrible it does. No, it's not 1991, and I'm not joking.
Rather, this is somehow a thing real people want to see, and it's touching down in theaters on November 8th. As awful as this sounds and as incredibly unnecessary as it appears to be, Sonic the Hedgehog doesn't appear to be a rush job at first glance and may even end up being (gulp) good.
That's the impression I got from the first official trailer, which features some cool special effects and some solid humor.
We're first introduced to Sonic as he races past James Marsden (playing a police officer) and registers 750 miles per hour on the cop's radar gun. It only gets wilder from there, as Ben Schwartz (Sonic) and Jim Carrey (Dr. Robotnik) tease us with some clever jokes.
Oh, and the trailer pays homage to the Sega video game with a nod to Sonic's propensity for racking up all of those gold coins.
Whether that excites you to go see it or not, who knows. But you don't need to watch it to profit from it. Here are some fun Sonic the Hedgehog prop bets that could make you some cash either way if you enjoy betting on entertainment props.
What Will Sonic the Hedgehog's Rotten Tomatoes Rating Be?
While the cast is great on paper, and this movie has potential to be very funny, it didn't get off to a great start.
Still, the studio appears to be open to making appropriate changes to maximize Sonic's widespread appeal, and that has to promote optimism that there could even be reshoots or edits to make this movie even better than originally intended.
Vegas still doesn't seem to like its chances of working out, as Bovada lists the over/under for its Rotten Tomatoes score at a paltry 15.5%.
That's remarkably low. However, judging by the trailer and the immediate fan outcry regarding Sonic's overall look, I get the general feeling this film lacks any actual substance.
I don't hate Ben Schwartz voicing Sonic. That could make for some really funny moments. I mean, do you remember this guy?
Yeah, Ben Schwartz is funny, and the combination of him and a hopefully reigned in (although somehow, I doubt it) Jim Carrey could make this pretty hilarious.
It could also be one hot mess.
One way to quickly judge that is to look back at Carrey's recent film success, or lack thereof. Carrey hasn't had a great time at the box office lately.
Check out his theater success rate via Rotten Tomatoes scoring since 2011.
Dark Crimes (2018) 0%
The Bad Batch (2017) 45%
Dumb and Dumber To (2014) 30%
Kick-Ass 2 (2013) 32%
The Incredible Burt Wonderstone (2013) 37%
Popper's Penguins (2011) 48%
Gone are the days of Jim Carrey's comedic touch turning everything to gold. The highly anticipated Dumber and Dumber To was as funny as a fart at a funeral, while none of Carrey's other recent comedies hit the mark.
Dark Crimes was Carrey's latest run in a more serious role, and it landed the dreaded 0% grade at Rotten Tomatoes. Yeah, not good.
Ben Schwartz does rub off some positive vibes, though. The GIF in this post should remind everyone about his hilarious bit character Jean-Ralphio on Parks and Recreation, while he brings the funny from his recent role on The LEGO Movie 2: The Second Part (86% RT rating).
More important, perhaps, is the writing and direction.
Jeff Fowler doesn't have much experience running the show, so that's mildly discouraging, while top writers Patrick Casey and Josh Miller haven't engineered a single movie with an RT rating better than 36% as writers.
Miller did executive produce The Final Girls (73%), and Fowler enjoyed a role on the successful Gilmore Girls, but the pedigree isn't amazing for the underlying tone and substance of this film.
In theory, Jim Carrey and Ben Schwartz could make this movie hilarious. But upside hasn't guaranteed a thing in the cruel world of movie critiquing.
Tolkien looked good on paper and was highly anticipated and scored a 50% during its opening weekend. I tend to think Sonic is going to be received a lot more poorly.
There is some hope here, but RT is harsher than usual when it comes to highly anticipated films. If they don't deliver immediately, they're not going to score well. This one could generate some laughs, but my guess is it ends up being a failure.
Will Sonic the Hedgehog Win a Razzie?
You don't really "win" a Razzie. The Razzie Awards were designed to prop up the very worst in television and cinema, virtually representing the class of entertainment that exists on the opposite end of the spectrum as The Oscars.
They're arguably humiliating if you're nominated, while actually winning one is a direct sign that your hard work was in vain.
At least you're being recognized for something, though, right? Vegas likes the chances of that happening by offering this prop, but the odds are dead even.
You'd be surprised how many iconic actors or massive productions get nominated and ultimately win this unsettling award. Recent winners include Fantastic Four, Jupiter Ascending, Eddie Redmayne, and Sylvester Stallone.
I am anticipating Sonic the Hedgehog doing very poorly overall, and if it ends up being as bad as it can be, there's no doubt it will be in the running for some type of Razzie award.
What that ends up being is anyone's guess, but this is a 50-50 prop, and the price isn't bad. I'm game for rolling the dice and assuming a weak production wins an award for its horribleness.
Will Sonic the Hedgehog Win a Golden Razzie?
Here's the kicker. Will Sonic the Hedgehog be bad? Yeah, probably. Will it be so bad that it will win a Razzie? I'm willing to bet on that, too.
But will it be bad on such an epic level that it wins the award for the worst movie of the year? That's a tough one, especially since going with the "no" side offers elite betting value, and it will likely be facing some quality competition.
Or not quality, however you want to look at that. Here are the odds.
Technically, you could argue this wager is all-encompassing. The Golden Raspberry Awards currently hand out ten regular awards each year and will also introduce new awards at random.
If this wager is dealing with Sonic the Hedgehog winning any award, I love its chances already. The direction, acting, production, or the film as a whole are bound to worm their way into the good graces of the people making the decisions here.
But if it's just about Sonic the Hedgehog competing for Worst Picture, I don't think this is a lock.
Rating isn't everything, after all. Holmes & Watson "won" Worst Picture in 2018 yet beat out Gotti, which scored 0% at Rotten Tomatoes.
That is quite the accomplishment.
Replicas (10%), Hellboy (15%), and Serenity (19%) are among the top candidates in 2019 so far that will give Sonic a run for his money. And I saw Serenity. This 19% score is incredibly generous.
Sonic the Hedgehog will probably be terrible, but there is nice value in assuming it won't be the absolute worst movie of the year.
Summary
In the end, we have two things to look forward to: watching a beloved video game character come to life and potentially profiting off of how well (or terrible) the movie does.
There is actually some real potential for this movie to be funny and perhaps even entertaining as a whole. But based on the trailer and everything it seems to offer, it won't actually be good.
That's okay, though. If Sonic the Hedgehog bombs like I think it will, you could make some money off of it in the process. Just don't bet on it winning the Golden Razzie, and you might be able to take even more cash back.
Whatever you do, enjoy the movies this summer (there's a ton of good ones), and if you bet on them, keep coming back here to catch our takes. And make sure you check out our recommended entertainment betting sites, too. These are the sites you want accounts at if you enjoy betting on entertainment-related props and other wagers.