Soccer World Cup Group A: Round 2 Preview and Betting Picks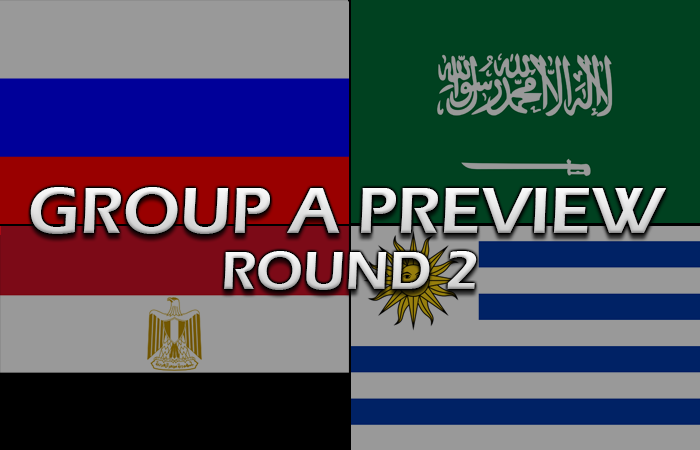 The first round of the FIFA World Cup is over. In contrast to most other groups, both the favorites won their games in Group A.
Russia and Uruguay will now be hoping to decide everything with a second win before facing each other in round 3.
The South Americans should be confident against a Saudi Arabian team that looked lost against Russia in the opening game. The likes of Edinson Cavani and Luis Suarez are sure to have more than enough chances to secure a victory.
At the same time, Russia should face a sterner test against Egypt, especially if Mohamed Salah plays this time. Let's take a look if there are some interesting bets to be had in this round.
Round 1 Recap and Impressions
Before I move on to the second round, I've got to say that I was surprised by a couple of things from the first one. For a start, Russia was unexpectedly clinical, which resulted in a 5-0 win.
I don't think the host team was that dominant against Saudi Arabia, but the home country managed to score some exceptional goals. Combine that with the terrible errors by their opponent's defense, and the trashing makes sense.
Simply put, Russia is probably a bit stronger than expected in attack, while Saudi Arabia is worse at the back.
The other game was much closer, but Uruguay was the better team for large periods and deservedly won 1-0 at the end. I was shocked by the many misses by Luis Suarez, although I think he simply had a bad day and will be much better in the next games.
As for Egypt, they didn't surprise much. Decent organization and some solid ball movement, but no cutting edge up front. Still, this is a problem that Salah could fix, and his return will be crucial for round 2 of the soccer World Cup Group A.
Russia – Egypt
Let's take a closer look at the main betting markets for this match.
The bookies expect a much tighter second game for the host of the World Cup, and I'm inclined to agree. I don't see Russia scoring a couple of wonder goals, which was the case against Saudi Arabia.
In fact, the Egyptian defense has the potential to do well, and the midfielders are more than capable of holding the ball and controlling the game.
At the same time, Russia looks inspired and scored a couple of exceptional goals in the 1st round. The question is, can their attacking players show such sublime skill consistently and against a better back line?
I would say that's hard to expect, and they will struggle a lot against Egypt. In fact, I think the Africans could be very dangerous if Salah is back.
Russia had some problems against the speedy players of Saudi Arabia. They didn't manage to create many chances, but they simply lacked the quality to do so. A player like Salah would be an entirely different story.
He should start after being rested against Uruguay, because Egypt was toothless without him. They had some decent moments, but the cutting edge was simply missing.
Prediction and Betting Picks
The big question here is what happens with Salah and if he plays. That should be the case, and Egypt certainly has a shot. I think their defense can hold or at least concede just once.
At the same time, the Africans will be more than capable of scoring and will be desperate to avoid elimination.
Considering the odds, I would say that the value lies on Egypt. With the help of Salah, they could draw or even win. The price of 1.72 is decent, and I will go for it. The result I expect is actually 1-1.
PICK
Egypt or Draw Double Chance
1.72
Uruguay – Saudi Arabia
Here are the main betting odds for this match from Group A.
Uruguay struggled a bit against Egypt in the 1st round of the World Cup. To be honest, the goalkeeper of the Africans was the best player on the pitch, which says a lot.
Despite the solid performance of the Egyptian defense, Uruguay did manage to create more than enough chances to snatch the victory. Uncharacteristically, Luis Suarez missed a couple of great opportunities to score.
Cavani wasn't able to score either after a couple of decent shots, one of which even hit the woodwork. Still, Uruguay showed a lot of steel and kept pushing, which brought them the winner.
They will now face a worse team who has shown a very leaky defense. Honestly, I didn't expect Saudi Arabia to be that bad. Sure, some of the goals of Russia were sublime, but at least two were preventable with ease.
It's obvious they can't defend crosses and against players like Suarez and Cavani. This will cause a lot of problems.
I expect Uruguay to dominate the game and create a number of good chances.
The defense of the South Americans looked great and didn't allow Egypt to create any clear opportunities. I don't think Saudi Arabia will fare any better.
I can't see anything but a win for the South Americans at this point. They simply have too much up front.
Prediction and Betting Picks
The price for Uruguay to win is too short, so I'm going to skip this particular market. Also, the style of the country is designed to defend well and score on the counter, which could lead to some trouble against teams who will play mostly at the back.
Saudi Arabia certainly fits this description, but the side doesn't have the quality to do much. I expect a comfortable win for Uruguay but not that convincing in terms of the end result. I think something like 2-0 is the realistic choice.
A quick look at the under 2.5 goals shows a price of 2.30, and I certainly like it a lot.
BetVictor Million Pound Bet
The first leaderboards in the BetVictor Million Pound Bet are up, and there's a mountain to climb. Someone managed to win a wager with a price of over 3,000.00, so it's time to get really crazy here. I decided to go for Russia and Egypt.
Here are the selections.
Egypt to win 1-0 in the 1st half
Match to be drawn 1-1
Mohamed Salah to score first
Russia Over 6.5 corners
Artem Dzyuba to score 1+ goals
Egypt Under 3.5 corners
I already said that I can see a close game and both teams scoring. I will go for a Salah opening in the first half and a dramatic equalizer by the big man Artem Dzuyba at the end.
In the meantime, I can see some nervous moments and cards for both teams. The odds are 5748.00, which sounds crazy, but why not?
Final Words
Let's see if the teams will continue the trends from the 1st round of the group stage or if there will be some changes. I expect a lot of drama during the tournament, and this could bring some nice betting opportunities.
If you see some yourself, don't be shy, and share them in the comments section.
Good luck!