10 Best Soccer Stars That Are Good at Playing Poker

Do soccer players play poker? If so, which soccer players play poker? And are there any soccer players who are good at poker? These are the questions that I will be answering today.
It is well documented that soccer players are among the world's highest-paid athletes. Most professional soccer players don't need to play poker to boost their finances, but that doesn't mean they can't have fun like the rest of us.
Thanks to the best mobile poker sites, playing cards online has never been easier. However, some soccer stars have been known to show up at live tables – and pocket tasty profits!
Without further ado, here are ten soccer players that play poker.
Gerard Piqué
Gerard Piqué is widely regarded as one of the best defenders of his generation. The center-back has made over 600 appearances for Barcelona, winning eight La Liga titles and three UEFA Champions League crowns along the way.
But did you know that he is also among the top soccer players who play poker?
In 2019, just one day after playing a match for Barca, Pique participated in the European Poker Tour. But he didn't just participate in the event – he pocketed a cool €391,775 after finishing second!
📸 — Arturo Vidal and Gerard Piqué at the European Poker tour. pic.twitter.com/PwEBLlrQgV

— Barça Universal (@BarcaUniversal) August 26, 2019
Funnily enough, Pique's then-teammate Arturo Vidal also made the final table at the same event.
Given that Pique's weekly Barca salary was around €250,000 back then, his winnings would not have made a massive difference to his bank balance. Even so, he falls into the category of soccer players that are good at poker.
The 35-year-old even led the 2013 World Series of Poker Main Event before falling off the pace. Naturally, that makes him one of the best soccer players that play poker.
The WSOP is the largest poker tournament in the world, so be sure to check out our World Series of Poker guide for all the details regarding the events, history of the tournament, and noteworthy winners.
Ronaldo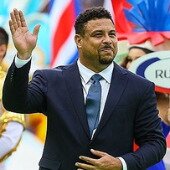 In 2015, Cristiano Ronaldo won the Ballon d'Or – the most prestigious individual award in world soccer. Meanwhile, Ronaldo Luís Nazário de Lima skipped watching the Ballon d'Or ceremony to compete in a PokerStars event in the Bahamas.
Who is Ronaldo Luís Nazário de Lima, I hear you ask? He's the ORIGINAL Ronaldo, of course!
Having won the Ballon d'Or in 1997 and 2002, the legendary Brazilian clearly didn't care much for his namesake's achievements. His decision to miss the ceremony paid off, though, as he won around $42,000 in the Caribbean.
Needless to say, $42,000 doesn't even come close to the multimillion-dollar contracts that he earned during his playing days. But it's not a bad haul for a soccer player, right?
While playing for powerhouses such as Barcelona, Inter Milan, Real Madrid, and AC Milan, Ronaldo scored countless goals and claimed tons of trophies. He also won two FIFA World Cups with Brazil, securing the Golden Boot in 2002.
Follow the link below to discover where Ronaldo ranks among all the FIFA World Cup Golden Boot winners.
Teddy Sheringham
Boasting total earnings of more than $300,000, there is no denying that Teddy Sheringham is one of the top soccer players who play poker.
During his playing days, Sheringham won the Premier League Golden Boot in 1993 before being named both the PFA Players' Player of the Year and FWA Footballer of the Year for 2000-01. Nowadays, he dominates the poker table rather than the soccer field.
In 2010, he reached the final table of the €5,000 No-Limit Hold'em Main Event of the EPT Vilamoura – winning €93,121 after finishing fifth. He also finished 14th in the 2016 World Series of Poker Main Event, taking home $60,000 for his troubles.
The former Manchester United and Tottenham Hotspur striker has featured in – and won – numerous poker tournaments over the years. When it comes to discussing soccer players who are good at poker, Sheringham's name must be included in the conversation.
Neymar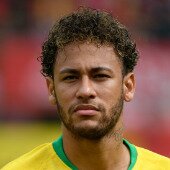 Neymar is officially the most expensive soccer player of all time. In 2017, Paris Saint-Germain paid Barcelona a mind-boggling €222 million to acquire the Brazilian's services.
PSG pays Neymar almost €4 million a month, while he earns around €20 million per year through sponsorships from companies such as Puma, Qatar Airways, and Red Bull. Even so, he still finds the time to participate in poker events.
Granted, Neymar's poker earnings are nothing special for a man of his wealth. But he did finish sixth at the 2018 Brazilian Series of Poker.
The 30-year-old prefers to play online poker, where he can take advantage of the best online casinos. While recovering from foot surgery in 2018, he finished 474th out of more than 5,000 entrants in a high-stakes online tournament.
Not only is Neymar one of the best soccer players on the planet, but he is also among the top soccer players that play poker.
Tony Cascarino
When I first thought about writing a piece on soccer players who are good at poker, one man's name instantly sprung to mind – Tony Cascarino.
The former striker called time on his professional career back in 2000, having represented famous clubs like Chelsea, Marseille, Aston Villa, and Celtic. Since then, he has racked up more than half a million dollars in poker winnings.
Due to his success at the table, Cascarino's poker exploits sometimes outshine his soccer achievements…
Oh my God, poker player Tony Cascarino used to be a soccer player! Random!

— Second Captains (@SecondCaptains) November 11, 2015
Cascarino has taken roughly $300,000 from the Grosvenor UK Poker Tour. He even scooped the top prize in the 2009 Grosvenor UK Poker Tour Grand Final, collecting a colossal $200,000 for his efforts.
In addition to playing 600+ club games, Cascarino earned 88 caps for Northern Ireland – scoring 19 international goals. Today, he prefers to achieve his goals on the poker table.
Tomas Brolin
Sadly, Tomas Brolin's soccer career didn't last long. The Swede was forced to retire when he was just 28 due to injury problems, ending his career in 1998.
On a brighter note, Brolin is now regarded as one of the top soccer players who play poker.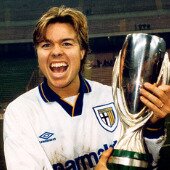 The ex-Parma, Leeds United, and Crystal Palace man first participated in the World Series of Poker back in 2006. Since his poker debut, he has competed in numerous tournaments across the world.
He has also cashed twice while participating in the PokerStars.com European Poker Tour. His most notable achievement came in Monte Carlo, where he won $60,129 for finishing 38th out of 842 entrants in the 2008 event.
Brolin has been known to wear some conspicuous eyewear at the table over the years. Do sunglasses actually help poker players win? Check out the blog below to find out.
Jan Van Sørensen
It wouldn't be unfair to say that Jan Van Sørensen is not one of the greatest soccer players of all time. In fact, many fans of the sport won't even know who he is.
The former goalkeeper enjoyed a low-key soccer career, playing for Danish Superliga club Odense BK. However, like Brolin, a serious injury ended his playing days prematurely.
So, what do you do when your soccer career gets cut short? You become a poker player, of course!
Believe it or not, Sørensen has claimed two World Series of Poker bracelets over the years. After triumphing in the 2002 $2,500 Pot Limit Omaha event, he won the 2005 $5,000 Seven Card Stud event.
But his achievements don't stop there.
The Dane has also reached a World Poker Tour final table and two World Poker Tour money finishes. On top of that, he has secured a money finish in the European Poker Tour – meaning he has 12 money finishes to his name.
Sørensen's total tournament winnings exceed $2 million, so he is definitely among the best soccer players that play poker.
Jan Mølby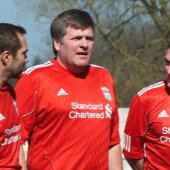 Although Jan Mølby's poker career is nothing compared to guys like Sørensen and Cascarino, he is still one of the most notable soccer players who play poker.
Mølby is best known for his time at EPL giant Liverpool. Between 1984 and 1996, the Denmark international made just shy of 300 appearances for the Reds – helping them win multiple titles and trophies.
Having claimed three top-flight titles and two FA Cups with Liverpool, Mølby etched his name into Anfield folklore. But the fun didn't stop there for the "Honorary Scouser."
Since hanging up his soccer boots, Mølby has competed in several poker tournaments. His notable achievements include reaching the final table at the Bet24 Open and cashing at the European Poker Tour in Copenhagen.
The Liverpool legend has also competed in the Amsterdam Classic Masters. Better still, he reached the 2011 World Series of Poker Main Event. Not bad for a guy who used to kick the living daylights out of his opponents on the soccer field, right?
Vikash Dhorasoo
Vikash Dhorasoo played for some of the biggest clubs in European soccer. After helping Lyon secure back-to-back Ligue 1 titles in 2003 and 2004, the Frenchman won trophies with Bordeaux, Milan, and PSG.
Dhorasoo was also part of the France squad that claimed the runner-up spot at the 2006 World Cup. In total, he made 18 appearances for Les Blues – scoring once.
However, Dhorasoo has scored more than once as a poker player.
Following the termination of his PSG contract in 2006, Dhorasoo became a professional poker player for Winamax. He went on to win various tournaments and events, collecting over half a million dollars in the process.
Dhorasoo's biggest win came in the $2,200 Barrier Poker Tour in 2010, when he pocketed $187,887. Having also claimed two victories on the European Poker Tour, his total earnings stand at more than $525,000.
David Levi
Although David Levi is arguably the least famous soccer player on this list, he is undoubtedly the most successful poker player.
During his soccer days, the Israeli played for Hapoel Ramat Gan in his homeland. But after his career was cut short by a knee injury, he moved to Los Angeles and was introduced to poker.
The rest, as they say, is history.
Thanks to some help from his roommate, Amir Vahedi, Levi swiftly made a name for himself on the poker circuit. For those unaware, Vahedi is a World Series of Poker bracelet winner. In other words, he would have been a helpful roommate!
Fast-forward to today – Levi's total live tournament winnings exceed $4 million. The 59-year-old has a mammoth 37 WSOP cashes to his name, which accounts for over $500,000 of his earnings.
After enduring a disappointing soccer career, Levi has enjoyed a hugely successful poker career. It probably makes sense to refer to him as one of the best players who play soccer rather than one of the top players who play poker.
Final Word
Although you will usually find names like Gerard Piqué and Neymar on the best soccer betting sites, they have also proved that soccer players can turn their hands to poker.
In some ways, soccer and poker are not too dissimilar. Both games require you to outwit your opponent using skill and savviness, so it is no surprise that several high-profile soccer players are good at poker.
Ronaldo and co. are not the only famous stars to have enjoyed time at the table. Follow the link below to learn about where we rank the best celebrity poker players of all time.