Soccer Betting Preview: English Premier League Games May 12th – 14th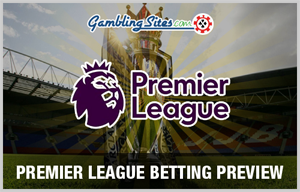 It's another big weekend in the English Premier League and the action starts TONIGHT. There are two fixtures being played this evening, followed by five more tomorrow and then three on Sunday. That's ten games in total, and I've previewed them all below.
Some of these games are huge. Chelsea could finally be confirmed as champions in their game against West Brom tonight, and there are several key games in the race for the top four and the relegation battle. It's all shaping up to be a VERY exciting weekend!
Finding good betting opportunities can be a real challenge at this stage of the season. The important games are often hard to call because there's so much at stake, and it's tough to know how the teams will react under pressure. Then, at the other end of the scale, there are games where neither team has anything to play for. We often see unexpected results in those.
I'm not one to back away from a challenge, so I've done my best to find some attractive wagers in this week's games. Let's hope I've picked some winners!
Everton vs Watford
Game Odds
Everton to win: 1.47
Watford to win: 7.00
Draw: 4.75
This could be an interesting game. Everton are easily the better team, but they haven't been playing that well recently. They've lost their last two games and it was a draw before that. That's three games without a win, which suggests the players may be winding down for the season. It's hard to blame them really, as Everton are guaranteed to finish in 7th this season. They can't finish any higher, and they can't finish any lower.
Watford are in bad form too, having lost four of their last five. They DO have something to play for though. That recent run has left them dangerously close to the relegation zone, so the players can't afford to coast through their remaining games. It's pretty unlikely that they'll go down, but I expect Watford will be keen to get some points here and remove all doubt.
The difference in motivation levels might give Watford the edge in this game. I'm not sure it will be enough though. They've been playing so poorly recently that it's just hard to see them getting a result. Even if Everton are not playing at 100%, I still think they'll get the win. I don't really like the odds of 1.47 though, so I'm giving the betting a miss here.
Prediction & Recommended Bet
><
Everton 1 – Watford 0
No recommended bet
West Brom vs Chelsea
Game Odds
West Brom to win: 9.00
Chelsea to win: 36
Draw: 5.25
Chelsea went seven points clear at the top of the table on Monday. Their emphatic victory over Middlesbrough means a win here will seem them crowned champions. That might put a bit of pressure on the players, but I don't think it will have a major impact. The seven-point gap gives them some breathing space, so they can afford to lose and still be favorites for the title.
I expect this will probably be a routine victory for Chelsea to be honest. West Brom managed to get a draw at Burnley last week, but they lost the four games before that. They haven't been playing well for quite some time, and I don't see them suddenly putting in a good performance here. Even if they do, Chelsea should have too much quality anyway.
The only question for me is how many Chelsea will win by. West Brom rarely get beaten heavily, so I don't expect this to be a huge scoreline. I think Chelsea will get at least two goals though, and they're worth backing even at 1.36 in my opinion.
Prediction & Recommended Bet
><
West Brom 0 – Chelsea 2
Chelsea to win @ 1.36
Manchester City vs Leicester City
Game Odds
Manchester City to win: 1.25
Leicester City to win: 12.00
Draw: 6.50
Manchester City needs the win here. They're currently in fourth place, but Arsenal are only one point behind them in fifth. It would be a disaster for Manchester City if they miss out on Champion's League qualification in Pep Guardiola's first season, so they're under a bit of pressure here. The result of this game will ultimately depend on how well they handle that pressure.
I'm expecting a BIG performance from Manchester City.
I watched Manchester City last week, when they thrashed Crystal Palace 5-0. They could have scored even more goals to be honest, so I see no reason why they can't keep that form going against Leicester City. The players know how important it is to win, and I think they'll respond to that. Although I'm not sure that they'll score as many as five again, I think that a comfortable victory is the most likely outcome.
The difficult decision with this game is what to bet on. Leicester City are in reasonably good form themselves, so they're not just going to roll over. That makes me reluctant to back Manchester City on the handicap, as there's a chance that Leicester will keep the game close. It wouldn't surprise me if Manchester win by two or three, but it wouldn't surprise me if they only win by one either.
I think the best bet here is on both teams to score. Manchester City are almost certain to score, and I'm confident that Leicester will too. They're a very good counter-attacking team, and Manchester City often
look exposed in defense. We might well get to see a lot of goals in this game!
Prediction & Recommended Bet
><
Manchester City 4 – Leicester City 2
Both teams to score @ 1.72
Bournemouth vs Burnley
Game Odds
Bournemouth to win: 1.95
Burnley to win: 4.00
Draw: 3.60
Both these teams can really be proud of what they've achieved this season. Bournemouth have done very well to be in 11th position when you consider the resources at their disposal, and they've been a joy to watch on occasion. Burnley have not been quite as entertaining, but it looks like they're going to stay up and that's a big achievement in itself. It's hard to come up from the Championship and be competitive in the Premier League.
Although it would take a VERY unlikely combination of results for Burnley to go down at this stage, they're not 100% safe just yet. They need one more point to guarantee their Premier League status, so I expect them to play for the draw here. They'll set up very defensively, and try to get away with a 0-0. This won't suit Bournemouth at all, as they're at their best when the game is more open.
I've got a feeling that Bournemouth will probably find a way to score a goal in this game, but I'm certainly not confident enough to back the win here. A goal-less draw is a very likely outcome, and wouldn't surprise me at all. You might want to consider backing it, as the odds of 12.00 definitely represent some value. I've decided to go with under 2.5 goals. I think that's a pretty safe wager here, and I like the odds of 2.05.
Prediction & Recommended Bet
><
Bournemouth 1 – Burnley 0
Under 2.5 goals @ 2.05
Middlesbrough vs Southampton
Game Odds
Middlesbrough to win: 3.75
Southampton to win: 2.05
Draw: 3.60
This fixture is a prime example of the type of game I mentioned in my introduction to this post. Middlesbrough are already relegated, and Southampton are safely in mid-table. This means neither team has anything to play for here, so it's very difficult to know what will happen.
Are there ANY indications of what to expect?
This is Middlesbrough's first game since their relegation was confirmed by losing to Chelsea. It's virtually impossible to know how the players are going to react to the disappointment of going down. They might play much better now that the pressure is off, but it's equally likely that they'll struggle to find any motivation.
It's also tough to predict how Southampton will play. They performed really well at Anfield a couple of games, when they earned a credible draw against Liverpool. In their recent game against Arsenal, however, I felt that the players weren't putting in much effort at all.
This is DEFINITELY not a game to bet on for me. It's so hard to call that it's just not worth putting any money at risk. I'm going to go with a draw for my prediction, but this is little more than guesswork really.
Prediction & Recommended Bet
><
Middlesbrough 1 – Southampton 1
No recommended bet
Sunderland vs Swansea City
Game Odds
Sunderland to win: 4.00
Swansea City to win: 1.95
Draw: 3.75
I had to laugh when Sunderland beat Hull City last week. Sunderland had just been relegated, and hadn't won a game in forever. Hull City, meanwhile, had been playing really well and were in desperate need of points to avoid relegation themselves. EVERYTHING pointed to a victory for Hull, but Sunderland pulled a performance out of somewhere and managed to win.
Sunderland are up against relegation candidates again this week, so this is another important game. Swansea are just outside the relegation zone at the moment, but only by a point. They really need at least a draw here, and preferably a victory. Can Sunderland deny them like they denied Hull City?
It's hard to say really. The obvious assumption is that Swansea will win because they're going to want it more, but that's a dangerous assumption to make. Although Sunderland have nothing at all to play for, the players clearly haven't stopped putting in the effort. Their performance against Hull last week was their best for ages, and there's no reason why they can't repeat it here.
With that being said, I think that Swansea WILL get the win they need. They've played really well in their last three games, winning two and drawing one. The players know that their Premier League status is in their own hands, and I think they'll fight as hard as they can to keep it that way. Sunderland are likely to make it difficult for them, but I'm expecting Swansea to come out on top.
Prediction & Recommended Bet
><
Sunderland 1 – Swansea City 2
Swansea City to win @ 1.95
Stoke City vs Arsenal
Game Odds
Stoke City to win: 4.80
Arsenal to win: 1.72
Draw: 4.00
This is another significant game, but at the other end of the table. Although it looked like the top four was beyond Arsenal a couple of weeks ago, they're suddenly right back in the race. They got a very important victory against Manchester United last weekend, and then beat Southampton on Wednesday.
Can they keep their form going against Stoke?
I'll be surprised if they don't.
I firmly believe that Arsenal are going to make the top four. They're great at putting together a run of results at the end of the season, and their schedule is relatively easy. After this game against Stoke, they've got two very winnable home fixtures. They are relying on the teams above them to drop points, but I think they're going to squeeze in and qualify for the Champion's League.
Arsenal don't actually have a great record against Stoke recently. I don't think that's relevant for a game like this though. Stoke have nothing left to play for, so I can't see them matching Arsenal for intensity. They won't just hand Arsenal an easy victory of course, but I really don't expect them to get anything from the game.
All I've got to decide here is whether Arsenal are worth backing at 1.72. And I think they are. In fact, I think this is one of the best bets of the weekend.
Prediction & Recommended Bet
><
Stoke City 0 – Arsenal 2
Arsenal to win @ 1.72
Crystal Palace vs Hull City
Game Odds
Crystal Palace to win: 2.05
Hull City: 3.75
Draw: 3.60
What a fixture this is. I love it when relegation candidates are playing each other at this stage of the season, as it almost always makes for a fiercely competitive game. Both these teams will be giving it everything they've got in this game, and I can't wait to watch it.
Crystal Palace should probably be safe by now, but they've let their performances slip in recent weeks. They got absolutely thrashed by Manchester City at the weekend, and they lost their previous two games too. They REALLY can't afford to lose another one here, especially against one of the teams below them. They're currently just four points above the relegation zone.
The situation for Hull City is even worse. They're actually IN the relegation zone, and four points behind Crystal Palace. Nothing but a victory is good enough for them here, and a loss here could even confirm their relegation if Swansea City win their game against Sunderland.
Sorry in advance to any Hull fans reading this, but I don't think Hull will get the win they so desperately need. Crystal Palace have Sam Allardyce in charge, and he knows how to get results in games like this. That's going to make all the difference for me.
Prediction & Recommended Bet
><
Crystal Palace 2 – Hull City 1
Crystal Palace to win @ 2.05
West Ham vs Liverpool
Game Odds
West Ham to win: 5.50
Liverpool to win: 1.66
Draw: 4.00
I've mentioned countless times in this blog how frustrating Liverpool are. Whenever it looks like things are going right, they find a way to mess it up. That's exactly what they did last week, with a draw at home against Southampton. If they had won that, they'd have been pretty much certain of finishing in the top four. Now the pressure is right back on them again. If Arsenal win the earlier game at Stoke City, Liverpool will really NEED to get a win here.
I don't think they're going to get that win.
West Ham have nothing left to play for, but they always seem to do well against Liverpool. Combine that with the fact that Liverpool don't seem able to perform when the pressure is really on, and it doesn't look good for the Merseyside team.
I find it amazing that West Ham are as high as 5.50 to win this game. I'm not saying they should be favorites, but these odds seem incredibly generous to me. I'm fully expecting West Ham to get the win here, so I'm definitely going to take advantage of the value on offer. I suggest you do the same too!
Prediction & Recommended Bet
><
West Ham 1 – Liverpool 0
West Ham to win @ 5.50
Tottenham Hotspur vs Manchester United
Game Odds
Tottenham Hotspur to win: 1.72
Manchester United to win: 5.25
Draw: 3.80
It's fitting that this is the last game of the weekend, as this is the last ever game at White Hart Lane. Tottenham Hotspur are spending next season at Wembley, before moving into their brand-new stadium the following year. This is very much the end of era, as White Hart Lane has seen some amazing moments over the years.
So what about the game itself? Well, it's an interesting one. Tottenham Hotspur are pretty much secure in second place, and will probably know that they can't win title by the time this game comes around. If Chelsea have beaten West Brom as expected, they'll have been crowned champions. Under normal circumstances, I'd expect that to deflate the Tottenham players. With it being the last game at White Hart Lane, however, the players are going to want to win this one for sure.
I think they will too. Manchester United are just about in the race for the top four still, but they won't see this game as a priority. They've just reached the final of the Europa League, and they have a lot of players who are either injured or tired. Manager Jose Mourinho won't put his strongest team here in my opinion, which will give a big advantage to Tottenham.
Hopefully we'll see a great game here, with plenty of entertainment and goals. It's what the stadium deserves. My prediction is based more on what I'd like to see than anything else, but I do think Tottenham are worth backing. I'm quite sure they'll win this game one way or another.
Prediction & Recommended Bet
><
Tottenham 4 – Manchester United 1
Tottenham to win @ 1.72