Hide Bonus Offers
| | | | | |
| --- | --- | --- | --- | --- |
| #1 | Bovada Sports | 50% Up To $250 | Visit Site | Bovada Sports |
| #2 | BetUS | 125% Up To $2,500 | Visit Site | BetUS |
| #3 | MyBookie | 100% Up To $1,000 | Visit Site | MyBookie |
| #4 | Everygame | 100% Up To $500 | Visit Site | Everygame |
| #5 | BetOnline Sports | 60% Up To $1,000 | Visit Site | BetOnline Sports |
Six Can't-Miss Masters Prop Bets You'll Want to Bet On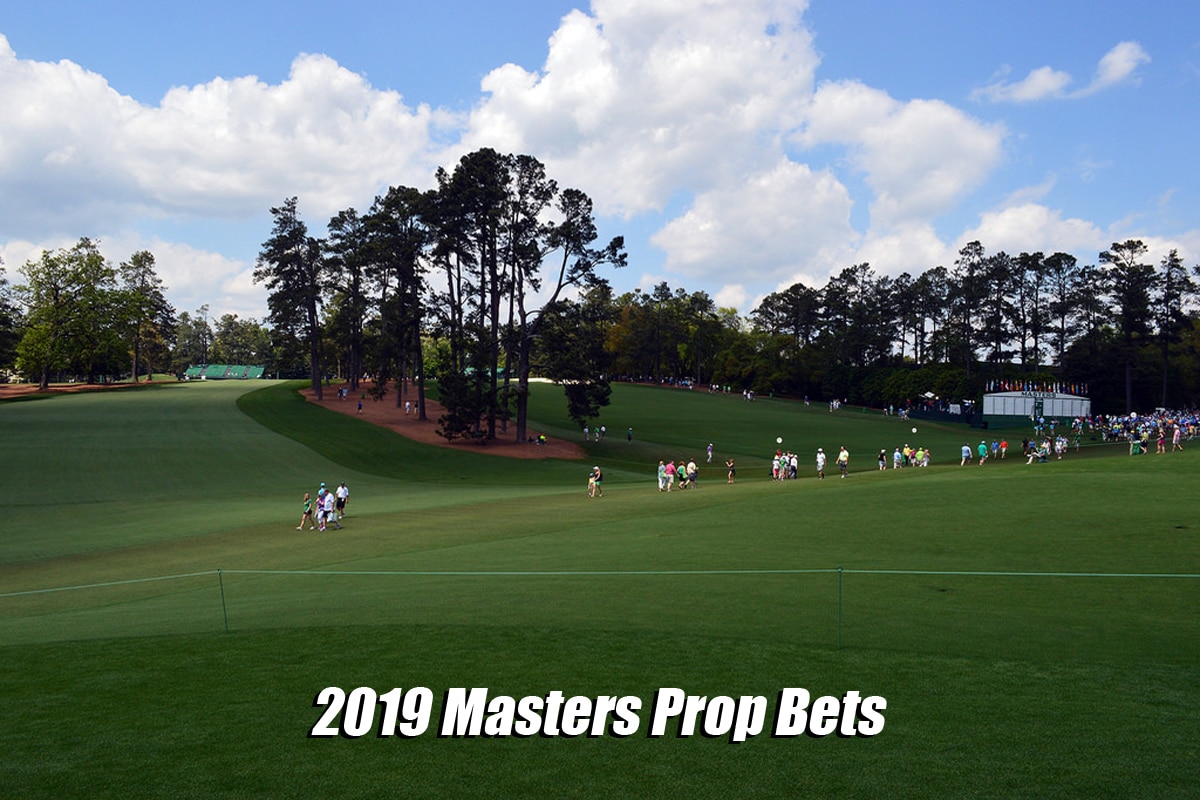 Consider the Masters the "Super Bowl" of golf betting.
It could take you a while to sift through all of the available props, which is why it'd be nice to find a page that organized the best Masters prop bets for 2019 into one central location.
Rather than search up and down the internet for the perfect landing spot, I decided to create one myself.
I figured many of you don't have the time to scan every single one of the top-rated Masters betting sites. Others would rather skip the dirty work altogether and just want someone to tell them what the best bets are.
I took the time to scour the most reputable sportsbooks, and I came across six Masters prop bets that I couldn't wait to lock in. Now is the time when I get to share them with all of you.
Number of Players Finishing Under Par
You have some options here. MyBookie.ag is offering this same bet but has set their line at 15.5 players. To bet the over, you have to lay -160, which is not something that sounds very appetizing.
However, if you latch onto "over 17.5 players" at SportsBetting.ag, you can get a pretty favorable price.
I think we'll see upwards of 20 or more players finish under par in the 2019 Masters, which is why I hopped on the "over 17.5" at the handsome price tag of +110. I could tell you that 27 players finished "in the red" during last year's Masters, and I could point out that 32 golfers ended up under par back in 2015.
But the most pertinent aspect to shed light on is that very little wind is expected throughout the week, and the forecast predicts some rain. This should soften up the entire property and give players the green light to fire at some flag sticks they otherwise might play conservatively to.
All in all, there's enough substantial data evident for me to feel good about the value here.
Leading Round 1 Score
One of my jobs is to introduce value when it is plain and obvious. That's why anyone who thinks that 65 or lower will be leading after Thursday's opening round better not place that bet at BetOnline.ag.
Why would you want +120 on your money when the same bet at MyBookie.ag lets you in at +145?
Jordan Spieth's 66 during round 1 of the 2018 Masters was good enough for a two-shot lead, so I understand those of you keen on taking the over here. But did you remember that Charley Hoffman opened with 65 in 2017 or that Jordan fired a 64 on Thursday in 2015?
It's looking like the first round is calling for warm temperatures and little wind, and the real pressure won't start kicking in until the weekend. I think we absolutely could see a 64 or 65 to kick things off in 2019, and I sure as heck want to be rewarded at a "+145 payoff" if that ends up being the case.
PICK
Under 65.5 Strokes
+145
All Four Rounds in the 60s?
Will any player record four sub-70 rounds at the 2019 Masters? Believe it or not, it has never been done at the Masters before, and it's unlikely that it happens during this year's edition.
However, once I shopped this line around, I realized there was some real value in "yes" if you bet it at the right place.
When you take into account that MyBookie.ag is offering this bet at Yes/+700 and No/-1500, you can start to understand the value that is present at SportsBetting.ag.
We've seen guys come oh-so-close to shooting four rounds in the sixties at Augusta; three come to mind specifically.
Arnold Palmer shot 69-68-69-70 when he won by six strokes in 1964. Phil Mickelson closed with 70 in 2001 after breaking 70 during each of the first three rounds but ultimately finished third behind Tiger Woods and David Duval. Fred Couples delivered a 70 during the final round in 1992 to barely miss out, but he got to take home a green jacket instead — a pretty decent consolation prize, if you ask me.
I'm not going to go crazy here, but I think +1400 that someone does it for the first time is enough upside to make a small wager worth our while.
Gary Player's Ceremonial Tee Shot Hits the Fairway
Before any competitor hits a shot on Thursday morning, Jack Nicklaus and Gary Player will hit their ceremonial opening tee shots. Once Jack and Gary get those balls in the air, that'll signify the official start to the Masters golf tournament.
Ready to place a bet on whether the Black Knight finds the fairway on "Tea Olive"?
Let me tell you why I love "yes" here. Quite frankly, I'd be okay laying up to -750 that Player stripes his opening tee ball.
If you think Gary will just roll out of bed and show up to the first tee on Thursday hoping to find the fairway with his ceremonial tee shot, boy, are you sorely mistaken.
Press play below, and you'll get a better idea of how seriously the Black Knight takes this honor.
That video isn't a parody and most definitely wasn't meant to make light of the situation. Gary Player is a consummate professional and is clearly sincere during his approach for this mini competition versus Jack Nicklaus.
On top of that, the landing area in the fairway on the first hole at Augusta (in the vicinity of where Player will be flying the ball) is rather wide. Don't think twice here and go with "yes."
Length of Winner's Final Putt
It's hard to legitimately calculate what a fair price would be here as every situation is unique each year. With that being said, the question at hand is whether we think the winner's final stroke will be greater or less than 3.5 feet.
Is getting +115 on our money enough to justify betting the over?
I happen to think so, especially when you account for how many scenarios could play out. If a player holes a birdie putt to win, chances are it comes from outside of 3 and a half feet. If a player hits their second shot in the right bunker and has to get up and down for the victory, he'll most likely have to hole a par putt from mid-range.
Plus, if we bet the over here, we get to root for an exhilarating finish where something wild could play out.
Doesn't that seem like the most fun option?
The Nationality of the Masters Winner
Do you think an American will win the Masters or not? Here are the betting odds you have to work with.
In terms of who has won at Augusta recently, we've seen an even split over the last 10 Masters with exactly five Americans (and five non-Americans) slipping on the green jacket. If you look at the top 14 players in the Official World Golf Ranking (OWGR), you'll see 7 are from the United States.
It seems as if this is pretty close to a toss-up.
In those instances, I'll always lean toward the -105 side as opposed to laying -125. Once you examine the crop of worldwide talent that will be teeing it up on Thursday, I sense that you can get on board as well.
Justin Rose and Rory McIlroy deserve to be the betting favorites, and Jon Rahm and Tommy Fleetwood are both poised to win a major championship at some point. Anyone who thinks Francesco Molinari or Jason Day can't win the Masters must have biased views, and it wasn't too long ago that Sergio Garcia was planning his menu for Tuesday night's Champion's Dinner.
Then throw a host of talented Aussies like Marc Leishman, Cameron Smith, and Adam Scott into the mix. Now stir names like Hideki Matsuyama and Ian Poulter into the pot, and add in a little Louis Oosthuizen and some Henrik Stenson. I didn't get to hungry Englishmen like Paul Casey or Matthew Fitzpatrick, and who knows? Maybe Tyrrell Hatton or Eddie Pepperell will get into contention.
I unveiled Haotong Li as a player I'm targeting as one of my 2019 Masters matchup picks, so I'll venture to guess that you get the point by now.
There are loads of non-Americans who could win the 2019 Masters, and here's a bet that allows you to encompass them all under one umbrella.
Going Away
If you find yourself wondering where all the Tiger Woods Masters prop bets are, I promise they are coming shortly. In fact, there'll be an entire page dedicated to TW and his prospects at Augusta. If you keep visiting our blog, you'll make sure you stay in the loop and won't miss a beat. You should keep an eye on our main Masters betting guide, too, as there are more updates to be found there.
I know many of you are planning on watching the Masters telecast, and I'm sure most of you want in on the prop betting action. Start with these six, but don't be afraid to let your imagination take over and fire away where you see fit.
It'll add up to a big sweat on Sunday afternoon, something I think we are all secretly craving deep down inside!
Visit any of the following sites referenced in this post to find my recommended Masters prop bets and plenty more besides. These sites all offer welcome bonuses to new customers, too.