Hide Bonus Offers
| | | | | |
| --- | --- | --- | --- | --- |
| #1 | BetOnline Sports | 60% Up To $1,000 | Visit Site | BetOnline Sports |
| #2 | Bovada Sports | 50% Up To $250 | Visit Site | Bovada Sports |
| #3 | BetUS | 125% Up To $2,500 | Visit Site | BetUS |
| #4 | Everygame | 100% Up To $500 | Visit Site | Everygame |
| #5 | MyBookie | 100% Up To $1,000 | Visit Site | MyBookie |
Six of the Best Ways to Make Money Betting on UFC 257

Go on, admit it. You've been looking for new and inventive ways to win your bets for UFC 257.
There's no shame in that, of course. UFC betting markets are buzzing like a hyperactive wasp right now, with more and more bettors hoping to make money betting on Conor McGregor vs. Dustin Poirier 2, as well as some of the other fights on the card.
Today, I'm going to hit you with some UFC 257 betting tips that will maximize your chances of making money while betting on UFC 257.
First up, let's talk bonuses.
Bolster Your Bankroll with These UFC 257 Betting Bonuses
Everyone loves a bonus, right? Something shiny, fresh, and most importantly, free.
The free part is key. If you can get your hands on bonuses for UFC 257 that fatten your bankroll without costing you anything, it would be unthinkable not to check them out before placing real money bets on the fights.
Not all betting sites offer exclusive UFC 257 bonuses, but many do. And the ones that don't provide tailored UFC 257 free bets, promotions, or specials usually have promotions that are more than suitable for your fight bets.
Most of the top sites to bet on the UFC have bonuses that look pretty good to me. One of the best ways to make money on UFC 257 is to choose the right bonus.
So, here's the leading five to get you started.
There are more reasons to choose a betting site than the bonuses they offer, of course. But if you're looking to make money betting on UFC 257, one of the best ways to do so is by chewing up bonuses and promotions.

Keep In Mind…
You may be entitled to sign up for multiple bonuses on several sites, providing you meet the eligibility criteria set by the betting site or app..
Remember, most free bets, sports betting bonuses, and various promotions come with wagering/turnover requirements. So make sure that you understand the terms and conditions of bonuses before you agree to them.
Read on for more on this crucial fight in the UFC lightweight division.
Bet ASAP if Backing McGregor
Most bettors looking to make money betting on UFC 257 will look to the headline fight between Conor McGregor and Dustin Poirier.
In simple terms, this fight is where it's at. It is, by far, the most exciting bout on the bill and therefore gamblers will be more inclined to bet on it because they will be more likely to watch this one over the others.
Now, I'm not entirely sure how experienced you are when it comes to betting on Conor McGregor's fights. Shouting at the screen won't help, I'm sorry to say, as I can't hear you. So, instead, I'll assume that you want to hear what I have to say about how betting on McGregor ASAP is the way forward.
You see, one of the best ways to make more money on McGregor is to take his odds earlier than fight night. In theory, the best time to bet on McGregor is as early as you can, as his price almost always drops significantly when you compare his opening odds to his closing odds.
Here. Take a look at this table comparing McGregor's opening odds and closing odds for some of his previous fights.
| | | |
| --- | --- | --- |
| Opponent | Opening Odds | Closing Odds |
| Donald Cerrone | -160 | -344 |
| Dennis Siver | -588 | -1415 |
| Dustin Poirier 1 | +190 | -276 |
| Max Holloway | -190 | -385 |
| Chad Mendes | -105 | -210 |
As you can see, it can often pay, in the literal sense, to get on McGregor's early odds for a fight. So keep that in mind for the next time.
But, as for making money on UFC 257? Well, if you are betting on the Dubliner to win, take his odds now. They are not going to get any better, except for the most extreme of circumstantial change.
Not everyone looking to cash in on UFC 257 is going to be backing The Notorious to win, of course. But I believe there strong reasons why McGregor can beat Poirier.
Wait for Poirier's Odds to Get Better
Taking McGregor's odds as soon as possible is a good idea. IF you are betting on him to win, of course.
But the opposite should apply when backing his opponent at UFC 257— hold off until closer to the fight.
Poirier's price has been improving at a steady pace since odds opened for the fight in late 2020. Poirier opened with some online betting sites at +140, but the McGregor vs. Poirier line now sees him at +210.
I'm expecting his odds to swing out to about +240 by fight night, so if you are hoping to make money on UFC 257, take note.
Now, if you bet $100 on Poirier at +140 when odds were released, you'll probably be kicking yourself right now. You will receive a profit of $140 if he wins. However, if you would have waited until fight night, you would be looking at much more.
When it comes to odds for most of Conor McGregor's opponents, it's almost always best to hold off.
I believe that Poirier is set to shock a lot of bettors.
The value is certainly with the American in this fight, and there will be no sweeter way to make money on UFC 257 bets than with a surprise win for The Diamond. He is an awesome fighter and an even better dude outside of the cage, so it would be nice to see him shut a lot of people up.
Poirier has beaten some of the best of the best in the UFC. He is one of the best fighters on the roster and should be getting much more love than he is with bettors right now. More than this, he has the tools to overcome McGregor and even finish him in the fight.
Here are just five reasons why Poirier can beat McGregor and make you some cash betting on UFC 257.
When you're done reading that, let's take a look at how betting on props and specials could have you feeling like a million dollars on January 23.
Dive Into McGregor vs. Poirier Props and Specials
Regardless of whether you are looking for odds for McGregor to knock out Poirier, or odds for Poirier to submit McGregor, there will be plenty of prop bets and specials to get your teeth sunk into.
Wagering on props is definitely one of the best ways to make money betting on UFC 257. There is no question about it.
Many of the best UFC betting sites and apps have already released prop bets to get on, and I would always recommend checking them out for any McGregor fight.
The Irishman is a huge deal in the fight game, and betting sites tend to really go overboard in delivering numerous bets when he fights. If you're planning on maximizing your winnings at UFC 257, props and special bets can lead to ridiculously good value.
Prop Bets for UFC 257
There will be more McGregor vs. Poirier 2 prop bets than you can count available online.
But it's best to understand how to distinguish the good from the bad when betting on UFC 257.
For instance, you might think that odds of +5000 on McGregor to beat Poirier by submission represents great value. Well, it doesn't. It's just a massive price on something that has less chance of happening than Snoop Dogg winning an Olympic medal in the 100-meter sprint.
.@DustinPoirier dropping Perspective will be my alarm clock every day of 2021 pic.twitter.com/qHS1cp0jhu

— Matt Keohan (@MrKeohan) January 9, 2021
Poirier to beat McGregor by submission at +900? Now, that's what good value looks like. The reason why is that all four of McGregor's losses have come by way of submission and Poirier has won seven fights this way. He even submitted a genuine blackbelt in Anthony Pettis a few years back.
Now, that's not to say that all big odds should be ignored here. It's just about learning how to find value in betting odds, and not just taking the first big bet you come across.
You can expect all kinds of props and specials bets available ahead of the fight. You can find odds for the following, and so much more!
McGregor to KO Poirier
McGregor to Win in Round 1
Poirier to Win by Submission
Poirier to Win in Round 5
Fight to End in a DQ
Take Hooker's Odds to KO Chandler
Nau mai ? #ufc257 pic.twitter.com/XuXK3KiRck

— Dan Hangman Hooker (@danthehangman) January 5, 2021
Michael Chandler makes his UFC debut against Dan Hooker at UFC 257, and I think he's in for a little surprise.
Chandler, a former three-time Bellator lightweight world champion, faces a super tough test against Hooker on the night. The Kiwi is long, rangy, tough, powerful, and has one of the most improved takedown defenses in MMA.
Put simply, I think Hooker's odds to beat Chandler are very good.
Considering the former Bellator man is making his UFC debut at 34 and has been fighting a weaker standard of opponent, he should be a significant underdog. Instead, you can get odds of -135 for Hooker to beat Chandler.
Having only signed to the UFC in September, is Chandler ready?
Get on my Hooker vs. Chandler betting preview for odds, best bets, and a prediction for the fight. Money in the bank? Let's hope so.
Study the Lesser-Known Fighters at UFC 257
There is a LOT of money to be made betting on fighters with lower profiles at UFC 257.
There are a few potential stars on the card that will be not be getting major love from the general betting public. One fighter in particular, the unbeaten Movsar Evloev, is one to take a look at.
Evloev is another dominant athlete from Russia that has huge potential in the featherweight division. Amazingly, Evloev's odds to beat Nick Lentz by KO/TKO/DQ/Submission are +240.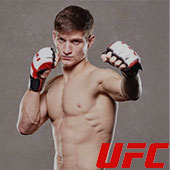 That is an insane value bet for UFC 257. But it will pass many bettors by, because they will be focusing on making money from the McGregor or Hooker fights.
There is nothing wrong with that, of course, but if you really want to see profits from UFC 257. I'd suggest studying the lesser-known fighters on the card.
For example, the Nasrat Haqparast vs. Arman Tsarukyan and Andrew Sanchez vs. Makhmud Muradov bouts aren't likely to catch a lot of attention. This could be a very good thing for your chances of turning a profit at UFC 257.
When teaching anyone how to bet on UFC fights, this is one of the first things that should be emphasized.
In Summary
And that's pretty much it for my money making tips for UFC 257.
From squeezing free cash and bets from bonuses to playing smart and waiting it out for better odds, you are sure to have a much better chance of winning your McGregor vs. Poirier wagers and UFC 257 bets if you follow the simple guidelines above.
UFC 257 goes down on Saturday, January 23. We will be covering more of McGregor vs. Poirier 2 and the rest of the fights via our UFC betting blog and UFC picks section.
I'll leave you with some content that will further increase your chances of making money on the fights. Enjoy!