Shortstop Rankings for 2021 Fantasy Baseball

The days of shortstop being one of the thinnest positions in fantasy baseball are long gone. There's power and speed everywhere you look, and you don't have to spend an early-round pick to secure a reliable starter.
Let's run through a set of 2021 fantasy shortstop rankings to get you ready for your draft.
The 10 Best Fantasy Shortstops in 2021
Fernando Tatis Jr. tops the list of the best fantasy shortstops in 2021. In fact, Tatis is arguably the most alluring fantasy batter in the upcoming season, period. The SS position is so stacked this year that guys like Javier Baez and Dansby Swanson didn't even crack the top-10.
Here's what that top-10 list looks like.
1 – Fernando Tatis Jr., Padres
This 22-year-old Dominican is on a fast-track to superstardom. Lodged between Trent Grisham and Manny Machado in one of the best lineups in baseball, it's hard to put a finger on how high Fernando's ceiling is.
Having said that, Tatis has played in 143 regular-season games. The table below gives you a glimpse of what he's capable of producing in a full year.
Fernando Tatis Jr. – MLB Career
Games
Plate Appearances
Batting Avg.
Runs
Doubles
Triples
Home Runs
RBI
Stolen Bases
143
629
.301
111
24
8
39
98
27
Expect Tatis to be selected within the first four picks of the majority of fantasy baseball drafts.
2 – Trea Turner, Nationals
When the dust settled in 2020, Trea Turner ended the season with huge numbers across the board. To be more specific, Trea sported a .335 clip at the plate with 12 homers, 12 steals, 15 doubles, and 41 RBI. Averaged out to a 162-game season, that amounts to around 33 homers, 33 steals, 41 doubles, and more than 110 RBI.
After leading the league in hits and triples, the Nationals shortstop is poised for another huge year in 2021.
3 – Trevor Story, Rockies
35 or more jacks in 2018 and 2019 allude to Trevor's ability to drive the ball over the fence. Couple that with his speed on the basepaths and Story's a top-3 guy in my 2021 fantasy SS rankings.
After swiping a combined 50 bags in '18 and '19, Story led the NL with 15 steals in 2020. And there's more.
Those who play in roto-leagues, know that Trevor's batted at least .289 in three consecutive seasons.
4 – Bo Bichette, Blue Jays
Talk about an MLB shortstop oozing with upside, Bo Bichette is locked and loaded to be a fantasy stud in 2021. Slated to hit third in Toronto behind George Springer and Marcus Semien, Bo's a good bet to eclipse 100 runs and 100 RBI.
Throw in 25+ homers and around 20 stolen bases with a .300+ BA.
Forget about just being one of the top fantasy shortstops, I see Bichette ending 2021 as one of the top-20 fantasy batters.
5 – Francisco Lindor, Mets
From 2017-2019, one Major Leaguer amassed at least 30 homers and 15 stolen bases in every season. It wasn't Mike Trout. It wasn't Mookie Betts, and it wasn't Christian Yelich.
It was Francisco Lindor.
Francisco Lindor – By the Numbers
Season
Home Runs
Steals
2017
33
15
2018
38
25
2019
32
22
If anything, the transition to the Mets lineup should increase Lindor's productivity. Whether the switch-hitting shortstop bats first, second, or third in New York, he'll be surrounded by a host of All-Star caliber batters.
6 – Corey Seager, Dodgers
Corey was hurt off and on in 2018 and 2019, thus, he was unable to deliver on a consistent basis. Seager was finally healthy in 2020, and voila.
The 2016 NL ROY hit .307 and launched 15 dingers – ending the season as SS4 in standard leagues. Corey was even better in the postseason boasting a .328 clip with eight home runs across 67 at-bats. He was deservedly named as the MVP of both the LCS and the World Series.
7 – Tim Anderson, White Sox
Tim Anderson led the Majors in 2019 with a .335 batting average. He led the American League in 2020 with 45 runs, and he was honored as a Silver Slugger for the first time in his career. Hitting leadoff for the Southsiders is most definitely an enviable position to be in.
Looking ahead toward 2021, the White Sox SS is in line to register 20+ homers and 20+ steals, and he could very well lead the league in runs scored again.
8 – Xander Bogaerts, Red Sox
Inserting Xander Bogaerts in the 8th slot demonstrates just how deep the fantasy shortstop rankings are. Bogaerts has ended the year as one of the seven best fantasy SS's in each of the last three seasons, including finishing as SS2 in 2019.
After pounding out 33 HRs and 117 ribbies, Xander accounted for 11 homers and 28 RBI in the truncated 2020 campaign. He also stole eight bases and hit .300, and nothing suggests he's going to slow down anytime soon.
9 – Didi Gregorius, Phillies
After being bitten by the injury bug during his last few seasons in the Big Apple, Didi Gregorius' body held up for the Phillies in 2020. Didi played in all 60 regular-season games and finished the year as the team's leader in total bases and RBI.
The 31-year-old isn't a candidate to steal a whole bunch of bases, but he rarely strikes out and will be hitting behind lots of big bats in Philadelphia. 100+ RBI are in the realm of possibilities.
10 – Gleyber Torres, Yankees
Gleyber's struggles in 2020 can be traced directly back to his poor conditioning when the season began. However, upon returning from a quad injury on September 5th, Torres picked up his play dramatically. The Venezuelan middle infielder was especially tremendous during the playoffs.
Gleyber Torres – 2020 Playoff Numbers
Games
At-Bats
Hits
Home Runs
RBI
Walks
Strikeouts
Batting Avg.
7
23
10
2
5
7
6
.435
Remember, this is the same dude that clubbed 38 homers in 2019.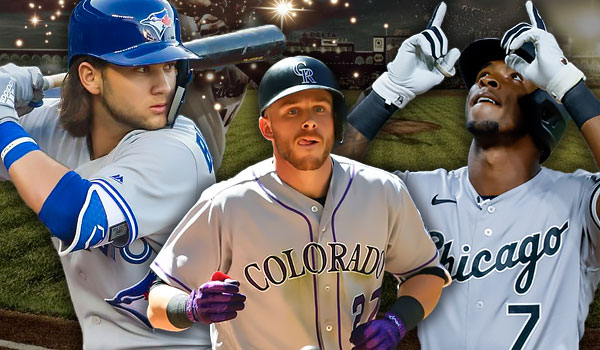 Shortstop Rankings Continued (11-30)
11. Adalberto Mondesi, Royals
21. Willi Castro, Tigers
12. Marcus Semien, Blue Jays
22. Chris Taylor, Dodgers
13. Dansby Swanson, Braves
23. Paul DeJong, Cardinals
14. Javier Baez, Cubs
24. Andres Gimenez, Indians
15. Carlos Correa, Astros
25. Elvis Andrus, Athletics
16. Jake Cronenworth
26. Willy Adames, Rays
17. David Fletcher, Angels
27. Nick Ahmed, Diamondbacks
18. Miguel Rojas, Marlins
28. Jonathan Villar, Mets
19. Tommy Edman, Cardinals
29. Andrelton Simmons, Twins
20. Jorge Polanco, Twins
30. Jose Iglesias, Angels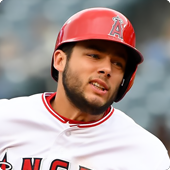 I don't expect Marcus Semien to return to his 2019 form that led to him being the highest-scoring fantasy SS in the MLB. On the other hand, he should be more valuable than he was in 2020 when he hit .223 in a suspect Oakland lineup.
Semien's now sitting pretty north of the border sandwiched between George Springer and Bo Bichette. 20+ homers and double-digit steals are fair projections, and he should wind up scoring well over 100 runs. Also worth noting is Marcus will move to second base full-time, meaning it won't be long until he gains 2B eligibility.
One of the fantasy baseball sleepers who's now creeping up on most people's radar is David Fletcher. The Angels second baseman comes with shortstop eligibility, plus he'll have third base eligibility in some leagues as well. This gives you flexibility in the infield when you're filling out your roster.
Keep in mind – David's going to bat in front of Mike Trout and Anthony Rendon. Based on Fletcher's ascension through his first three seasons in the majors, Joe Maddon's in pretty good hands.
David Fletcher – Slashing Numbers in the Majors
Year
BA
OBP
SLG
OPS
2018
.275
.316
.363
.678
2019
.290
.350
.384
.734
2020
.319
.376
.425
.801
BA = Batting Average
OBP = On-Base %
SLG = Slugging %
OPS = On-Base % + Slugging %
Keeping in line with fantasy shortstop sleepers, Willi Castro made a monumental leap in what was officially his rookie season. Castro appeared in 30 games at the big league level in 2019 and hit .230 with one homer. In 36 games for the Tigers in 2020, the 23-year-old batted .349 and smacked six home runs.
Willi is yet to flash his speed in Detroit, although he swiped 17 bags in 119 AAA games in 2019. Ending the year as one of the 10 best fantasy shortstops isn't out of the question.
More Fantasy Baseball Rankings for 2021
You may not be as bullish on Bo Bichette as I am. You might be bearish on Didi Gregorius and not have him ranked as one of your top-15 shortstops. That's ok.
The beauty of fantasy SS rankings before the season starts is that mine don't have to match yours. You don't have to agree with my bold MLB predictions.
While you continue mulling things over, feel free to peruse through fantasy baseball rankings for the rest of the positions.