Series Odds, Picks, and Predictions for Round One of the 2022 NBA Playoffs

The 2022 NBA Playoffs are underway, and we have some great matchups in the first round. With the play-in tournament games being a success, the first round is officially set and ready to roll.
The two teams to place first in their conferences include the Miami Heat (53-29) for the East and the Phoenix Suns (64-18) for the West. Both teams have had incredible seasons and will be looking to prove why they are the top dog for this year's playoffs.
Now is the time to get our NBA playoff predictions in before the playoffs start. Here are the NBA series odds for the first round of the playoffs on the best NBA betting sites.
Where to Bet on the 2022 NBA Playoffs
Before we get into our NBA playoff series odds, we have to know where to place our bets. These will be your go-to sites for your NBA betting needs for the playoffs and beyond.
Each site offers competitive odds, unique props, nice promotions, and generous welcome bonuses. It only takes a couple of steps to get your account set up to take advantage of all of those offers and don't be afraid to sign up on more than one as well.
Be sure to have your personal information (ID, social security number) handy to plug in your information. This is the safest way to participate in sports betting. Otherwise, you could be risking more than just the money you bet on other scam betting sites.

Top Tip
I would also have your preferred payment option ready as well. Not only can you load your accounts with your debit/credit card, but you can also even pay and get paid in the form of cryptocurrency.
Check out the best bitcoin betting sites if that's something you are interested in.
The next step would be to choose your site. This can be the site that offers the best welcome bonus in your eyes or has the layout you like the most. Once you're all set up with your chosen site, you can head over to the basketball betting page to make all your NBA playoff predictions.
2022 NBA Playoff Series Odds
The sites in the above section will also be offering NBA series odds in addition to each individual game. These NBA playoff odds are nice ways to choose which teams will advance rather than win a specific game.
These picks could be a bit easier to make because the games by themselves could be dependent on game location or injuries to certain players. I highly recommend looking at making your own NBA postseason series picks due to the difficulty in picking one game at a time.
If you are also interested in betting on individual games, check out our NBA picks page for recommended bets.
Here's a look at each NBA playoff series odds to win round one on Bovada. Once the play-in tournament is finished, we will have more options available to us as well.
Utah Jazz (-350) vs. Dallas Mavericks (+275)
Toronto Raptors (+170) vs. Philadelphia 76ers (-200)
Minnesota Timberwolves (+300) vs. Memphis Grizzlies (-395)
Denver Nuggets (+180) vs. Golden State Warriors (-220)
Brooklyn Nets (+115) vs. Boston Celtics (-135)
Chicago Bulls (+700) vs. Milwaukee Bucks (-1200)
No. 1 Phoenix Suns vs. No. 8 TBD (Winner of Clippers/Pelicans)
The league's best regular-season team and last year's NBA Finals runner-ups in the Phoenix Suns will be the No. 1 seed in the Western Conference this year. They have had an incredible season and proved to be one of if not the best team in the NBA this year.
They couldn't seal the deal in 2021, but that could fuel them to get the job done in 2022. Phoenix awaits the winner of the Los Angeles Clippers vs. New Orleans Pelicans game in the play-in tournament.
I would say that the Clippers look like a likely opponent here, as Paul George's return to the lineup makes them a wildly underrated team.
Chris Paul's ring chase continues, and he's going to need a big effort this year if he wants to get the job done. A handful of other teams could very well win this year, so they have their work cut out for them.
The Suns should win the first round, no matter their opponent from the play-in tournament.
No. 1 Miami Heat vs. No. 8 TBD (Winner of Cavaliers/Hawks)
It seemed like the East had a carousel of teams in the No. 1 spot from time to time, but the Miami Heat got there when it counted most. They have put together a solid season and rose to the top when other East teams could have been there.
Miami plays incredible defense and won't be easy to beat in any game. Tyler Herro has taken a step forward this year, and Kyle Lowry has run the offense very well since coming from Toronto this offseason. Whichever team is playing them will have to fight tooth and nail if they want to make it out alive.
As for the round 1 opponent, they get either the Cleveland Cavaliers or the Atlanta Hawks. Similar to the Suns in Round 1, Miami should be able to come out on top no matter who they get.
No. 2 Memphis Grizzlies vs. No. 7 Minnesota Timberwolves
In their play-in tournament win, Patrick Beverley might have been the happiest person on the face of the Earth to defeat his old team, the Clippers. Minnesota's riding high into the first round will need their confidence.
Patrick Beverley just won the NBA Finals ? pic.twitter.com/DiR2prLcm2

— Action Network (@ActionNetworkHQ) April 13, 2022
They face off with the Memphis Grizzlies, who have been incredible this year. Memphis has probably been the biggest surprise to be at the top of the West, and they deserve to be here.
Ja Morant looked like a serious contender for the MVP award before missing some time due to injury. The Grizzlies were so good that they went 20-4 in the games Morant missed in his absence.
That means they have incredible depth and will be a force in the Western Conference this year. I don't think any Timberwolves will be standing on top of the scorer's table at the end of this series.
No. 2 Boston Celtics vs. No. 7 Brooklyn Nets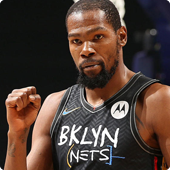 A team looking to lock up the No. 1 seed in the East recently was the Boston Celtics. They had an incredible record down the stretch but missed out on the No. 1 seed by just two games.
They might come back to bite them as they face the fearsome Brooklyn Nets led by Kevin Durant and Kyrie Irving in the first round. The Nets were the team in the East that was favored to win the East, but their season didn't go as planned.
Brooklyn and another top East team in the 76ers made a monster blockbuster trade, trading star James Harden away for a package around Ben Simmons.
Simmons has been rumored to be almost ready to make his Nets debut, so the Nets could be prepared to make a run at the title.
This could be the best series to watch in the first round. Each team has the talent to beat any other team in the NBA, so you can't go wrong either way here. With Robert Williams' injury coming at a terrible time for Boston, I am leaning more towards the Nets here.
No. 4 Dallas Mavericks vs. No. 5 Utah Jazz
A more impactful injury to a player has been Luka Doncic's injury for the Mavericks. The superstar point guard was having another incredible season and was looking to make a run in the playoffs this year.
His timetable to return is currently unknown, which is a major threat to the Mavs' chances this year.
The Jazz should consider themselves lucky to be facing the Mavericks right now, as they finished in first place in the entire NBA last year and couldn't seal the deal.
Utah has to have a chip on their shoulders for this playoff bracket. They didn't even make it past the second-round last year and lost to the Clippers 4-2. Doncic's injury should fuel the Jazz to a series win over Dallas.
No. 4 Philadelphia 76ers vs. No. 6 Toronto Raptors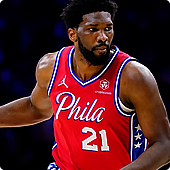 The 76ers were another team that finished two games out of the first seed in the East and ended up in 4th. That brings them to face an underrated Toronto Raptors team in the first round.
These two teams have gone head-to-head four times this year, and the Raptors have won 3 of them. Regular season games aren't the deciding factor here, but it's still a big deal for this series.
Joel Embiid will look to continue his MVP-worthy season with huge performances basically every night. He's been insanely good down the stretch and won the scoring title because of it.
He and James Harden will look to beat the Raptors, but Toronto is a tough team. They are well-coached by Nick Nurse and have a lot of great pieces. This will be an exciting series, and I'll take the underdog Raptors in a huge upset in Round 1.
No. 3 Golden State Warriors vs. No. 6 Denver Nuggets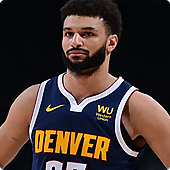 Guess which another underdog first-round team has won 3 out of 4 games against their opponent? That would be the No. 6 Denver Nuggets, who have had the Warriors number this year. Nikola Jokic has put together another incredible season and is the front runner for the MVP.
The absence of Michael Porter Jr. and Jamal Murray has not fazed him and the Denver team, as they are looking very good right now. Murray is also rumored to be close to making a dramatic return to the lineup, which is terrible news for the Warriors.
To add insult to injury, Steph Curry has been banged up with a foot injury. He could be missing the series opener despite trending upwards in his recovery.
This should be an exciting series, and I like the underdog again. Jokic is unstoppable, and the Warriors go through some bad droughts from time to time.
No. 3 Milwaukee Bucks vs. No. 6 Chicago Bulls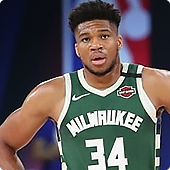 A team that I do not like as an underdog in my NBA playoff picks is the Chicago Bulls. They are matched up with the reigning champions in the Milwaukee Bucks, who have beaten them in all 4 of their games this year.
Props to the Bulls for totally turning their roster into a solid team, but they lack size outside of Nikola Vucevic. That opens the door for Giannis Antetokounmpo to shred them from the inside out.
Not only do they have the Greek Freak on their side, but they also have Brook Lopez and ex-Bull Bobby Portis. The Bulls lack of size has burned them all year, so they are in danger of being swept here.
Chicago will need massive performances out of Zach Lavine and DeMar DeRozan, which might still be enough here.
Bet on the NBA Playoffs at Bovada

Visit Site
Best Bets and Predictions for the NBA Playoff Series
Milwaukee Bucks to Win 4-0 (+250)
7 Total Games for BKN vs. BOS (+200)
Jazz to Win Game 1 and Series (-150)
Over 5.5 Total Games in DEN vs. GSW (-180)
For my first-round NBA series predictions on BetUS, I have four bets that look to have great value. When you place a bet on a series or something in the future, you want to make sure you are getting the most bang for your buck.
These bets appear to have great value considering the matchups between these eight teams.
The Bucks already swept the Bulls 4-0 in their games this season, so a playoff sweep seems likely here. You can adjust these for your own NBA postseason predictions if you think things will go differently.
Giannis Antetokounmpo is 12-0 against the Chicago Bulls since winning his first MVP. pic.twitter.com/1R7WjAvLSv

— BucksMuse (@BucksMuse) April 11, 2022
For example, you can take the Bucks to win the series 4-1 with (+175) or 4-2 (+400). They are already heavily favored to win the series in general, so this is a way to find value in your bets.
Another bet that should have great value is the Celtics and Nets series. These teams are full of talent and can go round for round in this series. With that being said, this series could quickly go to Game 7. If that's the case, the odds are pretty nice and would make for great television.
I also think a unique prop with value for round 1 is the Jazz to win Game 1 and the series. With Luka's injury putting his status for this game in jeopardy, Utah can take advantage and get a jumpstart on the series.
Denver looks underrated in this round as well. So that series looks like it can quickly go to Game 6 or 7.
Betting on Round 1 of the NBA Playoffs
These will be my final NBA playoff predictions for Round 1. Since a decent amount of the matchups seem lopsided in certain teams' favor, those unique props can be a great way to get some extra value.
The choice is yours. Feel free to place however many bets you like for any amount you're comfortable with if you think otherwise. The NBA playoff odds that are currently offered will be a great way to get your predictions in without deciding how every game will play out.
Can't get enough NBA action? Check out the following articles to get even more for the NBA playoffs and beyond.
September
Casino of the Month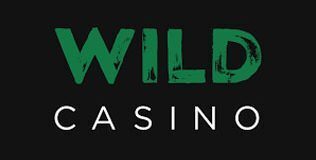 Welcome Bonus
250% up to $5,000