How To Safely Bet on Super Bowl 52 And Win Real Money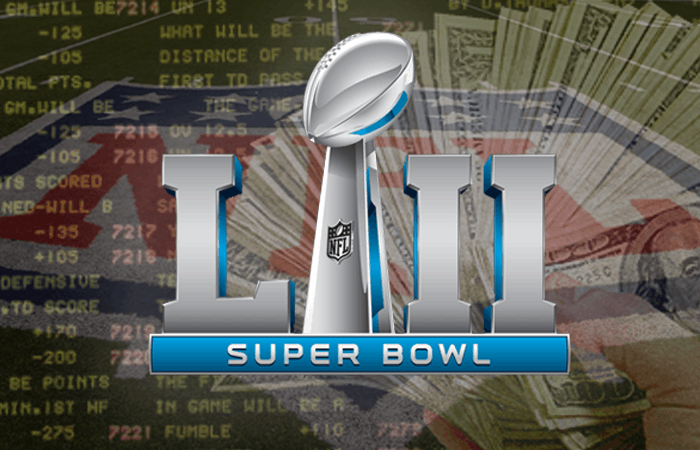 There's a first time for everything, and the Super Bowl is often the first time that people ever wager on sports.
If you're considering placing your first-ever sports bet on Super Bowl 52 (or even if you've dabbled in sports betting before but aren't really sure what you're doing), this article is for you. We'll explain how to safely bet on the big game between the Eagles and Patriots, and even give you a few tips on how to win some cash.
All odds that are referenced in this article were current as of 2 p.m eastern on February 2, 2018. These odds may have changed since the time of this writing.
1. Think Safety First
If done properly and responsibly, betting on sports is an extremely safe and fun way to enhance your viewing experience while also having a chance to make a few bucks.
However, like any other big-money industry, there are some shady sites and people out there who are simply looking to rip you off. Especially at Super Bowl time, where promises of massive bonuses and other promotional offers always need to be taken with a grain of salt.
If you're wading into the online sports betting waters for the first time, make sure you educate yourself first about the safest sites to bet at. Only use sportsbooks that have been around for a number of years, have a solid reputation for paying their customers, are licensed and regulated in the jurisdiction they reside in. The last thing you want to do is join some fly-by-night operation that is offering a huge bonus, deposit a bunch of money, hit a big bet on the Super Bowl and then not be able to withdraw your winnings.
In case you don't have time to do your own research, here's our list of the top Super Bowl betting sites that check off all the boxes we mentioned above.
2. Know Your Limit, Stay Within It
We could have included this advice in the last section about safety, but it's important enough that it deserves its own heading.
Whether you're betting for the first time or are a veteran gambler, it's easy to get carried away when you're betting on the Super Bowl. It's the most bet-on event in North American sports, so much is on the line for the participants, and you're probably watching it with a bunch of friends, only adding to the excitement. Maybe you're even having a few cold ones, which might make you a bit more reckless and carefree with your betting.
Please, please, PLEASE be sure not to wager more than you can afford to lose. Just because it's the big game doesn't mean the Super Bowl needs to be your biggest bet of the year. In fact, the Super Bowl point spread and Over/Under might be the toughest lines to beat in all of sports. With so many people betting on the game, oddsmakers are able to take all these opinions into account when setting the number. The bookies also need to make good and sure that they don't put out a bad line or they'll lose a ton of money.
A good rule of thumb among professional gamblers is to never bet more than 5% of their entire bankroll (an amount of money set aside specifically for betting) on 1 game.
You don't necessarily need to stick to that, especially if you're just a casual bettor who doesn't really need a bankroll to bet on anything else. But it's a good idea to set yourself a limit before the game begins and make sure that you don't exceed it, which is easy to do with live betting and halftime betting available. You don't want to wake up the day after Super Bowl 52 with regrets about betting more than you could afford to lose.
3. Get the Best Odds Possible
While choosing a safe and reliable betting site is the most important thing, you also want to use a site that is offering the best odds on the bets you want to make.
At the time that we published this article, the Patriots were 4-point favorites at some sportsbooks while they were 4.5-point favorites at others. Meanwhile, some sites had the Over/Under at 48.5, some had it at 48 and some even had it at 49. A half-point difference on the point spread or total may not seem that significant when you go to make your bet, but it is often the difference between winning and pushing a wager, or the difference between pushing and losing.
You also also want to make sure you're paying attention to the juice (the amount you need to risk on a bet relative to the amount you want to win) attached to the bets you're making. For example, at the time of writing, 5Dimes had the Eagles +4 at -101 juice while MyBookie.ag had the Eagles +4.5 at -115. Even though MyBookie is offering an extra half-point on the Eagles, you need to risk $115 for every $100 you want to win, as opposed to taking the Eagles +4 at nearly even money at 5Dimes. Personally, we'd much rather bet the Eagles +4 at -101 odds, since getting +4.5 doesn't increase your probability of winning the wager as much as 14 cents of juice would suggest.
The discrepancy in odds offered by different betting sites are often more substantial on Super Bowl props. At the time of writing, Bovada was listing Tom Brady at -110 odds to win the MVP award, TopBet.eu had Brady at -135 odds and MyBookie.ag made him a -170 favorite. By betting Brady to win MVP at Bovada instead of MyBookie, you're risking nearly half the amount on the same bet!
There may be some occasions in which you're willing to take slightly worse odds on your bet, like if you can take advantage of a big sign-up bonus at the site offering the worse odds. But otherwise, why would you choose to get paid less money on your winning wagers? Look around at all of the top Super Bowl 52 betting sites to see which one is offering the best odds for the bets you want to make, then sign up and take advantage.
4. Do Your Research
Some Super Bowl 52 prop bets will be decided purely by luck. Take the coin toss, for example. There's a 50/50 chance that the coin will land either heads or tails, or that the Patriots or Eagles will win the toss. No research in the world will help you increase your chances of winning that bet (which is why you shouldn't wager any significant amount on props like that.)
However, you can get an edge in many other Super Bowl 52 props (and even the point spread or total) if you simply do your homework.
With all the sports media networks and websites currently out there, there's so much data available about these 2 teams and their tendencies that it actually be overwhelming. My advice is to identify a few props or other betting angles in which you haven't noticed that much information about, then do some digging to see what you can find.
For example, did you know that the Patriots haven't scored any points in the first quarter of any of the 7 Super Bowls they've played in under Bill Belichick? Meanwhile, Philadelphia was third in the NFL in first-quarter scoring this past season, averaging 6.3 points per opening frame. Knowing this, Philadelphia +0.5 in the first quarter (a bet you can make at Topbet.eu and other betting sites) looks like a pretty smart wager.
5. Look for Value
Winning at Super Bowl betting isn't necessarily about picking the most winners. It's about identifying the best value.
What do we mean by that? Well, betting on big favorites all the time (-200 odds or higher, for example) will probably result in more winners than losers. But when you're routinely laying 2 to win 1, you need to win at least two-thirds of your bets just to break even. That makes it really hard to turn a profit.
A better approach is to make a bunch of smaller wagers on underdog-priced bets that are paying more than you think they should.
This will often require thinking like a contrarian (opposite of what the majority of people are thinking), but that's also usually where the best value lies.
None of the first 50 Super Bowls went to overtime, but anyone who took the inflated +1000 odds on the "Yes" last year cashed in big as the Falcons and Patriots went to OT. A few years ago, bettors who bet on the first score of the game coming on a safety hit a +5000 winner when the first snap of the game went over Peyton Manning's head and through the end zone.
You don't want to be putting big bets on longshots like these since they'll lose a lot more often than they win. But by sprinkling smaller wagers on a variety of different high-paying props, you only need to hit a couple of them to make some money betting Super Bowl 52.
Conclusion
Betting on the Super Bowl might be the most fun gambling experience of the year. There are so many different things to wager on (even for non-football fans), and you don't want to miss out on all the excitement that everyone else is enjoying.
If you're an inexperienced bettor looking to put some money on Super Bowl 52, the 2 most important things are to make sure that you join a safe and reputable betting site and that you don't risk more than you can afford to lose.
If you do both of those things, make sure you're getting the best possible odds, research your wagers and search for value, you even stand a pretty good chance at winning real money betting Super Bowl 52!