Why Russell Westbrook's Historic Run Makes Him a Lock For NBA MVP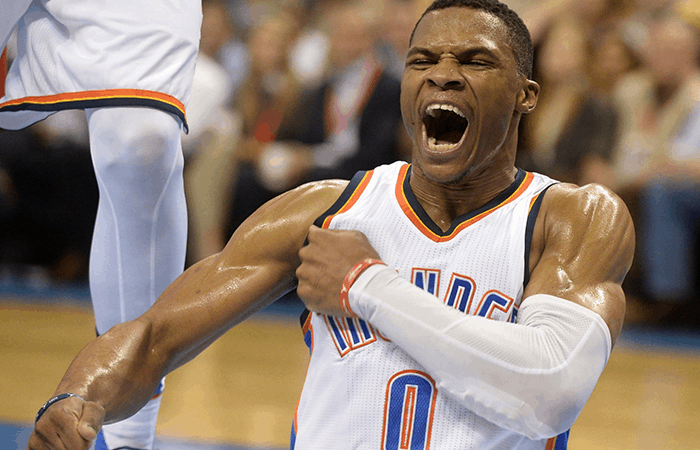 Before the start of the 2016-17 NBA season, many put Oklahoma City Thunder star point guard Russell Westbrook in the MVP conversation. With the departure of star forward Kevin Durant, it made good sense that Westbrook could go on an NBA killing spree (in a sense) out of sheer anger.
That's been very much the case.
In fact, Westbrook's torrid run through the new NBA season hasn't just met expectations. It's exceeded them. With a monster triple-double in his last game, in fact, Russell Westbrook joined prestigious company by averaging a full triple-double line on the season:
Triple Double Machine
Westbrook has been ridiculous from every facet, whether you're simply amazed at how one man can carry a team to a winning record in the competitive Western Conference, how a tiny guy can average over 10 rebounds per game or how anyone can put up these numbers.
As things stand, Westbrook is careering to the tune of 30.9 points, 10.3 rebounds and 11.3 assists per game.
Through his 19 games, he's set the tone perfectly for what currently is a triple-double and what could very well end up being the league's first triple-double averaged over an entire season since Oscar Robertson accomplished the extremely rare feat back in the 1961-62 season.
Actually, he'd be just the second guy ever to do so. Robertson set the foundation for the trip-dub club over 40 years ago, and here Westbrook is, picking up where one of the greatest to ever play the game left off.
Whether or not Westbrook can maintain these gaudy numbers and average a triple-double to close out the year may not matter, but if he does do it, it will go down in history as arguably the greatest individual season ever.
Why? Potentially four reasons.
First, the pace of the game is a little slower now than it was then. That means that Westbrook is getting fewer possessions (and chances) to add stats to his line on any given night.
A second reason could be the amount of games played. Robertson played 79 games in the year he averaged a triple-double. If Westbrook accomplishes the feat and plays in all 82 regular season games, his averages could end up looking stronger and more impressive across the board.
The third reason is simple: Westbrook's numbers in general could be better than Robertson's. As things stand, the two are dead even on points scored, Westbrook has the edge in assists and Robertson edges him out on rebounds. Maybe that stays the same or perhaps Westbrook's numbers even dip a bit. If they climb, however, Westbrook's triple-double season would be even greater.
The fourth is a big one: Westbrook could lead his Thunder to a deep playoff run.
Robertson's Royals made the playoffs and did some damage back in 1961-62, but if Westbrook can match/exceed that production and also guide OKC to a deep playoff run, his historic season could truly top Oscar's.
Usage Rate
One major key to Russell Westbrook's insane season is his ridiculous usage rate. His rate of 40% of possessions used tops anyone ever in league history right now. Kobe Bryant's eye-popping measure of 38% leads the league annals and at the moment, it's already eclipsed.
It's fair to wonder if Westbrook will tire out a bit and that number will dip, but 19 games isn't a small sample size. Barring major fatigue or a bad injury, this is the Westbrook we've been given, in all of his glory.
MVP Hardware
Westbrook says he doesn't care about individual stats or the drive for the triple-double. I'm not sure I believe him or even agree with the logic. You don't have to discard the desire to win or be part of a team to hate stats or personal achievements. Anyone who says you have to is either lying or doesn't know what it's like to score 30 points in a game (psst. It's great).
The point is, there has to be at least a tiny part of Russ that has his eye on Oscar's long-lasting mark. If not the triple-double record, Russ at least has to want to prove to himself, his team, any haters and heck, maybe even the departed Durant, that he can carry this team and lead it to glory.
Part of that undoubtedly had to be securing the league MVP trophy. Even if OKC isn't good enough to rally around Westbrook and surprise everyone by winning a title (they probably aren't), at least winning the NBA MVP award could show everyone he's the best player in the league, the most crucial player to the Thunder's success and/or such a huge NBA presence that the league wouldn't be the same without him.
When you're dropping a triple-double every other night, that tends to be the case.
So, what are Westbrook's NBA MVP odds? Per top online gambling sites, they look good:
Actually, they look great.
Russell Westbrook +200
James Harden +500
Kawhi Leonard +600
LeBron James +700
Stephen Curry +750
Kevin Durant +1200
Damian Lillard +1200
Anthony Davis +1200
Chris Paul +1500
DeMar DeRozan +2000
Blake Griffin +4000
Kyrie Irving +5000
Paul George +5000
DeMarcus Cousins +5000
Giannis Antetokounmpo +5000
Karl-Anthony Towns +6600
Isaiah Thomas +9000
LaMarcus Aldridge +9000
Carmelo Anthony +9000
Jimmy Butler +9000
Kyle Lowry +9000
John Wall +10000
Last we checked, Westbrook led the way with +200 NBA MVP odds and the next closest contender was James Harden (+500).
For now, Harden figures to be Westbrook's only serious competition and how their seasons unfold could very well dictate how the NBA MVP voting plays out.
Generally, whoever wins the NBA MVP award needs to have a pretty stellar statistical season, at least arguably be the best player at their position, definitely the best player on their own team and also be enjoying top shelf team success.
There could still be a case for Westbrook even if OKC didn't make the playoffs and he was averaging an insane triple-double, simply because it'd be historic.
But what if Harden closes in on that rarely charted territory? He's also putting up over 28 points, 12 dimes and almost 8 rebounds per game. If he improved his play and closed in on a triple-double (or Russ cooled off), this could suddenly be a dead heat.
Our bet still lies with Westbrook. Stephen Curry won the last two league MVP awards and with Kevin Durant now in Golden State, the Dubs are probably too loaded now to have him or any other Warrior win the award.
LeBron James, Kawhi Leonard, Anthony Davis and even a flaming hot DeMar DeRozan could all toss their hat in the ring before the season is up, but as it stands, this is Russell's MVP race to lose.