Hide Bonus Offers
| | | | | |
| --- | --- | --- | --- | --- |
| #1 | Bovada Sports | 50% Up To $250 | Visit Site | Bovada Sports |
| #2 | BetUS | 125% Up To $2,500 | Visit Site | BetUS |
| #3 | MyBookie | 100% Up To $1,000 | Visit Site | MyBookie |
| #4 | Everygame | 100% Up To $500 | Visit Site | Everygame |
| #5 | BetOnline Sports | 60% Up To $1,000 | Visit Site | BetOnline Sports |
Which Running Back Could Top 2,105 Rushing Yards?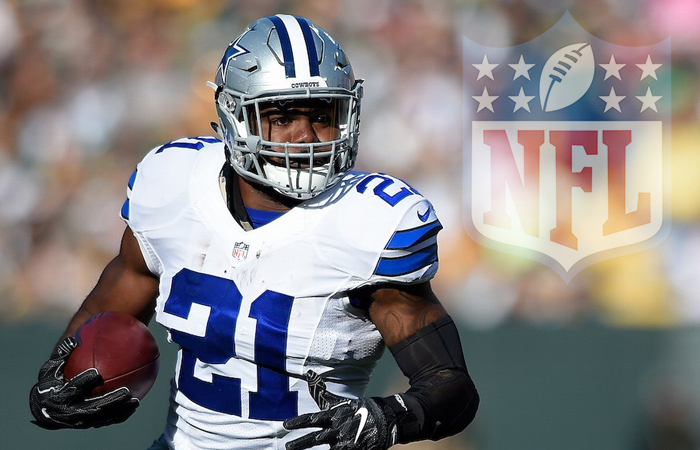 The 2017 NFL season brings about plenty of possibility, with one interesting narrative being who the league's top running back is. Le'Veon Bell is trying to land a massive contract with the Pittsburgh Steelers, Adrian Peterson is no longer in Minnesota, Marshawn Lynch has come out of retirement and both Ezekiel Elliott and David Johnson have a strong argument for being dubbed the most explosive rushers in the league.
That's just the tip of the iceberg when it comes to the best pro football has to offer on the ground, too. That's not even including the shifty LeSean McCoy, the bruising DeMarco Murray, the speedy Lamar Miller and so many other quality veteran rushers. Insert potential stud rookie backs like Leonard Fournette, Dalvin Cook and Christian McCaffrey, and 2017 may provide one of the best running back pools we've seen in some time.
While everyone is surely wondering who will win each division or who is the top threat to New England's throne, NFL bettors could make money elsewhere potentially. One lucrative bet rolls all of those elite rushers into one bet at MyBookie.ag, where we can project whether or not Eric Dickerson's long-standing single-season rushing yardage record will finally be broken.
Everyone looks at the top NFL records every year and wonders if this will be the year they'll go down, and the question surrounding that elusive 2,105-yardage record certainly qualifies. Dickerson's insane mark has stood firm for 33 years and it's a fair bet to assume it will stand for at least one more. Then again, it's not like there isn't plenty of running back talent in the league, and we have seen people come close to the mark.
Single Season Rushing Yardage Record Odds
Just seven players have ever eclipsed 2,000+ rushing yards in a single season and we are admittedly in a passing era, but Peterson himself came just 8 yards within the record back in 2012. Can someone rise up and go that extra mile to finally set a new rushing yardage record? The odds don't favor it.
Per MyBookie.ag, the value certainly lies with betting "yes", but the logic might not. Here's the bet:
The data supports the "no" play here, at least at first glance. Just seven rushers have even come remotely close by topping that 2,000-threshold and the league is moving more and more away from true feature running backs that carry the ball almost every down.
Just last year alone just one back (Ezekiel Elliott) carried the ball more than 300 times, while the league leader in rushing yardage (also Elliott) topped off at 1,631 yards on the ground. That's over 400 yards short of the record at hand. In fact, since Peterson came remarkably close back in 2012, the highest single-season rushing yardage total has been 1,845 (DeMarco Murray in 2014) and nobody else has topped 1,700 rushing yards since 2012.
The evidence doesn't promote this bet, but that doesn't mean we should stop considering the possibilities here. After all, we have some truly impressive rushing talent heading into 2017 and there are a select few candidates that may have the ideal combination of role and talent. Here's a look at our best bets:

Ezekiel Elliott – Dallas Cowboys
Zeke is one of the most explosive rushers in the NFL and he's only entering his second season in the league. He paced the NFL in both carries and rushing yardage as a rookie in 2015, so the sky really is the limit for this kid. He said he'd vie for the rookie rushing record last year and while he didn't eclipse that mark, a better 2017 run could have him taking down a more prestigious record.

Le'Veon Bell – Pittsburgh Steelers
There is no denying the sheer talent Bell possesses, as he's been a huge for in Pittsburgh's explosive offense for years. Off field issues and injuries have held him back from posting truly special numbers, but we've seen Bell dazzle in a variety of ways. Bell finished 2016 with 1,268 rushing yards despite missing four games. If we prorate his yards per game across a full 16-game season, we still don't get a viable contender (1,690 rushing yards), but we do get an elite talent that needs to be considered.

David Johnson – Arizona Cardinals
DJ might be one of my favorite threats at breaking this record, as he was an absolute monster in just his second NFL season last year, turning 293 carries into 1,239 rushing yards. That translated to a 4.2 yards per carry average, which could (and should) easily be improved upon when you look at how dynamic and explosive of a talent he is. Johnson got held back considerably by Arizona's struggles in 2016, but a healthier and more effective team around him could vault him into record-breaking status this season.

Other Viable Options
The three aforementioned running backs are easily our best bets due to their role, talent and overall athletic ability. All three were sensational last year and if they can stay healthy they'll all be in the mix to lead the NFL in rushing yardage on the year. Whether or not that means they're pushing for the single-season rushing yardage record, of course, remains to be seen.
They're not the only viable threats, though. The likes of LeSean McCoy, Jay Ajayi, DeMarco Murray, Lamar Miller, Jordan Howard, Devonta Freeman, Melvin Gordon and possibly Todd Gurley could also factor in to a certain degree.
It's always tough to see a special season coming and considering we've only seen a magical 2,000+ yard campaign seven different times, it's not any easier to predict who will do it or when.
If we had to pick one running back that makes the most sense here, it has to be Ezekiel Elliott. The Cowboys star running back was amazing as a rookie, has arguably the best offensive line in football and at 21 seems to only want to get better. When you look at his drive, talent, o-line and what he did in just his first NFL season, it really wouldn't be that shocking to see him give the record a run for it's money. If not right away in his second season, he has the goods to probably threaten it once or twice at some point in what should be an illustrious career.
Of course, Zeke could easily get hurt, he could deal with a sophomore slump, Dallas as a whole could regress or he could fall short by merely matching his rookie numbers – which alone would be plenty impressive.
The point here is that there is a ton of capable talent in the NFL, which makes the "yes" play perfectly viable. That being said, this is the type of history that doesn't come around that often. Even if a stud rusher has the pace, talent, role and luck to get remotely close to this record, they have to have everything around them click, they can't get hurt and they need to hope their dream season is special enough to crack a record that is going on almost 35 years old. Ultimately, we just don't see it happening in 2017.