Hide Bonus Offers
| | | | | |
| --- | --- | --- | --- | --- |
| #1 | Bovada Sports | 50% Up To $250 | Visit Site | Bovada Sports |
| #2 | BetUS | 125% Up To $2,500 | Visit Site | BetUS |
| #3 | MyBookie | 100% Up To $1,000 | Visit Site | MyBookie |
| #4 | Everygame | 100% Up To $500 | Visit Site | Everygame |
| #5 | BetOnline Sports | 60% Up To $1,000 | Visit Site | BetOnline Sports |
7 Rookie Mistakes You Can Make While Betting on Hockey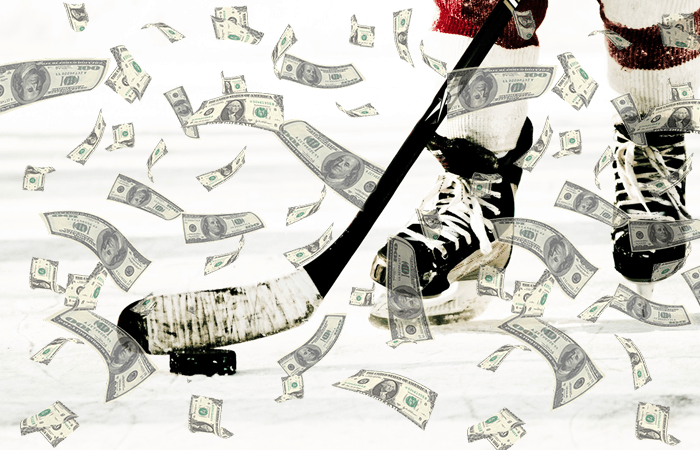 With its lightning-fast pace and non-stop action, NHL hockey is a ton of fun to bet on.
If you're new to the sport, however, there can be a bit of a learning curve at first when learning how to bet on it. Even the most seasoned NHL followers can struggle to turn a profit betting on hockey because they consistently make the same mistakes.
Here are 7 rookie mistakes, some unique to hockey and some that apply to all sports, that you might easily make when betting on the NHL.
1. Assuming a Game Is a Lock
Locks don't exist in any sport, but that's especially true in hockey! In a given season, 20-25% of NHL games are usually decided by overtime or a shootout. Many more end up being 1-goal decisions.
A bad call by a referee or a puck bouncing in the net off a skate or shin pad can be enough for huge underdogs to upend heavy favorites. Motivation levels are also a huge part of a high-effort sport such as hockey, and the league's powerful teams often don't bring the same intensity and focus to the rink when facing a big underdog as when they're taking on an opponent of similar caliber.
Don't simply look at a huge disparity in teams' records and assume that the favorite's always going to win. Consistently laying -200 or more with heavy favorites is a sure way to the poorhouse in NHL betting, since losing a few of them in a short span can do some heavy damage to your bankroll – especially if you're risking too much on those games.
A good approach when handicapping a hockey game is to try to find reasons to bet the underdog.
If you're having a tough time coming up with any, then it might be time to consider the favorite.
2. Always Taking Favorites on the Puck Line
Instead of laying the heavy juice on a big favorite, many rookie NHL bettors look to the puck line instead. The puck line, in case you're not aware, is similar to the point spread in basketball or football, where the favorite needs to win by a certain amount (almost always -1.5 goals in the NHL.)
What makes puck lines really appealing for novice hockey bettors is the big odds that usually accompany them. Even a -200 favorite will usually pay around +150 on the -1.5 puck line, and who wouldn't rather win $150 on a $100 wager, rather than have to risk $200 to win $100?
Those odds on puck line favorites are big for a reason, however. Though the Penguins, Capitals and Blackhawks were favored in nearly every game they played in 2017-18, they all had losing records against the puck line. That's because, as I said earlier, so many games in the NHL are decided by 1 goal.
You could always get lucky late in a 1-goal game because the losing team pulls its goalie for an extra attacker, occasionally resulting in an empty-net goal for the winning team and a 2-goal margin of victory. But those empty netters don't come as often as you might think.
There will be times in the NHL schedule when a bunch of factors point to a blowout win by a favorite, and you can really take advantage of the -1.5 puck line at plus money in those situations. Just don't make it your go-to strategy whenever you're betting a big favorite and don't want to lay the high juice.
3. Focusing on Shots on Goal
Looking at a team's recent shot differential (comparing shots for and shots against) is a common way to assess how a team is playing. But it can also be really misleading.
Lesser-skilled teams often shoot as many times as they can, regardless of whether they're in a good scoring area or not. By getting lots of pucks on net, they hope to score on a screen, deflection or rebound. Meanwhile, some of the better teams in the league will make the extra pass and limit their shot attempts for really strong scoring opportunities, taking the quality over quantity approach.
The score can also dictate how many shots a team is attempting. If a team jumps out to an early 3-goal lead, they'll probably go into more of a defensive shell and limit their risks offensively. An example of this was the Blues' 4-2 win over Dallas early in the 2017-18 season when St. Louis scored 3 times in the first period and then was outshot 28-12 over the final 2 periods. It's not necessarily that the Stars were dominating, it was also that the Blues were more focused on preventing goals than generating their own chances.
If you've got the time, it's good to pay attention to more advanced analytic stats such as shot attempts percentage in close games.
The National Hockey League's website has lots of different stats like this that can really help you better determine which teams are playing the best hockey right now.
4. Not Paying Attention to Which Goalie Is Playing
Goaltenders are the most important player for either team, so it's critical to make sure you know who's playing in net that night.
Even the best goalies in the NHL get 10-15 games off over the course of a long season. Spots where coaches often like to sit their #1 goalie and get their backup some action include when a team is playing back-to-back games or when they're facing an inferior opponent.
If you find out or expect that the backup is playing in tonight's game, make sure you check out his save percentage and goals-against average to see if he's a significant drop-off from the starter. Sometimes, betting on a team that has its backup goalie in net can be to your advantage because the odds overcompensate for the regular starter sitting the game out.
Washington's Philipp Grubauer and Nashville's Juuse Saros are backup goalies who put up really strong numbers last year. On the other hand, Pittsburgh and Dallas are 2 teams with poor backup goalies, making them really risky teams to wager on if Matt Murray and Ben Bishop aren't getting the start in net.
5. Putting Too Much Emphasis on Home Ice Advantage
Just like they do in any other sport, NHL teams have an advantage when they're playing at home. They don't have to travel far to the game, they get the last substitution after a whistle (helping coaches get the matchups they want) and they've generally got the crowd behind them.
However, home ice advantage doesn't seem as significant as it used to be, partly because every rink basically looks the same now. Long gone are the days of smaller arenas like the Buffalo Auditorium or the Boston Garden, where the home teams were more used to playing in the tighter confines and could benefit from that. Senators coach Guy Boucher was bang on when he said in the 2017 playoffs that all NHL rinks are simply "now ice and boards."
While home teams still win approximately 55% of games in the National Hockey League, they don't win as often as home teams in the NFL and NBA. It's also pretty common to see certain teams play better on the road than they do at home, possibly because they don't worry about entertaining their fans and instead focus on playing fundamentally-sound hockey.
6. Overreacting to Injuries
This is another mistake that bettors can make in any sport, but injuries in hockey are arguably less meaningful than in the NFL or NBA because even the top players don't usually play more than one-third of the game.
Of course, the Penguins have less chance of winning without Sidney Crosby and the Capitals will suffer a bit if Alex Ovechkin isn't in the lineup. However, the public perception that both those teams are screwed without their top snipers often creates an overreaction in the betting lines, commonly to the point that value actually lies with the teams missing their stars.
Certain teams can survive the absence of a superstar player more than others. Connor McDavid factored in on around 40% of the Oilers' goals in 2016-17, so he'd leave a huge hole in their offense if he had to miss a game. The Senators are also nowhere near as dangerous offensively without slick-skating defenseman Erik Karlsson carrying the puck out of his own end or quarterbacking the power play.
Just make sure not to rush to any conclusion that a team has no chance of winning tonight because of a key injury.
The oddsmakers always factor injuries into the betting lines, and players tend to focus more when they know they need to elevate their games to fill in for a missing teammate.
7. Not Getting the Best Odds Possible
You probably already know that odds can vary by sportsbook and that it's a good idea to have accounts at several different betting sites to get the best line possible.
However, it's especially important in moneyline-based sports like hockey and baseball. While the Packers may be 4-point favorites across the board this week or the Lakers are 7-point underdogs at all sites, moneylines almost always differ at betting sites.
The difference between +125 and +120 may not seem like that much, but if you took the inferior odds just 20 times over a long season, you're basically costing yourself an entire unit of profit. And if you're consistently getting 5 or 10 cents less on the moneyline than you should be, the difference at the end of the year will be a whole lot more than that.
Also be sure to try to stay ahead of the betting market so that you're not getting worse odds on a team than you could have earlier in the day. BetOnline is a great sportsbook to use for this because they often post their NHL betting lines the day before the games are scheduled, giving you the opportunity to bet into some soft openers before the lines start to move.
Betting favorites early and underdogs late is a good rule of thumb in this scenario, but also try to project which way the public is going to bet the game when determining when to bet it yourself.