Hide Bonus Offers
| | | | | |
| --- | --- | --- | --- | --- |
| #1 | Bovada Sports | 50% Up To $250 | Visit Site | Bovada Sports |
| #2 | BetUS | 125% Up To $2,500 | Visit Site | BetUS |
| #3 | MyBookie | 100% Up To $1,000 | Visit Site | MyBookie |
| #4 | Everygame | 100% Up To $500 | Visit Site | Everygame |
| #5 | BetOnline Sports | 60% Up To $1,000 | Visit Site | BetOnline Sports |
Roger Goodell vs. Donald Trump: Who Will Leave Office First?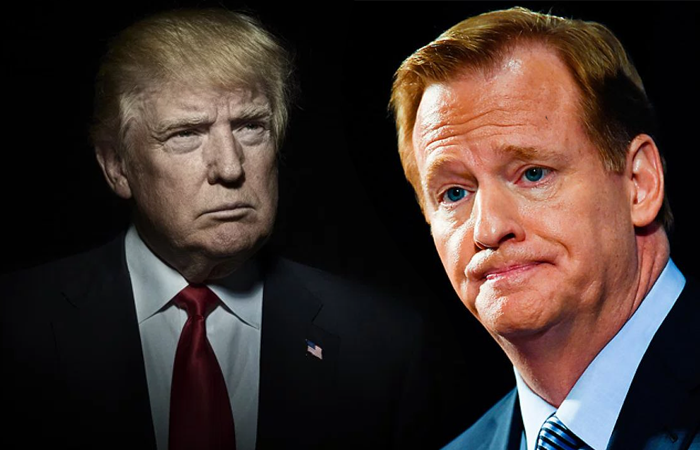 It might be difficult to name two men in the United States today that are more publicly loathed than NFL Commissioner Roger Goodell and President Donald Trump. Frankly, it's easy to see why neither is particularly well-liked. As Michael Rosenberg of Sports Illustrated phrased it, Goodell "is a rich white man representing even richer white men. His decision-making is inconsistent and sometimes unfair. He claims to be accessible but really isn't." Yep, pretty much.
As for Trump, we know the deal by now. He ran a vicious campaign that oftentimes crossed several lines, and now he's a President being marred by questions over whether he colluded with Russians in order to help win the race. He repeatedly burns bridges with those that previously supported him, tweets attacks at just about everyone, commonly lies to the general public and seems generally unfit to hold the job. A recent poll showed that the President's approval rating is all the way down to 38 percent.
Neither Goodell nor Trump is particularly popular, but there's a chance they could still both be around for quite a while. Goodell was reportedly nearing a contract extension with the NFL, but a group of owners reportedly have discussed potentially halting the agreement amid concerns that the Commish isn't doing a great job. Trump, meanwhile, will be out of office by January of 2021 if he doesn't win re-election. Of course, there's also the chance that he doesn't make it through his first term.
BetOnline is asking bettors to wager on which man will be the first to leave his post. Somewhat surprisingly, Trump is a heavy favorite here:
Donald Trump to Leave Office -500
Roger Goodell to Leave Office +350
When Might Goodell Leave?
As mentioned previously, Goodell had recently agreed to a new contract extension to remain at his post. The deal was expected to be consummated in September, but it has still not yet been signed as we head into November. In light of the recent controversy – which, ironically, has a lot to do with the President – involving national anthem protests, some owners are concerned that Goodell is not the right man to be running the NFL.
In a recent conference call between 17 of the league's 32 team owners, Dallas Cowboys owner Jerry Jones (who is essentially a shadow Commissioner at this point) voiced his concerns as to whether Goodell should remain Commissioner. Goodell has endured a number of slip-ups through the years. Many are critical of the way he has handled the anthem controversy, and everybody remembers the disaster that was the Ray Rice domestic abuse situation from a few years ago. Others have been dismayed by the league's handling of relocation, as well, which has already resulted in two teams moving to Los Angeles with another set to move to Las Vegas in two years.
One owner was even quoted as saying, "You don't get to have this many messes over the years like Roger has had and survive it." Hard to argue with that. Another added that "We just don't have enough problem solvers."
While the group of 17 owners is reportedly displeased with the way Goodell is operating, it's not easy to fire the Commissioner. The NFL would need 24 of its team owners to approve Goodell's firing. While it's not easy, there is reportedly more standing in the way of the contract extension than initially thought.
Owners have expressed frustration with the league's lack of leadership, which is something that obviously falls directly into Goodell's lap. For all of the troubles around him, Goodell has maintained that the league is in fine shape. He recently said, "We're not on the edge of destruction. It's an opportunity. It creates real energy, and it creates a great opportunity to get our leadership right going forward. You watch. We will come out of this as a stronger league, and our popularity will come back and increase."
Given all the roadblocks to potentially firing Goodell, it does make some sense that he's listed as the favorite to keep his job. For now.
When Might Trump Leave?
One would imagine there are far more Americans concerned with when Trump will leave office than there are that care when Goodell leaves. While the President and his administration have tried hard to shift the "corruption" narrative to Hillary Clinton and the Democrats, there are an awful lot of red flags surrounding Trump right now.
We received quite the bombshell earlier this week when Paul Manafort, who was one of Trump's campaign chairmen in 2016, was arrested and indicted on a number of charges. Ditto for Manafort's deputy, Rick Gates. We also learned that George Papadopoulos, who worked as an advisor to Trump, has already been arrested and pleaded guilty to lying to the FBI. In a plea deal, Papadopoulos agreed to work with special counsel Robert Mueller and his investigation to try and figure out whether Trump colluded with a foreign power during the election.
This is just the beginning, but Mueller and his team are clearly on to something. Mueller's investigation could eventually lead to an impeachment or a resignation from Trump, but that still feels like a long way off. Many expect Mueller's far-reaching investigation to last well into 2018, at the earliest.
This investigation and its results will be met with all sorts of resistance from both sides, and, as of now, there's no real telling where it may lead. Trump will certainly attempt to discredit the investigators along the way, and he will try to dismiss any negative findings as "fake news."
Trump could easily last all the way through 2020. We really have no way of knowing what the current investigation will turn up, nor do we know what kinds of ramifications there may be.
Which Will Leave First?
We think the value on Goodell here at +350 is too good to pass up. There are more roadblocks in front of a Trump exit than there are for Goodell to leave. There is mounting pressure on Goodell to vacate his post, and a strong push from the owners could certainly lead to his dismissal.
Give us Goodell at +350 to leave his post as Commissioner before Trump vacates the presidency.