Robert Whittaker vs. Kelvin Gastelum Betting – UFC 234 Odds, Predictions, and Pick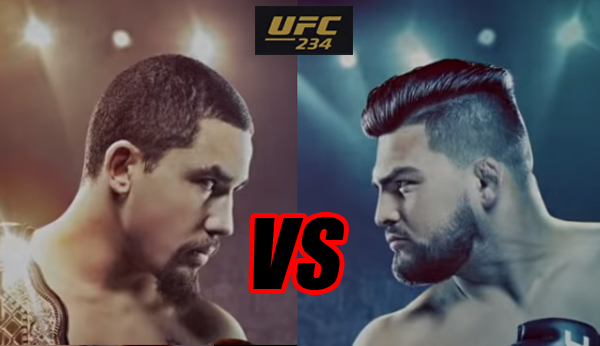 The rest of the world tends to view Australians as being upbeat, good-humored folk who enjoy the occasional surf and a barbeque.
Not simultaneously, I might add. That would just be downright dangerous, right?
I mean, it's not like Australians live among some of the deadliest spiders, sharks, snakes, and insects on the planet…
It's not just the animals of Australia that pack venom. Over the past few years, danger and Aussie fighters in the UFC have gone hand in hand, with Alexander Volkanovski in particular impressing.
Leading the charge in this Australian MMA revolution is, of course, the New Zealand-born Robert Whittaker.
Although his first breath was taken in Auckland — almost 1400 miles away from his residence in Sydney — "The Reaper" certainly regards himself as Australian as they come.
On Sunday, February 10, Whittaker will defend the strap he won against Yoel Romero in front of a sold-out Rod Laver Arena in Melbourne.
Having pulled out of the UFC 221 headliner in January of last year, the 28-year-old will be keen to put on a performance for those who missed out in 2018.
This will be the third time he has fought in Melbourne, having beaten both Uriah Hall and Derek Brunson here in 2015 and 2016, respectively.
Let's not forget that Whittaker will have his hands full on Sunday night. The challenger, Kelvin Gastelum, is more than capable of leaving Australia with one of the country's most prized sporting possessions.
This is a fine opportunity for the Californian to shock the world in his first UFC headline fight. Gastelum will not be overawed by the occasion, having headlined three Fight Nights in 2017.
This fight could be one of the most explosive clashes we see this year. Before I explain why, let's take a look at the odds for both men.
Latest Whittaker vs. Gastelum Odds
Robert Whittaker to Win
-240
Kelvin Gastelum to Win
+190
Odds via Bovada are accurate as of February 7, 2019.
As you can see, the odds are with the Australian in this clash.
It is perhaps not too surprising given that Whittaker is the champion, is in front of a home crowd halfway across the world, and, of course, hasn't suffered a loss since 2014.
Make no mistake, Whittaker is the fighter under the most pressure here, and he will have to work very hard to keep Gastelum at bay.
The American has more than just a puncher's chance against Whittaker. As we have seen from him over the years, Gastelum is a fighter that relishes the big bouts.
He will arrive at the Rod Laver Arena with the sole intention of bringing the UFC middleweight strap back to the United States.
Although how he does it might be of minor importance at the end of the night, there is no doubt he will have a solid plan heading into the cage.
Let's take a look at each fighter in a bit more detail before I reveal my pick for this fight.
Robert Whittaker – The Champion
Robert Whittaker, the man affectionately known as "Bobby Knuckles" among the Australian contingent of his supporters, has had a quiet start to his championship reign.
Despite beating the heavily-fancied Yoel Romero in July 2017 to pick up the UFC interim-middleweight crown (later promoted to undisputed champion), Whittaker has only been able to register a rematch against the Cuban since then (in June 2018).
The upside to that, of course, is that he has two wins over one of the most consistently dangerous fighters in the entire promotion.
There were many who were surprised at just how slick Whittaker looked at times against the "Soldier of God." To beat Romero once was special, but to beat him over the course of ten rounds was something that really solidified his place at the top of the middleweight heap.
As it stands, the champion can boast the following.
Longest active UFC win streak in the middleweight division (8)
Highest striking rate among active middleweights (5 per minute)
Third-highest takedown defense among active middleweights (81% at middleweight)
These statistics certainly show why Whittaker is so well regarded among the MMA community.
Although Gastelum is currently in fourth place according to the official UFC rankings, his title shot likely comes as a result of Whittaker proving he has the beating of Romero and "Jacare."
Take into account the fact that Romero knocked out Rockhold — who is currently ranked second behind the Cuban — and it seems a logical choice.
Key Skills and Strengths
You don't have to look very far to find what Whittaker's key attributes are.
He is a very well-rounded fighter who thrives off an excellent jab, a comprehensive striking game, solid power, great footwork, exceptional defensive acumen, and strong wrestling.
Perhaps the most underrated weapon in his arsenal is his high fight IQ. This mental strength allows Whittaker to impose himself on opponents based on their strengths and weaknesses and to adjust when things aren't going too well.
Kelvin Gastelum – The Challenger
Kelvin Gastelum is finally getting the opportunity to prove why he was so highly thought of in the MMA community over the years.
The 27-year-old has looked solid since his return to middleweight, racking up a record of 3-1-1 (No Contest) since December 2016. In that time, Gastelum fought three former middleweight world champions in Vitor Belfort (beating him before testing positive for traces of marijuana), Chris Weidman, and Michael Bisping.
His record shows one win out of three, which was against Bisping. Gastelum's spectacular knockout over the former champion led to the Brit retiring not long after.
This performance highlighted just how dangerous Gastelum's combination of power and speed is if it lands.
This is something that the American will be happy to prove to the Australian fans in Melbourne on Sunday night.
Gastelum has some very interesting stats, too. The two that stand out for me are as follows.
9 to 1 knockdown rate in the UFC
Fifth-highest striking rate among active middleweights (3.72 per minute)
A 9 to 1 knockdown rate is serious. This means that, for every time an opponent has knocked him down, he has knocked an opponent down 9 times.
He will need to work much harder to get through Whittaker's defense. In order to stand any chance of doing that, he will need to find a way to maneuver around the teeps and punches coming his way.
What we have seen from Gastelum in the past is that he backs himself against bigger fighters. The American has both speed and power in his hands and often looks to draw his opponent in before throwing shots.
This was evident in his fights against Weidman and Bisping. Gastelum likes fighting in a long stance and has excellent distance management of his own. There is nothing flashy about his game, but what he does inside the cage, he does well.
Against Whittaker, he will need the finest performance of his career to leave Australia as a champion.
Things That Could Influence the Fight
Whittaker and Gastelum are not the two flashiest fighters you will ever watch in the UFC.
However, that doesn't mean that they are not capable of spectacular finishes. Both men do the simple things very well but have also developed a strong game, in their own respects, heavily based on particular weapons.
Gastelum's speed and punching power will be respected by Whittaker, who will, in turn, punish the American if he has not worked out how to deal with what he does best.
Whittaker, perhaps more than any other fighter in the division, has excellent distance management skills. His fight IQ is very high, and this allows him to have his way with the majority of his opponents, who, at times, do not pick up what he is doing to them.
Even if they are aware of the subtle techniques Whittaker uses to get his opponents where he wants them, stopping it is another thing altogether.
If you watch both of the champions' fights with Yoel Romero — and his win against "Jacare" before those bouts — you will notice that Whittaker is equally as adept at creating openings as he is taking advantage of them.
By using Muay Thai teeps, he can push any opponent back that approaches in a linear fashion. On the back foot, the opponent then needs to make a decision to move to the left or right, and this is where Whittaker often pounces.
Against "Jacare," we saw Whittaker pressure the Brazilian into mistakes. Using the teep, he pushed his opponent back towards the cage.
While "Jacare" read the teep this time, countering with a right hand, he had no answer for what would come next. Whittaker feinted the teep, and "Jacare" dropped his head to the left in order to throw a right hand again but was met by a very cleverly disguised head kick.
Against Gastelum, who is faster and more powerful than Souza, this could be dangerous.
Gastelum usually likes his opponents to take the fight to him. Against Whittaker, he will need to find a way to manage the kicks to the midsection.
More than this, Gastelum — although light on his feet — does tend to place a lot of weight on his lead leg. Whittaker will certainly look to exploit this with inside low kicks to limit his mobility.
This will slow the American down and make it much easier for the Aussie to have his own way.
Things That Could Influence Whittaker vs Gastelum
I don't think this fight will go past the second round. Those thinking in a similar fashion can potentially win at odds of 7.50 with Betway for a second-round win in favor of the champion.
Of course, you're going to want to know why I'm confident that this one will end inside two rounds, right?
Put simply, I think Whittaker will take Gastelum out of there once he has figured him out.
I don't believe that it will take much longer than the first round to take everything in from the American's strategy, but given that the first round of a fight can often be a "feeling-out process" — especially when both fighters respect the power that the other has — a second-round stoppage seems more likely.
Aside from Whittaker's clever use of pressure, he is also pretty decent on the back foot.
One dangerous weapon he has when moving backward is a sweet left hook, and the challenger will invariably feel the full force of this punch if he isn't smart.
That being said, Gastelum does prefer to counter and will more than likely try to bait Whittaker forward — if the champion isn't taking the fight to him, that is.
This would be uncharacteristic, however.
Gastelum just doesn't have enough to trouble Whittaker. It's as simple as that. More than anything, the American's frustration in being unable to get close enough to his opponent as often as he would like could lead to him making errors.
If there is one fighter in the UFC middleweight division that capitalizes on mistakes better than the champ, I have yet to see him.
I think he wins by KO or TKO in the second round.
PICK
Robert Whittaker to Win
-240