Odds and Picks for Ric Flair's Final Wrestling Match

Ric Flair's Last Match odds sum it up. All great things must come to an end.
On July 31st, at the Nashville Municipal Auditorium in Tennessee, "The Nature Boy" will close the curtains on a wrestling career that has spanned almost 50 years in a special pay-per-view event. The greatest professional wrestler of all time won't be going out with a whimper, though. There's no way that can happen, surely.
You can bet on Ric Flair's final match odds. Perhaps, if you get things right, you could dry those tears away at the end of the night with a few green bills. It's how Ric would have wanted it. It is.
This betting preview of Flair's Last Match will touch on some of the best odds and markets for Sunday's event. I'll also be making predictions and betting picks for Ric Flair and Andrade El Idolo vs. Jay Lethal and Jeff Jarrett and looking at some of the other scraps on the card.
If you're looking to bet on the final match of Ric Flair's career, you will need a betting site!
Where to Bet on Ric Flair's Last Match
How We Rate

Safety & Security
You should be able to gamble online without fear. So we only recommend licensed sites that use the latest security and encryption techniques.

Bonuses
Maximize your bankroll with fantastic bonuses. Our recommended sites offer valuable bonuses with fair terms and conditions, including manageable wagering requirements.

Games & Betting
The best sites have the best wagering options. That's why you will find extensive games and betting opportunities on our recommended sites.

Banking
Getting your money to and from your account shouldn't be a hassle. We only recommend sites with a variety of convenient banking methods, including cryptocurrency and e-wallets.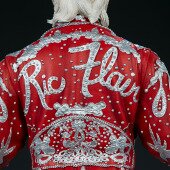 If you've already signed up for one of the top sportsbooks, you'll be ready to get your wagers down.
I've taken Ric Flair's last wrestling match odds from BetOnline and will discuss them in the next section. But by all means, feel free to look at any other leading betting sites and see what you can find.
One thing I strongly recommend before choosing odds for Ric Flair's final match is to make sure that they are the best you can get.
Now, most of the moneyline odds and prices will be close enough. However, with an event like this, you'll find numerous props and exotic markets you can wager on. After all, this is the greatest wrestler in history, and it's his swansong. It would be odd if it weren't seen as a major occasion, right?
Well, yeah. It would. And that's why the bookies will offer prices on several different propositions. So rather than betting on markets such as "Will Ric Flair win his last match?" or "How will Flair win?" you'll have a ton of more interesting bets that could be where the value is found.
All the sites above are 100% safe, legal, and trustworthy. All rank highly with our wrestling betting experts, scoring high points for great odds and markets, multiple payment methods, fast payouts, customer support, and so much more.
Oh, I almost forgot about bonuses and promotions.
The good news is that you can take advantage of multiple bonuses when you sign up for multiple sites. If that's something you would like to do, feel free. Just remember to double-check all of the terms and conditions of any offers you accept!
These sites are the best for betting on Ric Flair's final wrestling match odds. Again, I've taken my odds from the BetOnline sportsbook. I find this site is almost always at the top table when it comes to offering prices for pro wrestling events.
Latest Odds for Ric Flair's Last Match
Ric Flair and Andrade El Idolo (-2250)
Jeff Jarrett and Jay Lethal (+750)
If you have already jumped the gun and hit up the BetOnline sportsbook, these odds won't come as a surprise.
To everyone else, you can see that Flair and Andrade El Idolo are spectacular favorites to win. I mean, we all knew that was going to be the case. There is simply no way that the 16-time world champion is not going to bow out with anything less than a convincing win.
Well, as convincing as it gets for a 73-year-old who managed to fit five lives of partying into one. And is still going strong. OK, the late nights might not be as frequent, but this is still Ric f–in' Flair, folks! He's winning this fight. There's no other way around it.
Of course, that wasn't the case in Flair's previous retirement matches.
The iconic wrestler lost to Hulk Hogan at WCW Halloween Havoc in 1994, in what was meant to be his professional swansong. Fourteen years later, Flair would retire once more with a defeat to Shawn Michaels at WrestleMania 24.
To me this will always be Ric Flairs last match #RicFlairsLastMatch #RicFlair pic.twitter.com/cY34SnuzHb

— Stephen720 🏴󠁧󠁢󠁳󠁣󠁴󠁿 (@Stephen_720) July 19, 2022
I don't see this fight ending in defeat, however. It would make no sense at all.
Flair's arrogance and self-belief haven't waned. He is blatantly confident ahead of his final appearance, which sums up his psychology. This is one of the Mount Rushmore figures of wrestling, and he will go out with a bang.
"I'm going to walk that aisle one last time to prove once, and for all that to be the Man, you've got to beat the Man."
Will Ric Flair win his final wrestling match? We've concluded that it will happen. Clearly, betting on that will not appeal to most sensible people. You would have to put down $2250 to win $100, which is a little too steep for most of us.
Betting on the Other Fights on Ric Flair's Last Match
Unfortunately, there are no odds for the other fights on Ric Flair's Last Match card.
You can see the entire card below. I will update this section if odds are released between now and July 31. Otherwise, I'd suggest looking through the recommended betting sites above. They could be tempted to release some odds at some point.
Bunkhouse Battle Royale
Ren Narita vs. Yuya Uemura
Davey Boy Smith Jr. vs. Killer Kross
The Von Erichs vs. The Briscoes
The Wolves vs. The Motor City Machine Guns
Rock 'n' Roll Express vs. The Four Horsemen
Alan Angels vs. Jonathan Gresham vs. Konosuke Takeshita vs. Nick Wayne
Bandido vs. Laredo Kid vs. Rey Fénix vs. Taurus
Jordynne Grace (c) vs. Deonna Purrazzo vs. Rachael Ellering
Josh Alexander (c) vs. Jacob Fatu
Ric Flair and Andrade El Idolo vs. Jay Lethal and Jeff Jarrett
Rather than thinking about gambling on Ric Flair's Last Match odds on the line, how about looking over the various props on offer?
Maybe we could get a chance to make some money from those?
Best Ric Flair's Last Match Prop Bets with Picks
With the moneyline prices as they are, I'm at peace with leaving the Ric Flair last match betting odds where they are.
The props, on the other hand? They just might give us a chance to make money from the event. It's worth pointing out that there is more than the main event to watch on the Ric Flair match fight card. But the bookmakers have not provided us with odds for the supporting acts.
I digress. The Ric Flair match props are looking pretty interesting. I'm going to break these down individually before making my predictions for the last fight of Flair's career.
The First to Bleed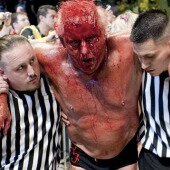 Ric Flair (-190)
Jeff Jarrett (+175)
Jay Lethal (+400)
Andrade El Idolo (+450)
Ric Flair's Last Match odds favor Nature Boy to bleed first.
I mean, the guy is in his 70s. Most of the other men on this list are relatively youthful compared to him so I can see the logic here. At odds of -190, Ric Flair to bleed first is not a bad bet, with all things considered. But I feel that might be a little obvious, so I am inclined to look past Flair and take something of a gamble.
Interestingly, Jarrett was initially favored to bleed first when the odds initially hit the board. Jeff was +125 and has since moved to his current price. Flair was originally the second favorite to bleed first in the retirement match, at odds of +175.
No One Attacks The Nature Boy & Gets Away With It! pic.twitter.com/J0A2KJJMs7

— Ric Flair® (@RicFlairNatrBoy) July 19, 2022
Who will bleed first in Ric Flair's Last Match comes down to how the script will go?
Remember, we are not betting on the WWE here. It's not an event that is on those levels. Therefore, the bookies will be a little more tentative about going overboard. But this is one of a few good props, nonetheless.
I think Jarrett and Lethal will start slowly before overtaking Flair and El Idolo and making it look like they are close to winning before pulling it out of the bag. But considering Flair was beaten to a pulp in front of the camera and left to bleed on the floor, revenge is on the cards. That leads me to believe that one of them, Jarrett or Lethal, will bleed first.
With the value with the latter, especially as he started the attack, I'll say Lethal.
Ric Flair's Move Performed First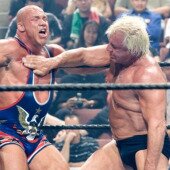 Knife Edge Chop (-600)
Elbow Drop (+550)
Leg Drop (+650)
Body Slam (+900)
Figure 4 (+1000)
Suplex (+1200)
What are some of the best-known features of the best self-promoter in wrestling history?
Well, we know he is one of the greatest WWE heels of all time. He's an electrifying presence. He is also a fighter who doesn't tend to go outside the box much. Now, what does that tell us when we are trying to make Ric Flair's Last Match predictions for his first move performed?
The chop! That's what. The chop.
Ric Flair's chops are his signature move. The man even claimed them to be his "whole offense" in the video above. Do you see what I'm getting at here?
At 73, Flair is unlikely to be throwing people around willy-nilly. But even my grandma could hit you with a sharp chop to the chest at that age. She didn't have the best "Wooo!" in her arsenal, but that would not have mattered an iota.
If we're talking about finishing moves, it will be the figure four leg lock. But we're not. We're discussing the first move he makes. And that's more than likely going to be the chop.
Pick: Knife Edge Chop (-600)
Will a Guitar be Broken?
This might seem like one of the most random props for Rick Flair's final match you can find on any of the top US betting sites.
That is if you're not aware of Jeff Jarrett. And more specifically, his guitar prop. Jarrett's main gimmick at one time was the ax-licking, country musician shtick, which saw him take a guitar into the ropes on several occasions. He also did this across several promotions, using the 6-string to beat down on some of his opponents.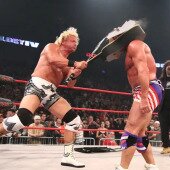 It's almost certain that these guys will cater to what the fans want. And that should include the guitar.
Ric Flair's Last Match odds are -200 that a guitar will be broken. And BetOnline's terms and conditions make it clear that it's "any part broken on guitar" that has action. Be it a string, the neck, or the body; this bet will pay out if anything on the guitar is broken.
Now, to break a guitar (this one won't be a Gibson Les Paul Standard 50's) means to make contact with any of the men inside the ropes. That includes his own teammate, too. But the thing here is that the bet doesn't stipulate who must do the breaking.
That means that we could, very conceivably, see Flair smash a guitar over Jarrett's head. Or anyone involved breaking one in pretty much any way imaginable.
I'll take yes!
Ric Flair's Last Match Predictions – Who Wins and Why?
This should be a wild event befitting of the great Ric Flair. It's not going to be lacking color, that's for sure.
Now, on paper, you would expect this to be a 50-50 match. But with Flair removing his robe for the last time, you have to go with Nature Boy to get the win. Having El Idolo do the heavy work will help Flair exhibit some of his legendary moves for his fans and go out on a high.
The other thing to consider when taking Ric Flair's final match odds is that the fight is scripted. It's not real. We're suspending our disbelief for the sake of entertainment when watching, but I would not advise taking that attitude to the bookies.
Be realistic with your wagers, whether it's a one-off event like this or one of the main pro wrestling events on the calendar. Think about the bigger picture before heading over to
WWE betting apps
and slamming your money down.
As I see it, there is only going to be one winner. That's why my Ric Flair Last Match pick is with Nature Boy ending the fight with his arms raised.
I mentioned earlier that the script would likely have Flair and El Idolo starting with a spark. They should put in a good showing for the first few minutes, which will lure the audience into thinking it's a walkover, only for Jeff Jarrett and Jay Lethal to get the upper hand and completely flip the fight on its head.
When it looks as though things are going against Flair and his son-in-law, we'll see the tug of war bending back in their favor. Idolo will take Lethal out before Flair, covered in blood, climbs over Jarrett and lands his figure four leg lock to take the win.
Woooo!
More Advice for Betting on Ric Flair's Last Match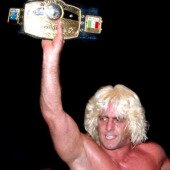 You've seen the Ric Flair last match betting odds. I've also provided you with my predictions, betting picks for the fight, and the available props.
If you're considering betting on the great man's swan song, you should be fully equipped to hit up the top sites and apps with logic and reason on your side. Now, I understand that mega fans of Flair might find it hard not to let emotion take over in this fight. But that's never a good way to bet, especially on something like pro wrestling matches.
Pro wrestling is scripted. You know it. I know it. I even think my dog is starting to suspect something.
When something is scripted, that means the outcome is predetermined. Thus, gambling on a Ric Flair last match prediction is the same as betting on which Marvel character will appear first in a new movie. Or the profession of Kim Kardashian's next boyfriend.
It's up to you to decide how this fight goes. We know it's already been written, so that we will be following the execution of that plan. The end has already been decided.
Of course, Ric Flair's Last Match odds point toward the obvious here. Flair is winning. As for the props, I've also said my piece. Now, it's up to you to decide what to bet on!
If you're not feeling this fight, how about getting your bets down for the 2022 WWE SummerSlam?
AUGUST
Casino of the Month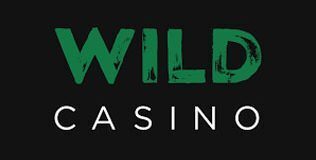 Welcome Bonus
250% up to $5,000
Read Review
Visit Site