Hide Bonus Offers
| | | | | |
| --- | --- | --- | --- | --- |
| #1 | Bovada Sports | 50% Up To $250 | Visit Site | Bovada Sports |
| #2 | BetUS | 125% Up To $2,500 | Visit Site | BetUS |
| #3 | MyBookie | 100% Up To $1,000 | Visit Site | MyBookie |
| #4 | Everygame | 100% Up To $500 | Visit Site | Everygame |
| #5 | BetOnline Sports | 60% Up To $1,000 | Visit Site | BetOnline Sports |
Reviewing UFC 229 – What Did We Learn and What Happens Now?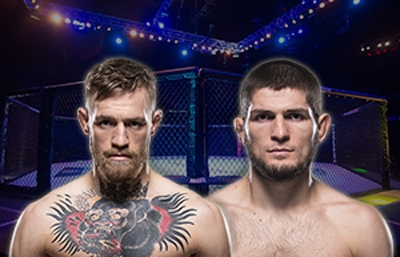 It's hard to say Khabib Nurmagomedov really shocked the world at UFC 229. Considering he was the consensus favorite across virtually all MMA betting sites, his eventual win over Conor McGregor was literally expected.
Maybe it was just shocking how it unfolded.
The Eagle certainly landed in this one. Again and again and again.
Nurmagomedov wasted no time incorporating his elite takedown offense, lunging for McGregor's legs almost instantly and opting not to relent for the majority of the four-round slugfest.
Fans booed in disagreement with Nurmagomedov's wrestling strategy, but it wore Notorious out and helped Khabibgain a round-four submission.
This bout went roughly as the top MMA experts expected, and now it sends both fighters forward into the unknown.
Is Notorious Finished?
I think the first thing to understand is that Conor McGregor wasn't necessarily exposed here. Everyone knew that he probably had the advantage if he could keep this fight standing up.
McGregor couldn't, simply because his takedown defense and grappling skills just aren't on par with the elite wrestlers in the UFC. That isn't a knock. It's just not the fighter he is.
When fighters with two very different styles meet up, it's often a battle of wills. The fact that McGregor staved off a KO or submission move until the fourth round is actually a testament to his ability to adapt on the fly.
He also took a beating and fired back in the third round, so there's no denying this dude's toughness.
McGregor suffered his fourth professional mixed martial arts defeat, but let's consider he was battling a guy who was 26-0 coming into UFC 229. This also goes down as his fourth submission loss, and he's never lost in any other way.
If McGregor can regroup and figure out how to avoid the floor, a rematch will again be must-see PPV.
McGregor recently signed on a huge contract extension with the UFC, and he's always been about moving forward, not backwards. He has a beef with Tyron Woodley and probably wouldn't mind trying his hand at other weight classes, either.
To really do that with credibility, however, Notorious needs to take down Khabib first. I don't know if Khabib is for sure his next fight, but that's the stepping stone to get him back to/keep his MMA mystique intact.
One other thing everyone needs to keep in mind is the fact that Notorious hadn't fought in the Octagon in almost two full years. Let's give the 30-year-old a break and see if he can't regain his form in 1-2 more matches before getting a second crack at Khabib.
Who Does Khabib Fight Next?
While a McGregor vs. Khabib II is absolutely going to happen, there's an argument that it won't be the very next bout for Nurmagomedov.
He's the champion, and he just got done defending his title against the top challenger – and former champ – so it's likely the UFC either gives him a break or has him take on the next major threat in the lightweight division.
To me, that has to be Tony Ferguson. El Cucuy has had awful luck when it comes to his health, and a showdown with Nurmagomedov literally was supposed to happen already and couldn't.
Now that Khabib got past McGregor, Ferguson is easily his top challenger in the lightweight division, and assuming the UFC doesn't just chase the ratings of a huge rematch first, this is the bout I'd look to.
This wouldn't be a locked-in victory for The Eagle, either. While he's obviously a terror with his takedowns, Khabib would be facing a guy who is much more versatile than McGregor.
I don't know if Ferguson actually wins, but this would be a big fight, and to maintain credibility, Dana White probably needs to make it happen.
Should Ferguson struggle with health as usual, Nurmagomedov could allow Eddie Alvarez the chance to get his title belt back or take on challengers like Dustin Poirier or Kevin Lee.
Is Khabib the New Face of the UFC?
If the UFC is smart, they'll start marketing Nurmagomedov as the next McGregor as soon as possible. The guy is undefeated, and his elite skill-set could very well keep that a fact for some time.
The Eagle just dominated the UFC's best lightweight striker and biggest star, so I'm not sure how you downplay that.
An instant rematch is obviously possible, and Khabib could give a title shot to the next lightweight challenger, but the UFC could blow up his stardom by thinking a little bigger.
That could involve huge names in the industry like Jose Aldo, GSP, Max Holloway, or the rising Brian Ortega.
It was supposed to be Notorious who would draw the hyped battle with GSP (and hey, maybe he still will), but now that Khabib scored such an impressive win, he deserves the right to own that card.
Maybe Khabib and the UFC dream even bigger and try a McGregor-like feat by upping the ante with a move to welterweight.
There waits Tyron Woodley, who has dominated the division and is an even nastier foe than McGregor due to similar toughness and power but also a dangerous submission game.
Summary
Whether Khabib makes the leap to Woodley, takes on Ferguson, or just bides his time until McGregor vs. Nurmagomedov II, this much is clear: this guy takes pride in what he does, and he's not afraid of anyone.
I don't think Khabib is unbeatable. But it's going to take a special performance to get past him.
Everyone has their flaws, and even in this UFC 229 bout, there were some moments (namely in round three) where McGregor seemed to find his groove and have the mild upper hand.
Maybe it's McGregor who works on his floor game to the point where he can land the surprise KO or drive home a decision win. He did it against Nate Diaz, so there's logic to him doing it again.
Perhaps it's the more eclectic Ferguson or the more powerful Woodley who finally delivers The Eagle his first MMA defeat.
But why do we even need to look for that first loss?
Khabib isn't the most likable UFC star, but he's utterly dominant and worth cheering for. In the name of Ronda Rousey – a hyped star who we thought could never lose – we may be witnessing the greatest MMA fighter ever, right here in front of us.
When that first loss comes, it will be pretty special, but it's not because you should hope for the upset. It's because Khabib is blazing a trail few would dare.
Let's hope he keeps it going for quite some time and allows us to just sit back and marvel at it.