Relief Pitcher Rankings for 2021 Fantasy Baseball

The grunt work for the 2021 fantasy baseball season is underway. Spring Training has teed off, too, so you are now approaching the home stretch concerning your league's fantasy baseball draft.
If you're a bit late to the game, hopefully I can help out.
Michael Wynn and I have already pushed out our top 2021 fantasy baseball player rankings, and you can find them at the bottom of this post.
The last position to be touched on is relief pitcher. Not every league uses them, some people don't really know how or where to draft them, and they ultimately don't necessarily swing things in most leagues.
Ranking the best relief pitchers is just half the battle, but you need to start somewhere. If you need a little extra help, get the process started with my fantasy baseball RP rankings for 2021.
The 10 Best Fantasy Relief Pitchers in 2021
You're looking for three things with your relief pitchers; guys who can get strikeouts, closers who can get saves, and elite arm talent that could project as a starting pitcher in the not too distant future.
Numerous starting pitchers qualify as RP at some fantasy sites and you'll absolutely want to mix them in as you try to profile the top relief pitchers for 2021.
For now, here are the top-10 relief pitchers for 2021 fantasy baseball drafts.
1. Josh Hader – Brewers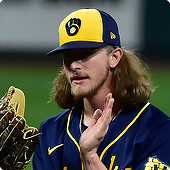 Hader still profiles as the most dominant relief pitcher in fantasy baseball.
He lost nothing in 2020, where he posted the third most saves in MLB, and racked up 31 strikeouts.
His ERA spiked, but he was still arguably the best RP in baseball.
He will continue to excel in Milwaukee, but it's always possible his situation only gets better.
There are plenty of trade rumors constantly swirling.
2. Liam Hendriks – White Sox
Hendriks finished second in saves and fantasy points last year, and I'll be mildly shocked if he doesn't contend for the #1 spot again in 2021.
He had 25 saves and ranked 5th in fantasy baseball the year prior, and this was all with Oakland.
The 32-year old can polish off saves left and right thanks to a nasty Chicago offense that may only be just hitting its stride.
3. Edwin Diaz – Mets
New York is known more for overpaying hitters and having aces that can't get wins. While true, they have some of the best pitching in baseball, and if their offense can get them in better position, Diaz could back the money truck up in regard to saves.
Diaz was already showing what he could do with 26 saves in 2019 (15th most in MLB), but it sounds like the 26-year-old is poised for his biggest workload yet.
">"My mindset is to be the closer"

Edwin Diaz is looking to ride the momentum from an impressive 2020 into this season https://t.co/BOYbzjM5yF pic.twitter.com/3gK4q8Dmnr

— SNY (@SNYtv) February 23, 2021
He's lingered as a fantasy asset in the past, and his numbers spiked in 2020. It's possible the shorter season helped him out, but it seems New York thinks he's simply ready for the next step in his development.
I'm absolutely on board, so long as he can keep his free passes in check.
4. Aroldis Chapman – Yankees
Some may just hand the explosive Chapman a top-three sport in knee-jerk fashion, but the 33-year-old is going to dip further and further when it comes to his velocity.
Chapman hasn't always been as reliable as you'd like, either, and he's pitching out of the ever volatile Yankee Stadium.
The heat and working behind that offense keep him in elite company, and I think the 6th best RP of 2019 can get back to that top-5 vicinity.
5. Kenley Jansen – Dodgers
Another guy that still has the goods to do major damage and is helped by an elite offense is Jansen.
He's had some issues come playoff time, but Jansen cracked the top-10 in 2019, and finished 11th last year. L.A. got even nastier on the mound by paying for Trevor Bauer, so there is still upside here.
Jansen's velocity and consistency has dipped, but he keeps getting all
of the closing chances in Los Angeles.
Until that's no longer the case, he has the top-5 RP upside fantasy managers lust after.
6. Raisel Iglesias – Angels
Iglesias enjoyed a career year despite operating for a middling team in a weak ballpark. I specifically love how he cleaned up his command, while his role being unclear may actually work in your favor in fantasy drafts.
The upside is obvious, though. Iglesias scored eight saves in 2020, and finished 12th in fantasy points accrued. In a better park for pitching, he could thrive and approach the top-5.
7. Brad Hand – Nationals
It's funny how we go about drafting players sometimes, as someone like Hand is arguably much safer than a couple of the guys above him.
That will happen when you sign on to close games where Max Scherzer, Stephen Strasburg, and Patrick Corbin do the dirty work ahead of you.
Washington's bats still need to rebound in 2021 – and Hand did drop a bit in terms of velocity last year – but you're looking at fantasy baseball's third best relief pitcher from a season ago.
If all goes well, Hand is a top-10 lock, and may very well again push his way into the top-5 discussion again.
8. James Karinchak – Cleveland
Normally I'd be a lot higher on Karinchak, but Cleveland has successfully parted ways with most of their enticing aces.
Carlos Carrasco, Mike Clevinger, Trevor Bauer, and Corey Kluber are all gone. Shane Bieber still heads a talented rotation, but one that is far less proven than it was just a couple of seasons ago.
That said, it's still got upside, and Cleveland's offense has some promise.
Karinchak didn't have many opportunities to close out games last year (one save), but he posted a 2.67 ERA with 53 whiffs over 27 innings. In a more defined role, he offers top-10 upside, if not more.
9. Kirby Yates – Blue Jays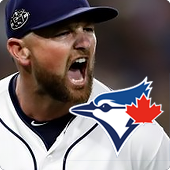 The 33-year-old Yates earned his stripes with the Padres, but he'll go overlooked thanks to an injury that limited to just six unproductive appearances last year.
Age and injury work against him, while Yates goes from an established team to a young one trying to learn how to win.
Even so, this was fantasy baseball's 4th best relief pitcher in 2019.
Yates paced the majors with 41 saves that year, while lighting batters up to the tune of 101 whiffs and a scintillating 1.19 ERA.
Yates is risky, but he has top-three upside if things break his way.
10. Nick Anderson – Rays
Tampa Bay continues to have one of the more loaded pitching staffs in baseball. They did part ways with Blake Snell, but the strength of their defense still lies within a stacked bullpen.
Anderson may be the best bet in that bunch, with the 30-year-old flashing absurd upside with a 0.49 WHIP and 0.55 ERA in 19 appearances in 2020.
The nice thing here is some may pay too much attention to Anderson's faceplant in the MLB playoffs last year. He was pretty candid about his struggles, and had an explanation for it.
"I didn't feel as good as I would have liked to, but it's the big leagues; you're not going to go out and feel good every time."
Anderson was quite aware that he was running on fumes and that his velocity was down. An odd season may have contributed to his breakdown. Recharged and equipped to have a monster campaign, I think he's a sneaky pick for top-10 upside.
RP Fantasy Rankings Continued (11-30)
11. Ryan Pressly – Astros
12. Craig Kimbrel – Cubs
13. Taylor Rogers – Twins
14. Devin Williams – Brewers
15. Trevor Rosenthal – Athletics
16. Drew Pomeranz – Padres
17. Rafael Montero – Mariners
18. Matt Barnes – Red Sox
19. Carlos Carrasco – Mets
20. Jesus Luzardo – Athletics
21. Amir Garrett – Reds
22. Greg Holland – Royals
23. Richard Rodriguez – Pirates
24. Alex Colome – Twins
25. Giovanny Gallegos – Cardinals
26.b Will Smith – Braves
27. Mark Melancon – Padres
28. Archie Bradley – Phillies
29. Diego Castillo – Rays
30. Jordan Hicks – Cardinals
You will also want to familiarize yourself with these 20 arms, who round out my top relief pitchers for 2021.
Pressly gets things going, while he probably joins Kimbrel and Rogers as three guys who are basically interchangeable.
It gets interesting in some spots, though, as there is usually one main closer (if they're consistent enough), and some of these guys may contradict each other. You'll want to be on the right side of them, or you'll just cross your fingers one of them elevates to a full-time starting pitcher role.
One that I have my eye on that could make that leap is Luzardo.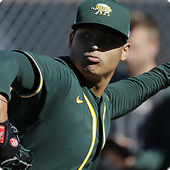 Luzardo is still kind of in-between being a full-time starter and helping out in Oakland's bullpen, and right now you can draft and roster him as both SP and RP at most fantasy baseball sites.
The talent is off the charts with Luzardo, who can bring the heat into the upper 90s, and has a filthy slider.
His main knock has always been his health, and he wasn't amazing (4.12 ERA) in nine starts last season.
It's possible the 23-year-old gets pushed back into the bullpen at some point, but for now, fantasy managers can draft him as a RP and use him in whatever slot they desire.
The Best Fantasy RPs in 2021
It can often be hard to project the best relief pitchers, just because guys get injured and shut down so easily, they get demoted, or teams just mess with the rotations too much.
They can also be impacted by changing teams and going to better/worse parks, their offenses can be downgraded, or the aces in front of them regress, get hurt, or leave town.
All that plays into a fluid position, so when drafting for RP early, be sure to take the guys you feel have a really nice foundation. That, or they offer upside with Ks, or have a potential path to a bigger role eventually.
Whatever the case, I hope my top relief pitchers for 2021 work out for you. Perhaps some of the other names that round out my 2021 fantasy baseball RP rankings can slide to you in drafts, too.
For more help as you prepare for your fantasy baseball draft, hit up the 2021 fantasy baseball position rankings below.