Recap of Day One of 2022 NFL Free Agency

NFL free agency always brings excitement, especially when your team makes a big signing. We'll have to wait until September to find out if that move paid off, but 2022 NFL Free Agency Day 1 gave us a lot to think about.
Some teams made noteworthy moves while others sat back and held onto their money. We could see them make a move later, but that recap is for a later date.
This NFL free agency recap will highlight the best and worst moves, winners and losers.
Best NFL Free Agency Moves on Day 1
Every team wants to start free agency on the right foot. Let's check out the best NFL free agency signings from day one.
Marcus Williams – Baltimore Ravens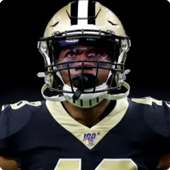 The Baltimore Ravens typically sit back and wait for the second wave of free agency. It looked like they would do that again, but they surprised many by signing safety Marcus Williams. Williams was among the top defensive free agents.
Williams, 25, has established himself as one of the best safeties in the league. He has 15 interceptions in his five-year career and will now join a Ravens secondary, including Marlon Humphrey and Marcus Peters.
Baltimore didn't come into free agency with a ton of money, but Williams gave them a bit of a discount. There were reports that he wanted $17-$19 million a year, so his five-year, $70 million deal is a steal.
The Ravens dealt with a plethora of injuries last season. Making one of the best NFL free agency moves will help upgrade their defense. Williams could give the Ravens shades of Ed Reed.
Alex Cappa – Cincinnati Bengals
All the news surrounding the Cincinnati Bengals has been upgrading their offensive line for the last year. Even with their struggles, they made it to the Super Bowl, but the Los Angeles Rams wreaked havoc on Joe Burrow.
If the Bengals wanted to return to the Super Bowl, they would need to make a big NFL free agency signing on the offensive line. The Bengals signed guard Alex Cappa to a four-year, $35 million deal.
#Bengals Alex Cappa Contract keeps looking better. 4 Yrs $35M ($11M Fully Guaranteed as Signing). Cash Payout is high at $13.5M for 2022.

I had Cappa projected at 4-$40M+ & $18M Guaranteed.

Cappa along with the Ted Karras deal were savvy moves by Bengals FO

— Chad Forbes (@NFLDraftBites) March 16, 2022
Cappa has been one of the best guards in football. Last season, he played the fourth-most snaps, allowing five sacks. That ranked just outside the top 10 among the fewest allowed. Cappa hasn't missed a game since 2019.
Considering the Bengals signed Cappa and offensive lineman Ted Karras, I'd say the 2022 NFL free agency day one was good to Cincinnati. They should be on the rise in our 2022 NFL power rankings.
Russell Gage – Tampa Bay Buccaneers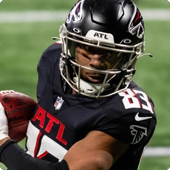 Let's be honest; the Tampa Bay Buccaneers became big winners when Tom Brady announced he would unretire and return to Tampa Bay. That overshadowed all NFL free agency moves. However, Tampa Bay still went on and upgraded their roster.
They made an under-the-radar move, signing wide receiver Russell Gage to a three-year, $30 million deal. That was a bargain considering Christian Kirk reset the wide receiver market.
Without Calvin Ridley, Gage became the Atlanta Falcons No. 1 wide receiver last season. Check out his numbers in the previous eight games.
50 receptions
611 yards
3 touchdowns
Gage's numbers could take a hit as the third or fourth option, but he has a chance to compete for a Super Bowl. Not to mention, he'll never have defenses keying in on him. We could be talking about this as a full day 1 NFL free agency move.
Worst Moves on Day 1 of NFL Free Agency
Not every NFL free agency transaction will work out. Let's talk about a few moves on the wrong side of the NFL free agency day one recap.
Will Dissly – Seattle Seahawks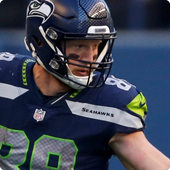 The Seattle Seahawks' biggest news came last week when the team dealt Russell Wilson to the Denver Broncos. They acquired multiple first-round picks while also bringing in three players. Perhaps their biggest pick-up was a tight end, Noah Fant.
Fant will surely take over as their starting tight end. Seattle had Gerald Everett and Will Dissly as free agents. Dissly is a better blocker, so it wasn't surprising to see him return. However, his three-year, $24 million contract left some scratching their heads.
I have no problem with the Seahawks wanting to retain a run-blocking tight end, but $8 million is a steep price for a one-dimensional player. Dissly has never cleared 25 receptions or 270 yards in his career.
Seattle is likely entering a rebuild, so it may not matter for their playoff hopes. Still, this doesn't seem like a good move on day one of NFL free agency.
Zach Ertz – Arizona Cardinals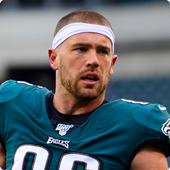 After a nine-year career with the Philadelphia Eagles, Zach Ertz went to the Arizona Cardinals midway through the 2021 season. Ertz was a solid contributor, recording 56 receptions, 574 yards, and three touchdowns in 11 games.
It's safe to say the 31-year-old is past his prime, but that didn't stop the Arizona Cardinals from giving him a three-year, $31.5 million deal.
I don't think it's a terrible idea for the Cardinals to bring back Ertz, but his price is a little high for my liking. His production and age put his market value around $7.5 million. That's why it's surprising to see him clear $10 million a year.
Arizona needed another option with Christian Kirk leaving, but they could've gone with a younger, cheaper option. The Cardinals aren't looking great between this and James Connor's contract after the 2022 NFL free agency day one.
Larry Ogunjobi – Chicago Bears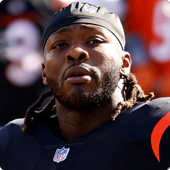 The Chicago Bears defense underwent a significant change ahead of free agency. They traded Khalil Mack and parted ways with Eddie Goldman. The latter move left an opening at defensive tackle. Chicago opted to fill that void by signing Larry Ogunjobi.
Last season, Ogunjobi signed a one-year deal with the Cincinnati Bengals. That proved to be one of the best NFL free agency moves as he posted a career-high 7.0 sacks. It'll be interesting to see how we view his three-year, $40.5 million contract with the Bears.
I understand the Bears wanted a defensive tackle to fit Matt Eburflus' scheme better, but couldn't they have kept Goldman or Akiem Hicks at a lower price? It's always risky to sign a player after one great season.
The NFL free agency review shouldn't have the Bears as a loser, but I'm not sold on the Ogunjobi signing.
Winners and Losers in Free Agency So Far
We've seen many signings in the early portion of NFL free agency. After looking at all NFL free agent signings, I've identified the biggest winner and loser of NFL free agency. Let's talk about the two teams.
NFL Free Agency 2022 Winner – Los Angeles Chargers
We keep hearing about teams needing to maximize their salary cap with a rookie quarterback. It appears the Los Angeles Chargers are taking that approach with Justin Herbert.
Their offseason moves started before day one of free agency. They re-signed Mike Williams and acquired Khalil Mack. Mack might not be what he once was, but he and Joey Bosa form one of the best edge-rushing duos.
J.C. Jackson was the top defensive player on the free-agent market. The Chargers made their move, signing the Pro Bowler to a five-year, $82.5 million deal. Since entering the league in 2018, no player has had more interceptions than Jackson.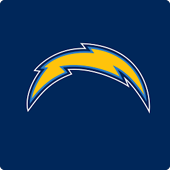 J.C. Jackson: 25
Xavien Howard: 23
Justin Simmons: 17
He has had 15 interceptions in the last two years alone. We'll see how this NFL free agency transaction looks in a few years, but right now, it looks great for the Chargers.
Jackson was their splashiest free-agent signing, but what makes the Chargers winners in my NFL free agency recap is fixing their biggest weakness.
Last season, Los Angeles allowed the third-most rushing yards. They addressed that issue by singing Sebastian Joseph-Day and Austin Johnson. The defensive lineman will give the Chargers' defense a big boost.
All the attention in the AFC West is on the Denver Broncos, but I believe the Los Angeles Chargers are a bigger Super Bowl threat. The early Super Bowl 57 odds had them at (+2500), but they've moved up to (+1600).
Jacksonville Jaguars – Loser of NFL Free Agency 2022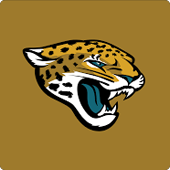 Quantity doesn't always equal quality, and we're finding that out with the Jacksonville Jaguars.
Jacksonville entered free agency with a ton of money and many holes. Therefore, it made sense to make multiple moves. However, it's fair to wonder how better they are than a week ago.
The move everyone is talking about is the Christian Kirk signing. The Jaguars signed Kirk to a four-year, $84 million deal. That puts him ahead of guys like Tyreek Hill, Chris Godwin, and Michael Thomas.
Christian Kirk being here should be a crime ? pic.twitter.com/JZlav0BX2R

— Hasty (@HastyHighlights) March 15, 2022
Do the Jaguars need playmakers? Yes. Was signing Kirk to a contract that pays him over $20 million annually the right move? Absolutely not. There's a good chance his signing will be one of the worst NFL free agency moves.
Brandon Scherff was another big free-agent signing. He will provide an upgrade to their offensive line. At the same time, he's on the wrong side of 30 and hasn't played an entire season since 2016. We had the Jaguars drafting a lineman in our latest NFL mock draft but does this signing change their plans?
Evan Engram and Zay Jones are solid depth pieces, but they aren't moving the needle. Honestly, I'm not sure if either player makes the Jaguars better.
Those signings all play a hand in Jacksonville being a loser in my NFL free agency review.
They did have one excellent signing in linebacker Foyesade Oluokon. He is coming off a career year and should inject life into the Jaguars' defense.
Top 2022 NFL Free Agents Still Available
Terron Armstead
Allen Robinson
Bobby Wagner
Stephon Gilmore
Tyrann Mathieu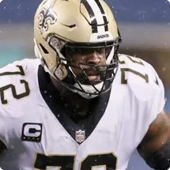 Following day one of NFL free agency, these are the top NFL free agents available. Terron Armstead is the top offensive lineman on the market and should land a lucrative deal. Armstead is a three-time Pro Bowler.
Allen Robinson is on the market after the worst season of his career. Everyone knows about his potential, and hopefully, he'll play with an above-average quarterback.
Bobby Wager finds himself among the current NFL free agents after the Seattle Seahawks released him. The six-time All-Pro still has enough left in the tank to make a significant contribution.
Defensive backs Stephon Gilmore and Tyrann Mathieu round out the best NFL free agents available.
Predictions for the Rest of 2022 NFL Free Agency
Terron Armstead – Chicago Bears
Allen Robinson – Kansas City Chiefs
Bobby Wagner – Dallas Cowboys
Stephon Gilmore – Las Vegas Raiders
Tyrann Mathieu – Indianapolis Colts
These are my NFL free agency predictions. I just discussed these players as the top free agent available, so now it's time to see where they will land.
The Chicago Bears could use a significant upgrade to their offensive line. New GM Ryan Poles could make a big splash by signing Terron Armstead. There's a chance Armstead returns to the New Orleans Saints, but that could depend on a potential Deshaun Watson trade.
Terron Armstead update: Multiple sources I've talked to today believe the OT is waiting to see if the Saints land Deshaun Watson before deciding his next home. As of now, that's what I'm told is slowing his signing.

— Matt Miller (@nfldraftscout) March 15, 2022
Allen Robinson has been stuck in quarterback purgatory his whole career. The Detroit Lions have shown interest, but does Robinson want another below-average quarterback? I think he'll take a discount to play with Patrick Mahomes and the Kansas City Chiefs.
Many teams showed interest when the Seattle Seahawks released Bobby Wagner, but he remains on the market. A reunion with Dan Quinn in Dallas seems like the most likely outcome. I wouldn't count out the San Francisco 49ers.
Another potential reunion would be Stephon Gilmore and Josh McDaniels. The Las Vegas Raiders missed out on J.C. Jackson so that they could pivot to another former New England Patriots defensive back.
Tyrann Mathieu's market has been moving slowly. The Indianapolis Colts have a ton of cap space and could swoop in on the safety.
Betting on NFL Free Agency in 2022
My NFL free agency review gives bettors a good sense of the best and worst moves of day one of free agency. It's important to remember that teams don't win the Super Bowl in March. A great signing could look terrible in September, or vice versa.
We haven't seen many betting options for NFL free agency, but the top NFL betting sites will continue to update any potential moves.
September
Casino of the Month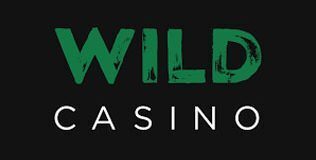 Welcome Bonus
250% up to $5,000